The Amalfi Coast is one of the most beautiful scenic drives on earth.
When picturing the winding roads along the massive sea cliffs of the Mediterranean Sea we think of movie stars and royalty whizzing through in their expensive Aston Martin convertibles.
The driving route takes you through some of the most beautiful seaside towns on earth.
We break down the best Amalfi Coast itinerary letting you know what to see and do when you travel to the Gulf of Salerno.
There are 13 picturesque seaside towns on the Amalfi Coast. In this post, we highlight 5 of the most popular Amalfi Towns – Positano, Amalfi Town, Ravello, and Sorrento.
About the Amalfi Coast
Check out our detailed map of our Amalfi Coast Itinerary
---
How Many Days should you spend on the Amalfi Coast?
We suggest at least a week. Three days with Positano as your base. A night in Ravello or Amalfi Town and Three days with Sorrento as another base to take some iconic day trips like a tour to Pompeii.
How Long is the Amalfi Coast?
Our Amalfi Coast drive was only 75km (46 miles) in length from our start in Salerno finish in Sorrento, but it takes several days to see it all.
What not to miss on an Amalfi Coast Trip?
Don't miss staying overnight in Positano, be sure to hike to Ravello and get on the water to see Capri and Emerald Grotto.
---
Driving the Amalfi Coast
Taking an Amalfi Coast road trip can be intimidating. The Italian Riviera in southern Italy is a winding road with steep drop-offs into the sea, it is narrow, and Italians drive fast.
The traffic is heavy and the prices of accommodation skyrocket if you don't plan properly.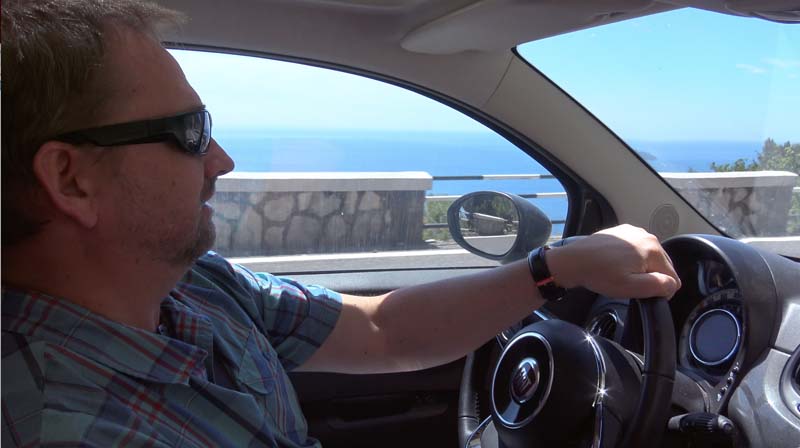 But if you do plan in advance, you can have an amazing trip to one of the most iconic destinations on earth.
Visiting during the shoulder season in April, we had reasonable hotel rates overlooking the sea with beautiful balcony views.
The picturesque towns along this route are tailor-made for honeymooners and couples looking for the perfect romantic getaway.
The Amalfi Coast in Italy officially spans 75km from Sorrento to Cetara.
It winds around the Sorrento Peninsula where you'll explore a beautiful coast, eat incredible cuisine and enjoy some of the best views on earth.
Car Rental
We rented a Fiat 500 in Rome and hit the road for a three-hour drive south. It was the perfect size for exploring the winding narrow roads.
We booked through Ryan Air booking for a steal at $75 for 10 days.
Beware: But in the end, we did pay for it, with an unknown traffic ticket that we received from a collection agency we ended up paying a $500 CAD fine that we had no recourse to fight.

The collection agency in Canada told us that they proccess several of these a day. Unsuspecting tourists get a photo radar traffic ticket, a fine is set, a trial is held and we hear nothing of it until we receive notice from thh agency.
So in the end, we paid the expected amount. Hmm.
At the time, we were thrilled. Our car rental was a steal and the crowds hadn't come out in full force yet giving us the chance to explore in relative peace and quiet.
We made our base in Positano. Positano is pretty much in the center of the drive so we could easily set out on day trips to explore the iconic sites.
Here are our top suggestions for things to do on the Amalfi Coast.
Things to Do in the Almalfi Coast
Positano – Part 1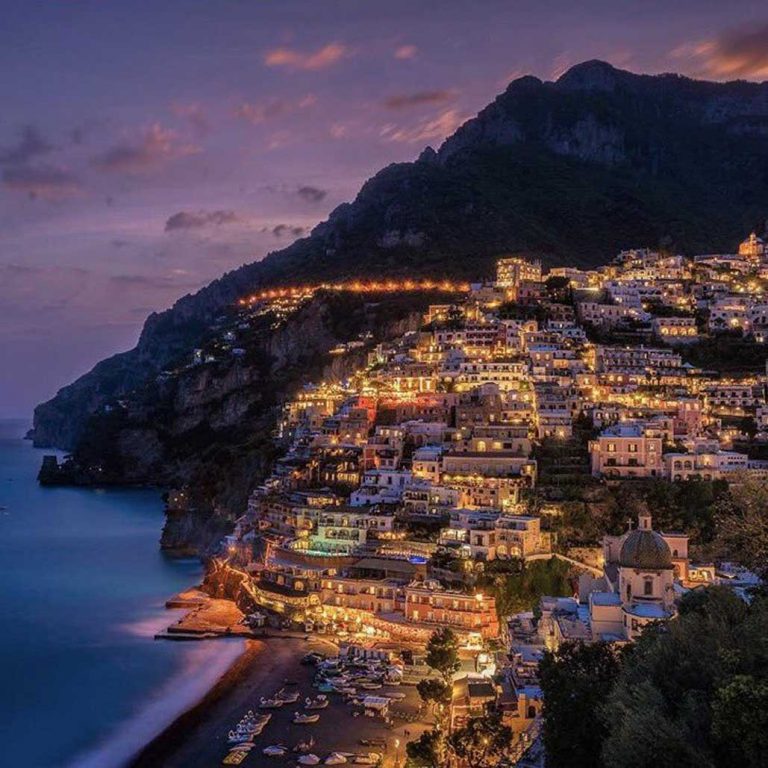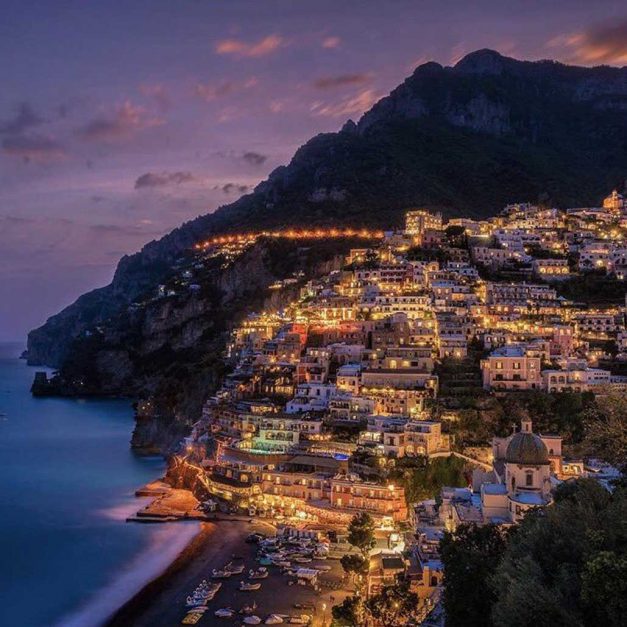 Positano is the most picturesque town in all of Amalfi and it is where we made our home base in the center of all the action for a few days.
It was easy to explore the surrounding towns from Positano. If you don't have a car (which we highly recommend), there are bus services to popular attractions.
Amalfi is so beautiful, UNESCO moved to preserve it by naming the Amalfi Coast an outstanding example of a Mediterranean landscape. And nowhere shows that better than the picturesque Positano.
Positano offers that postcard-perfect spot with pastel buildings terraced up sea cliffs overlooking turquoise waters.
Simply spending time in Positano is enough to fulfill life's bucket list but there are plenty of things to do to keep you occupied.
Where to Stay Positano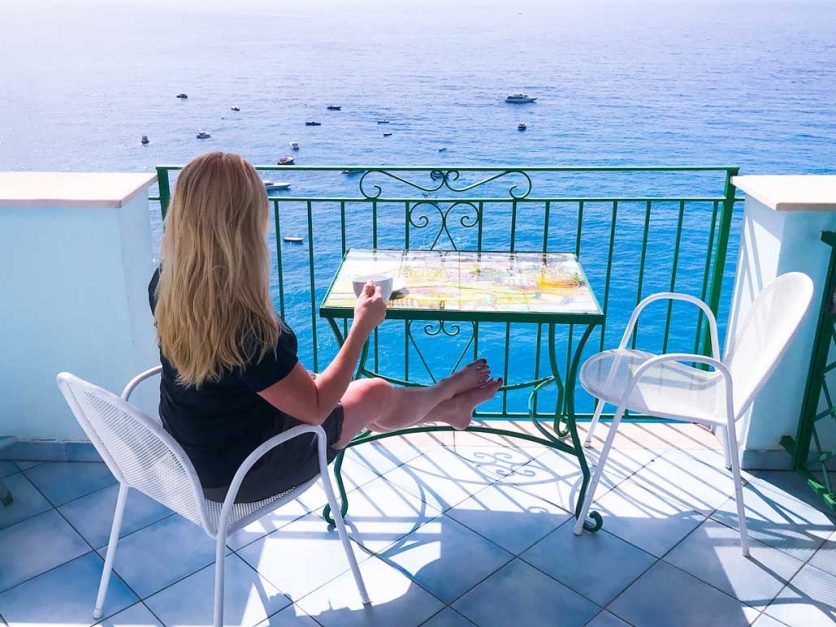 We booked a hotel in Positano overlooking the beach and it didn't disappoint.
Palazzo Talamo had an incredible outdoor terrace where we enjoyed our morning coffee and sunset cocktails.
We didn't have to leave our room to enjoy the city but there were plenty of places to see and things to do!
It was cheaper than the other rooms with a view, but the room itself was very basic. We definitely paid for the view, and it was worth every penny.
Check out Palazzo Talamo on TripAdvisor or Booking.com. The rooms are basic, but you can't beat the view for the price.
Things to do in Positano
Shopping in Positano
A quick walk through the back streets of Positano, Italy ~ Amalfi Coast #travel ?? pic.twitter.com/aFcBgcUJMJ

— Dave & Deb (@theplanetd) April 28, 2017
If you want to do some shopping, Positano is the place to be.
There are endless walking streets and alleyways filled with shops selling fine art, jewelry, perfume, and fashion.
It's a shopaholics dream.
Once you finish up with shopping, head down to the beach for aperitifs at sunset.
Go to the Beach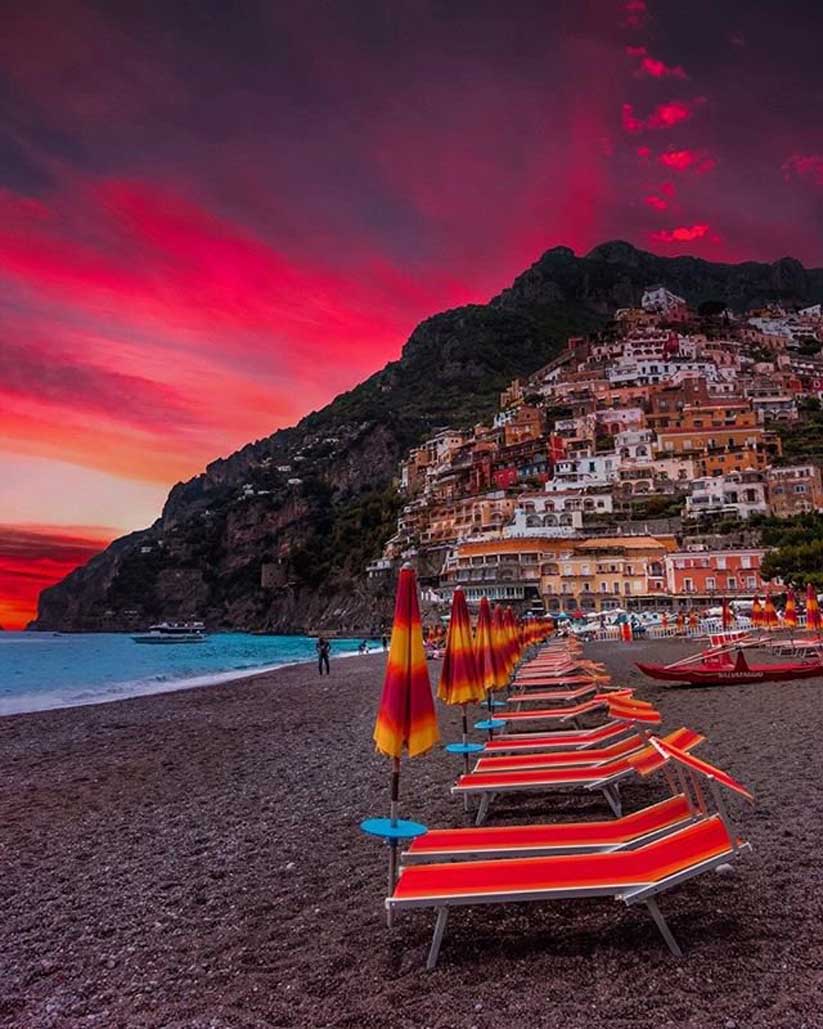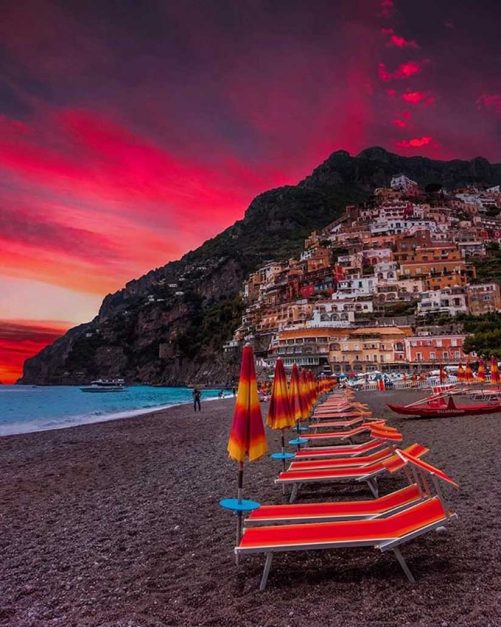 The Marina Grande Beach is the main beach of Positano attracting sun worshipers to its pebbly shore.
Rows of beach umbrellas line the 300-meter long shoreline.
You can catch boats to Capri from here and there are cafes and restaurants nearby to enjoy a sunset cocktail.
Church of Santa Maria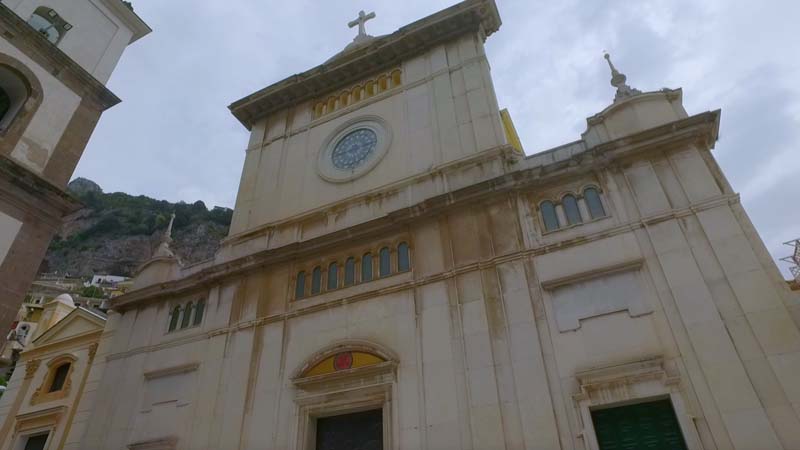 If you are in Positano, chances are you will make it to the Church of Santa Maria. It is located in the centre of town and it seems that all roads (or pedestrian paths) lead to it.
Founded in the 10th century as a Benedictine Abbey there are a few sights worth noting. The bell towers stand proud over the square dating back to the 18th-century.
Eat Very Well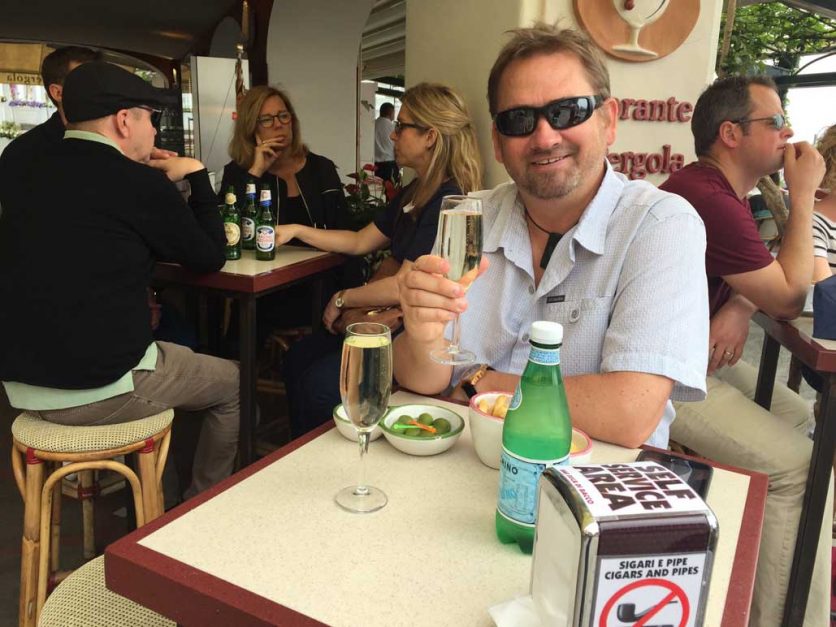 Throughout all of Amalfi, food is a central part of the experience.
When in Positano, indulge in olives, seafood and, pasta.
And don't forget the local wine and bubbly!
Amalfi Town – Part 2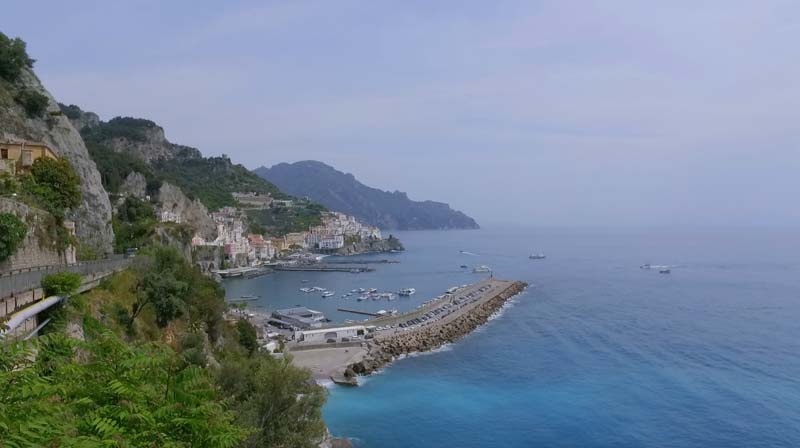 Amalfi Town is another popular stop on the Amalfi Coast, we were actually surprised how beautiful it was thinking that it couldn't' possibly compare to Positano, and yet it does.
The Coast is named after Amalfi as it was once a powerhouse in maritime trade from the 9th to 11th centuries.
An earthquake devastated the city in 1343 and the town is much smaller than it once was, but it has retained its crown as a shining star for tourism.
Path of the Gods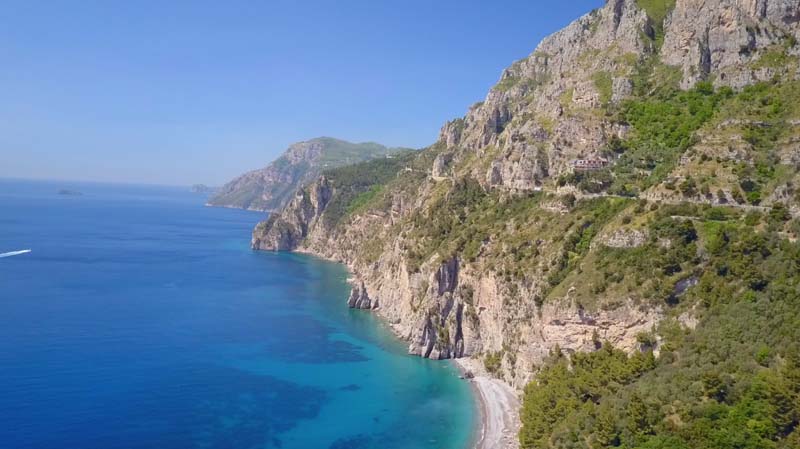 The Path of the Gods is a 6.5 k path sitting high above Positano. You can walk up high from Positano and hike all the way to Praiano or Positano.
But you can start in the town of Nocelle instead and hike one way to Bomerano to make things shorter and easier. (To get to Nocelle you can take a bus, or hike way up 1700 steps from Positano.
Theses steps and paths used to link the villages so you can step back in time and see what it was like for locals to take their olives, lemons and wine from village to village.
The rugged trail has spectacular views and is a nice respite to get out of the busy towns along the popular coast.
Cathedral of Saint Andrew
The Duomo at the Cathedral of Saint Andrew is the star attraction of Amalfi Town. The relics of Saint Andrew The Apostle's are kept here.
The Cloisters
Inside the beautiful Cathedral is a row of 120 columns that reminds you of something out of Arabian Nights.
The medieval nobles are buried here, surrounded by palm trees, the bell tower and the duomo making for yet another picturesque view on the Amalfi Coast.
Emerald Grotto at Conca del Marini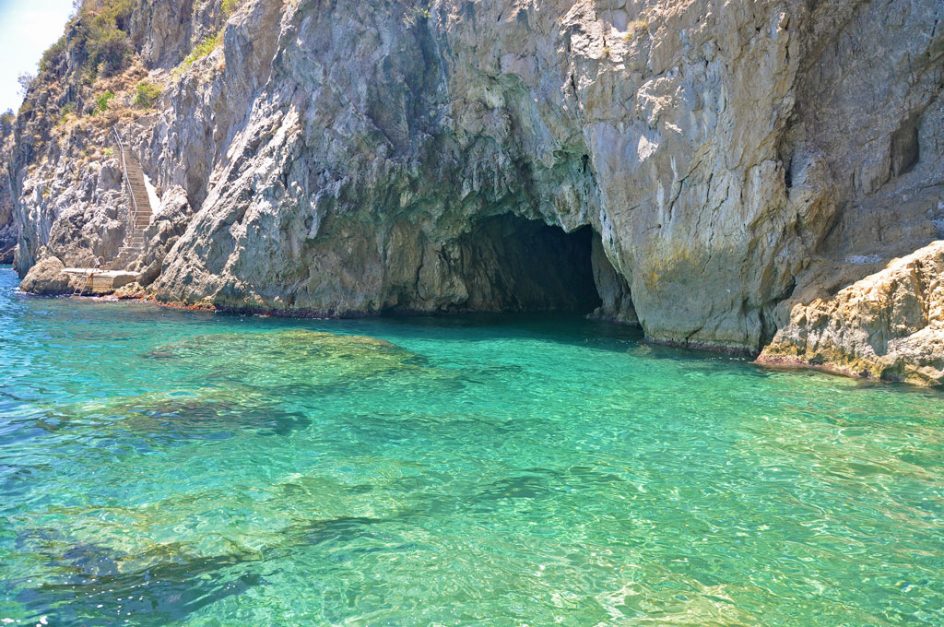 You must go out on the water to truly take in the splendor of this coast.
Just a few kilometers outside of Amalfi Town is the small town of Conca del Marini which is famous for the Emerald Grotto.
The Emerald Grotto is a cave that lights up to an emerald green when the sun reflects through the emerald water.
Tours can be booked through the official Emerald Grotto rowboats. Like many places on the Amalfi Coast, lines can be long, so book a tour in advance from one of the neighboring towns.
Valle Dei Mulini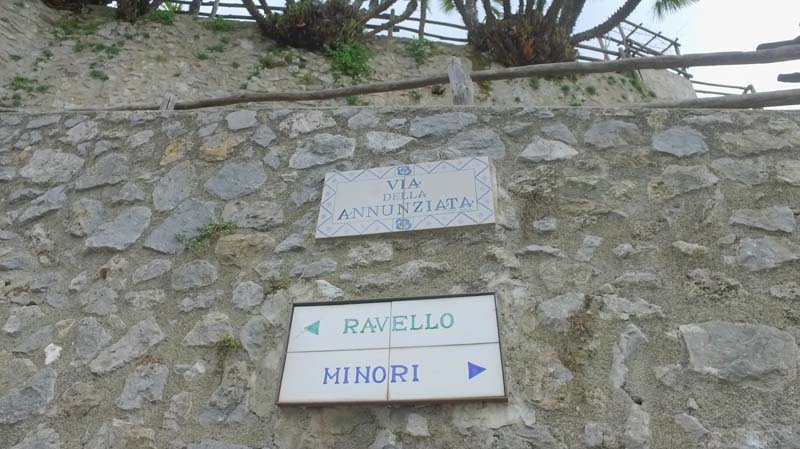 If you want to enjoy the great outdoors, the Valle Dei Mulini Hike is a popular trek from Amalfi Town.
It takes you past ruins, the old paper mill, until you come across waterfalls, and mother nature.
Be sure to visit Minori located between Cetera and Amalfi. You can hike this entire route if you have the time!
Minori is a lovely seaside town with yet another picturesque harbour. The main attraction here is the Basilica of Santa Trofimena dating back to the 11th century.
Ravello – Part 3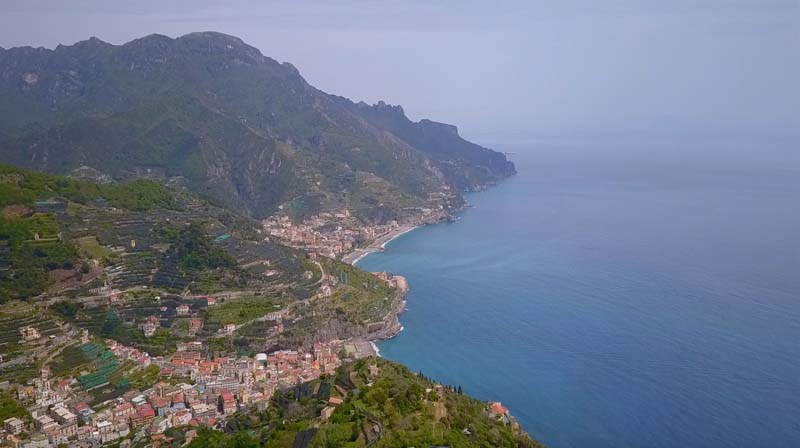 Continuing our road trip through Amalfi we drove up to the historic town of Ravello.
Most people sent us messages that this was not to be missed and they were correct.
Villa Rufolo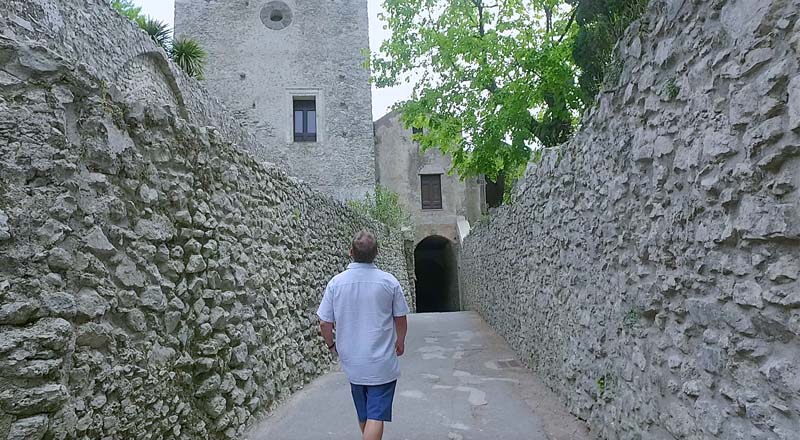 As we walked up to the main square, it was easy to find Villa Rufolo, it is the main attraction.
After paying our €5 entry fee, we walked through the narrow paths lining the cliffside. Walking higher and higher we came to the top for the most incredible panoramic views of the sea.
You can walk for hours through here, there were signs on the pathways that pointed us to both Positano and Minori.
Ravello Cathedral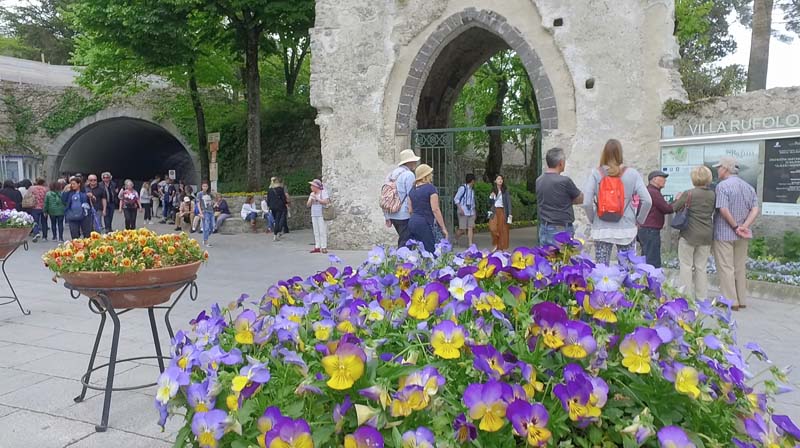 Located directly across from Villa Rufolo is the Ravello Duomo. I'm sensing a theme here, there's a duomo in every town!
The Duomo dates back to the 11th century paying tribute to St. Pantaleone.
Sorrento – Part 4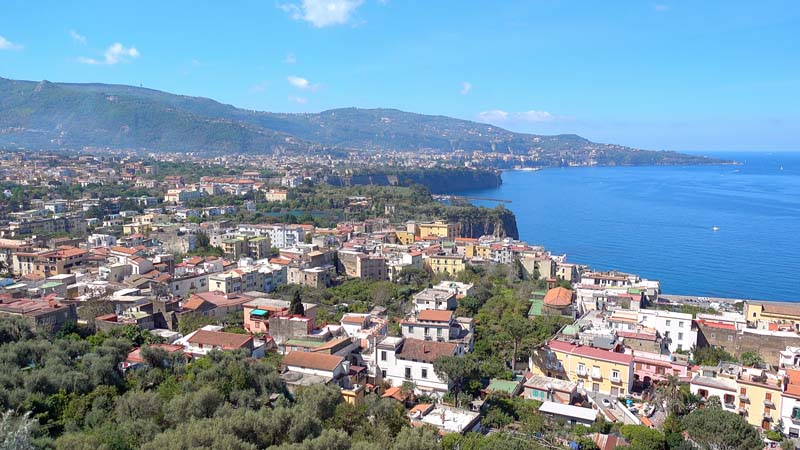 Sorrento is probably the most popular stop on the Amalfi Coast.
We found the town to be very crowded and busy, but we still managed to spend a few days making it a home base to explore the other side of the Gulf of Naples.
We had a lovely stay at the Villa Ketty, Vico Equense, Italy located a little outside the city. It made for a good base at a reasonable price.
Wander the Streets of Old Town
Old Sorrento is the perfect place to get lost in the pedestrian streets. Filled with trattorias, cafés,
Grand Marina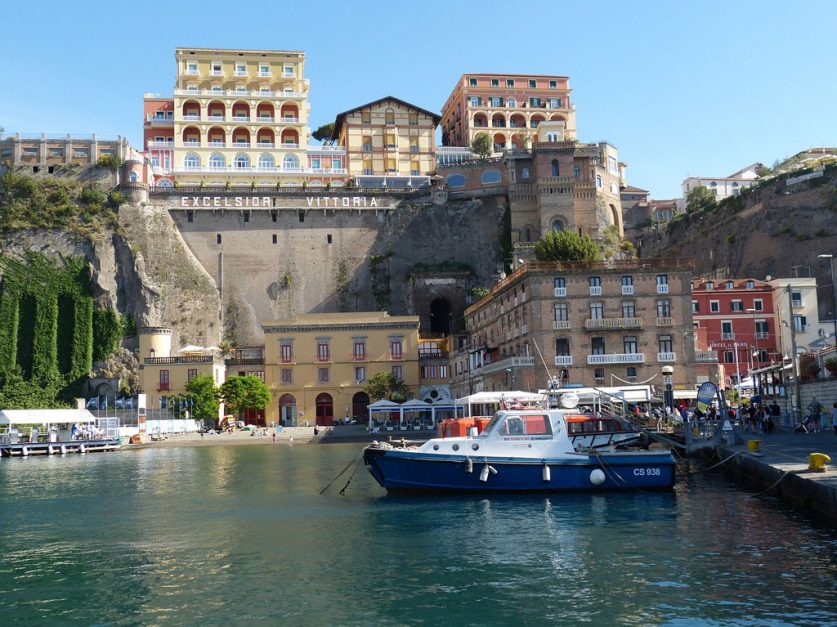 The Grand Marina is a colourful spot in Sorrento lined with seafood restaurants, pedestrian paths and patio terraces.
Whenever we can, we love to eat overlooking the water.
Piazza Tasso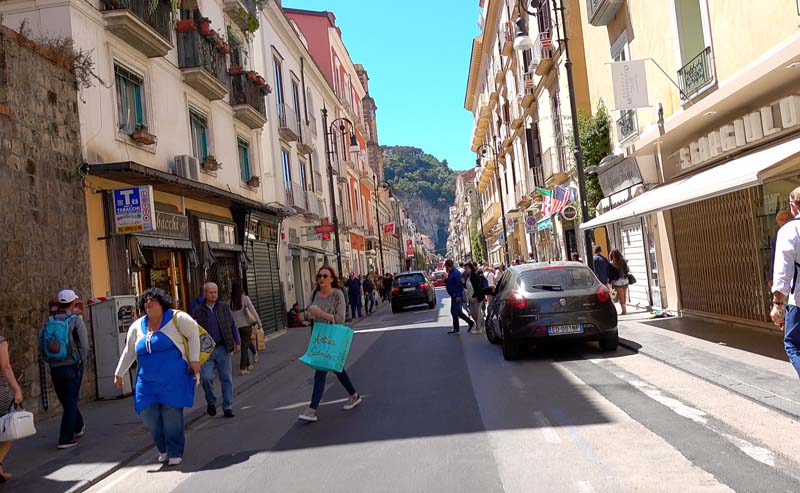 The Piazza Tasso is the main square of Sorrento. From here you enter the shopping street of Via San Cesareo.
Basilica of San Antonia
Just a five-minute walk from Piazza Tasso is the Basilica of Saint Antonio. Dated back to the 11th century, this church is dedicated to Sain Antonio.
His tomb is located in the crypt.
Eat Gelato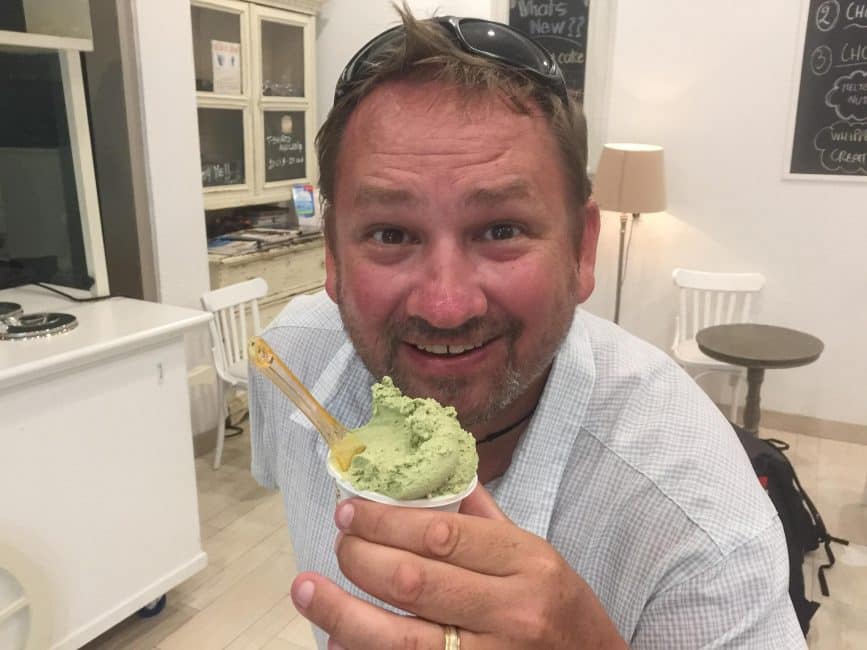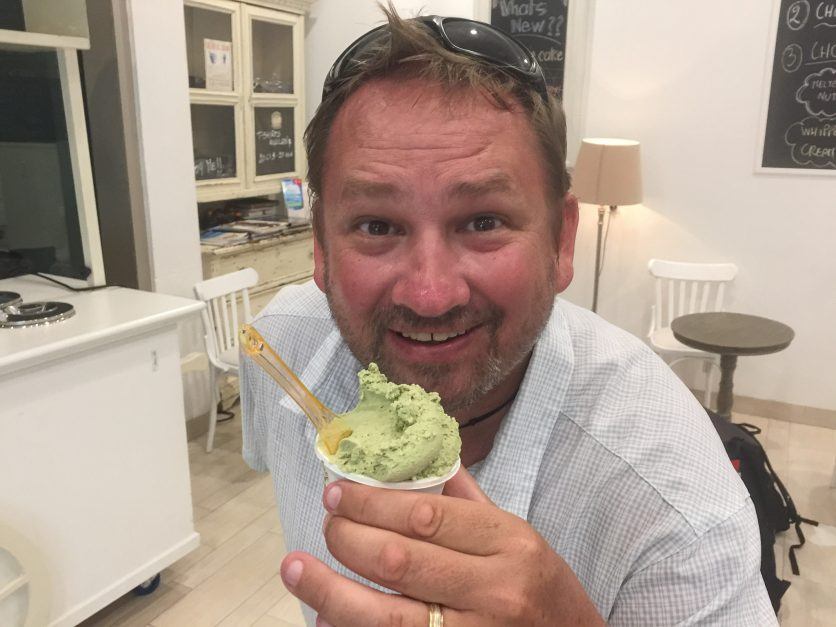 It's not like it is unique to Sorrento, but any excuse to have gelato in italy is a good thing.
While you are getting lost in the streets, grab yourself your favorite flavor and enjoy!
Limoncello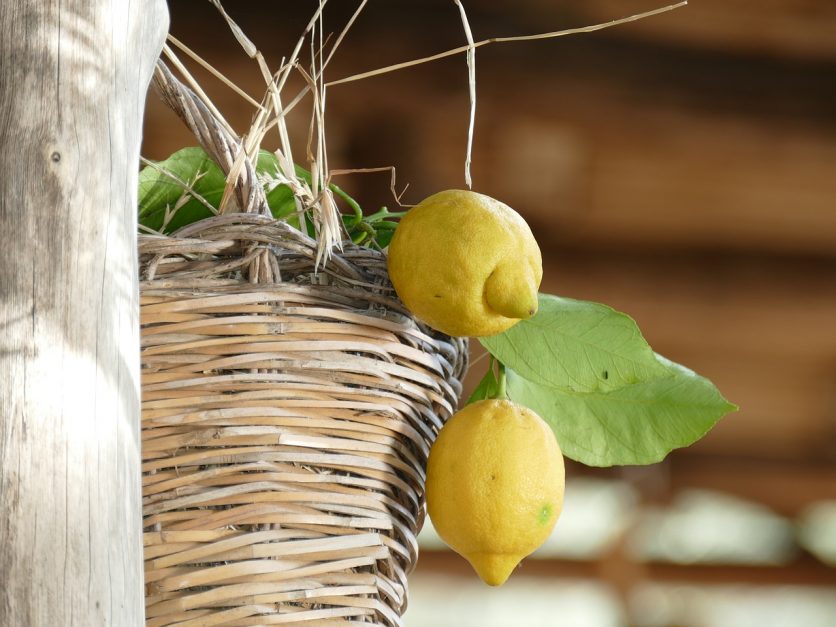 Limoncello originated on the Naples Coast thanks to Sorrento lemons that are meticulously fermented to make this refreshing lemon liqueur.
Enjoy a limoncello aperitif in the evening as you enjoy the scene overlooking the coast.
Day Trips from Sorrento – Part 5
Pompei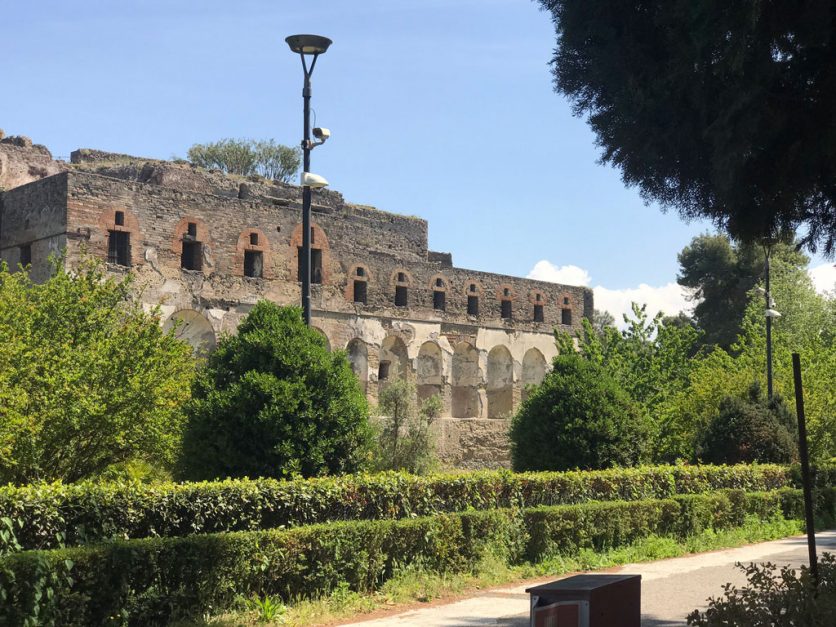 We were very disappointed with our stop at Pompei due to the sheer volume of people.
Instead, book a tour from Sorrento to skip the line and enjoy in relative comfort. A Half-Day Tour from Sorrento is all you need. (but then again, we've never been big on visiting ruins for long.
Check out this other private half-day tour $200 for a group of 3.
Capri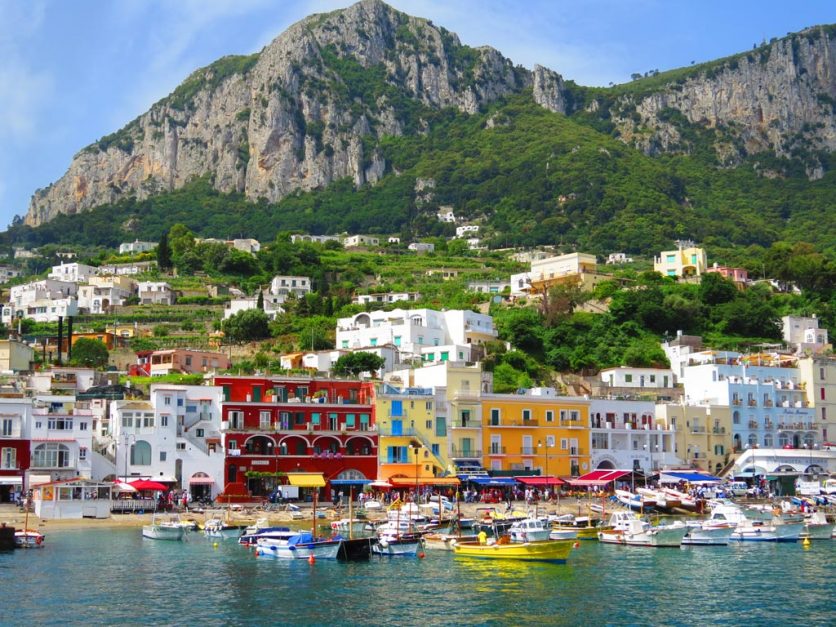 Capri is the place where dreams are made of. The rich and famous setup anchor along its shores showing off their superyachts.
While we don't have supe yachts, there are ways for regular people to explore the island. If you don't have time (or the room in your wallet) to stay on Capri there are several tours offered by Get Your Guide.
For a unique tour from Positano, take a boat tour to Capri. This small-group tour takes you around the island of Capri for snorkeling and the Marina Grande of Sorrento.
Book it here: Free cancellation up to 24 hours in advance.
Cool Stops – Part 6
Lookout from Punta Lagno of Capri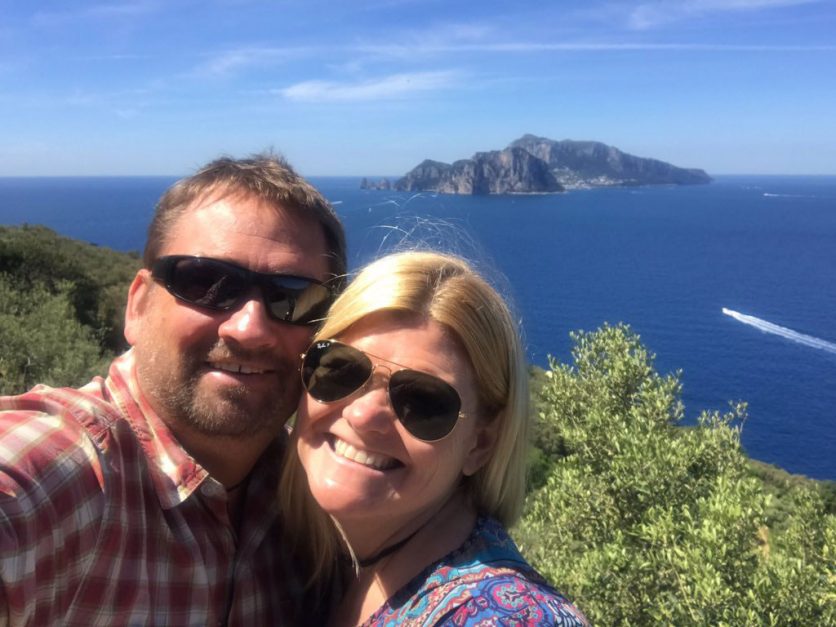 Having a car was heavenly in Amalfi and we managed to spend our days exploring lookouts and turnoffs all along the coast.
It was driving to Punta Lagno that we spotted this awesome view of Capri. We parked our car and walked along the trail to stumble upon this incredible lookout.
Fiordo di Furore – Furore Fjord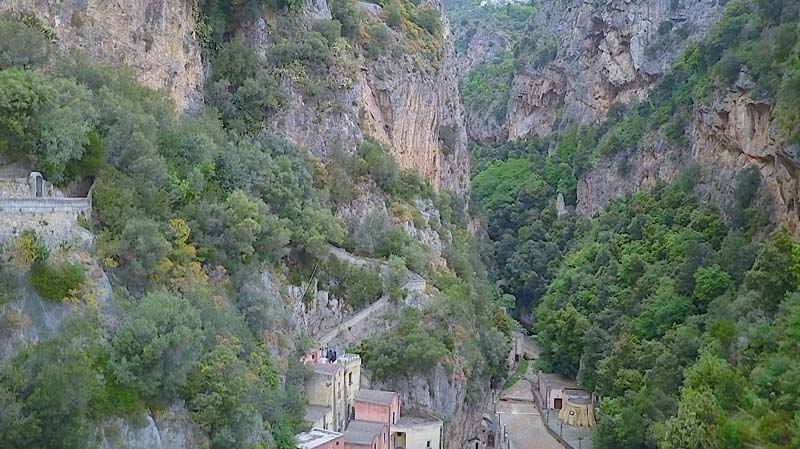 It's the only Fjord on the Amalfi Coast and this spot is picturesque. Located between Positano and Amalfi, we crossed this bridge at least half a dozen times before finally stopping.
It's a lovely hidden beach that can get very busy. We pulled over on the side of the road and took in the view of the colorful houses built into the cliffs.
Ferriere Nature Reserve
This nature reserve is a three-hour walk into a microclimate of rare plants, orchids, and the pinguecula – a carnivorous plant more commonly known as the butterwort.
Starting from the main square of Amalfi, you walk up the stairs of the church to see signs for Valle Delle Ferriere.
It takes you to waterfalls and hidden springs along the Rio Canneto, a river that fed the papermill of Almafi. Here you'll find lemon trees, magnificent views and
Boat Tours

When visiting the Amalfi Coast you must get out on the water to really take in the stunning coastline.
We've highlighted some great tours by Get Your Guide, a tour company that we use regularly for guided tours and day trips around the world.
There are so many things to see on the Amalfi Coast, besides the five towns listed above, there are 9 other stops. One could spend an entire summer on the Italian Riviera and barely scratch the surface of all there is to see and do!
Images for Sorrento lemons and waterfront by luigi celentano from Pixabay Image by falco from Pixabay
You Might Also Enjoy
Source link Travel Advisor