We love New York! We've visited the Big Apple many times over the past decade, but haven't really shared a lot of our experiences from our travels.
So on a recent trip, we ordered a New York Pass to re-visit some of Manhattan's top tourist attractions and refresh our memories on what the best things to do in New York City are.
We usually pop in to a museum or attraction in between visiting friends or attending conferences. This time, we did the city right.
We hope you enjoy our New York City Guide to help plan your next trip to the city that never sleeps!
Things to do in New York City
There are five boroughs of the city that are all worth exploring, but we are going to focus on Manhattan as this is where most first-timers begin and where we always tend to hang out the most.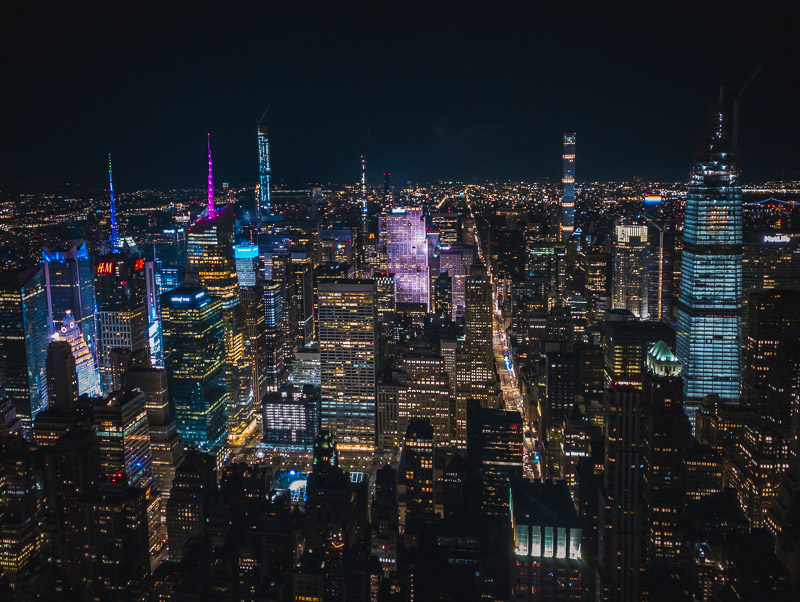 The city that never sleeps is correct. We are often up until 3 am when visiting New York, but because there are so many things to do, we are awake again at 8 am sharp.
We never want to miss a thing when visiting New York. That said, you don't have to do all of these things on your trip.
We've done them for you so you can pick and choose what best suits your interest.
Midtown Manhattan – Home to Grand Central Terminal, The Empire State Building, Flatiron Building, Hudson Yards, and The Vessel
Times Square – Nearby Sites include Rockefeller Center, Radio City Music Hall, Jimmy Fallon, and Broadway
Financial District – Wall Street, 9/11 Memorial Museum, Wall Street Bull
Battery Park – Ferries to Statue of Liberty and Ellis Island, Staten Island Ferry, and Hudson River
Lower East Side – Little Italy, Greenwich Village, SOHO, Chelsea Market, Union Square
Upper West Side – Museum of Natural History, Central Park, The Dakota, Columbus Circle
Upper East Side – The Guggenheim, Museum Mile, Metropolitan Museum of Art, Central Park
We decided to put what we feel is the best of New York in order from one to ten of wow factors, but we also down the neighborhoods of each attraction below to help you plan your trip easier.
We also give prices and Google map coordinates to help you find each attraction. So happy browsing!
More New York City Inspiration
1. National 9/11 Memorial and Museum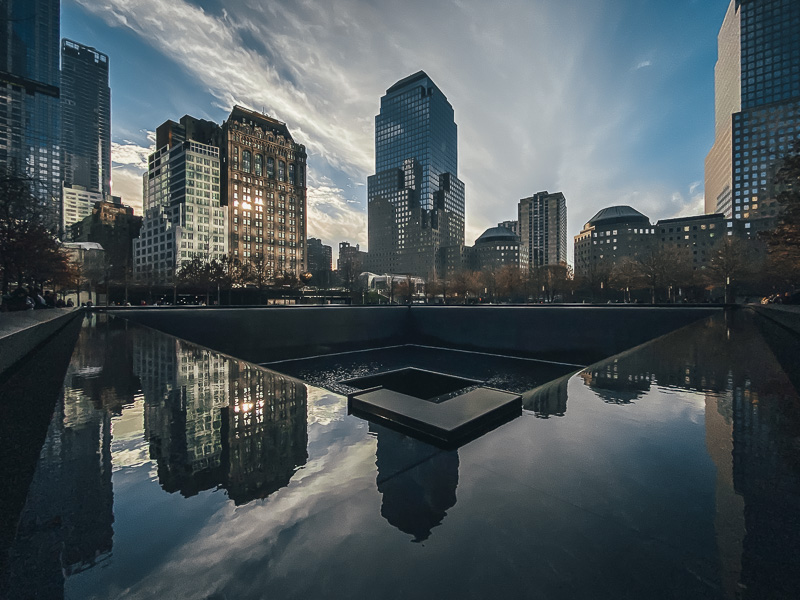 To see the spirit and resilience of the people of New York, a visit to Ground Zero at One World Trade Center is a must.
The site of the Twin Towers has been transformed into a powerful memorial.
Two memorial reflection pools sit at the bases of where the twin towers were with names etched into the walls.
The pools are surrounded by skyscrapers showing how New York has rebuilt and is standing with hope rather than hate.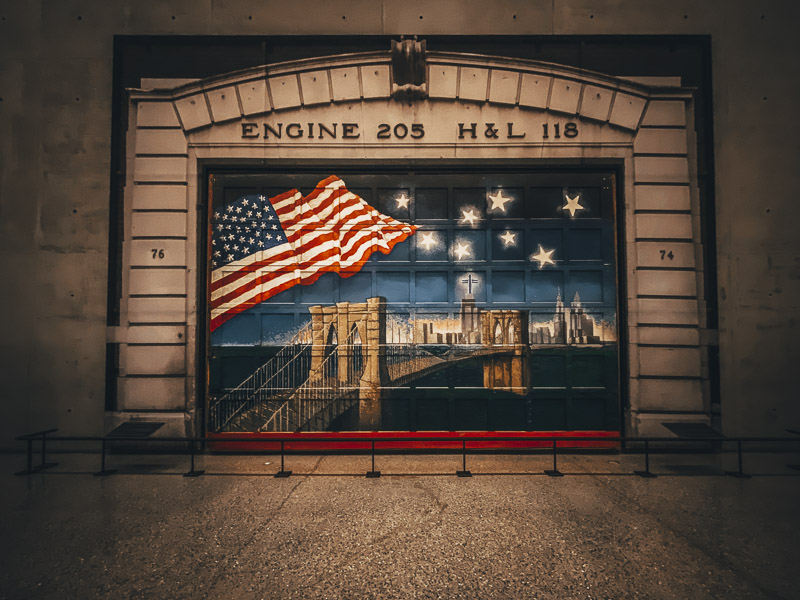 Going into the 911 Museum is something everyone should do.
Inside it shows the devastation and real-life impact September 11, 2001 attacks on the United States and the World Trader Center bombings of 1993.
We feel that it is important to see and to pay tribute to those who lost their lives.
A memorial like this reminds us all that these senseless acts of violence only hurt the innocent but when tragedy strikes, the best of the human race emerges.
2. The Oculus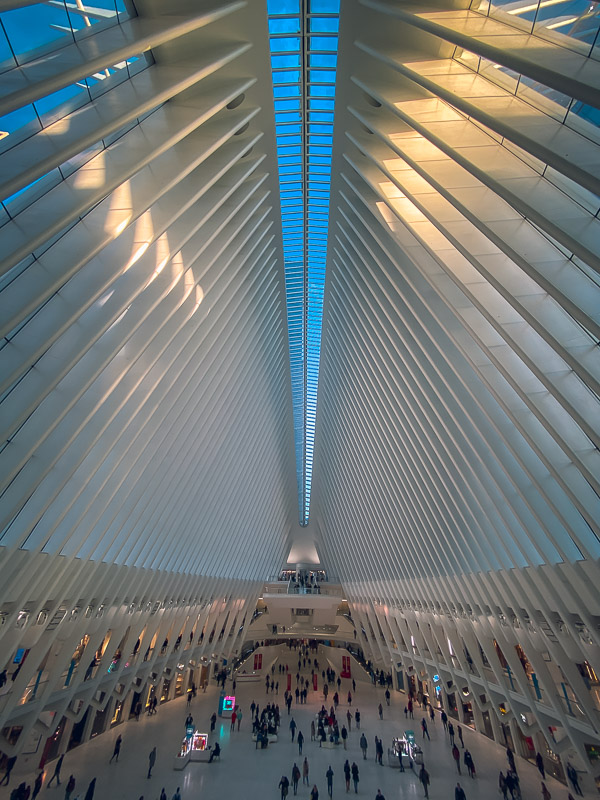 While visiting the 9/11 memorial, your eyes will be drawn to the striking structure known as the Oculus.
The design of stark white steel ribs interlocking high above the ground represents doves flying from the hands of a child. It gives a sense of hope at the site of a tragedy.
It is a transportation hub so chances are you will come up from the subway here.
3. Empire State Building at Night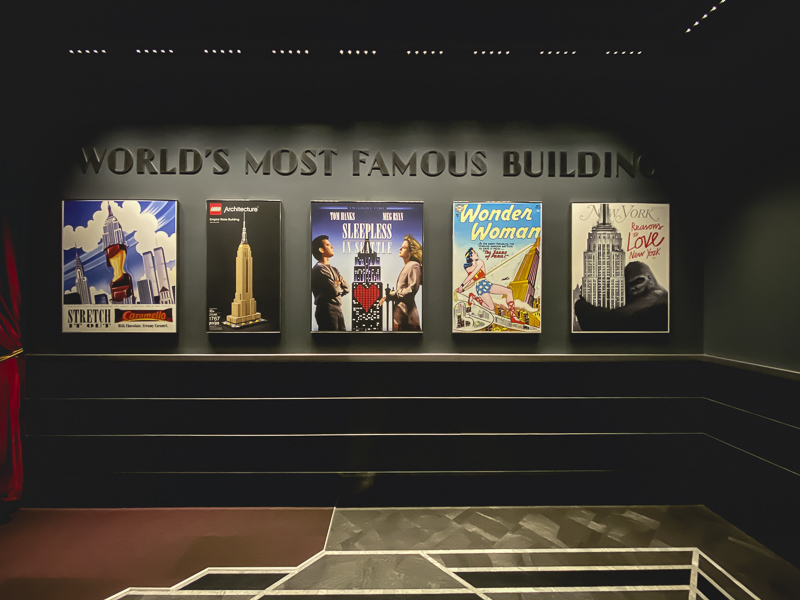 Not many cities in the world compare to the NYC Skyline at night. Especially from above.
Our favorite time to visit the Empire State Building is at night. The observation deck is open until 2 am!
Going after midnight ensures that there are no crowds for you to fight with crowds while taking in the neon lights igniting the skyline.
4. The Metropolitan Museum of Art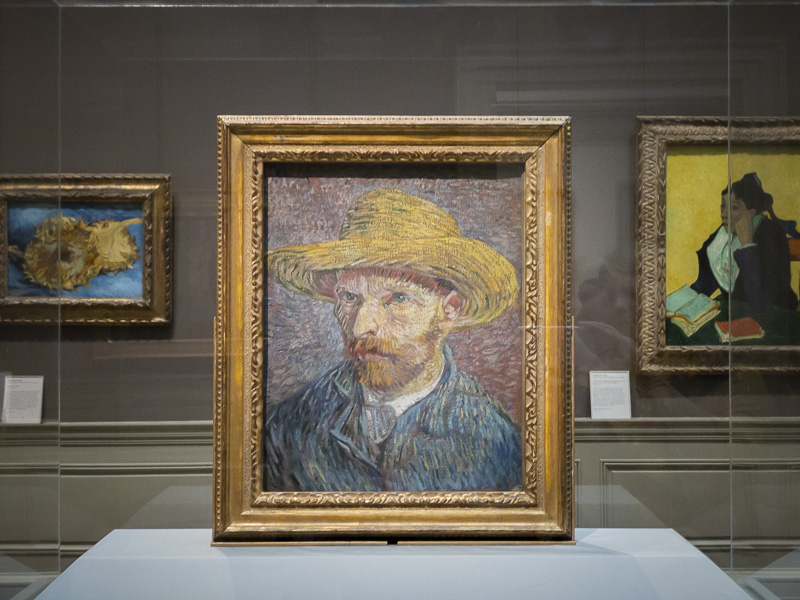 There are so many things to see at the Met. It takes days to really experience it all, but highlights include Van Gough's self-portrait, Dantes Inferno, ruins, a recreation of the Sistine Chapel, and an incredible Egyptian Display complete with mummies and ancient tombse.
The Metropolitan Museum of Art is truly our favorite museum in NYC.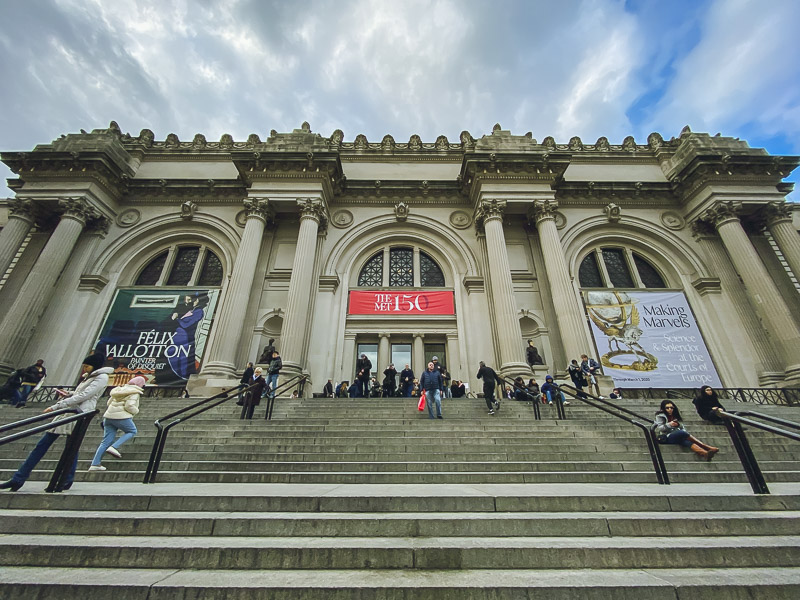 Take it from us, a couple that doesn't really put museums high on a list to visit, this is one you should.
When people say you could spend days exploring the Met, they mean it.
5. Be Wowed by The Vessel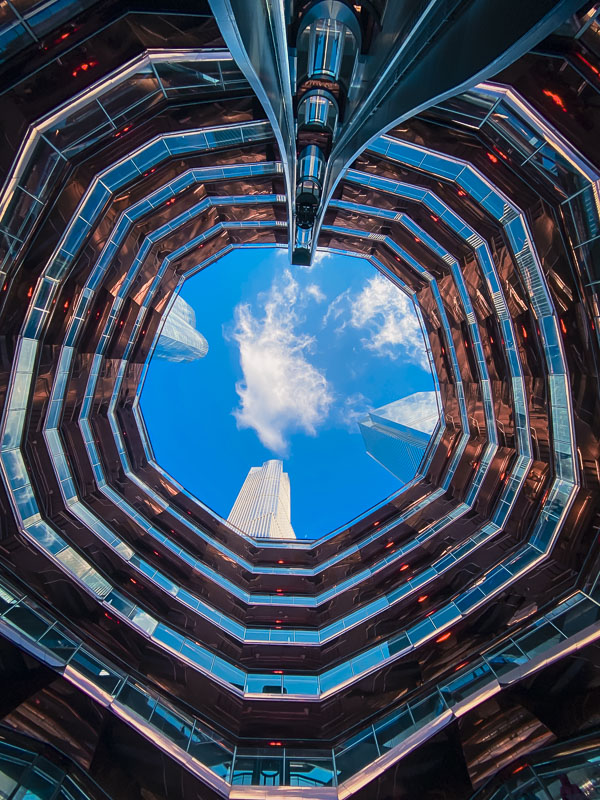 The Vessel at Hudson Yards is a remarkable work of art that gives wannabe photographers their perfect Instagram worthy shot.
Surrounded by eye-catching skyscrapers, this art installation takes you up a spiral staircase of 2500 steps for views of the Hudson River and mid-town.
Entrance is free, but you must book a timed slot at the kiosks on sight. We suggest getting there early so you don't have to wait around.
Cost: Free or you can do as we did and pay $10 to go inside anytime. Purchase tickets at the kiosks beside The Vessel.
You can also book up to two weeks advance online at their Website
Your New York Pass gives you a Free Tours of the Hudson Yards and vessel.
Google Maps: The Shops at Hudson Yards
6. Hudson Yards Shopping Center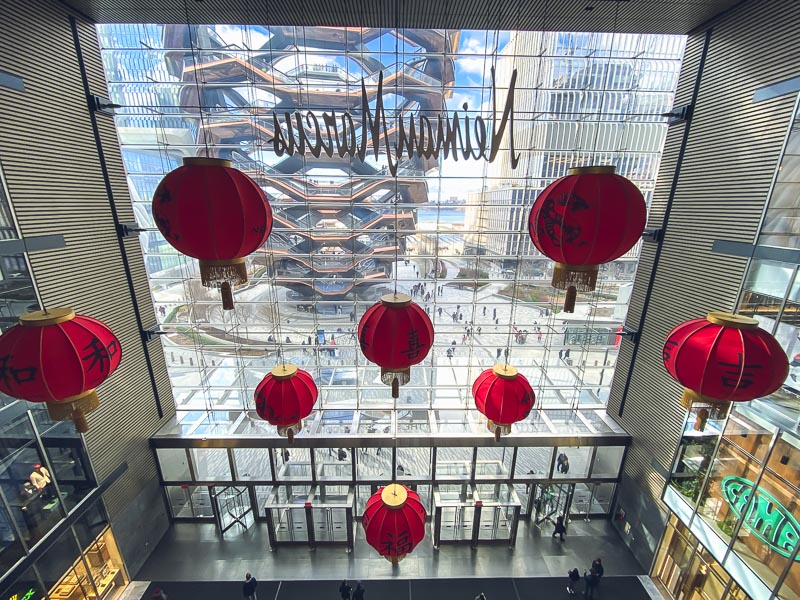 This midtown Manhattan neighborhood is an awesome place to hang out for the morning. Go inside and you get another cool view of the Vessel.
It's home to very expensive condos and we can only imagine who has an apartment in this neck of the woods.
If you aren't in a rush, there are plenty of things to keep you busy while you wait.
The Hudson Yards shopping center is located right next door where you can go in for a bite to eat or you can grab a coffee to take away with you on a stroll.
7. Have Coffee while strolling High Line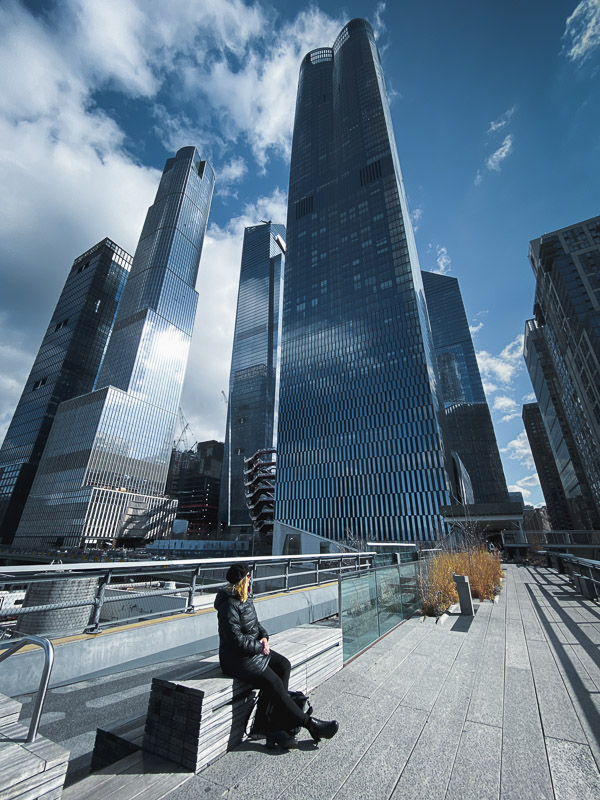 Once you've grabbed your coffee at the Hudson Yards take a walk on the High Line.
The High Line is an elevated walkway and park that cuts through Manhattan's West Side. It was an old freight train track, that is now a pedestrian path through condos and skyscrapers.
It takes about 30 – 40 minutes to walk from Hudson Yards to the Whitney Museum in the Meatpacking District.
8. Chelsea Market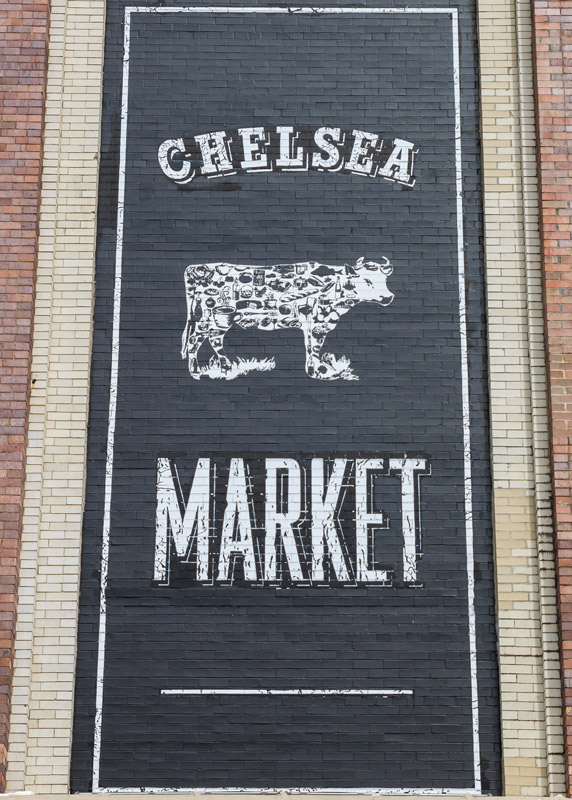 By the time you've visited the Vessel and walked the Highline, I am sure that you are hungry, so pop into the Chelsea Market for lunch or brunch.
Chelsea Market is located in the old Nabisco Factory where Oreo cookies were invented!
Today it has been transformed into office buildings for Google. Well, Google's parent company Alphabet Inc.
The market is a food complex on the main and basement floors with everything from tacos to ice cream.
It has everything your empty stomach could desire, so be sure to pop into this complex that takes up a full city block for any treat you desire.
9. History of the Rockettes at Radio City Music Hall Tour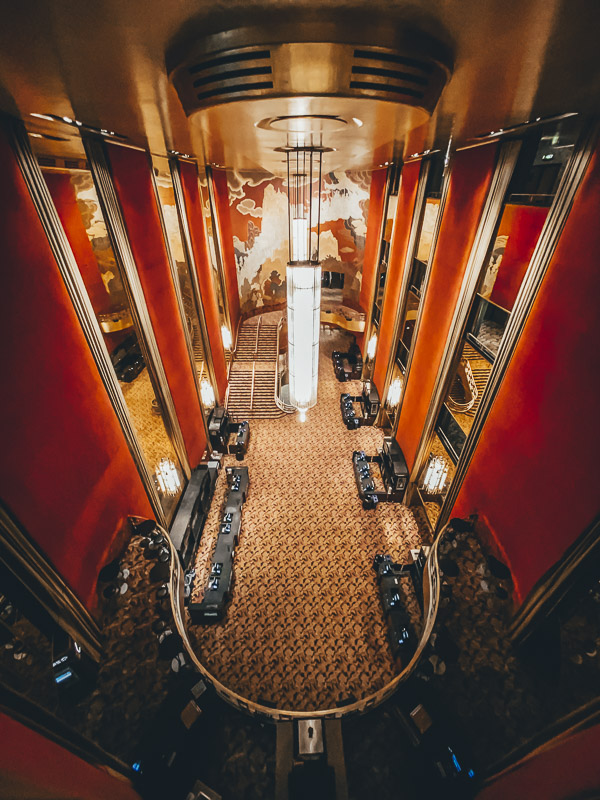 Seeing the Rockettes at Radio City Music Hall was a highlight for us when visiting New York at Christmas, but you can't always see them perform.
The next best thing is to take a Radio City Music Hall Tour. (included with your New York Pass.
See the private quarters of Samuel "Roxy" Rothafel who wined and dined the greatest artists of the time including Walt Disney, Alfred Hitchcock, Judy Garland and more.
Meet a Rockette and see the magnificent hydraulic stage.
10. Madison Square Garden Tour
When you take a tour of Radio City Music Hall, they offer a discount to tour Madison Square Gardens with your ticket. If you have the New York Pass it's included.
Chances are, you won't be able to catch a game or see a rockin' performance at Madison Square Gardens, but we think tours are the next best thing!
11. Go Up to the Top of the Rock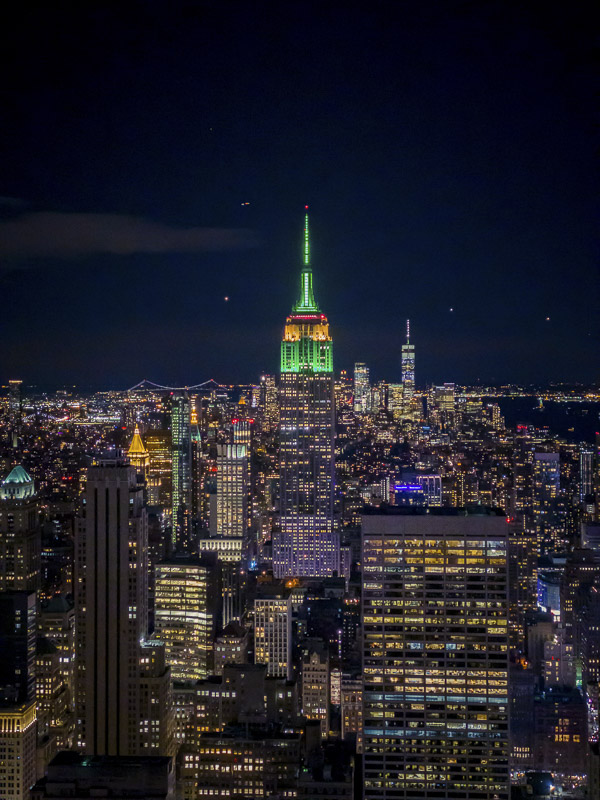 Our next iconic view of New York is from the Top of the Rock. While I feel that the skyline view itself is better from the Empire State Building, the view of the Empire State Building is breathtaking from here.
The view from the Rock is the classic New York City view that we all see in the movies.
Plus, it's cool to visit here because it is home to NBC Studios.
In the morning you can stand outside to watch the today show, and if you really want to jump through hoops, you can try to see a Jimmy Fallon taping.
12. Spend a Morning at the Statue of Liberty
Going out to the Statue of Liberty is a rite of passage when looking for things to do in New York. But you do have to be committed and have time.
If you are visiting New York at high season, you can stand in line for hours waiting to catch the ferry.
Even when we went during the offseason, we had to wait for 45 minutes just for the ferry to fill up.
It is then a 15-minute ride out to Liberty Island.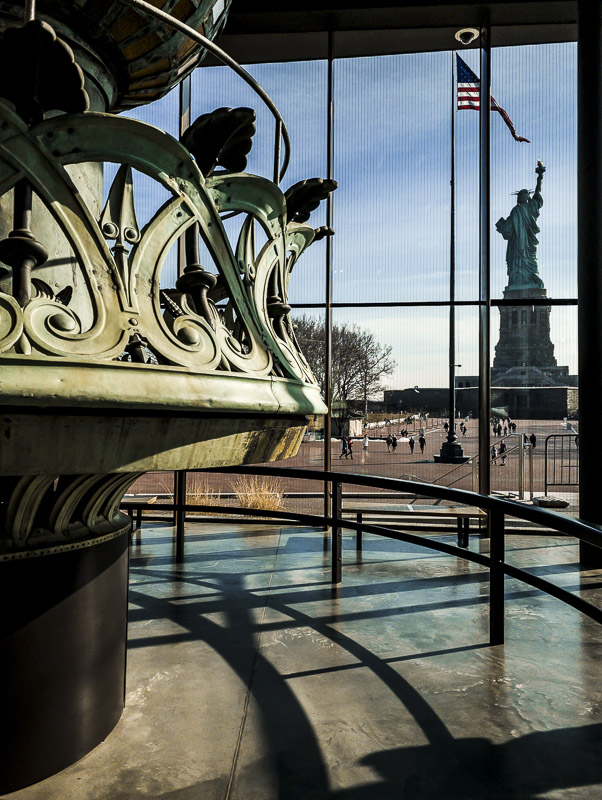 When you get to the Statue of Liberty you can book a time to go up to the top of the statue of Liberty Head (I did this when I was 16 years old) and you can walk around lady liberty admiring the views of Manhattan.
There's an excellent museum to visit with the original flame on display.
13. Ellis Island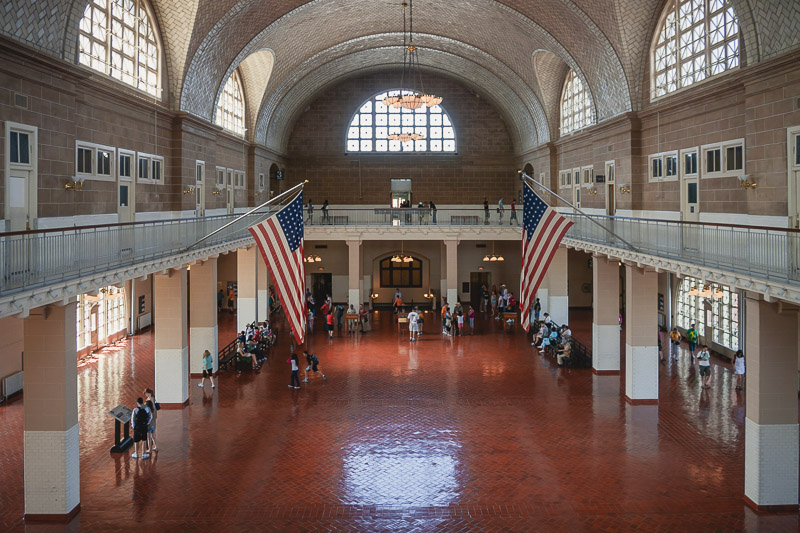 Many people include the Ellis Island tour with the statue of liberty. We did this our first time to New York together and we found it fascinating.
We actually enjoyed our Ellis Island tour more than our time at Liberty Island to learn about the history of immigration to New York.
Make your way up to the second floor and there is an excellent collection of photos displaying the history of Ellis Island.
Cost: Included in Statue Of Liberty Tour
14. Take a Boat Tour
If you don't want to visit the actual islands of Ellis or Liberty, we suggest taking a boat tour to see New York from the water.
There are plenty of chances to get out on the Hudson River in New York with boats to Governors Island, New York City Water Taxis crossing the channel, Liberty Island Boat Tours, (where you don't have to get off) and Staten Island Ferry
15. Be Wowed by Times Square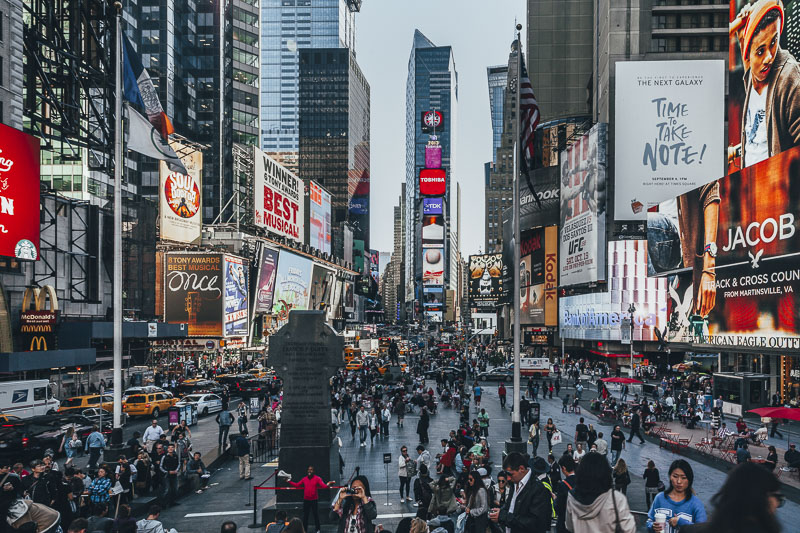 We never tire of Times Square. I know many people say to stay away from this tourist trap, but we love its energy.
We also almost always stay in or near Times Square. It's just the most magnificent people watching place on earth.
Times Square is surrounded by neon billboards and skyscrapers that are truly intoxicating.
There is always something going on and going up to sit on the red steps to take it all in is a must!
16. Check out Some Broadway Shows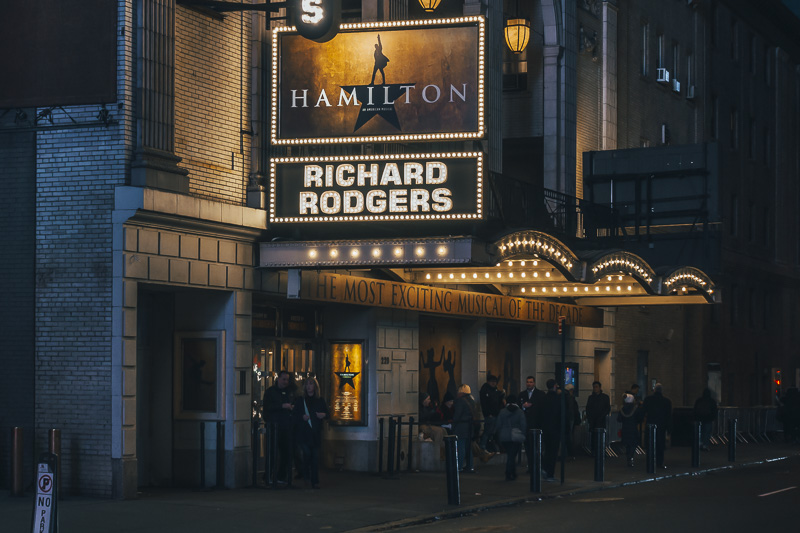 Times Square is in the heart of Broadway and streets jutting off from the square have marquee billboards showcasing the latest Broadway productions.
Movie stars always flex their acting chops on Broadway and there's no better way to see your favorite star than to go and see them in a play.
The New York Pass app lets you know what deals you can get while you are in town. So, check one out while in New York City.
17. Walk Across the Brooklyn Bridge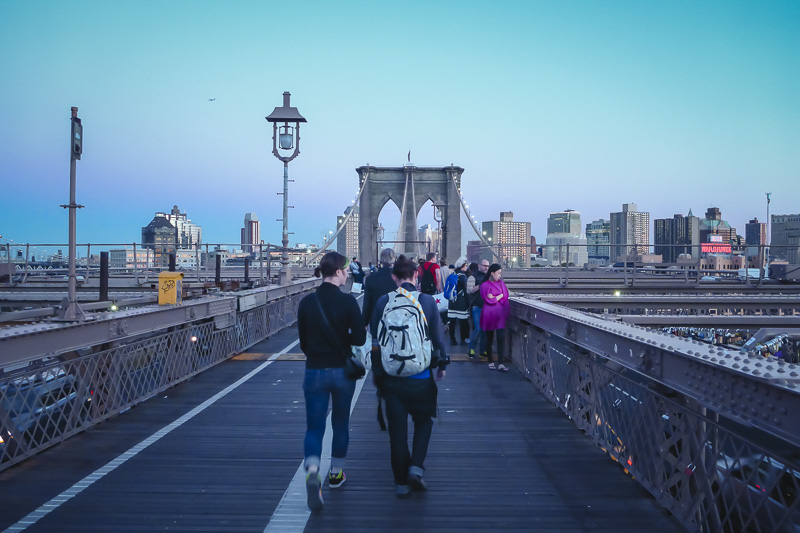 For more awesome views of New York City, a walk along the Brooklyn Bridge is a must.
While you can get to Brooklyn by bus or subway, why not walk along this iconic New York City landmark?
You can stand overhead looking at the New York traffic pass underneath, dodge commuters scuttling to work and keep an eye out for cyclists whizzing by in the bike lane.
18. Take in the Manhattan Skyline from Brooklyn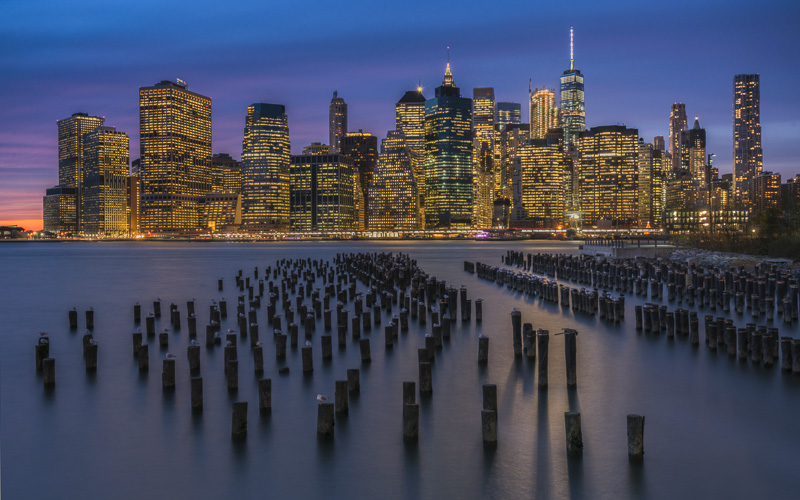 When you get across the Brooklyn Bridge, spend a morning or afternoon on the waterfront in Brooklyn.
There are plenty of things to see here, including iconic views of the Manhattan Skyline from DUMBO (Down Under the Manhattan Bridge Overpass) and The Brooklyn Bridge Park.
Grab a slice of Pizza at the famous Grimaldi's pizzeria and stroll along the waterfront admiring the shops, cafés, and Jane's carousel.
Brooklyn is really a neighborhood and attraction unto itself that deserves more than a few hours, but if you are visiting New York for the first time, this is a great introduction.
19. Admire the Guggenheim Museum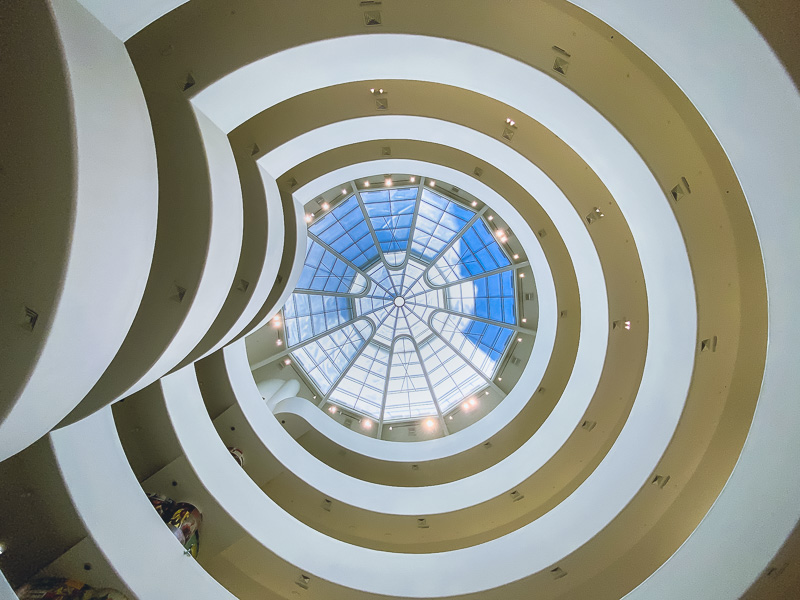 Designed by Frank Lloyd Wright, the Guggenheim is worth going inside if only to see the architecture.
With our New York Pass, it was free, so we popped in to see the displays too.
Exhibitions are constantly changing in this very modern gallery.
20. Museum Mile
The Guggenheim is located on Museum Mile, and if you really love exploring history and culture, you might want to check out all the museums along this stretch of road that lines Central Park.
21. The Museum of Modern Art (MOMA)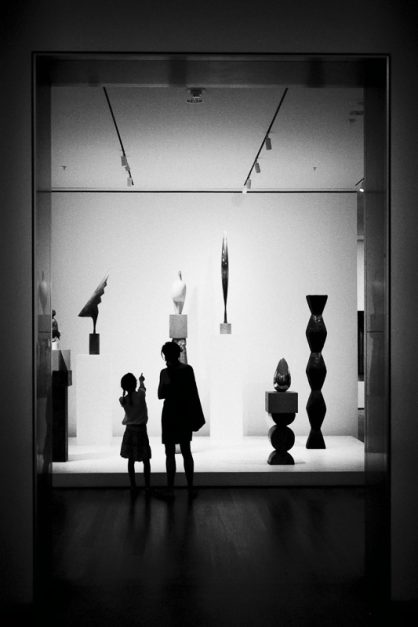 For Modern Art, MOMA is the place to go. It was the first museum we ever visited in New York because we had heard so much about it!
22. Rent a Bicycle in Central Park for Free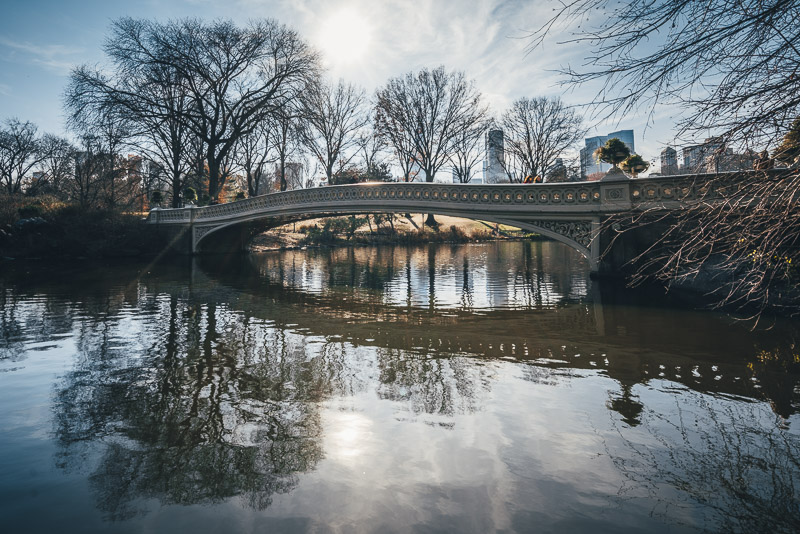 Central Park is an amazing location unto itself. You can rent a bicycle for free with your New York Pass, or you can even take a free bicycle tour with it.
Central Park is huge, so it's a great way to get around. There are so many things to see that you'll want wheels to do it right.
Watch street performers at The Mall which is an elm tree-lined pedestrian path, see the Hans Christian Anderson and Alice In Wonderland statues, enjoy a coffee by the pond, and take a picture of the Bethesda Fountain.
Other ways to see Central Park – Horse and Carriage, Pedicabs, walking, Central Park Tours.
Google maps: Central Park Bike Rentals
23. Pay Respect to John Lennon in Central Park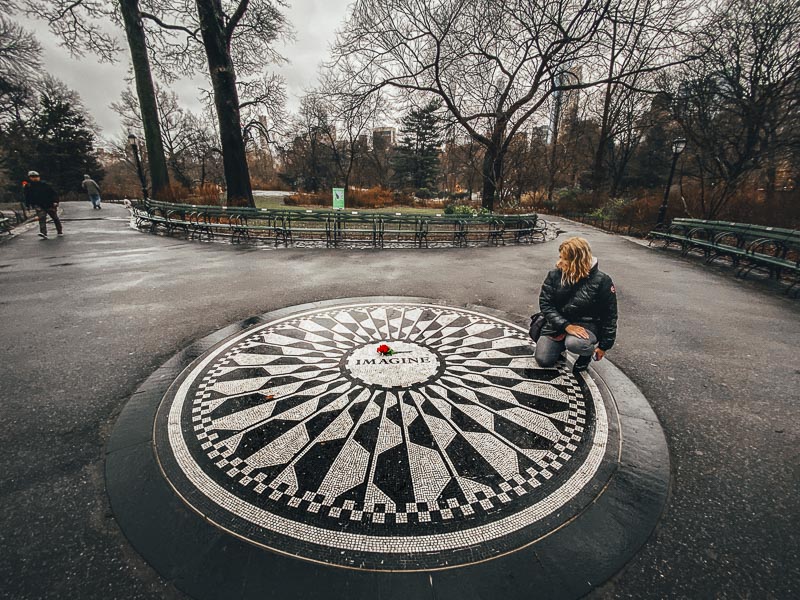 Located on the West Side of Central Park, Strawberry Fields is a memorial to John Lennon.
Lennon lived right across the street at the Dakota (where he was also shot out front) and spent a lot of time in this part of Central Park.
There is a circular mosaic that looks like a record with the word "imagine" etched into it in the center of the path.
Go early in the morning as there are flocks of tourists around it getting a picture of the famous memorial.
24. Take the Subway to Grand Central Terminal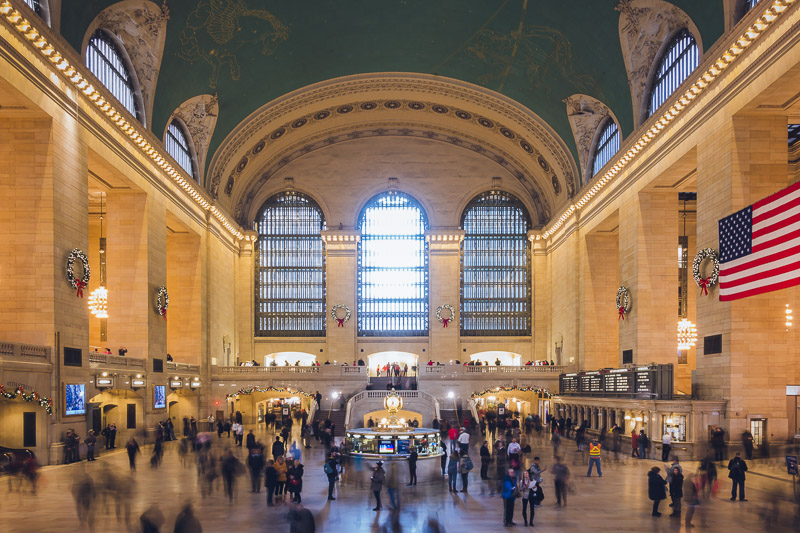 The best way to get around New York is by using the Subway.
The New York Pass includes the Hop on Hop off Bus, but we find this a waste of time.
Getting on the subway is fast and efficient and it's very reasonable. Just get yourself a metro pass card at the machines (cost $1) and fill it up with some cash.
It's easy to refill, so you can start out with the $9 that comes preloaded. And then you are free to go around for $2.50 per ride.
Make sure to stop at Grand Central Terminal to see the hub of New York. And take a walk to the whisper tunnel.
Metro rides allow one free transfer within a 2 hour period, so you can pop into Grand Central on your way to anywhere and get back on without wasting a ride!
Or you can get out here, and go to the New York Public Library nearby.
25. New York Public Library
I know what you are saying, "Who goes to the library anymore?" But the NYC Stephen A. Schwarzman Public Library is special.
There are free tours Monday to Saturday at 11 am that take you through the second largest library in the world!
26. Take a Selfie with the Wall Street Bull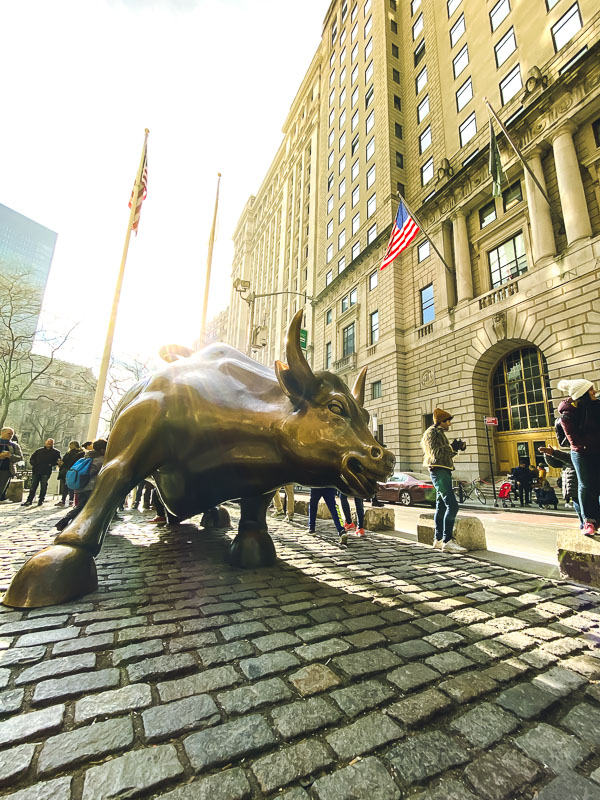 This is a silly little thing that attracts way too many visitors for what it is. People actually line up for a crowded selfie around the Wall Street Bull.
But it seems to be the thing to do when visiting New York, so when in Rome…
When you are done at the bull, go around the corner to the iconic Wall Street. It is pretty cool to see.
This is the financial hub of the world and it's worth spying on "the suits" who walk by doing something very important on their cell phones.
27. Indulge in Pasta in Little Italy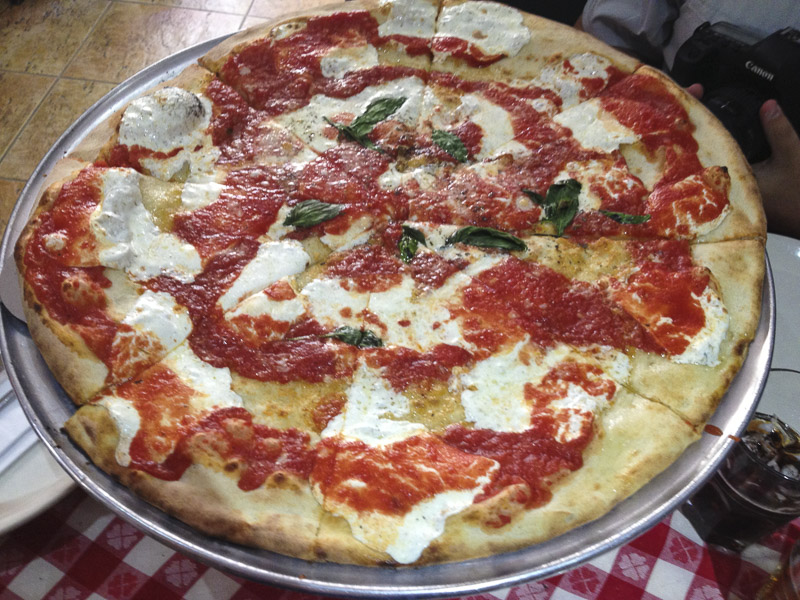 I don't think there is a cooler Italian area anywhere in the world (outside of Italy).
This is a part of the city that has somewhat kept its heritage. Buildings are decorated with white and green stripes and even the garland hanging over the streets are in Italy's colors of red, white and green.
Some eateries have been around since the 1800s and so far, Little Italy has survived gentrification (at least for now).
So go in for a bite to eat and follow in the footsteps of NYCs most famous Italians.
28. Greenwich Village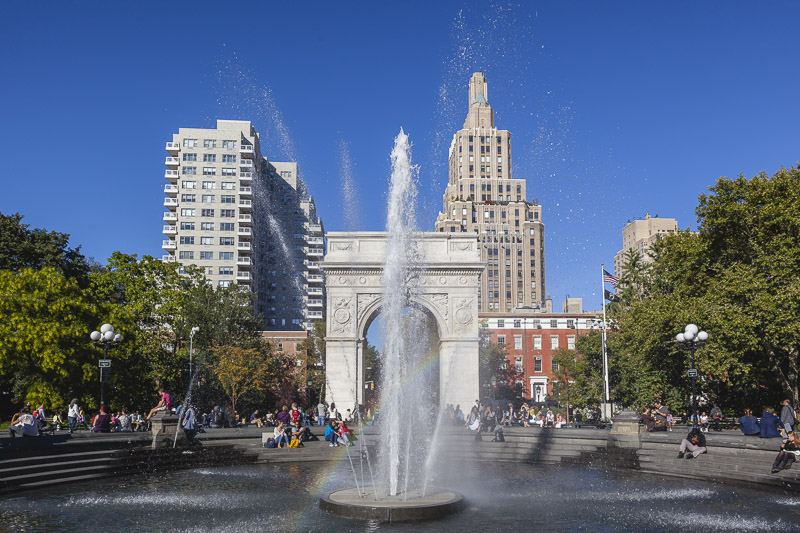 I'll never forget walking around Greenwich Village with our friend Melanie as she pointed out her old haunts. While it has changed a lot over the years, it is still a place to feel like a local New Yorker.
Home to the famous arch of Washington Square Park, Greenwich Village is where the cool people hang out.
It's a place to relax, people watch and watch artists at work in one of the many off-Broadway Theatres, workshopping their latest and greatest masterpiece.
If you have time, take a walk to other cool neighborhoods like SOHO and Each Greenwich Village.
We barely left these neighborhoods when visiting New York for the first time.
Take a Greenwich Village Tour to really see the history. The Hippie day are long gone, but a tour will show you where all the cool spots were that helped shape the culture of today.
29. Bryant Park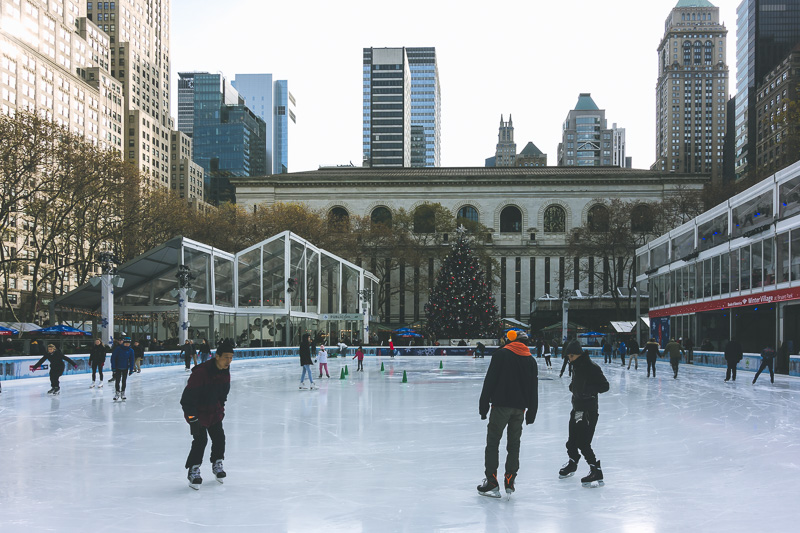 Bryant Park is an excellent destination year-round with free movies showing at night in the summertime and free skating in the rink in winter.
There's the winter village set up with many shops and eateries lining the path, there are street performers in the summer and lots of dining.
It's known as Manhattan's meeting place.
30. Saint Patrick's Cathedral
Whenever Dave and I travel, we suddenly become religious. Well, we at least visit churches and cathedrals. There is so much history inside them.
Saint Patrick's Cathedral in New York is one of the most recognizable cathedrals in the world.
If you are like us and go to places like the Vatican, Notre Dame, and the Koln Cathedral only when traveling, this is another one to add to the list.
Directions on Google Maps
31. The American Museum of Natural History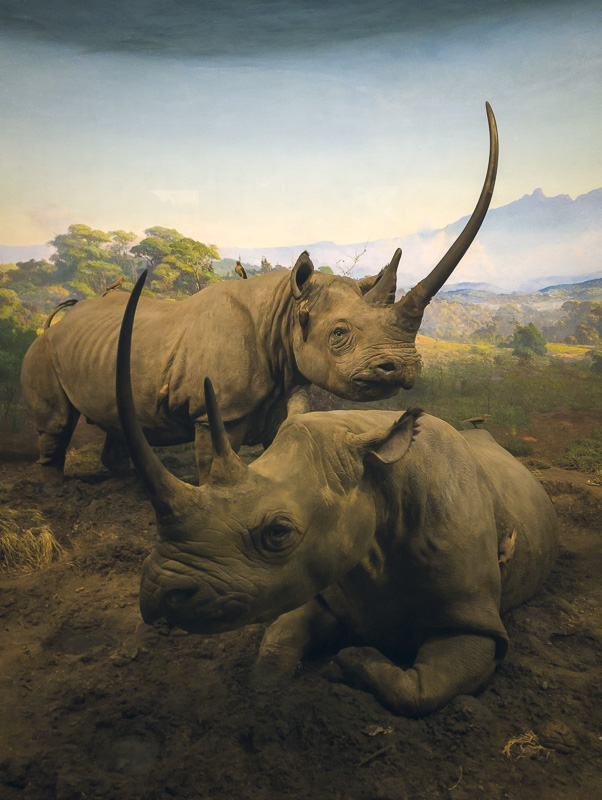 If you have kids, this is a fun museum for them to see dinosaurs, lifesize animals and scenic displays.
We didn't love this museum, but a lot of people do! And the life-like displays are very impressive.
32. Get Your Culture on at The Lincoln Center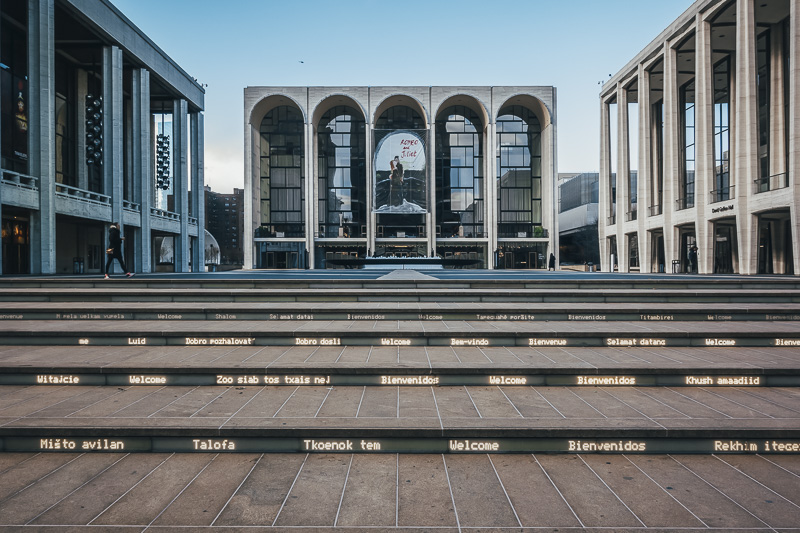 The Lincoln Center houses David Geffin Hall, David H. Koch Theatre, and the Metropolitan Opera House.
It is home to the New York City Ballet, The Metropolitan Opera and the New York Philharmonic.
So, if you want to step into high society for an evening, this is the place to do it.
Whenever we think of the opera, we picture Cher and Nicolas Cage going to the Met in the film Moonstruck which is located right here at the Lincoln Center.
If you are visiting New York at Christmas, we suggest checking out The Nutcracker at the Lincoln, it's a tradition! And if you've always wanted to see the ballet, this might be the time to do it.
33. Go Shopping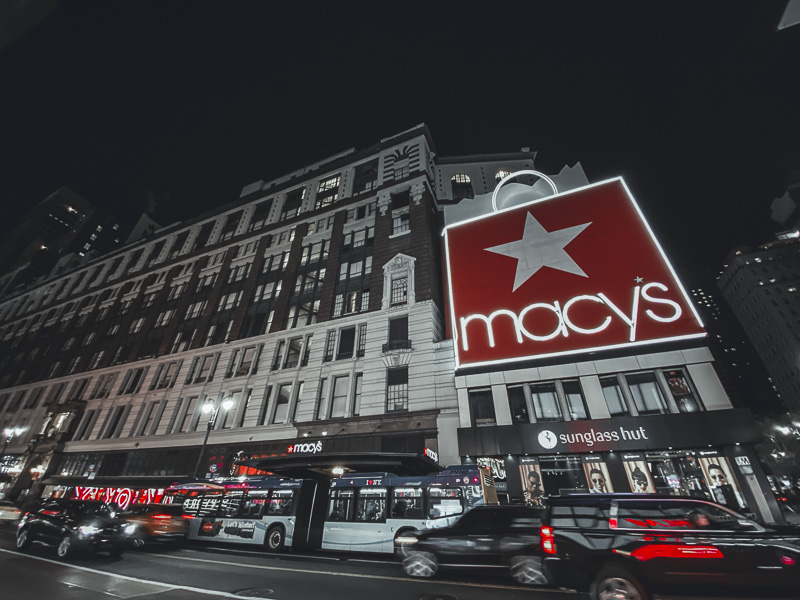 New York was made for shopping. I'll never forget my mom getting angry with me as a kid because I didn't want to buy anything from Bloomingdales. We had come all this way to New York and I was having a tantrum about shopping.
I've changed my tune these days!
When visiting New York, you have to walk along 5th avenue to do some window shopping and go into the flagship stores of Saks Fifth Avenue, Bloomingdales and Macey's. And don't forget Tiffany's.
Getting Around New York City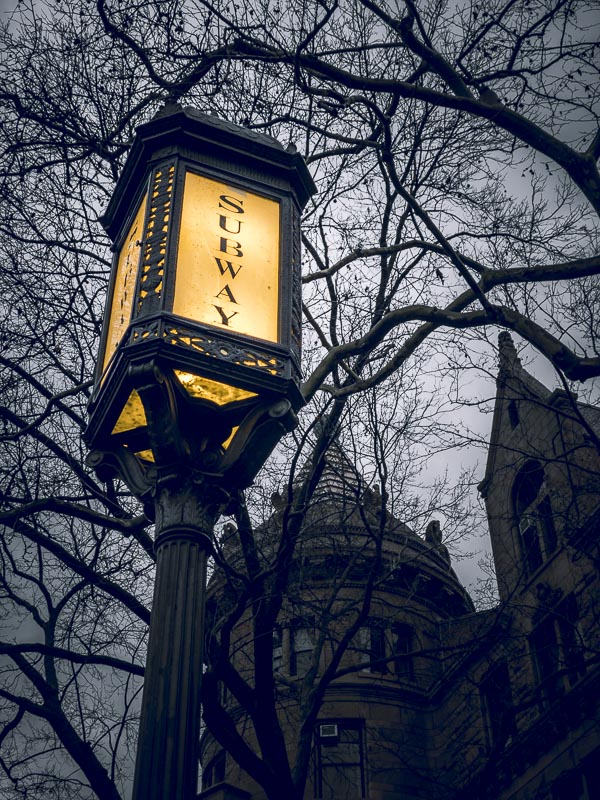 MetroCard
The best way to get around New York City is by subway. It's fast, efficient and affordable. Purchase a Metro Card at the machine. It takes cash or credit. You can purchase by the trip, $2.50 per ride. Or a 7-day unlimited pass is $29.
Taxis
New York Taxis are cheap and take cash or credit. One problem we noticed was that our Canadian card was declined twice. When we called our bank, they said they did not decline it at all,
We don't know what happened there, but we won't take a taxi again in New York. We had to go to an ATM and it ended up costing us $10 more because of time waited and he refused to give us change. So we ened up paying $15 more than the trip was worth.
Uber/Lyft – Best Option for Tourists
To save from this hassle, we used Uber and Lyft as we never had to give our credit card or carry cash.
We price compared both apps each time. There was always a huge difference depending on the time of day, so we suggest getting both apps.
New York Pass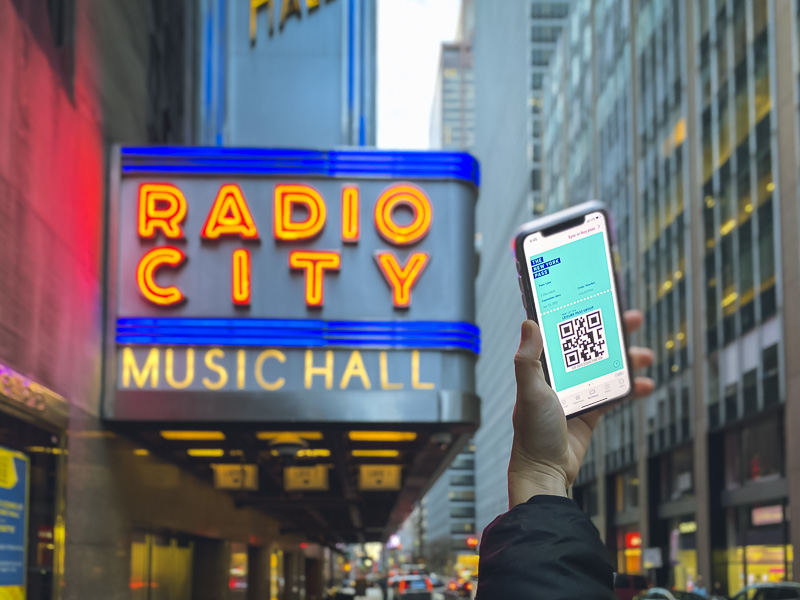 We used the New York Pass to see all the top New York City Attractions. A three-day pass cost $199 USD. It pretty much gives you access to all of the top things to do in New York City, including tours.
It also includes the hop on hop off bus if you want to get a lay of the land and see the city, plus you can catch it from one area to another at no extra cost. However, we found the subway to be faster.

But if you are not used to using city metros, the tourist bus is the best option.
We liked having the New York Pass because we went into places that we otherwise wouldn't have checked out. And they ended up being great experiences.
The app helps you:
plan your trip
gives suggested itineraries
offers discounts to shows, tours, and dining experiences
and is updated daily with new ideas and hot deals
We found it to be worth the money for what we did. But make sure you are actually going to do a lot in New York City because you could buy it and not end up using $199 worth of experiences.
If you are only planning on seeing one or two sites, we suggest purchasing tickets one at a time. Or looking into just a one day pass.
Where to Stay in New York


For first-timers, we really love staying near or at Times Square. We love staying in the thick of things when visiting the city, and this is definitely the center of it all.
It is accessible to everything and it is really easy to walk nearly everywhere.
We have an entire post on where to stay in New York and a post on our favourite New York Hotels that you can read here to find quieter and more reasonable places to suit your needs.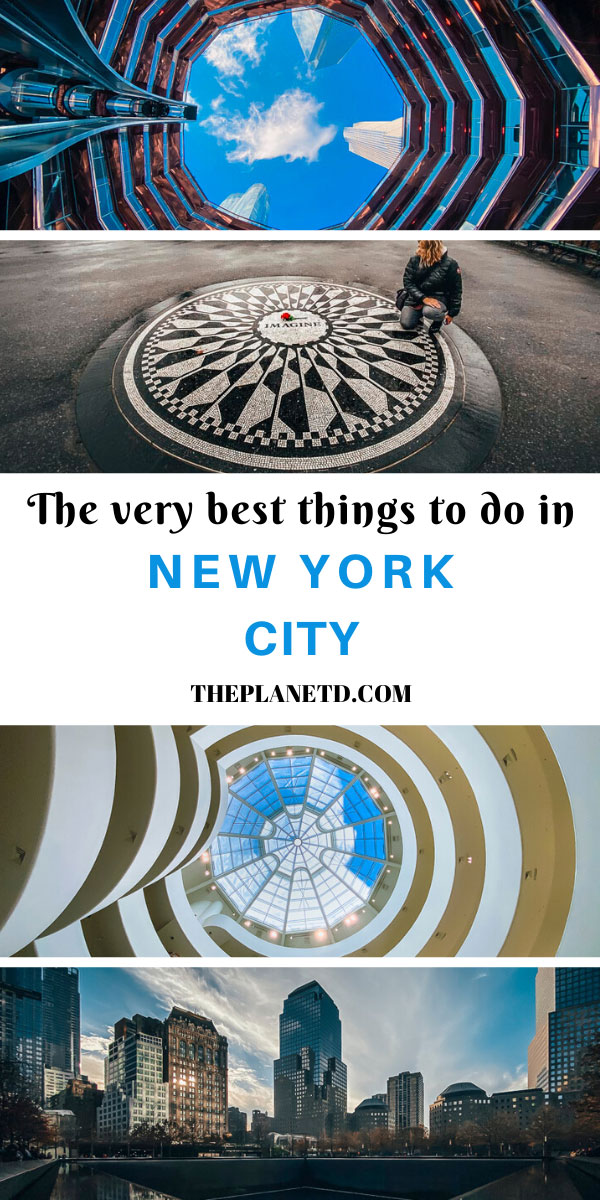 What have you done in New York City? Leave suggestions in the comments below so we have ideas for our next visit!
Read More:
The Best of New York at Christmas
11 Best Things to do in Chicago
59 Things to do in Toronto
You Might Also Enjoy
Source link Travel Advisor