In today's world of cyber technology and highly trained criminals, it's easy to have your valuables compromised. You need more than a money belt to keep safe and these anti theft travel bags help keep you safe while looking good!
In this article, we explain what to look for in an anti theft travel bag, options for choosing the right anti theft travel purse, and reviews of the bags that we have used ourselves.
Best Features of an Anti Theft Bag
Slash proof over the shoulder straps
metal mesh lined body panel and compartments
locking zippers
Locks to attach to a secure fixture
RFID blocking pockets and compartments
Versatility – You are spending a lot, so you want to have it fit a lot of different outfits
Easy to clean
What is RFID Skimming?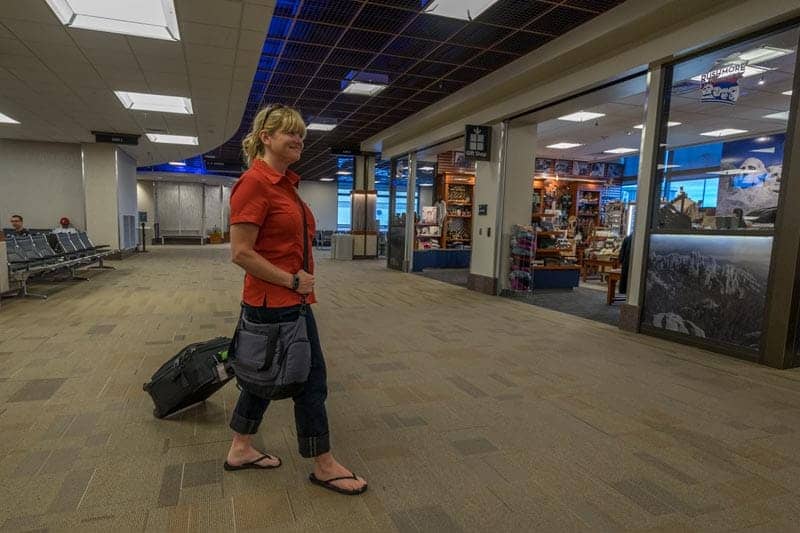 RDID Skimming It is a form of theft using wireless transmitters to gain information to your credit and debit card identification chips.
They can decode personal information like your name, address, phone number, and private social insurance and security numbers. Once somebody has that information, they can do anything from gain access to your accounts to stealing your identity.
RFID protects your credit cards and personal information from being swiped by cybercriminals.
If people want to, they can get your bank and credit information and wipe out your accounts in an instant.
That's why it's important to think about anti-theft travel bags, purses and wallets when planning your trip abroad.
The Best Anti-Theft Travel Purses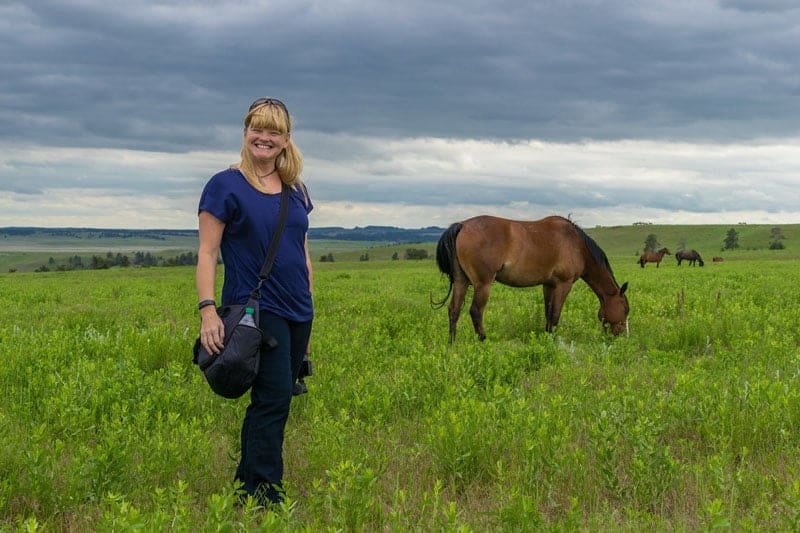 When looking for a good purse for travel, an over the shoulder slashproof bag with RFID protection is a must.
Having your hands free for travel lets you enjoy the little things and with a shoulderstrap crossing your body, you never had to worry about someone grabbing yoru bag.
Anti Theft Crossbody Bags and Purses
There are many types of anti-theft purses and bags that you can use to travel safe and we wanted to outline some of the latest designs to help travellers protect their valuables and their personal identities.
Pacsafe Citysafe LS400 RFID Travel Tote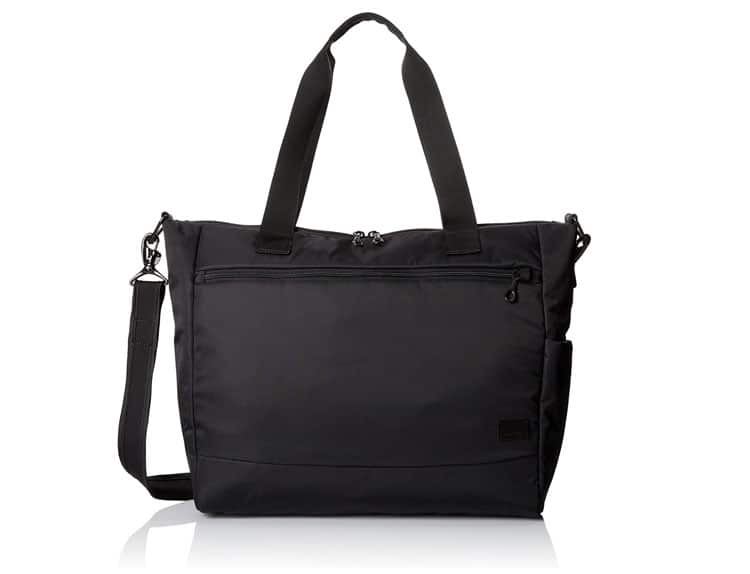 If you are looking for something larger, this is a great option. I love carrying larger bags when traveling because I pack a lot of stuff to go out each day.
This Pacsafe Tote it holds my camera and even my computer when flying. The inner compartment is large so I can rummage through to find what I need.
It has reinforced locking zippers, eXomesh Slashguard stainless steel wire mesh embedded into fabric to protect from a slash and grab, slash guard strap and turn and lock security to fasten my bag to a secure fixture at an airport, patio, or restaurant.
Having zippers reinforced and lockable in your travel bag is a must.
Take it from us, we've had people rummage through our bags without us noticing stealing our valuables. No matter how much you keep an eye on your bags, things can easily go missing.
Travelon Anti Theft Classic Messenger Bag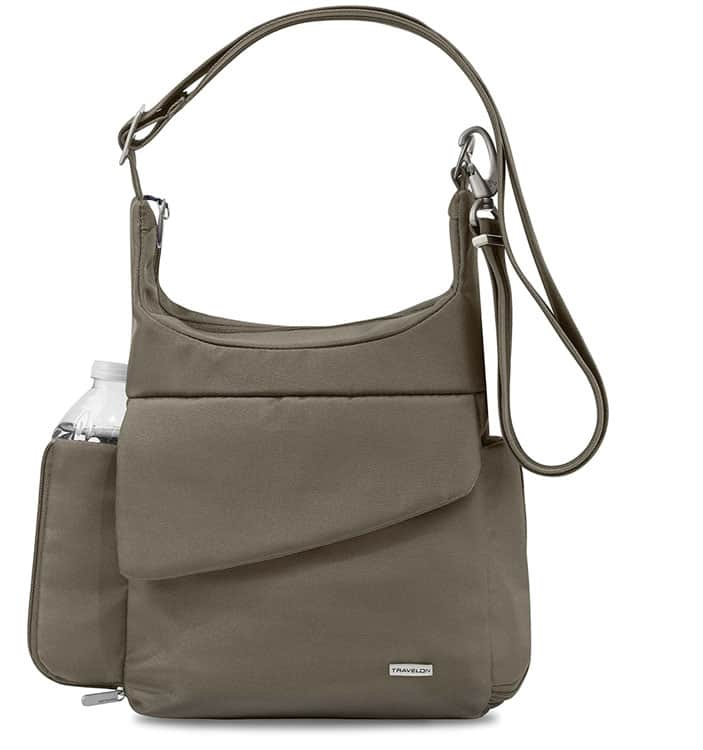 If you are looking for a different style and more compact the Travelon Antitheft Bag is a classic messenger bag design with anti-theft security.
It has all the same features and functions as the classic Travel Bag, with the added feature of two outside pockets for water bottles and an umbrella.
Travelon Anti Theft Purse – Classic Travel Bag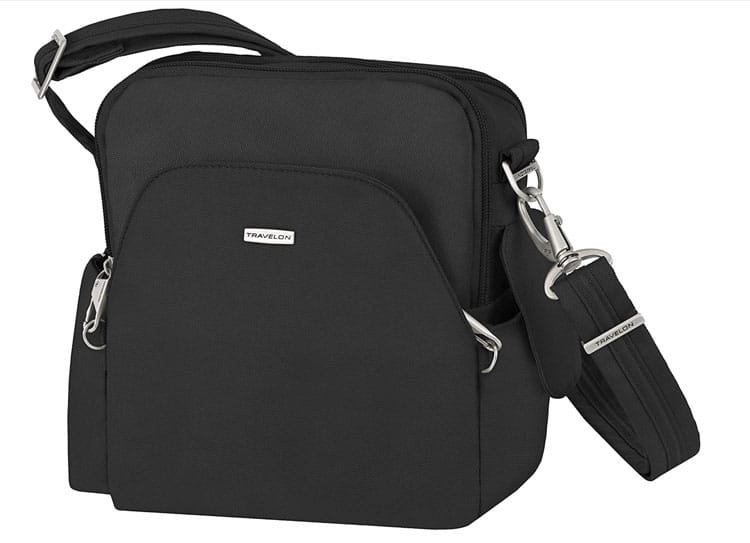 The Travelon Purse is a classic one size fits all travel bag that has all the antitheft functions you need.
Locking zipper compartments
Slash-proof construction
Adjustable, cut-proof shoulder strap attaches to post or chair
RFID blocking pocket for credit cards and passports. s
It also has a removable LED Light and mesh expansion water bottle holder that you can open when needed.
When walking through a crowded market, I can lock my zippers so that nobody can rummage through my valuables.
I used to constantly walk with my hand on my zipper or squeeze my bag under my arm pit. Now I walk with a little more comfort.
Pacsafe City Safe Antitheft Travel Purse -Small Crossbody Bag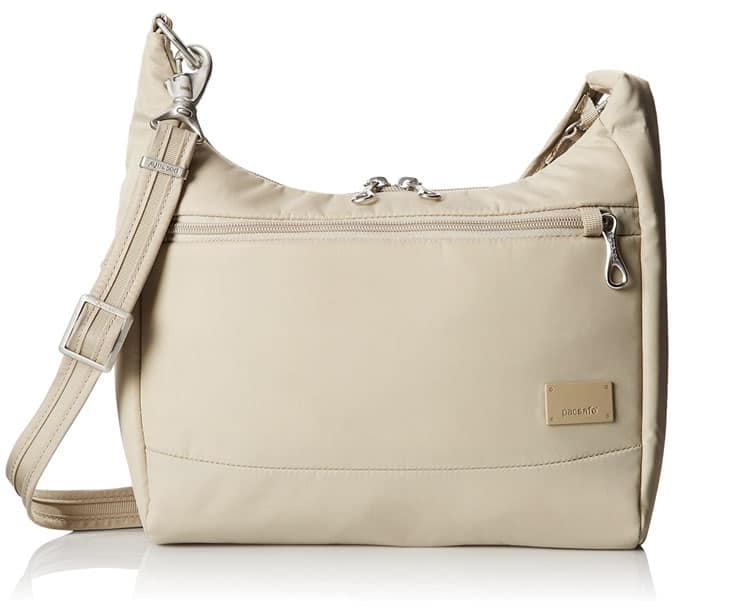 I have also used this smaller version of the travel tote.
This is more of a purse than a travel bag, but it is a great option to pack in your suitcase and bring out at night or while sightseeing.
It doesn't hold a large camera or computer, but it has all the antitheft functions and is still large enough to hold everything you need.
Small Secure Crossbody Hip Travel Purse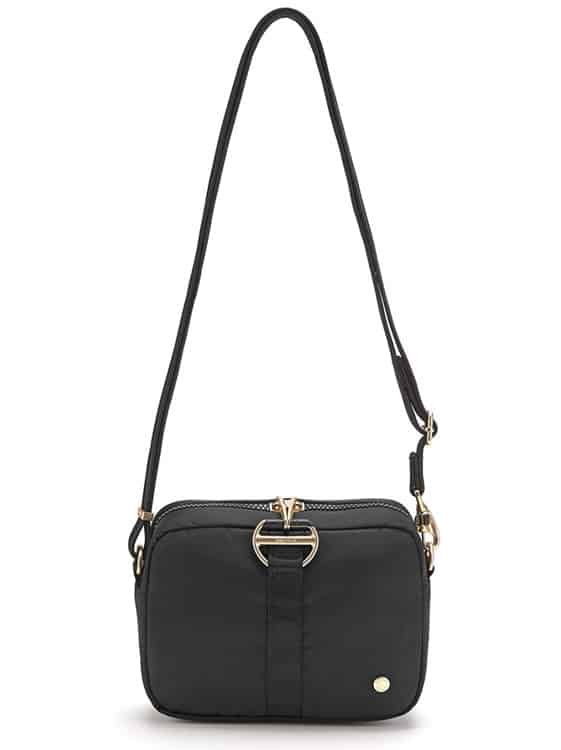 If you are looking to dress things up a bit, this Pacsafe Crossbody Safety Purse gets rave reviews.
It's long shoulder straps work for everyone, it mixes fashion with function but is big enough to hold what you need.
Minicat Cross Body Purse
This doesn't look at all like a travel purse and when traveling to places like London or Paris it is exactly what you need to blend in in the city.
It's small, so you can't take along the normal travel gear you want, but if you are heading out to the clubs or shopping on the Champs-Élysées, you'll look good and keep safe.
This travel purse has the usual RFID lining and secure cross body straps, and covered zipper. It has a built in wallet to keep your cards secure.
Choosing the Best Anti Theft Bags
Travelon and Pacsafe are both great options for safe and secure travel bags. Travelon has more options for small travel purses and more urban designs, but Pacsafe has more options for functionality and travel specific uses.
Take a look at both brands to see what features best suit your needs.
Anti Theft Purse Backpacks
For the longest time I avoided purse backpacks because I felt vulnerable having my valuables on my back.
But with all the new anti theft technology, things are much safer. Dave and I both carry a lot of camera gear and I used to always only use a messenger bag.
But now, when we are going out, I need to save my back and evenly distribute the weight. A backpack is great for this.
Look for a backpack that has locking zippers, steel mesh lining, and slash proof straps – You are now good to go.
Check out these options for cute nights out to full day packs.
Sherpani Sojourn, Anti Theft Convertible Backpack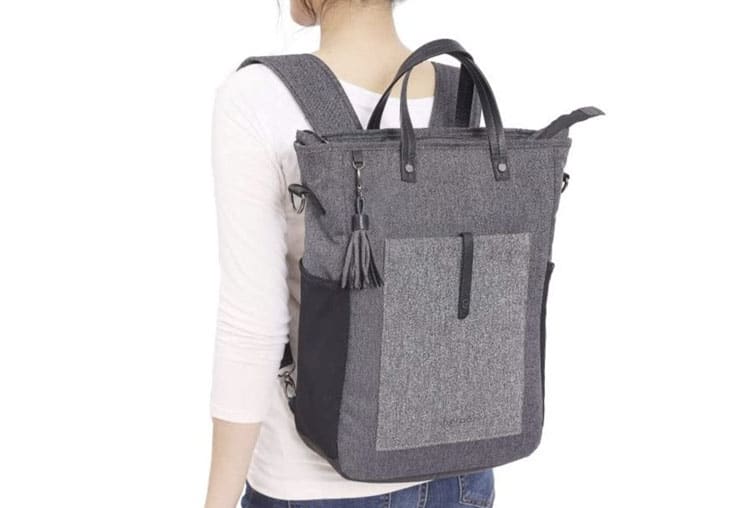 This versatile backpack, purse and tote is a great option to change things. upwhen you travel.
It can be a backpack, tote or cross body purse offering different options for any occassion when traveling.
Plus it has all the anti theft security features you are looking for.
It comes in a small version as well.
Baggallini Convertible Backpack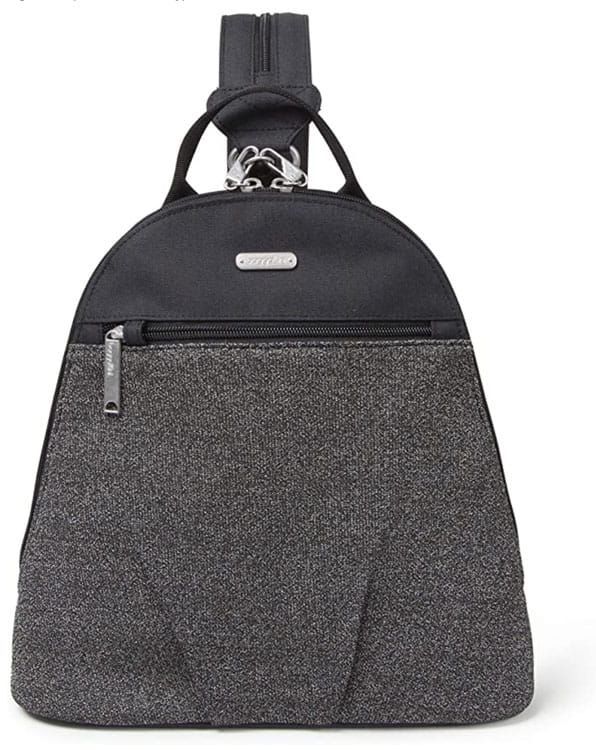 If you want to dress up your anti theft bag a bit, this backpack is trendy and cool looking. It will blend with your wardrobe for a night out or a day of sightseeing.
It's cute and is small enough for those places that don't allow large bags or backpacks and stylish enough to wear out at night.
Anti Theft Travel Bags for Men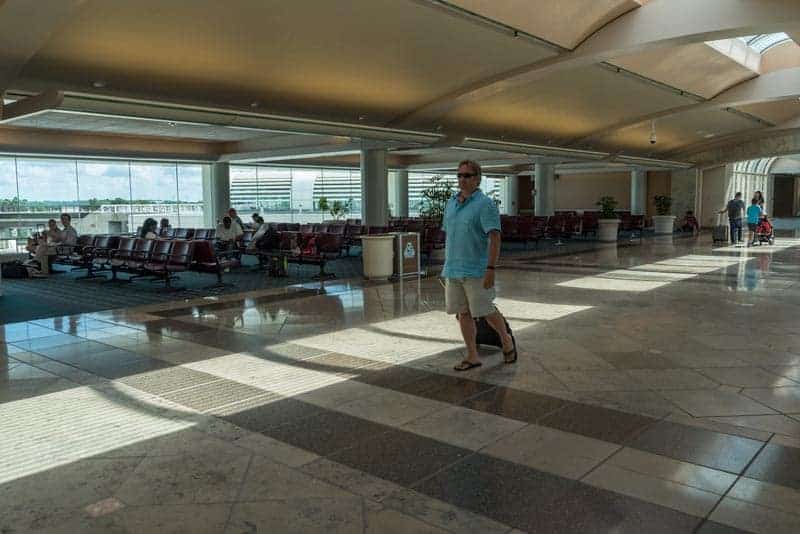 Anti Theft Backpack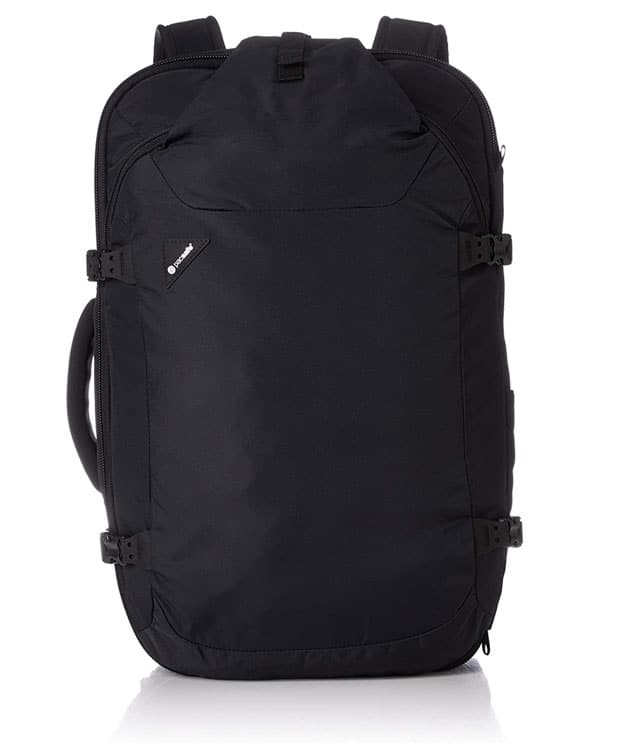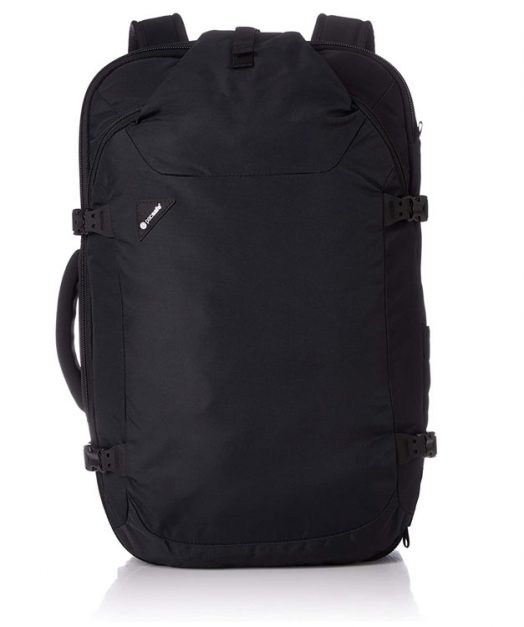 We are fans of the Pacsafe Design and a great option for an anti theft travel backpack is the Pacsafe Venturesafe EXP45 Anti-Theft Carry-On Travel Backpack
The 45-liter size is small enough for carryon and it has the anti-theft features you need for opeace of mind.
Reinforced zippers can all be zipped to one central point to secure the backpack to a fixture. This is great when sleeping on trains or overnight buses.
You have peace of mind that everything is closed, locked and secure.
The wire mesh fabric protects from slash and grabes, and it holds, laptops and all your travels if you pack light. This is a great option for backpacking through Southeast Asia.
Anti Theft Camera Backpack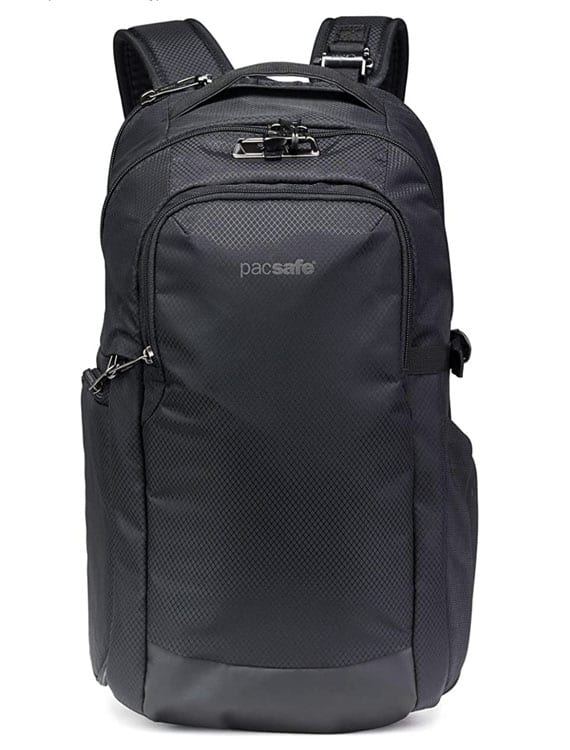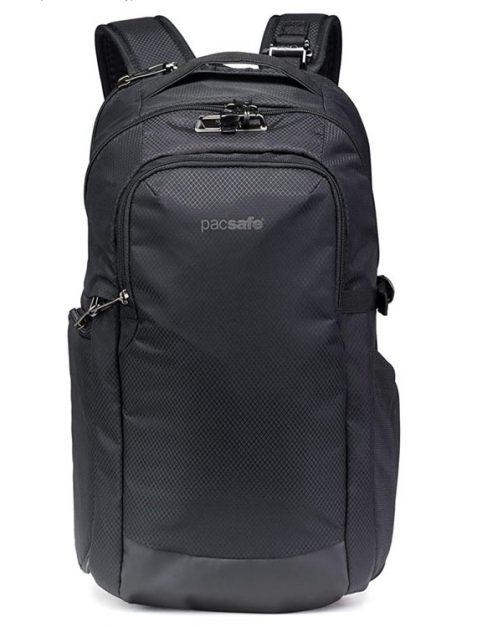 While Dave has a very set system with his camera gear using Shimoda, there are great backpacks specified to camera gear.
If you want a camera bag made for professional photography that holds several lenses and camera bodies, you will want to go with something else.
Check out Dave's Travel Photography Gear Guide
But this is a good camera backpack option. We recommend a backpack over a cross body messenger bag as camera gear can be very heavy.
We are fans of Pacsafe and the PacSafe Camsafe X17 Anti-Theft Camera Backpack is a good option to carry all your camera gear with the usual anti-theft features.
Anti Theft Bag Accessories and Alternatives
Pacsafe Travel Organizer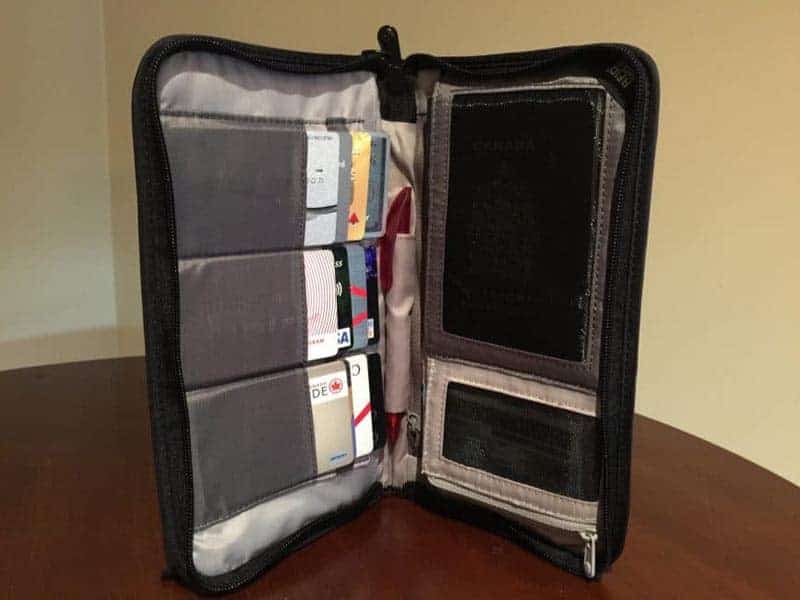 I don't want to always carry my tote or travel purse, so this folding wallet turns into a nice anti theft travel purse. (even though it is really a wallet)
I've put my cellphone, a portable charger and iPhone chord into this handy organizer to go out at night.
It's RFID secure and there is a strap that I fasten to my wrist so nobody can grab it out of my hand.
It's not exactly a handbag, but I use my Pacsafe Travel Organizer as a clutch purse at night.
Leather RFID-Blocking Thinfold Wallet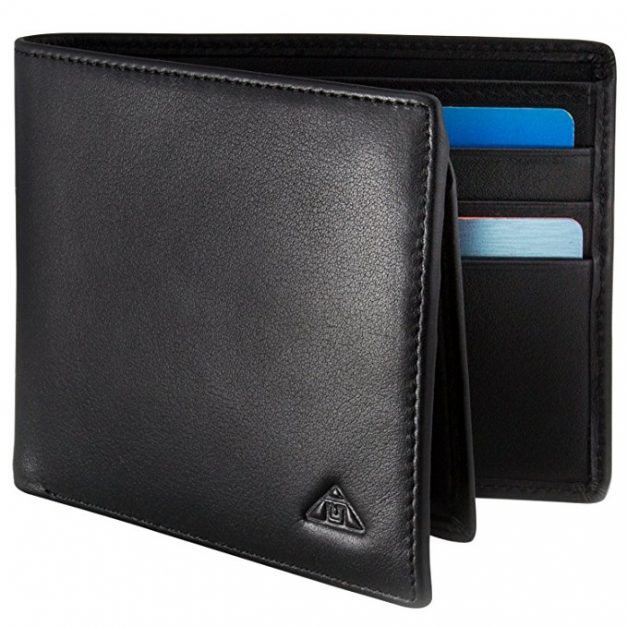 Dave rarely carries a wallet these days. I'm his designated wallet carrier, thank God I have all those secure purses and bags to keep everything safe.
But when he does, he also makes sure his credit and bank cards are safe with RFID Technology.
It easily holds all his credit cards and money. This organizer transforms into a clutch for nights out too.
To keep his wallet safe, he wears pickpocket-proof shorts or pants.
These pants have come a long way baby. When traveling, you don't always want to carry a bag, sometimes we just want to go for a walk through town with a few items and some cash.
The Pickpocket proof pants are the answer with deep pockets that are protected with a zipper and button for extra protection.
PacSafe Anti theft Travel Bag Protector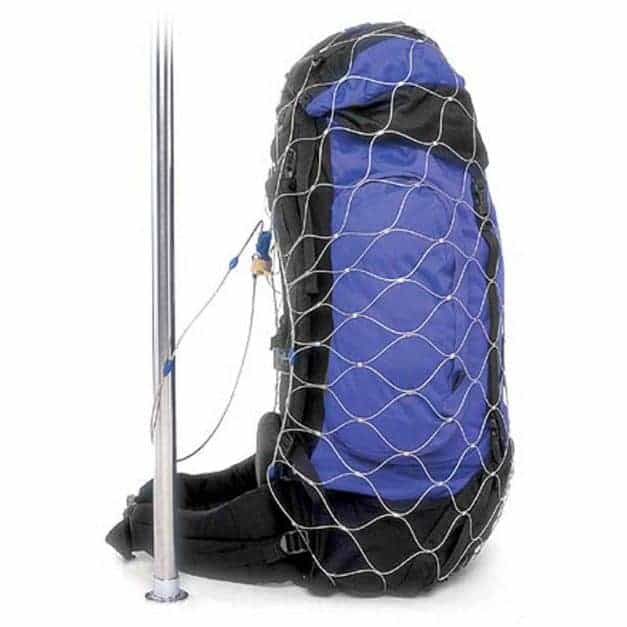 The Pacsafe Travel Bag protector put our minds at ease when travelling on the train and when leaving our beach bungalow. This item is excellent for securing all valuables in one place.
Often when traveling on trains in Asia, your bags will be stuck somewhere else.
With a Pacsafe protector, you can wrap a lightweight steel frame around your bag and lock it to a pole.
We could sleep soundly knowing that our valuables were locked securely to a pole inside its own vault like safe.
When we stayed in some questionable accommodation on the beach, we locked our computers and cameras up inside a bag and locked it to the bed frame.
It can add extra weight to your luggage, but we didn't regret the extra weight when traveling through India. We used it all the time as we were on a tight budget and our accommodations never felt completely secure. With the pacsafe protector, we locked everything and enjoyed our day.
Luggage locks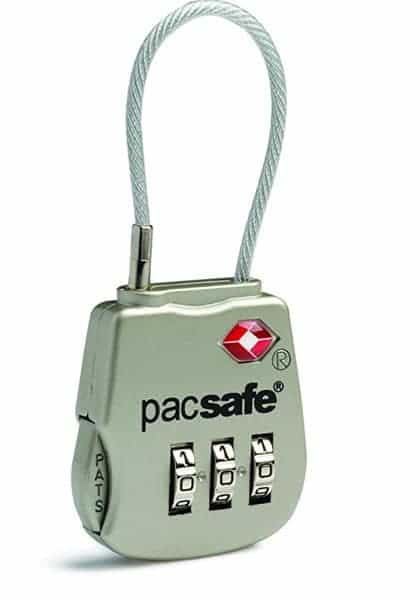 We like to lock our luggage when in transit. Even while standing in line, people can easily get into your zippers.
Luggage locks give you that extra protection to deter thieves. We always say, Why make things easy for people?
Thieves look for easy targets. I can't tell you how many times I've stood in a queue and noticed my fellow passengers dragging a bag behind them that's wide open.
Be it a carryon roller, backpack, or rolling duffel bag anyone can stick their hand in and rummage through your things.
Luggage locks are lightweight and easy to open, help to make things difficult for criminals.
Other Anti Theft Products
Let's face it, sometimes you don't want to carry anything but your cell phone when going out on the town or going sightseeing.
These are some anti theft alternatives to carry some cash and credit without having the fear of being pickpocketed.
Bra Wallet – Great for keeping ID, money and credit cards safe. Clips to your bra letting you enjoy a night on the town hands free. Note: It is not big enough to hold a phone.
Security Belt – RFID Blocking wallet that clips to your wasteband. It holds credit cards, ID and money. It is not big enough for a cell phone.
Travel Scarf – Go hands free to the market with a zip locked secure travel scarf to carry your ID, cash and credit cards. It is also big enough to cover your head and shoulders for going into temples or places where you need to cover up.
Money Belt – A Good old fashioned money belt lets you carry passports, and other valuables under your clothing. But this money belt has a modern touch with flexible spandex fabric and enough space to store phones.
Neck Wallet – Don't want the bulk of a money belt, a neck wallet lets you go through the airport handsfree with enough space to hold all your travel documetns.
Luggage tracker
We can't always be with our luggage when flying. Even when traveling carryon only, you sometimes have to check a bag on smaller planes. If luggage does get lost, it's a bonus to have an extra set of security to track your luggage.
It has automatic Worldwide Tracking with Cell-tower Connected Technology.
Travel Tips for Anti Theft Bags
Well, you've made it this far, let's go over the best practices to keep you and your valuables safe when traveling.
Split your valuables between bags – It's a great idea to put some valuables in your travel purse, your backpack and your carryon so if something does go missing, you' won't lose everything.
When sightseeing, don't carry your passport with you. Keep it safe and secure in your hotel room safe.
Leave behind a credit card so you have a backup in case of emergency at your hotel. Don't carry every credit card and all your money at all times.
Choose a cross body purse or travel bag to avoid slash and grabs.
Keep your over the shoulder bag close and in front of you in public markets and transit. (pickpockets are good and can get into reinforced zippers)
Check out our top travel scams around the world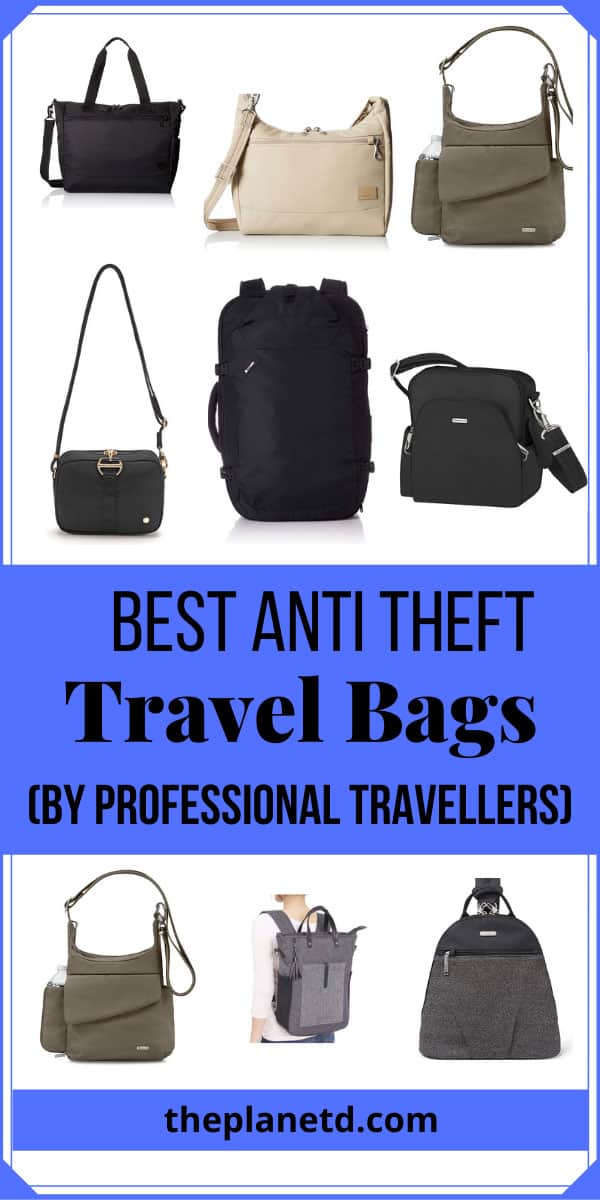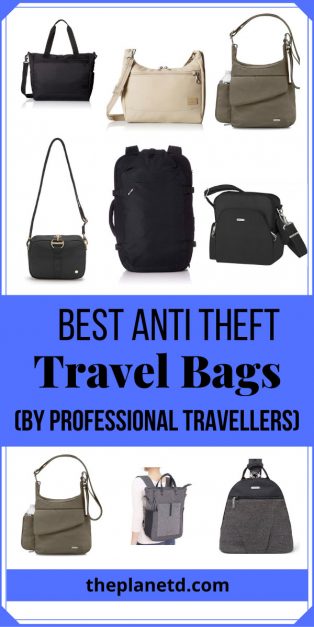 Read More:
Still can't decide, check out our travel store on Amazon for more Anti Theft Purses, Anti theft bags, backpacks and travel safety gear.
Source link Travel Advisor