The Sea to Sky Highway from Vancouver to Whistler is a short drive by road trip standards, but it is filled with so many sights and stops, it can take days to truly explore.
Having lived in Vancouver, we drove this epic road many times in our lives, but it wasn't until we revisited as tourists that we actually took our time to take in all the top attractions along the Sea to Sky corridor.
In this post, we share all the best things to do, the best places to see and the best excursions to take along the Sea to Sky Highway.
So sit back, enjoy the views and start planning your own road trip from Whistler to Vancouver.
About the Sea to Sky Highway
The Sea to Sky Highway is only 154 km (95 miles) driving route from Vancouver to Pemberton British Columbia. It can be driven in a day if you are heading straight to Whistler for some skiing.
But if you want to make a road trip out of it as we did, plan for four to five days exploring the hiking trails, waterfalls, and towns along the way.
Things to See on the Sea to Sky Highway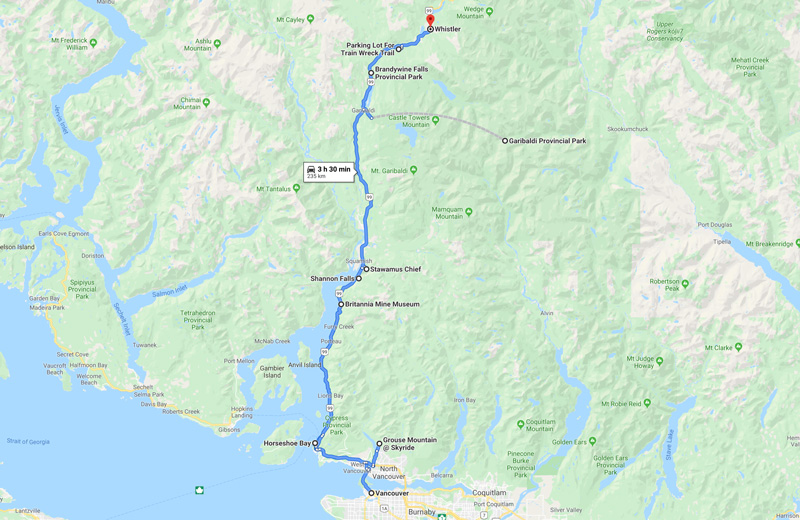 Get your interactive map for the Sea to Sky Highway route.
Start – Vancouver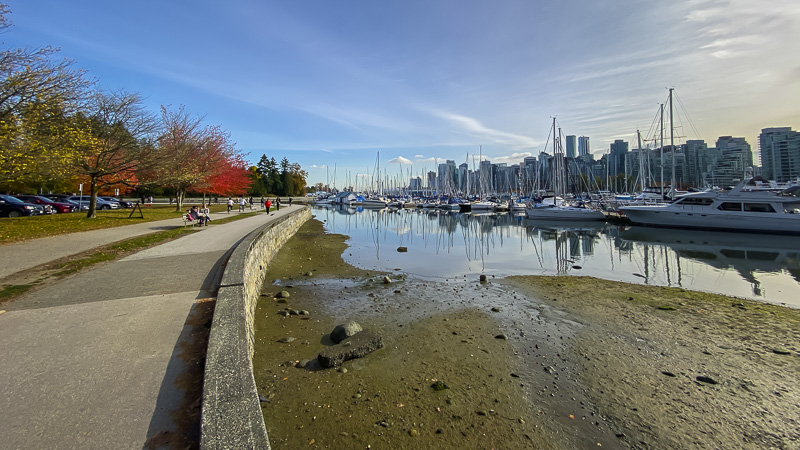 Spend the night in Vancouver and check out this cool West Coast town for a day or two.
There are many things to see in Vancouver that will keep you occupied.
We suggest starting in Stanley Park. Rent a bicycle and take a spin around the Sea Wall.
Be sure to stop at the Marina for some of the best views of the Vancouver Skyline.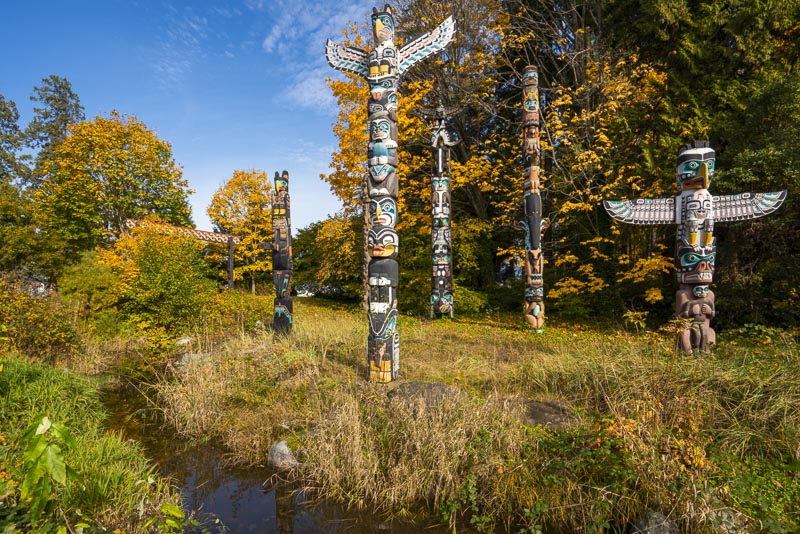 A great stop is also the Stanley Park Totem Poles at Brockton.
The totem poles display the indigenous culture of British Columbia which is very prevalent along the Sea to Sky Highway aka British Columbia Highway 1.
Spend the rest of the day exploring False Creek with a good chunk of time at Granville Island.
Granville Island is filled with eateries, boutique shopping, artists studios, and even a theatre. It's a fun spot to hang out.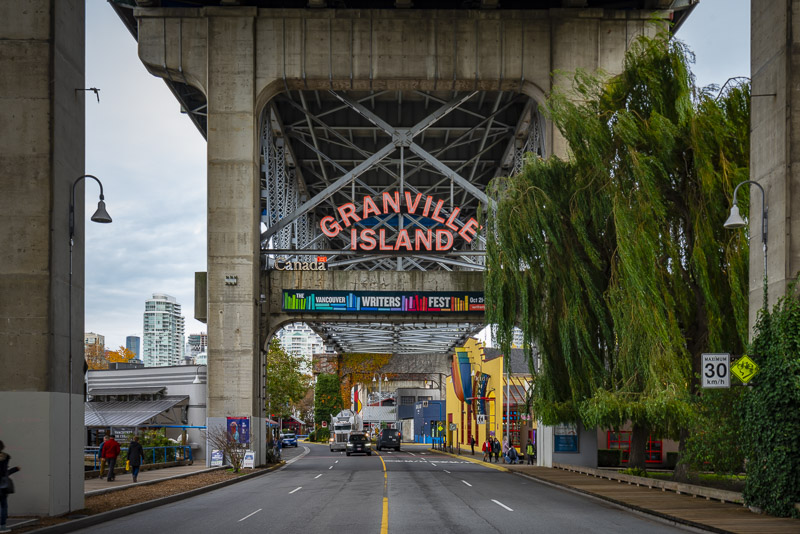 Then take the water taxi across False Creek to walk along the waterfront to Gastown.
Vancouver's oldest neighborhood was founded by Gassy Jack Deighton in 1867. There's lots of shopping and dining here.
Where to Stay in Vancouver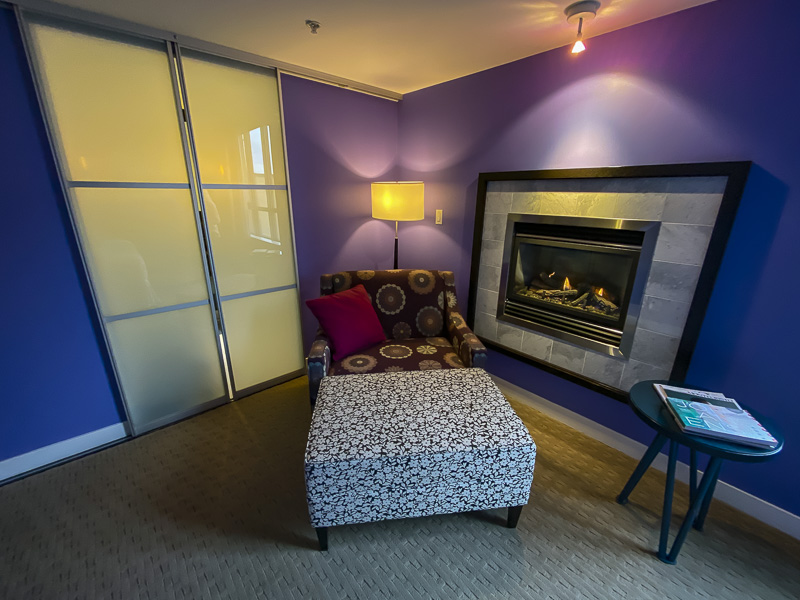 The Opus Vancouver is an excellent boutique hotel located in Yaletown that is walking distance to everything.
This stylish hotel was named one of the top hotels by Forbes and the top luxury property in BC.
It had some of the friendliest service we've experienced at a hotel. It must be that fresh West Coast air that makes everyone happy!
We highly recommend it. Plus there are great options for dining and nightlife close by and its just a short walk to the waterfront.
Sights to See Near Vancouver
After a second night in Vancouver, it is time to do a couple of day trips before you begin to drive the sea to sky highway.
Vancouver and the surrounding area is a vacation destination until itself.
Capilano Suspension Bridge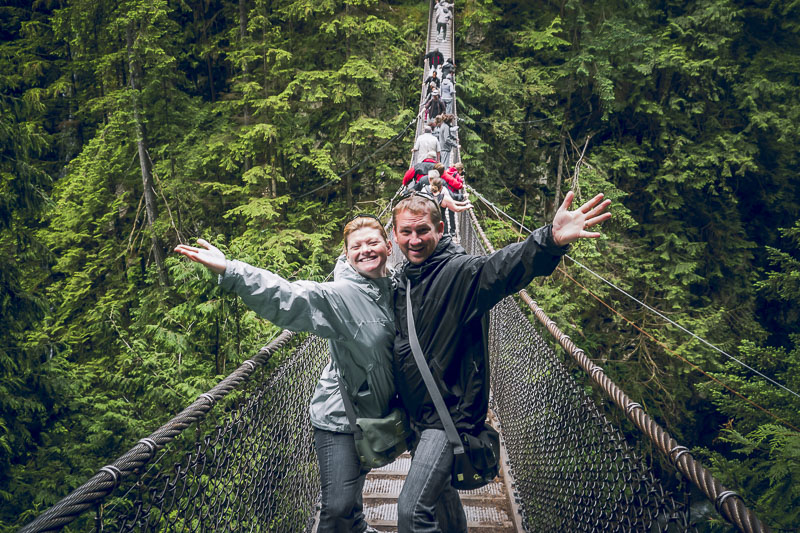 No trip to British Columbia would be complete without a stop at the Capilano Suspension Bridge.
The Capilano Bridge is a 137meters long (450 feet) suspension bridge swinging 70 meters (230 feet) above the Capilano River.
This is the star attraction, but there is also a high ropes treetop adventure and they offer guided walking tours through the rainforest.
There are free shuttles from downtown Vancouver, but if you have a car, we suggest driving since you will want to explore the other sights near Vancouver.
Vancouver Beaches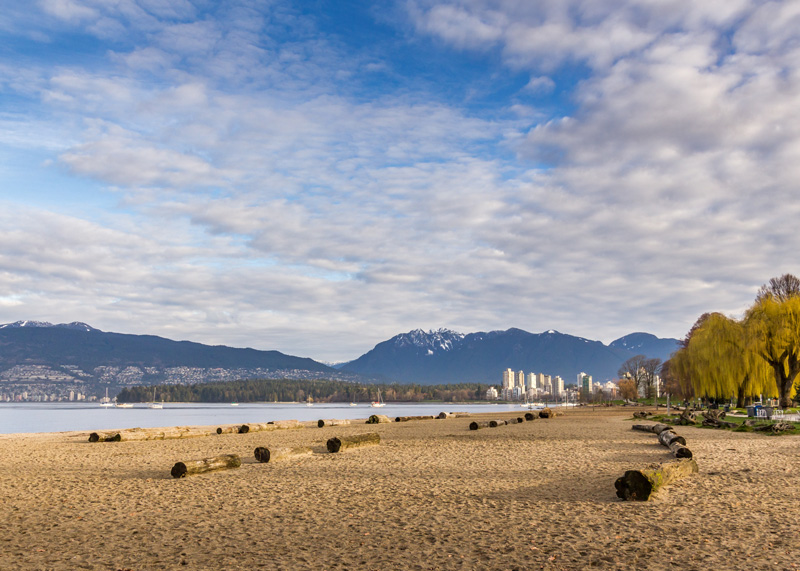 Vancouver has a few cool beaches to visit. Chances are you already visited Second and Third Beaches when cycling around Stanley Park.
And when working your way from Stanely Park towards Granville Island, there's English Bay Beach (where we used to live) and Sunset Beach.
But if you go across the bay, there are even more beaches.
The top Vancouver beaches to visit are Jerico Beach, Kitsilano Beach, Spanish Banks Beach, and Wreck Beach.
Wreck Beach is considered one of the best nude beaches in the world, so be warned, you'll see a lot of skin.
You do have to work to get to it though. The reason it was probably chosen as a good nude beach is because of the 500 steps leading down to the sandy beach.
Part 2 – North Vancouver to Howe Sound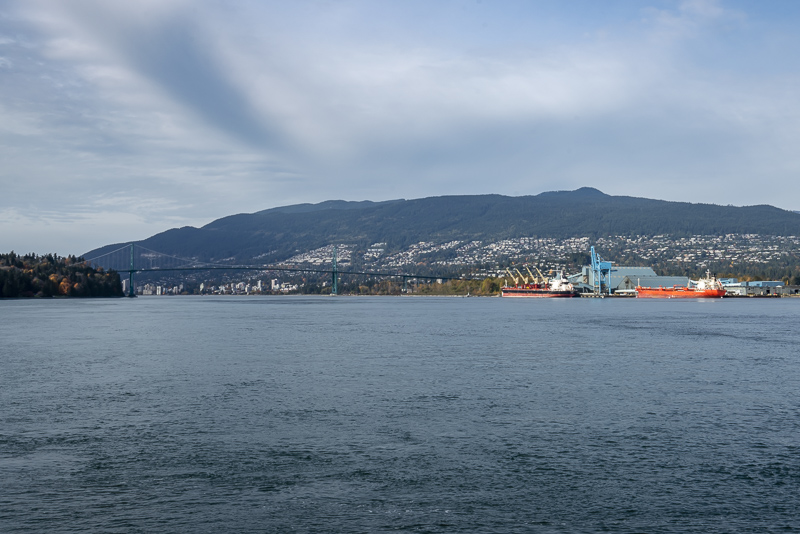 After spending a day or two exploring Vancouver, it's time to hit the road and let the road trip begin.
When leaving Vancouver, we cross the Lions Gate Bridge into North Vancouver.
This is home to some great skiing right near the city center.
There's Cypress Bowl, Mount Seymour, and our personal favorite Grouse Mountain.
Grouse Mountain Gondola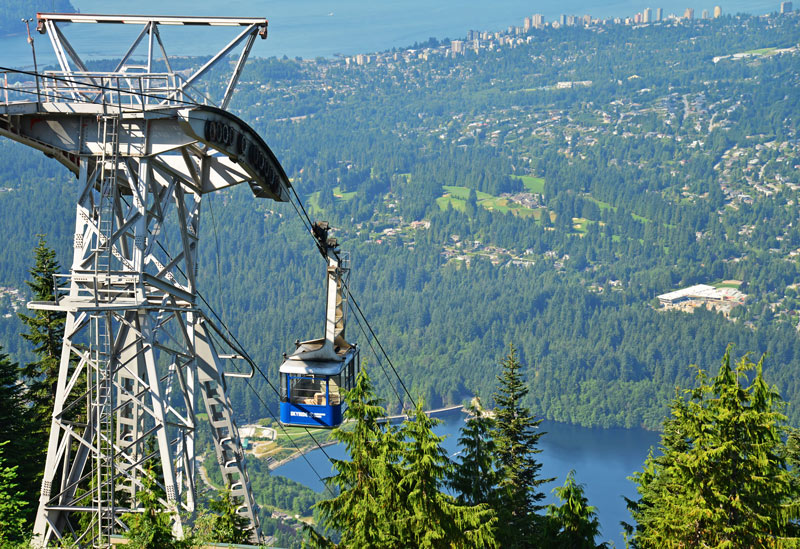 Grouse mountain is a year-round destination just 15 minutes from downtown Vancouver.
Take the Grouse Mountain Gondola up for magnificent views of Vancouver and the bay.
If you are traveling in the winter, skiing is definitely in order. But if you are not into skiing or visiting during another season, there's a zip line, lumberjack show, dining, and hiking.
As we continue on, we drive through West Vancouver and a stop at Lighthouse Park before entering Horseshoe Bay.
Horseshoe Bay Community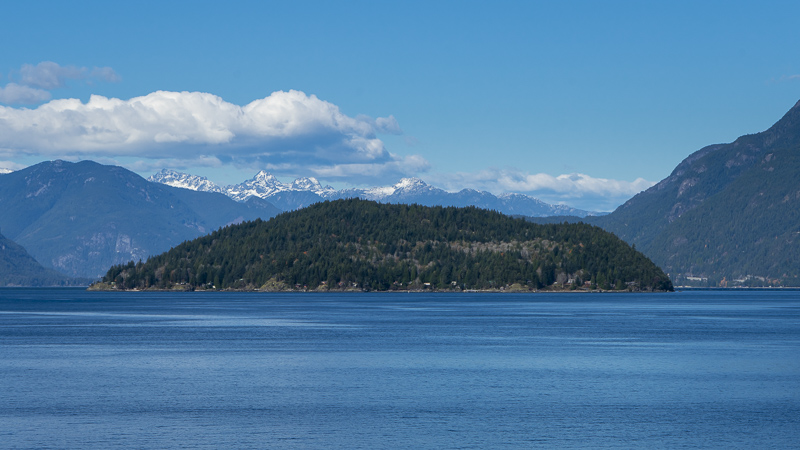 Moving on along Highway 99, we come to Horseshoe Bay. This, in my opinion where the Sea to Sky really starts.
It's a thriving community with plenty to see and do. You can spend the day exploring the eateries or you can rent a boat.
Whytecliff Park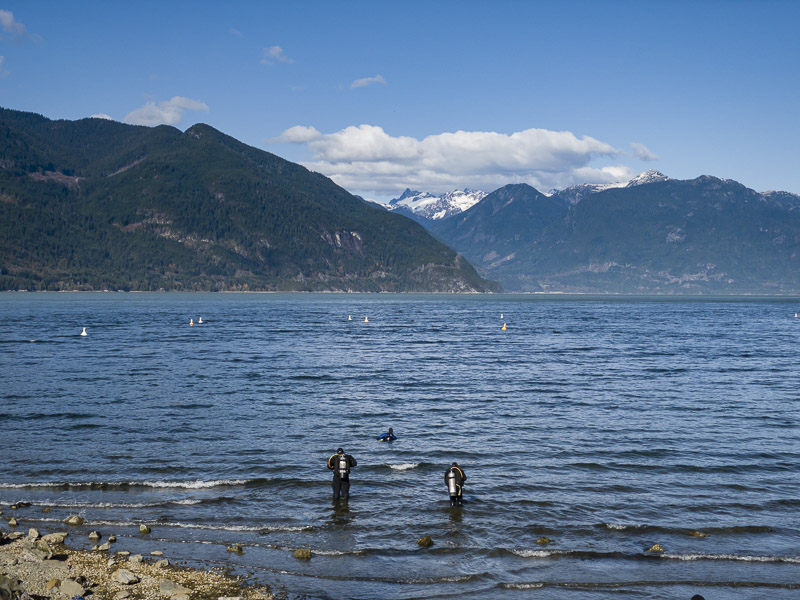 A popular stop for scuba divers is Whytecliff Park.
This marine sanctuary is home to shipwrecks and an abundance of Marinelife.
It's great for swimming and at low tide, you can walk out to Whytecliff Island.
Part 3 – Squamish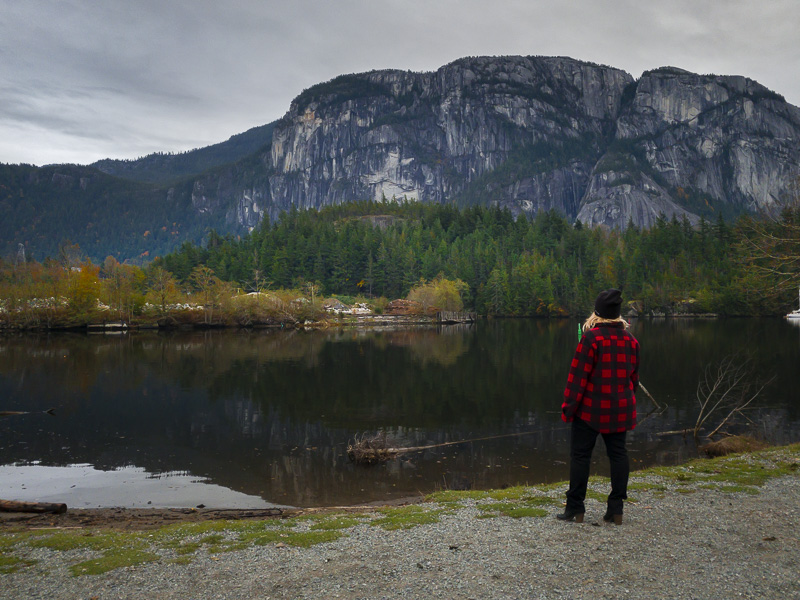 Driving from Vancouver, the first major community after Horseshoe bay is Squamish.
Squamish used to be a spot to fill up the car and move on to Whistler, but it has developed into a community that dubs itself the adventure capital of Canada.
After a day of exploring North Vancouver, Horseshoe Bay and Howe Sound, book a cabin at Sunwolf Riverside to make a home base for a couple of days.
From here, it's time to explore the area around Squamish.
Britannia Mine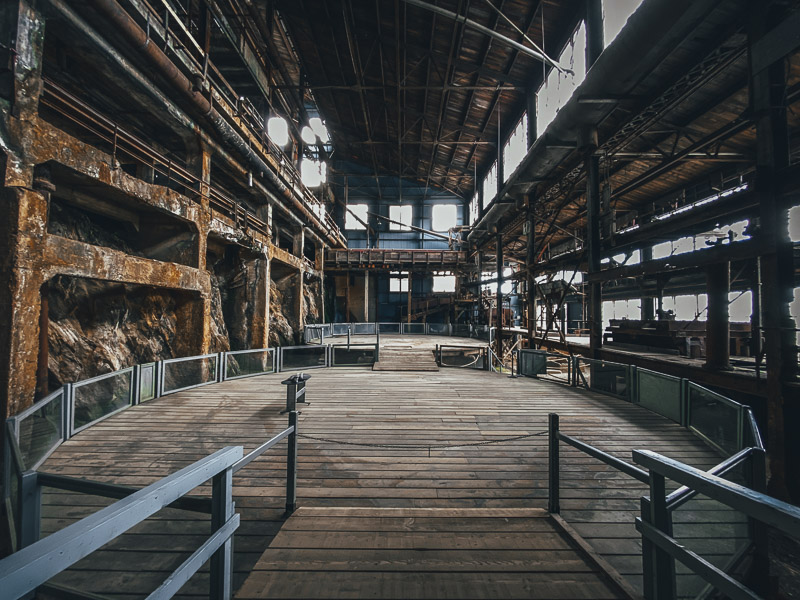 The first attraction in Squamish that you'll come to from Vancouver is the Britannia Mine Museum.
This mine has been featured in many Hollywood films. Recently we were watching Mane in the High Castle and the Britannia Mine played a major role in the final season.
This National Historic Site of Canada used to be the largest copper mine in the entire world.
Today it is an excellent interactive museum that takes visitors on a train to the heart of the mountain to see where miners dug for copper.
Make sure you check out the new show, BOOM.
The multisensory film takes place in the massive 20 story building where we learn in a very entertaining way about the 96-year history of mining in Squamish.
Britannia Beach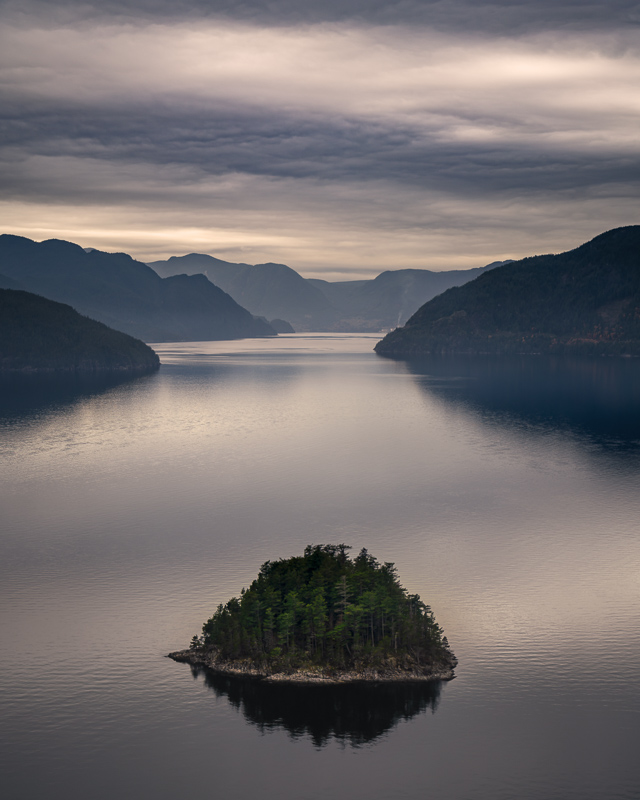 This was once a booming mining town, but today it is a small and charming village. Britannia Beach used to be one of the most polluted areas in North America because of the mine, but in 2005, a massive project was undertaken to clean up the waters.
Today, the waters of Howe Sound at Britannia Beach is 85% recovered with marine life coming back more and more each year!
Sea to Sky Air
An excellent trip to take while in Squamish is a scenic flight on a floatplane over the Coast Mountains and Howe Sound with Sea to Sky Air.
Our pilot David took us over the waters where we landed on Howe Sound to toot around for awhile looking for marine life.
It was one of the best scenic flights we've ever taken.
Sea to Sky Gondola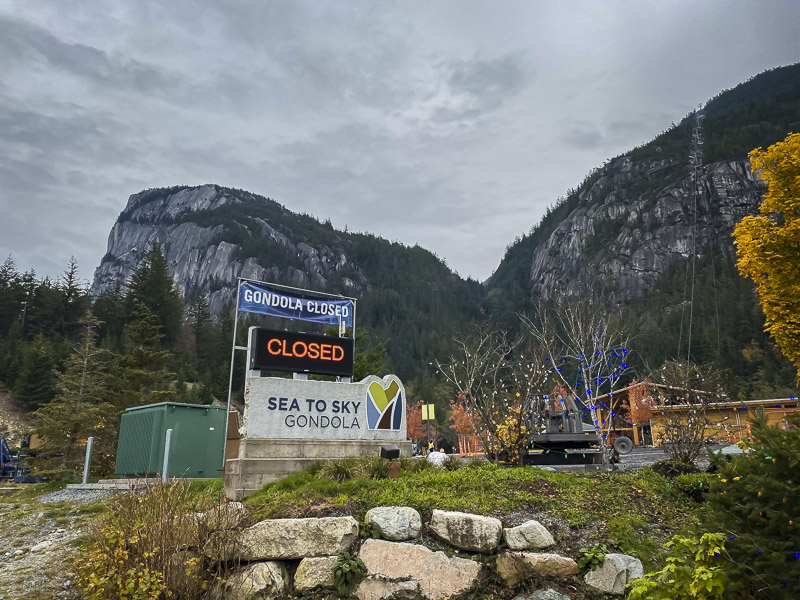 If a scenic flight is out of your budget, the Sea to Sky Gondola will be opening again in June 2020. It takes you up to Summit Lodge for awesome views of Howe Sound.
When you are at the top there are several viewing platforms, The Sky Pilot Suspension Bridge and lots of hiking.
This is one of the premier attractions on anyone's Vancouver to Whistler road trip.
Shannon Falls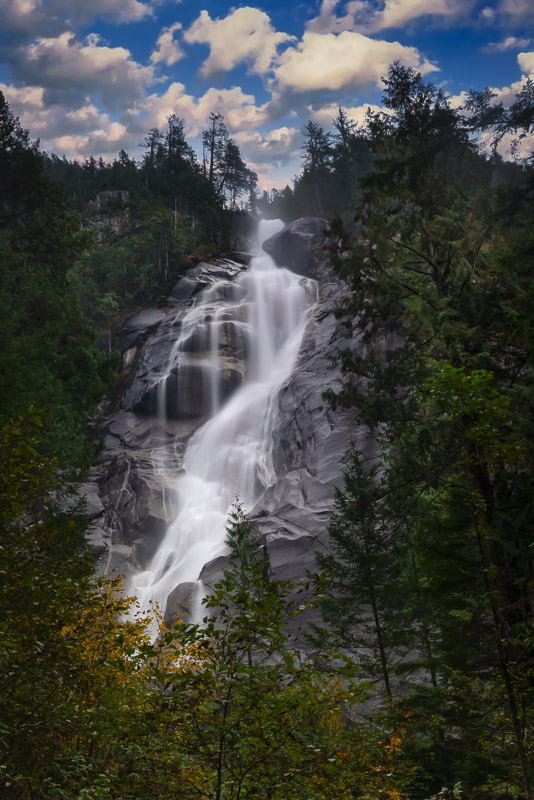 The first waterfall we come across between Vancouver and Squamish is Shannon Falls.
The falls are a short and easy walk from the parking lot so make sure you get out and have a look!
Shannon Falls is the third largest waterfall in British Columbia.
There are a couple of different viewpoints to take in the massive 335-meter (1099 foot) cascade.
From Shannon Falls, you can start one of three treks to the Stawamus Chief.
Stawamus Chief
Known simply as The Chief, the Stawamus Chief is a 702 meter (2,303 foot) granite cliff towering over the city of Squamish.
Rock Climbers come from around the world to tackle its routes. The Chief is Canada's Answer to El Capitan.
You don't have to be a rock climber to enjoy The Chief, you can hike to the top too!
There are three different hikes, First Peak, Second Peak and, Third Peak hikes. (How original right?)
If you have limited time the First Peak is the shortest (4km round trip) and has beautiful views.
Bald Eagles at Squamish River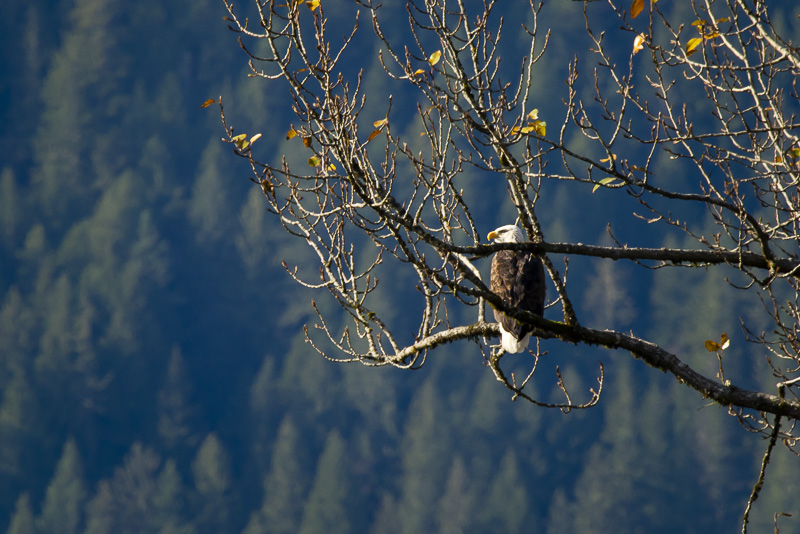 If you stay at Sunwolf Riverside, you'll be directly on the Squamish River where you'll find the best Bald Eagle sightings int he world.
Between November and February, hundreds of bald eagles flock to the river to munch on the abundance of salmon stock.
We were there in October and we saw several bald eagles ourselves, so something tells me they are around throughout the year.
We stood on the bridge overlooking the river and watched them sweep in for their catch before sitting on high treetops.
Brandywine Falls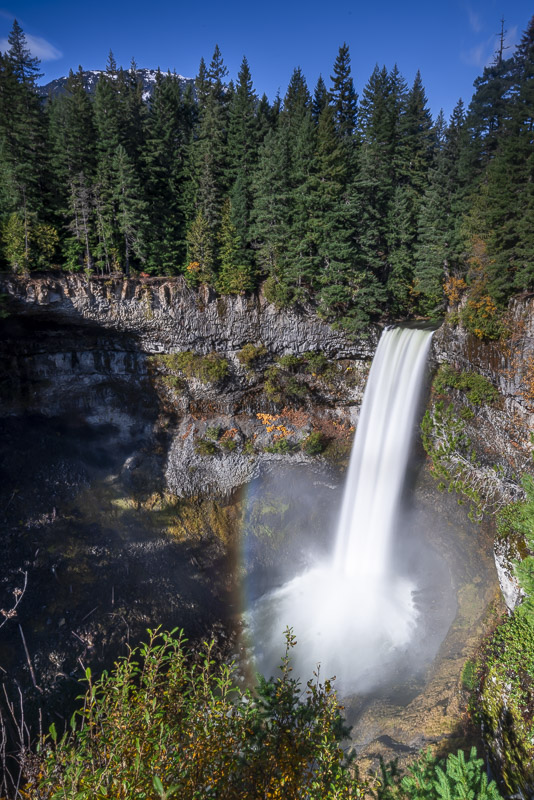 The next famous waterfall on our Vancouver to Whistler trip is Brandywine Falls.
It's another easy 10 to 15-minute walk from the parking lot across a railway track to a gorgeous 70 meters (230 foot) rushing waterfall dropping into a horseshoe canyon.
Garibaldi Provincial Park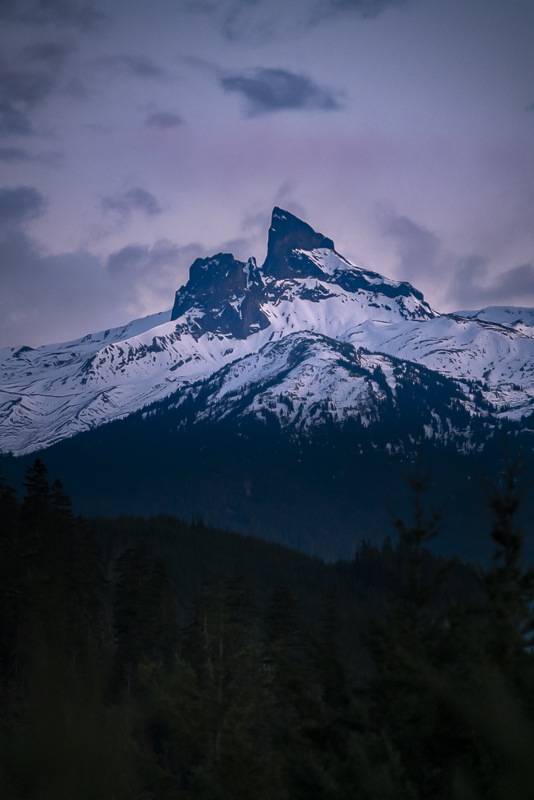 Home to the striking Mount Garibaldi, Garibaldi Provincial Park is a massive recreation area at 480990 acres (194,650-hectares) in area.
Popular hiking trails from Diamond Head include a cool hike out to Elfin Lake where for $15 you can stay in a cabin complete with propane stove.
This is a popular park for rock climbing and canoeing too!
Where to Stay in Squamish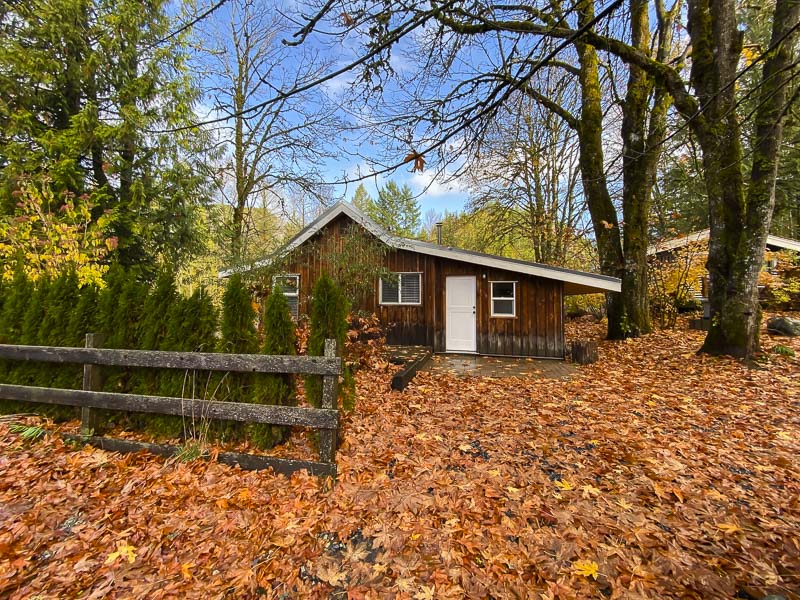 Sunwolf Riverside – These log cabins are located on the river in a forest setting. They have wood-burning stoves and a fantastic restaurant that is popular with locals and tourists alike!
Trainwreck Trail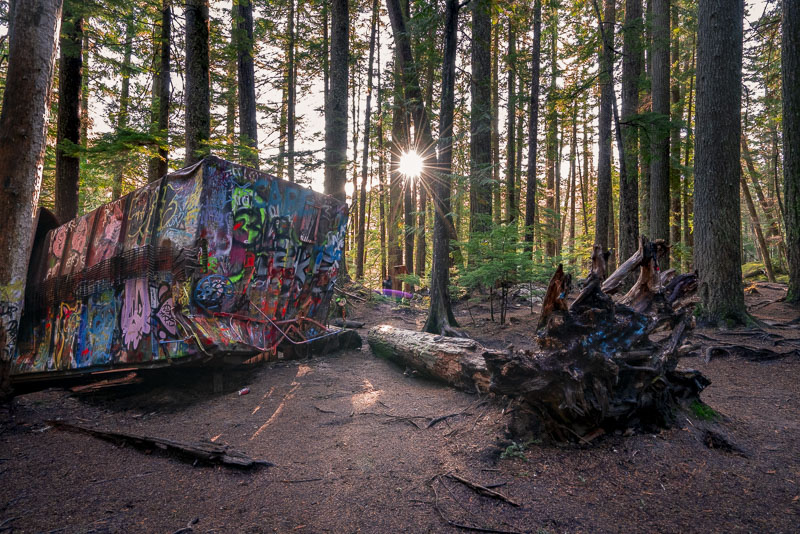 The next popular stop on our drive from Vancouver to Whistler is the Trainwreck Trail.
When we lived in Vancouver, we didn't even know about this popular Whistler attraction.
Located at the Cheakamus River, the Trainwreck Trail became more easily accessed to tourists in 2013 after the municipality opened up the bridge to keep people from crossing the train tracks to access it.
The trail starts at Cheakamus Crossing and is about a 15-minute hike to a beautiful suspension bridge.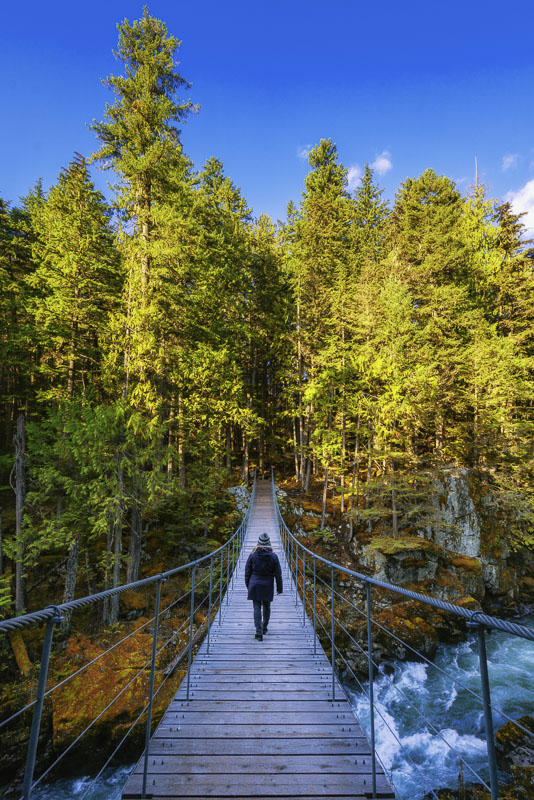 After crossing the bridge, the remains of seven wrecked boxcars stand in the forest. They covered in graffiti making for excellent photo opportunities.
The boxcars are remains from a 1956 train derailment from Lillooet. The train was behind schedule, so to make up time it was going nearly twice the speed limit.
When it came to a sharp curve on a narrow section of the track, it flew off the rails.
Get coordinates here from Google maps.
Whistler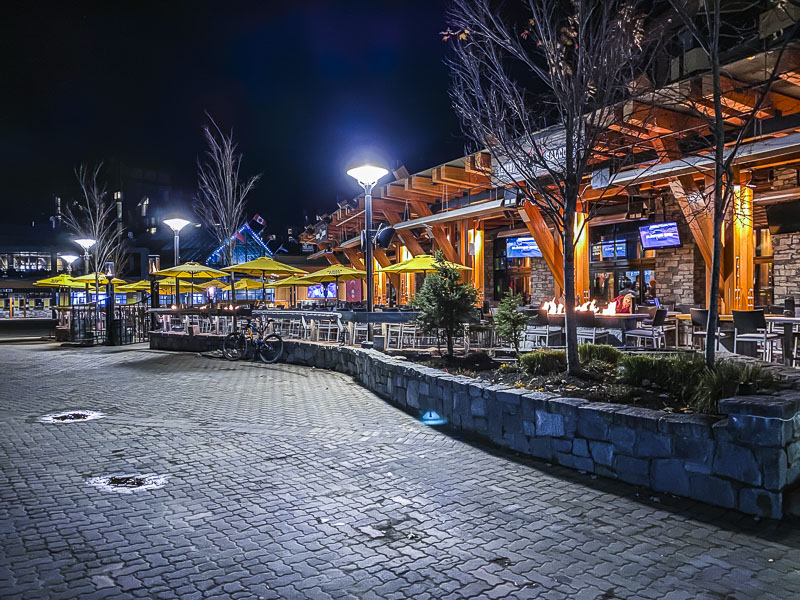 Congratulations you made it to Whistler!
Whistler is one of Canada's top tourist destinations and we recommend staying at least a few days. Longer if you plan on skiing or snowboarding!
There are so many things to do in Whistler, it makes for an excellent finishing point to our Sea to Sky Highway trip.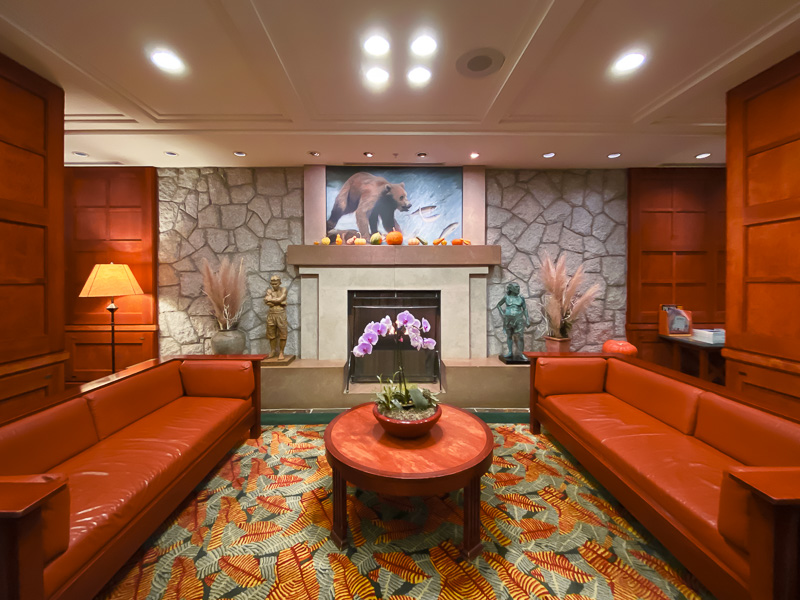 We make our base at the Pan Pacific Mountain Lodge located directly on the mountain. It's great for ski in ski out in the winter or for easy access to the gondola in the summer. And it has parking!
We have an entire post dedicated to things to do in Whistler here, but if you don't feel like reading that, here are a few highlights.
Visit the Squamish Lil'wat Cultural Centre
Take a photo tour and bear safari with Whistler Photo Safaris
Explore the many fine dining options in Whistler Village
Take the Peak 2 Peak Gondola
Visit the Olympic Village
Try some bobsledding or skeleton on the track
Bungy Jumping
Backcountry Hiking or snowmobiling.
The sea to sky highway lives up to its reputation as one of the great drives on earth.
If you are planning a trip to Whistler from Vancouver, be sure to spend time exploring this beautiful coastal drive and don't forget to slow down, meet the people and get out of the car to explore the trails.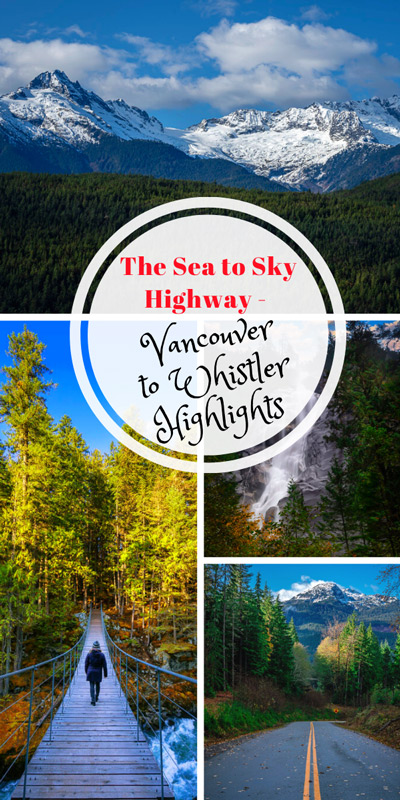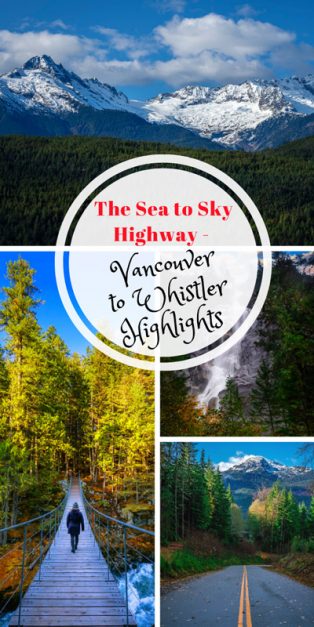 Read Next:
Drive the Dempster Highway – Yukon
The Ultimate California Road Trip Itinerary
30 Things to see On your Nova Scotia Road Trip
Mongol Rally Tips for driving from England to Mongolia
You Might Also Enjoy
Source link Travel Advisor