Dave and I were talking the other day about all the treks and hikes we've done on earth and realized that we've either seen or experienced most of the tallest mountains in the world first hand.
Having been to 110 countries on all seven continents we've been to the top of Kilimanjaro and Kinabalu, gazed at Mount Everest from the EBC trek, taken a thrilling scenic flight over Mount McKinley and hiked parts of the Andes.
We've trekked to different parts of the Alps and Himalayas and stood in awe of the Rocky Mountains.
So, while sipping hot cocoa during the holiday season, we thought we'd reminisce about the tallest mountains in the world that we've visited or witnessed with our own eyes. Plus, we've dropped in a few mountains we still have yet to explore.
Tallest Mountains on Earth
The Himalayas
Asia is home to the tallest mountain range on earth – The Himalayas. So we thought we'd start here.
We've had the pleasure of hiking the Himalayan mountain range in Nepal and Bhutan. But this mammoth range cuts through China, India, and Pakistan.
When trekking through the Himalayas, we truly felt like we could touch a little piece of heaven. It is one of the most striking and awe-inspiring places we've ever seen.
1. Mount Everest – Nepal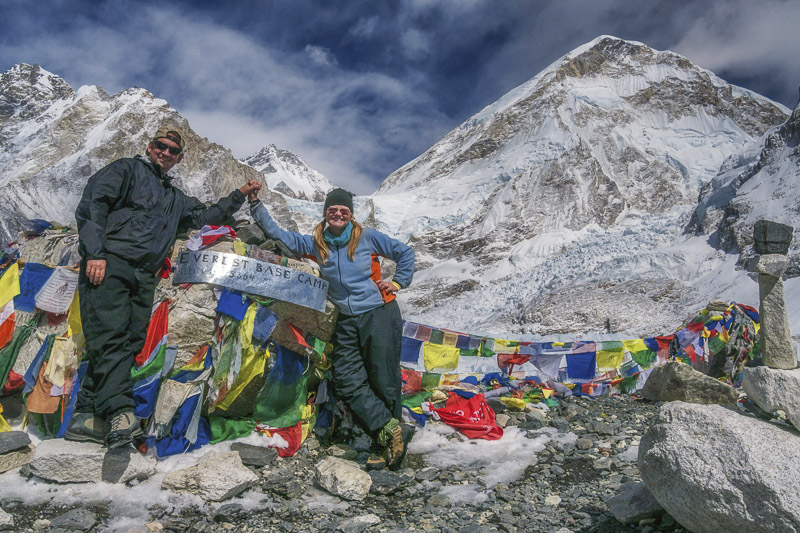 When we were younger, it was a dream to summit Mount Everest. As we grew older and wiser, we realized that a trek to Everest Base Camp was easier on both our pocketbook at our safety.
At 8,848 m – 29,029 feet above sea level, Mount Everest is the indisputable world's highest mountain.
A trek to Mount Everest Base Camps gives climbers the opportunity to see Everest several times during the multiday trek. Ironically, you cannot see the summit from base camp, but it is an amazing destination to reach and view the Khumba Ice flow first hand.
We trekked through Sagamartha National Park in Nepal but Mount Everest also borders Tibet. From what we understand, the Tibet base camp climb is now closed to people without permits.
Other Himalayan Mountains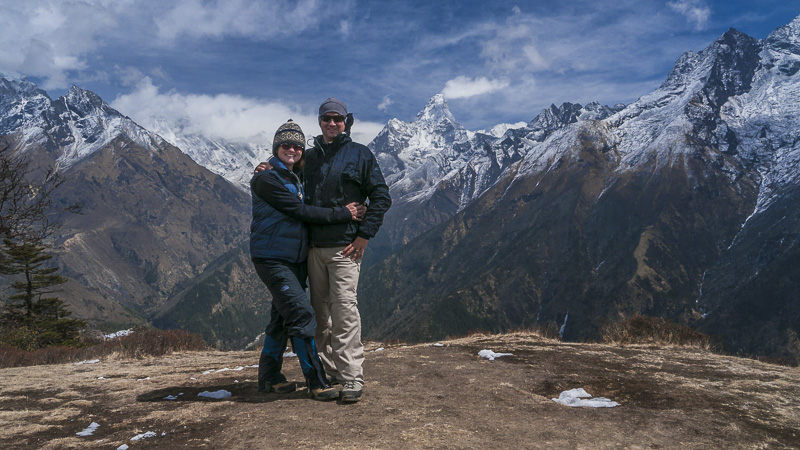 An entire article about the tallest mountains in the world can be written about the Himalayan range.
The Himalayas house eight of the over 8,000 meter (26,246 foot) peaks.
We saw many from our Everest Base Camp Trek from 8000 meters to stunning 6000-meter peak mountains too.
Some famous mountains along the route are.
2. Lhotse is the fourth highest mountain on earth at 8516 meters. (27939 feet)
3. Mount Makalu is the fifth tallest mountain at 8481 meters tall. (27,824 feet)
4. Cho Oyu is the sixth tallest mountain in the world at 8201 meters high. (26,906 feet)
5. Nuptse is farther down the list at number 12 being 7861 meters high (25,790 feet)
6. Ama Dablam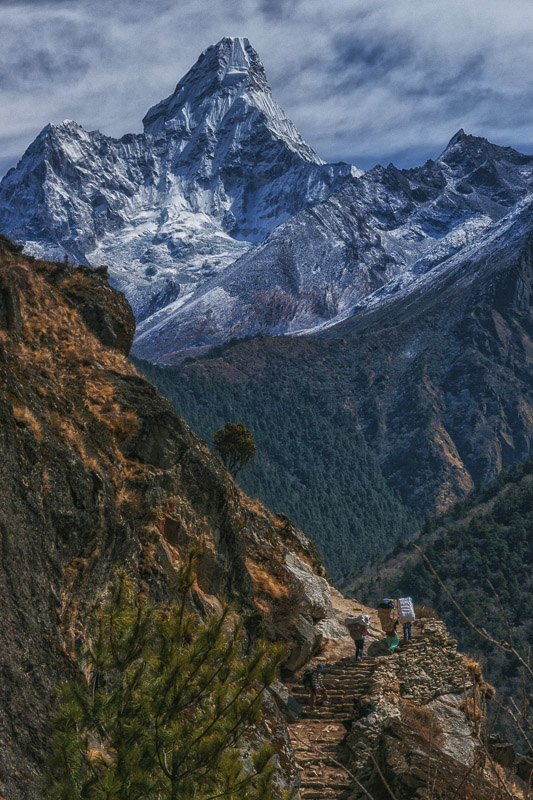 Ama Dablam is 6812 meters (22349 feet) high. It may be a couple of thousand meters lower in height than the other Himalayan mountains we saw, but it is one of the most beautiful with a distinct jagged peak that towered overhead as we trekked to Everest Base Camp.
There are about half a dozen tall mountains between Mount Nuptse and Ama Dablam that weren't located along the EBC Trek.
These we didn't see as they are scattered throughout Pakistan, India, and Tibet.
But as we cut to the next set of high mountains, we take you to the final two peaks on the Everest Base Camp trail.
7. Lobuche standing at 6119 meters (20075 feet) tall. I'll never forget our acclimatization day where we hiked just above Namche Bazaar in Nepal and were surrounded by many of the peaks listed above including Lobuche.
8. Island Peak stands at 6160 meters (20209 feet) tall and is easily seen from Gorak Shep. Gorep Shep is the finaly settlement before Base Camp. Island Peak is one of the most summited mountains in the Everest Region. From what we understood, many people use this as a practice climb before tackling Everest.
9. Annapurna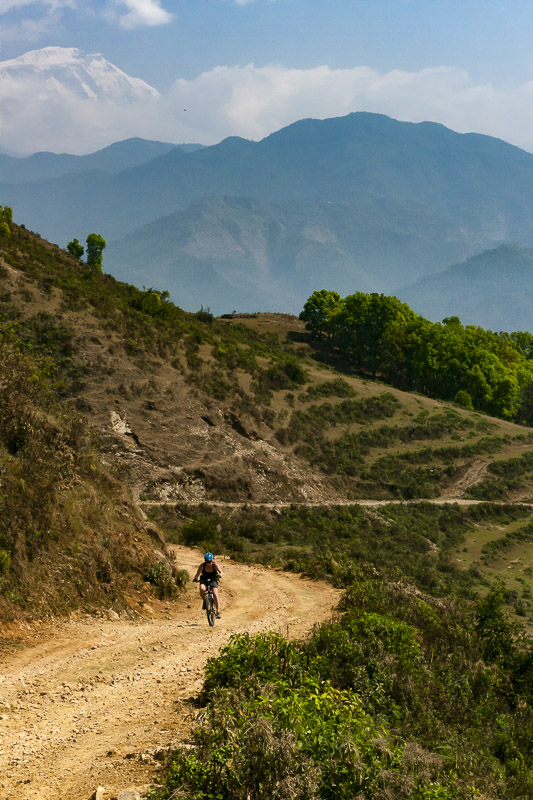 We also made our way to Pokhara Nepal to explore the Annapurna Circuit.
Annapurna has a whopping 13 peaks over 7000 meters and Annapurna itself is the 10th highest mountain on earth at 8091 meters.
We had every intention of doing the Annapurna Circuit, but after Everest, we were a bit lazy and decided to just do some small treks into the mountains and hit the trails for some mountain biking.
We regret it to this day.
Bhutan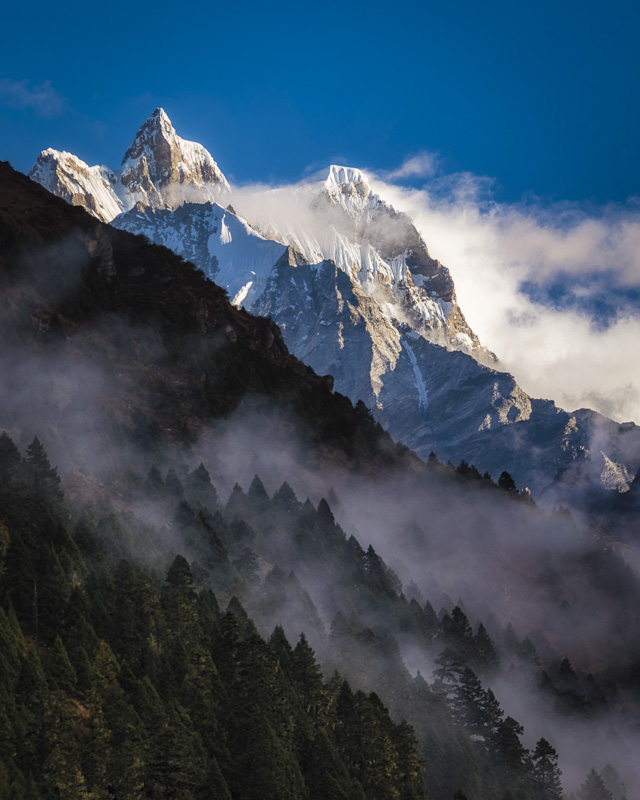 The Himalayan Mountains of Bhutan aren't quite as massive as Nepal and Pakistan, but it does have several 7000-meter peaks.
Gangkhar Puensem is the highest mountain in Bhutan at 7,570 meters (24,840 ft).
What makes this mountain unique is that it is also the highest unclimbed mountain in the world.
We trekked along the Tibetan border during our Laya Trek where we saw a few of the top peaks on earth including:
10. Mount Jumolhari 7314 meters (23,996 feet)
11. Mount Masagang 7194 meters (23,602 feet)
12. Mount Jichu Drake 6989 meters (22,929 feet)
13. Mount Tsherimgang 6789 meters (22,273 feet)
It was a beautiful trek and we got to meet the king of Bhutan at the end of it!
14. Kangchenjunga – Nepal
When writing a "top list" of anything, the top three should always be included. So, we're including the third highest mountain on earth even though we knew nothing about it before I began writing this post.
We haven't seen it ourselves and it is one of lesser climbed mountains of the over 8000-meter peaks, but it is there and located between India and Nepal.
We like to think that we flew over it when traveling from Delhi, India to Nepal for our travels through Sagarmatha and Anapurna. We did see a lot of beautiful peaks during that flight!
15. K2 – Pakistan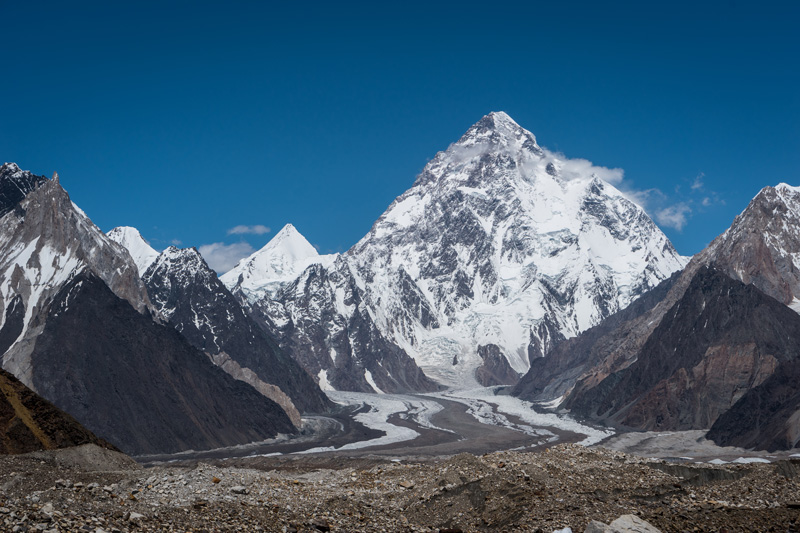 We haven't been to K2, but between all of the mountains we listed above, there is a higher one and it is K2.
K2 is the second-highest mountain in the world located in the second-highest mountain range in the world.
The Karakoram mountain range borders, India, Pakistan and China and houses the remaining four 8000 meter peaks like Nanga Parbat.
K2 (originally named Mount Godwin Austen) is considered the most difficult and dangerous mountain to climb in the world.
Unlike Mount Everest, it is a technical climb and not just any rich person can conquer K2.
Located on the China/Pakistan border it reaches 8,611 meters (28,251 ft) into the air. We haven't laid eyes on K2, nor do we have any intention of climbing it, but I would love to see it one day!
And we had to included it since it is the second tallest mountain on earth.
16. Mount Kinabalu – Borneo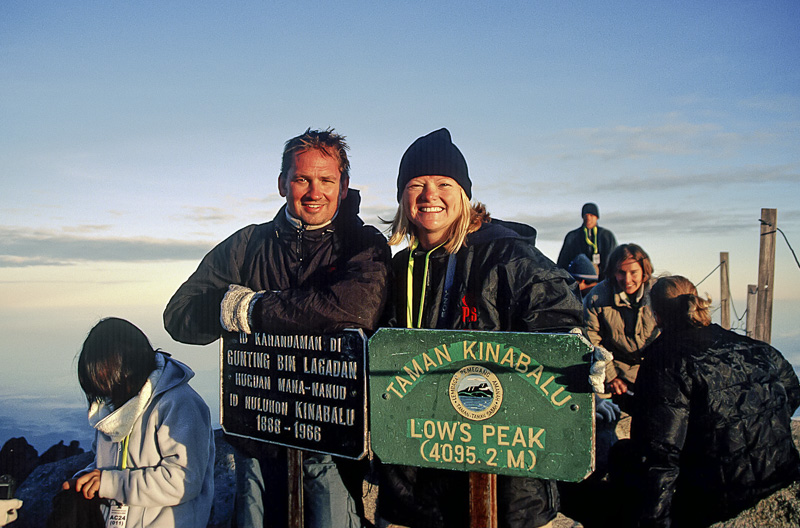 Mount Kinabalu was the very first mountain we ever climbed and we were hooked.
By Himalayan standards, it is a tiny mountain at only 4095 meters (13,435 feet)
But it was the first mountain we ever climbed and it is stunning.
The two-day climb is more difficult than one would expect with a tough series of steep steps leading to base camp.
Our calves were killing us at the end of that trek, but it was an amazing feat and got us ready for more treks in our future.
Africa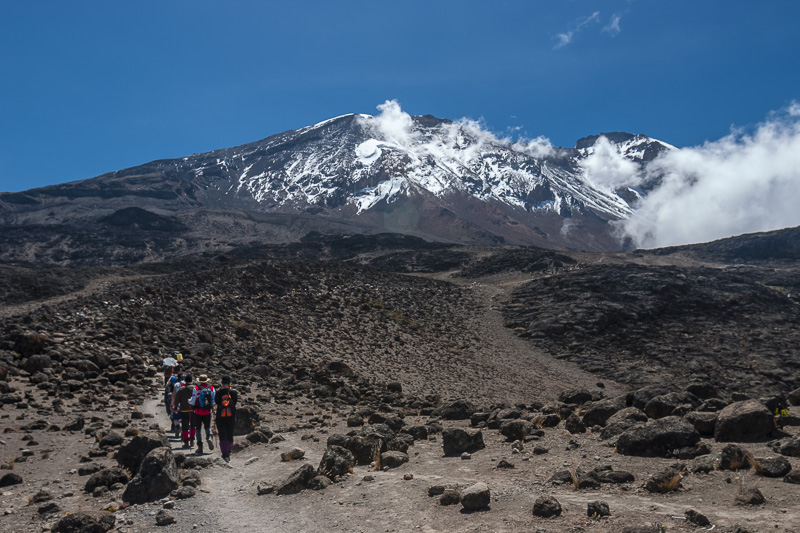 After traveling throughout South East Asia and getting our feet wet with smaller mountain climbs, our next stop was Africa.
It was our dream to climb Mount Kilimanjaro after tackling Mount Kinabalu. And a few years later, we did it!
17. Mount Kilimanjaro – Tanzania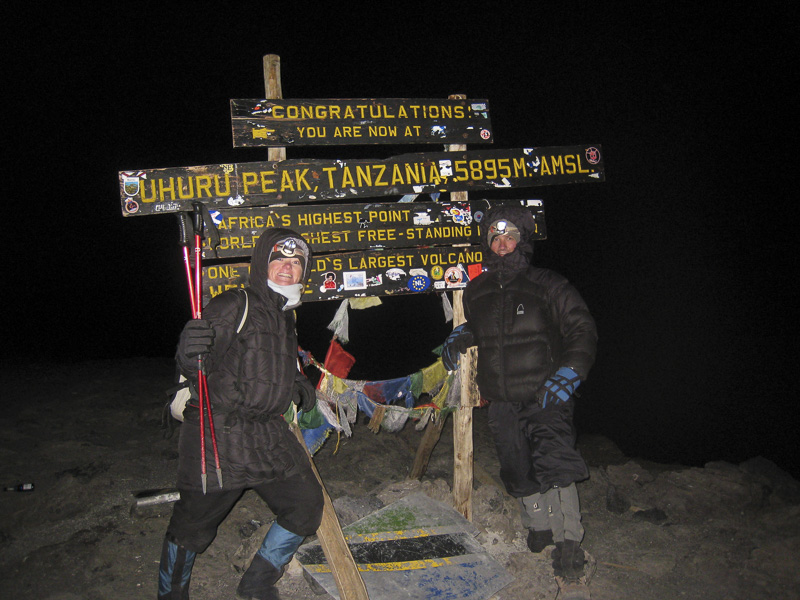 When I was young, I thought Mount Kilimanjaro was right up there with Everest, but as I quickly found out, it is well below the height of any of the Himalaya mountains.
But it is Africa's highest peak and it is spectacular.
What makes Mount Kilimanjaro so amazing is that it is the world's tallest freestanding mountain.
It rises above the Serengeti exactly how Toto described it in their song Africa.
The seven-day climb is one of the most unique in the world starting in a tropical rainforest going through different ecosystems to forests, moorlands, mountain deserts, and finally, summit climate zone.
We did the whiskey route, also known as the Machame Route and it was a lot of fun!
When we reached the top of Uhuru Peak, the emotion was high.
18. Mount Kenya – Kenya
Mount Kenya is the second-highest mountain in Africa and Kenya's highest peak.
Like K2 to Everest, we have heard that Mount Kenya is more of a technical climb.
Batian is the highest of three peaks on the mountain at 5,199 (17057 feet) for experienced rock climbers.
The second highest peak is for multi-pitch climbers and the third can be done without climbing experience, but it is still harder technically than Kilimanjaro.
Boy, I wish I climbed this when we were rock climbing regularly.
19. Mount Mawenzi – Tanzania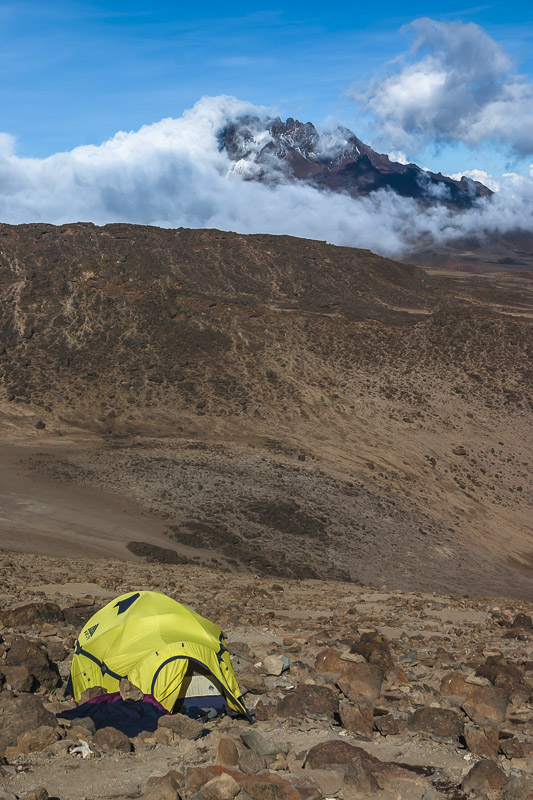 Africa's third highest peak is actually located on Mount Kilimanjaro. There are three volcanic cones on Kili. The highest point is Uhuru Peak, and the second is Mawenzi standing 5,149 meters (16,893 feet)
I remember seeing this summit from our camp just two days before our climb and that is when it all really hit home, just what a feat it is to climb Mount Kilimanjaro.
Check out our Kilimanjaro Climb
North America
20. Mount Denali aka Mount McKinley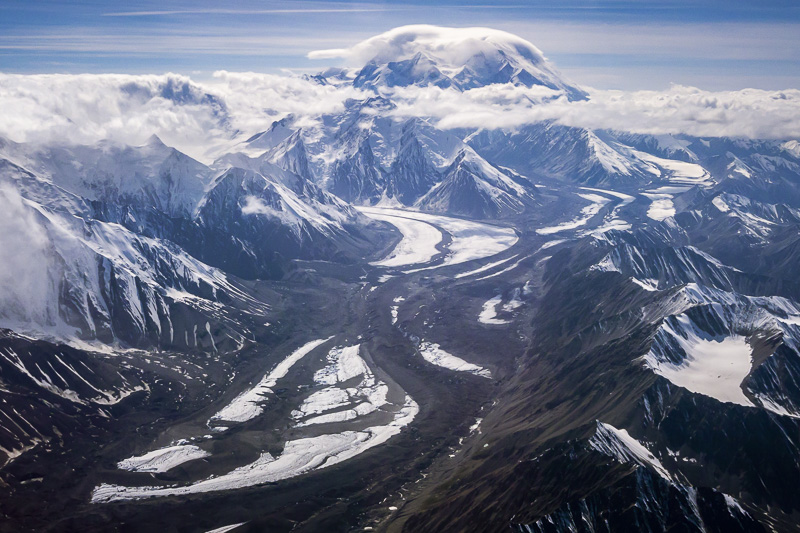 We were very excited to visit Alaska, North America's final frontier. While many people visit in on a cruise – (including us twice), the land portion of Alaska is a must!
We spent five days exploring Alaska by train and had the privilege of taking a scenic flight around Denali.
Getting up close and personal to this mammoth mountain in a tiny twin-engine airplane made us feel just how insignificant the human race is. This mountain will go on forever, we are just temporary.
21. Mount Logan – Yukon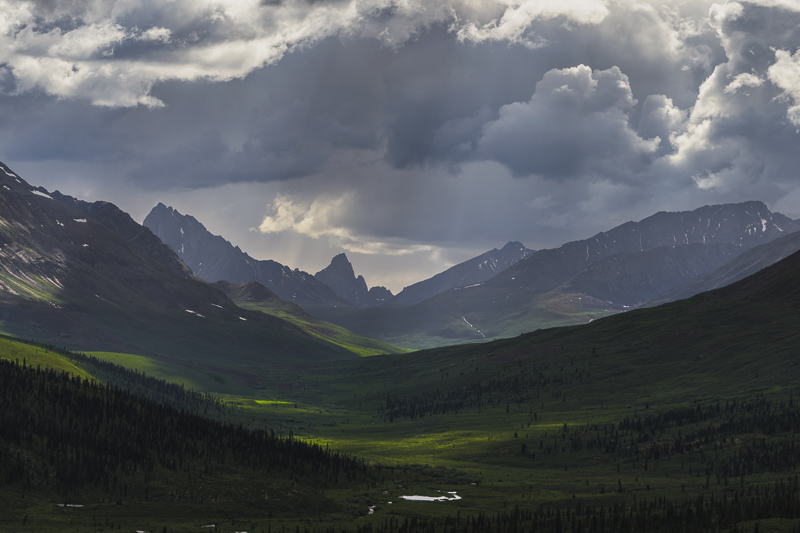 The second highest mountain in North America belongs to Mount Logan in the Yukon.
The Yukon is one of Canada's final frontier and when you visit there your jaw will drop with the vastness of the land and its mountains.
As a matter of fact, 9 of the 10 highest peaks in Canada are located in the Yukon!
22. Pico de Orizaba – Mexico
Rounding out the top three highest mountains in North America is Pico de Orizaba in Mexico.
We have never been to the State of Vera Cruz where it is located, but my parents have and our plan is to discover a lot more of Mexico in the near future.
But like we said earlier, we like to have a nice round number of threes. And since this is in the top three of North America's tallest mountains, we included it.
Europe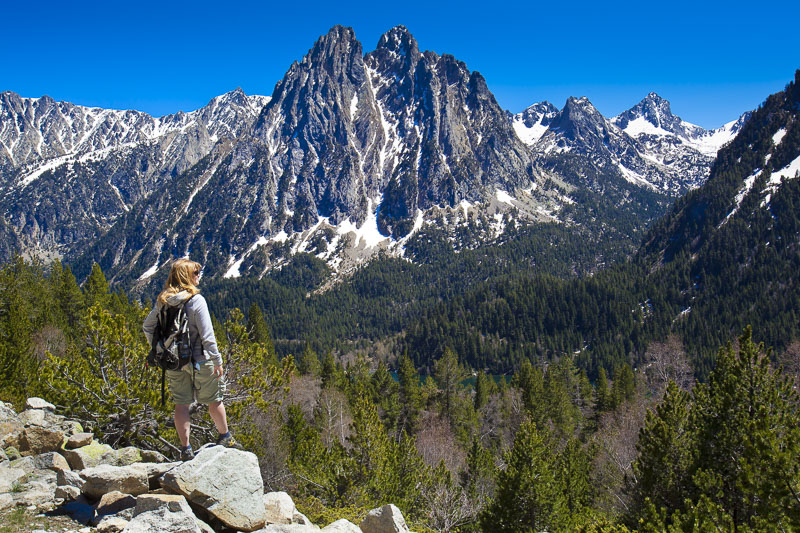 When it comes to the tallest mountains in Europe, we haven't been to the actually tallest. The tallest mountains in Europe are located in Russia on the Georgian border. We have only driven through Siberian Russia and we have never been to Georgia.
But if you are wondering positions one and two go to Mount Elbrus at 5642 meters (18,510 Feet) and Dyktao 5205 meters (17,076 feet) in Russia. Number three is Mount Shkhara located in Georgia.
This area is known as the Caucasus Region and it is where you'll find many of Europe's tallest mountains.
23. Mont Blanc – France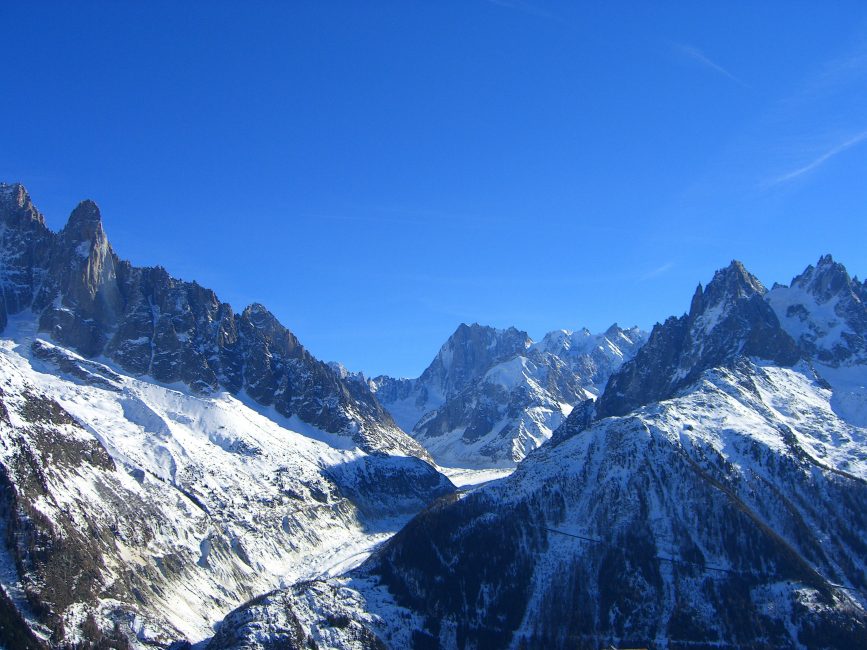 It's not until we get to Mont Blanc at a mere 4808 meters that we get into mountains of Europe that Dave and I have seen.
Month Blanc is Europe's highest mountain outside the Caucasus.
Located in France, Mont Blanc is part of the French Alps.
Whenever we see the Alps, we are always reminded how striking they are. People have asked, Dave and I what we think are more beautiful The Rocky Mountains or the Alps.
I would love to say that since I am Canadian, I prefer the Rockies, but the Alps have it hands down. They are beautiful!
24. Jungfrau – Switzerland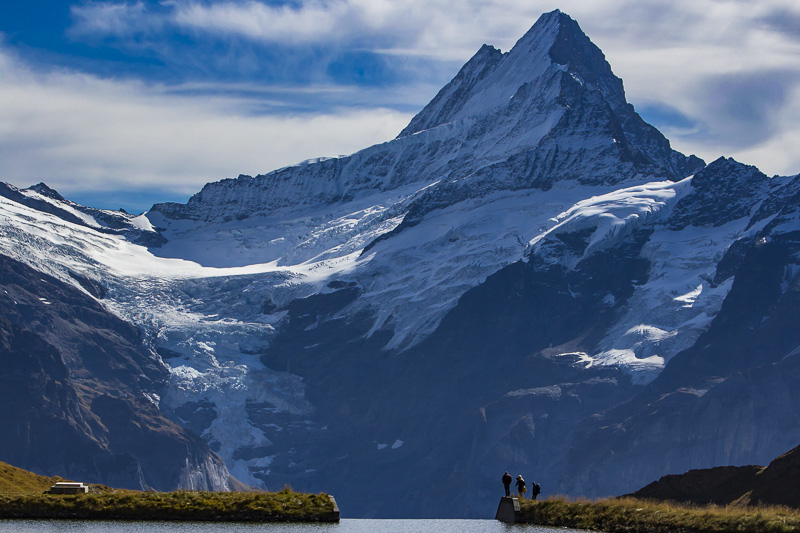 I'll never forget our first introduction to the Swiss Alps exploring the incredible region of Interlaken.
Hiking through the region surrounded by the mighty mountains of Jungfrau, Eiger, and Monch too our breath away. Both literally and figuratively.
25. Monte Rosa – Italy / Switzerland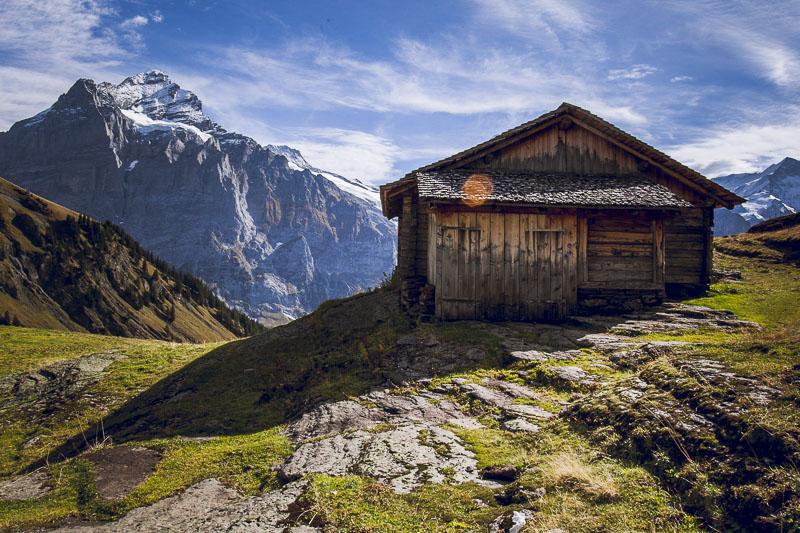 Between the Bernese Alps of Switzerland where we explored Interlaken and the Pennine Alps where the second tallest mountain in Europe is found, Switzerland houses nine of the ten tallest mountains in the Alps!
Monte Rosa is the second highest peak in the Alps bordering both Italy and Switzerland.
The Alps are filled with beautiful mountains. Switzerland and France aren't the only countries to call the Alps home.
Germany, Italy, Austria, Slovenia, Monaco, and Liechtenstein all house The Alps.
We've had the privilege of witnessing the Italian, Austrian, and German Alps.
26. Zugspitze – Germany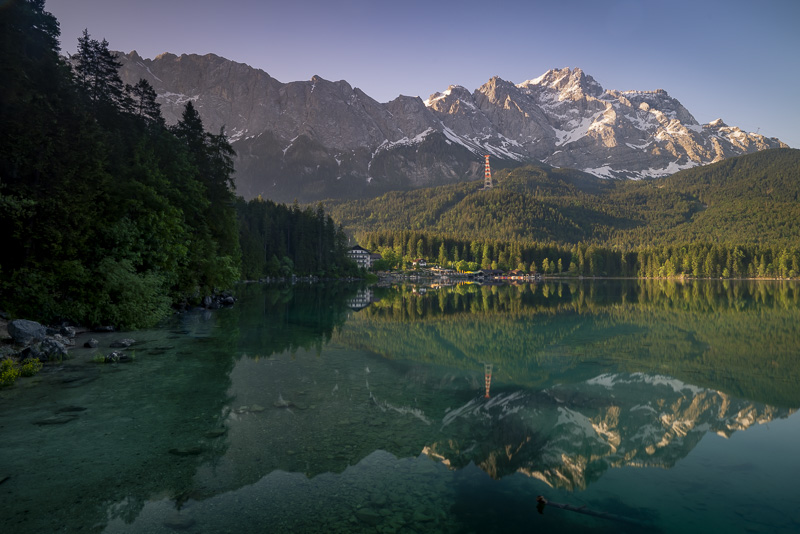 Just this past summer we had the chance to go up Germany's tallest peak. Zugspitze is located in Garmisch Partenkirchen in the beautiful Bavarian Alps.
Home to the 1936 Winter Olympics it is surrounded by Alpine mountains. Zugspitze is only 2962 meters (9717 meters) high, but it is an impressive sight and it is easy to go up as you take a cable car to the top.
While you are there, be sure to hike to the Alpsix, another high peak in the Bavarian Alps.
South America
The Andes are the highest mountain range outside of Asia running down the West Coast of South America from Venezuela making them the longest continental mountain range on earth.
Besides Venezuela, the Andes run through, Columbia, Ecuador, Peru, Bolivia, Chile, and Argentina.
27. Mount Aconcagua – Argentina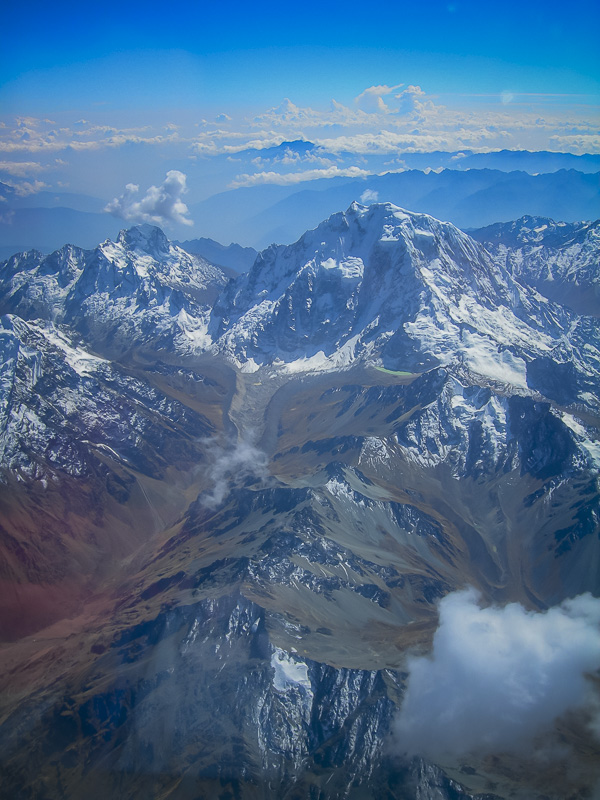 The tallest mountain in the Andes is Aconcagua located in Argentina. It is actually one of the seven summits at 6962 meters (22841 feet) tall.
To be included as one of the seven summits, you must be the tallest mountain on a continent. So Kilimanjaro for Africa and Denali for North America are another two of the seven summits.
Many people make it a goal to climb the seven summits.
Between Argentina and Chile, they have nine of the 10 highest mountains in South America.
We have only trekked in the South of Argentina so we haven't had the opportunity to trek through Patagonia yet where the big peaks are. But it's on our list!
28. Huascarán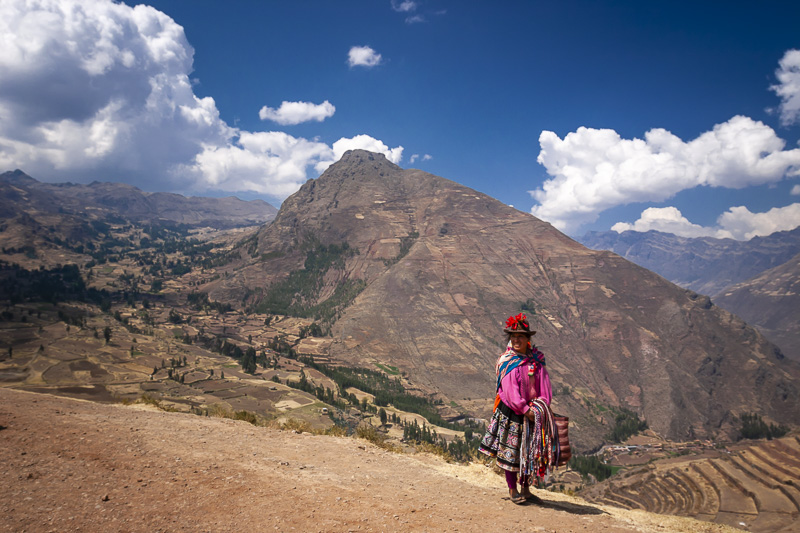 Peru is the only other country with a high mountain in the top 10 in South America.
Huascarán is located in the Cordillera Mountain Range which is the highest tropical mountain range in the world. It is the fourth highest mountain in South America and is popular with climbers.
Oceania
Before we leave our tallest mountains for good, we cannot forget including Oceania. Oceania consists of Australia, Polynesia, Micronesia and Melanesia including New Zealand.
29. Mount Cook – New Zealand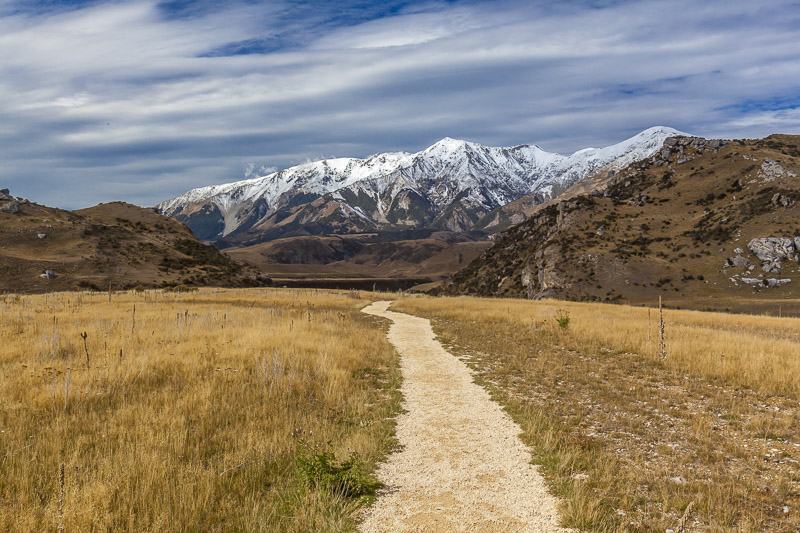 Out of the tallest mountains in Oceania, we have only been to Mount Cook in New Zealand.
Mount Cook's claim to fame is that Sir Edmund Hillary trained here for Everest.
Don't let its 3724 meters height fool you. It's a tough technical climb for experienced alpine enthusiasts.
There are large crevasses and vertical ascents. If you don't have mountaineering experience, it's not something to be taken on.
30. Mount Kosciuszko – Australia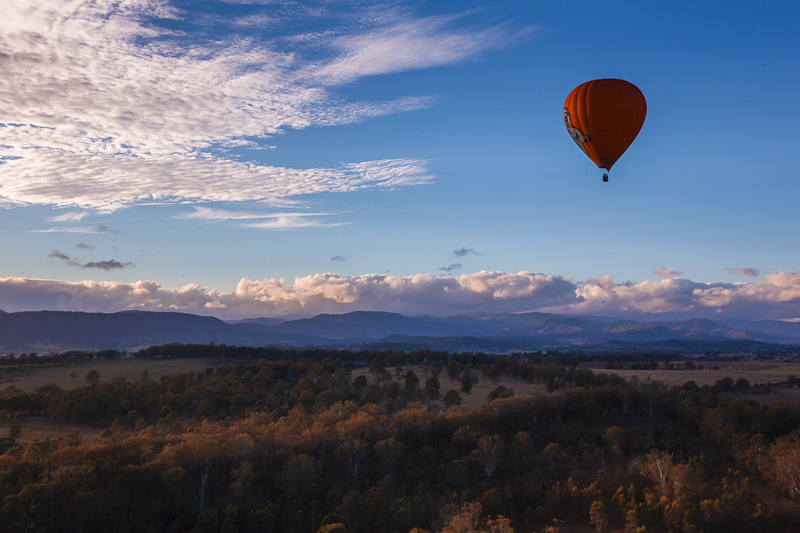 Australia isn't a place that we think of that has tall mountains, but it does technically belong in the seven summits list with Mount Kosciuszko.
Mount Kosciuszko is a tiny 2,228 meters (7,310 ft), but it is the highest mountain in Australia. Located in the snowy mountains of the Australian Alps, it's a popular playground for outdoor activities.
While it is considered one of the seven summits on some lists, there is another that could make the claim to fame.
A great way to see mountains is from a hot air balloon.
31. Jaya Peak – New Guinea
Jaya Peak in New Guinea is the world's tallest island peak and is more than twice the height of Mount Kosciuszko.
At 4884 meters () it is more than twice the height of Australia's tallest peak.
32. Mauna Kea – Hawaii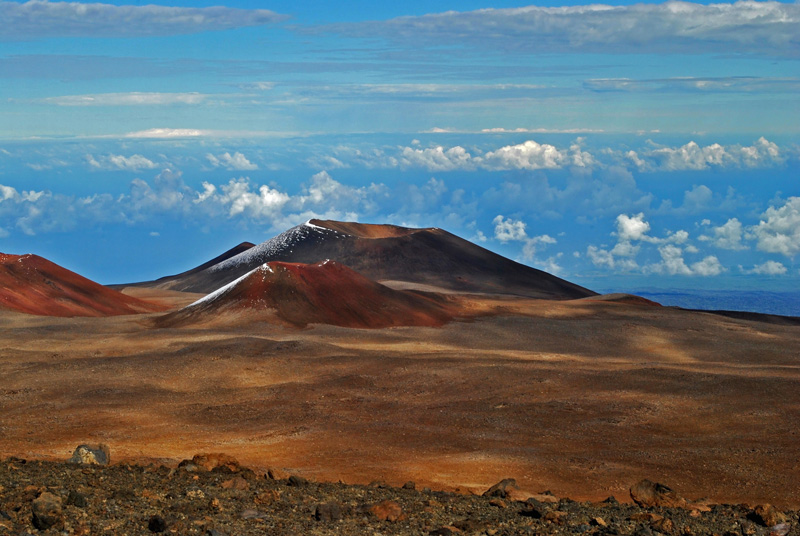 Speaking of the world's tallest island peak, I am reminded of the giant sea cliffs of Hawaii.
Whenever we take a helicopter flight over a Hawaiian Island we are in awe of its mountains and cliffs.
So it would make sense that the second tallest island peak would be found in Hawaii.
But there's more to the story.
Here you will actually find the world's tallest mountain that you didn't even know existed.
Mount Everest, may have the highest elevation on earth, but Mauna Kea is the tallest mountain in the world reaching up from the depths of the Pacific Ocean.
For an island, it's peak is a whopping  4,207 meters (13,803 ft) above sea level, but below the surfaces is another 5800 meters making the total height of Mauna Kea 10,000 meters (33,000 ft).
Now that's big.
Facts about the Tallest Mountains in the World
What are the seven summits?
The seven summits are the highest mountains on each continent. Asia is Everest, South America is Aconcagua, Denali for North America, Kilimanjaro in Africa, Elbrus in Europe and Mount Kosciuszko in Australia.
How many peaks are above 8000 meters?
There are 14 mountains in the world above 8000 meters.
What is the highest mountain range in North America
The Alaskan Range is the highest mountain range in North America.
What is the second tallest mountain in the world?
K2 is the second tallest mountain on earth located in the second-highest mountain range in the world, the Karakoram mountain range.
If you like this post don't forget to Pin it!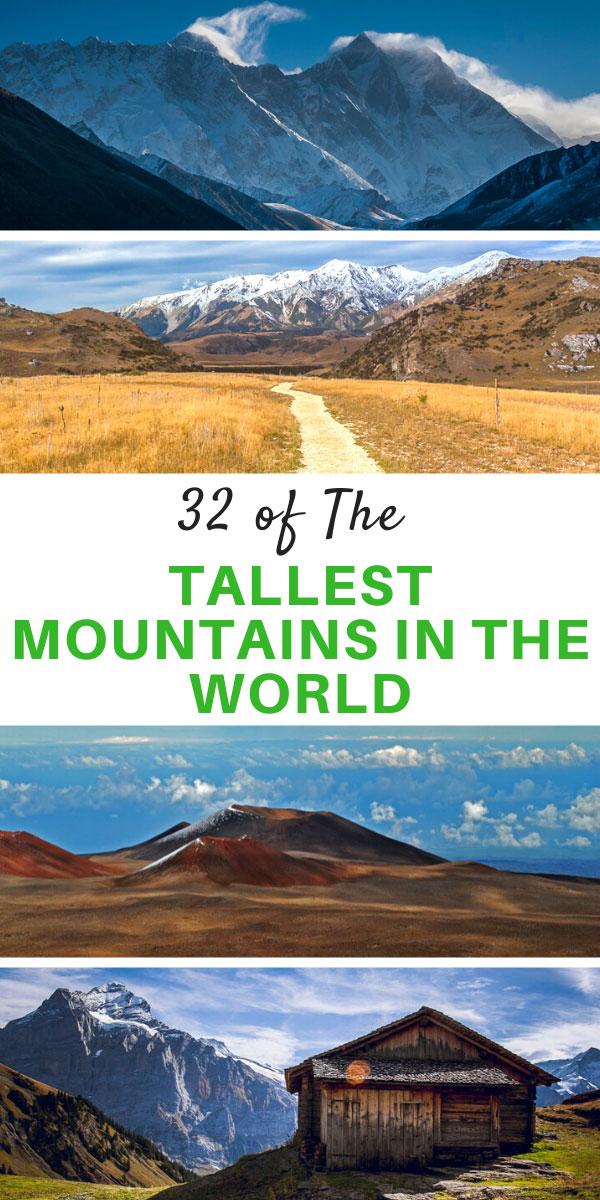 You Might Also Enjoy
Source link Travel Advisor