Canada is the best country in the world. Okay, so we're a little bias since we are Canadian. But after traveling to 110 countries over the past 20 years, we are always excited to return home and explore our own backyard.
We are truly proud of everything Canada has to offer. We can honestly say that in all of our travels, we have had some of our best adventures in Canada.
Since we aren't getting on a plane any time soon, we thought we'd share the best things to do in Canada that we've done from coast to coast.
So get ready to explore our home and native land and start planning your cross country road trip, because this is the ultimate Canadian bucket list!
Best Things to do in Canada
1. Walk with Polar Bears – Manitoba
Staying at Nanuk Lodge with Churchill Wild on in the Canadian arctic was an experience we'll never forget.
We searched for mothers and cubs along the Hudson Bay in tundra vehicles and when a polar bear was spotted in the distance, we drove to within 1km of the beautiful creatures where we hopped out from the safety of our vehicle and slowly approached on foot.
Walking with polar bears is the number one thing todo in Canada in our opinion!
2. Learn to Whitewater Kayak – Ontario
If you are feeling blue about being stuck inside, there's nothing better than getting on the water in Canada.
Learning to whitewater kayak was one of our most challenging adventures.
If you are looking for things to do in Ontario this summer, a whitewater kayaking course will up the adventure factor.
Once we mastered the barrel roll, we felt truly proud of ourselves. When you ride your first set of rapids successfully, it feels as if you can conquer anything in life.
3. Tidal Bore Rafting World's Highest Tides – Nova Scotia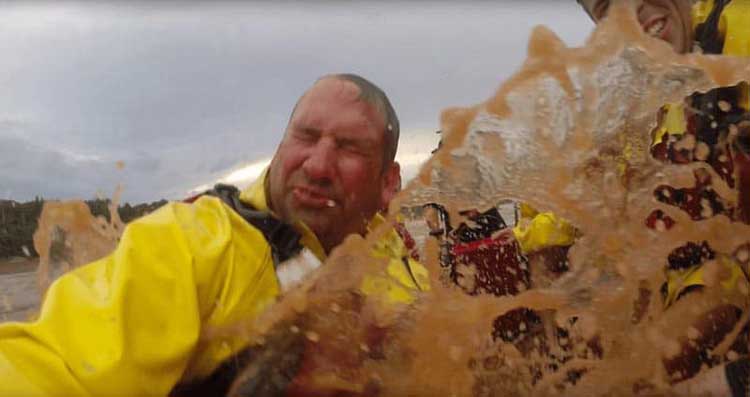 Witnessing the power of the world's highest tides on the Bay of Fundy is an experience unto itself, but riding the tides on a tiny zodiac is the ultimate adventure.
Imagine standing on a dry river bed as 100 billion tons of water comes rushing in. Within minutes we scrambled into our boats to ride the waves of the rising tides into the Shubenacadie River.
4. Camp in Grizzly Bear Country – Yukon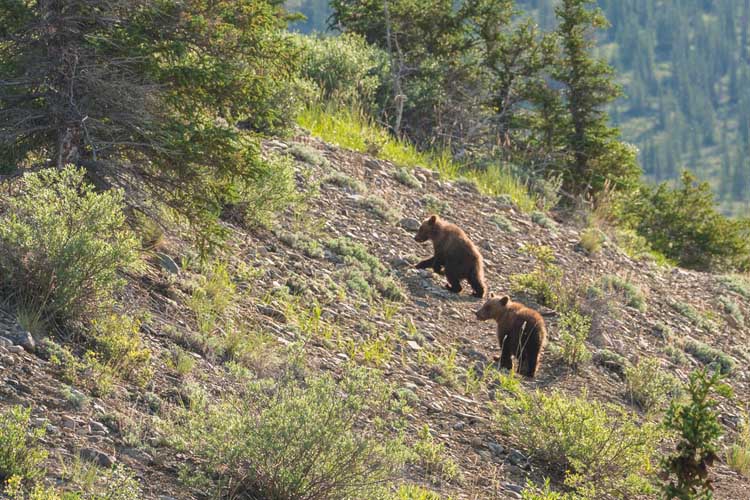 Dave and I love viewing wildlife. Flying into the remote outpost of Ivavik National Park in the far north of Canada is the best place to watch Grizzly Bears.
The camp is located on "Grizzly Alley" and if you are lucky, all you have to do is sit in your tent to watch for a grizzly walking by.
Park rangers also took us out for hikes where we spied on them with binoculars before heading back to the safety of our camp.
5. Winter Trek the Missinaibi Headwaters – Ontario
It was the toughest adventure we've ever done but it also showed us what we were made of.
We spent 10 days trekking across Canada's north with Lure of the North in the dead of winter while pulling your own sleds filled with survival gear.
Water was fetched by chipping through three feet of ice, and our prospector's tent was kept warm by chopping down trees each night, where we slept on spruce bows after spending three hours each night to set up camp.
All of this was done at 35 below zero!
6. Snowmobile to Cree Nation – Quebec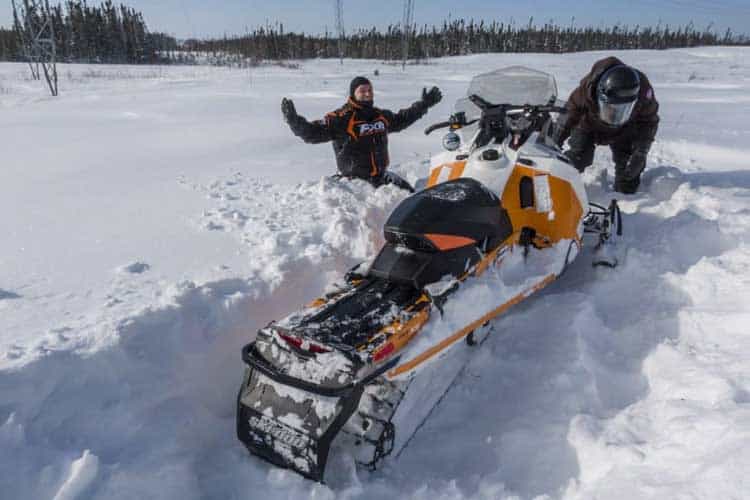 Canadians love to snowmobile.
The Indigenous People of northern Quebec have traded in their traditional dogsleds for snowmobiles and we had the chance to sled from The Wendake settlement in Quebec City all the way up to James Bay to Cree Nation.
This backcountry route was the ultimate Canadian adventure following the wilderness trails while stopping at First Nations Lodges and learning of Wendake and Cree culture along the way.
7. Drive the Dempster Highway – Northwest Territories to the Yukon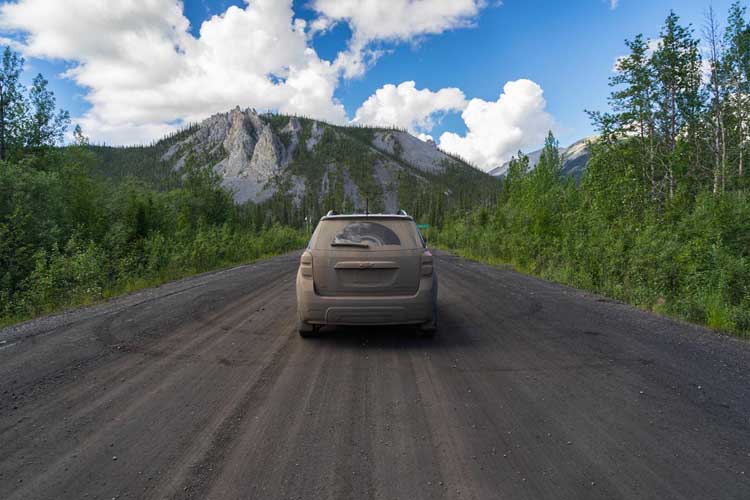 We love taking road trips around the world, but there was something special about driving the Dempster Highway.
From Inuvik in the North West Territories to Dawson City, Yukon, this highway crosses the Arctic Circle, took us to the National Historic Site of Fort McPherson, we rode on ferries, and we saw caribou as we searched for grizzlies.
8. Kayak to the Three Sisters – Nova Scotia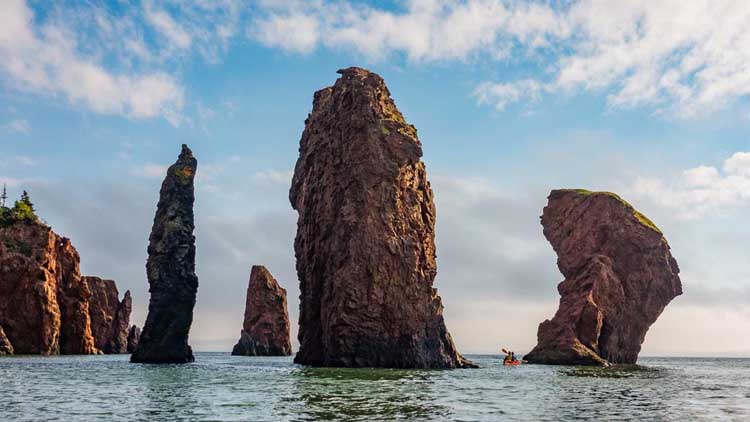 We always wanted to take a kayaking trip around those flowerpot rocks that you see on the Bay of Fundy. A trip to the Three Sisters took it to an extra level.
This two-day camping and kayaking adventures took us along the Nova Scotia coast where we camped on the Bay of Fundy and explored the spires of the Three sisters at both high and low tide!
9. Olympic Bobsleigh – British Columbia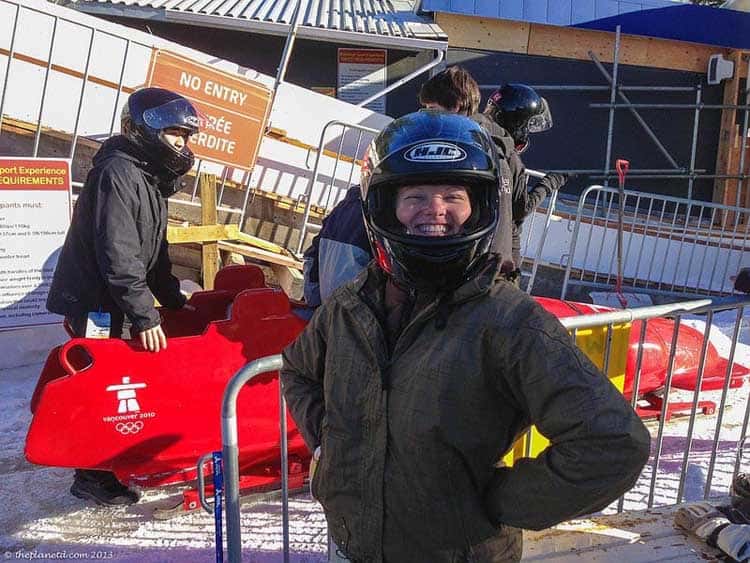 The Whistler Bobsleigh track is legendary for its speed. Join and olympic bobsleigh racer inside a sled as you feel the Gs push on your helmet while racing down a track of ice at 125km per hour!
10. Ice Climbing in Canmore – Alberta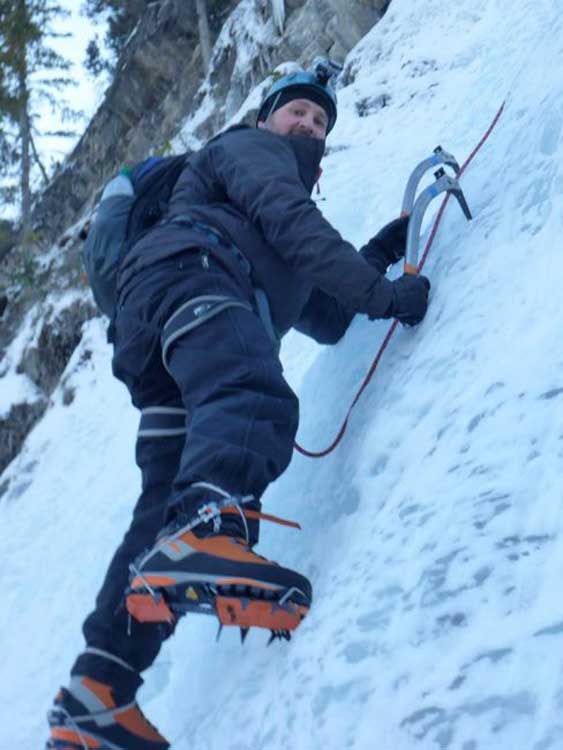 While we're on winter sports, another amazing thing we did while traveling Canada was going ice climbing in Canmore Alberta.
Rock climbing is awesome enough, but to grab hold of an ax and strap on crampons while scaling a massive frozen waterfall in the middle of the Rocky Mountains is outstanding!
11. High Mountain Trail Ride – Alberta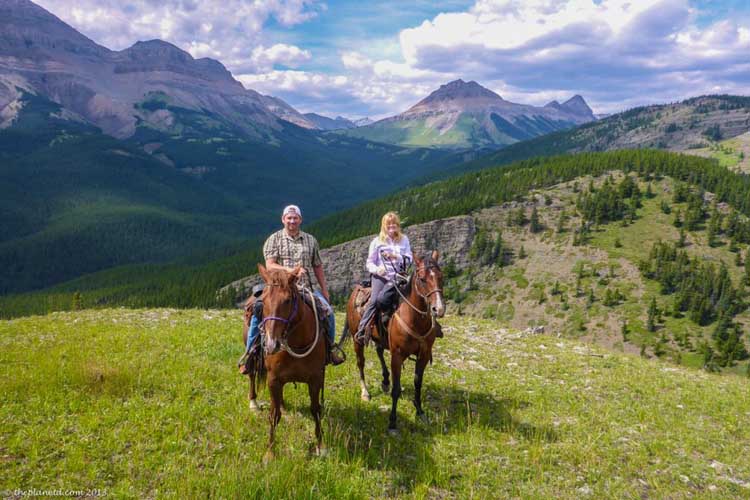 Horseback riding in Alberta is a must, but don't take a regular old trail ride, instead, go to the Anchor D Ranch in Black Diamond and take a high mountain trail ride.
These horses love climbing up to the mountains.
As you cling to the edge of cliffs, these surefooted equines, navigate their way through the foothills of the Rockies giving you on an adventure to remember!
12. Dirt Biking the Ganaraska Forest – Ontario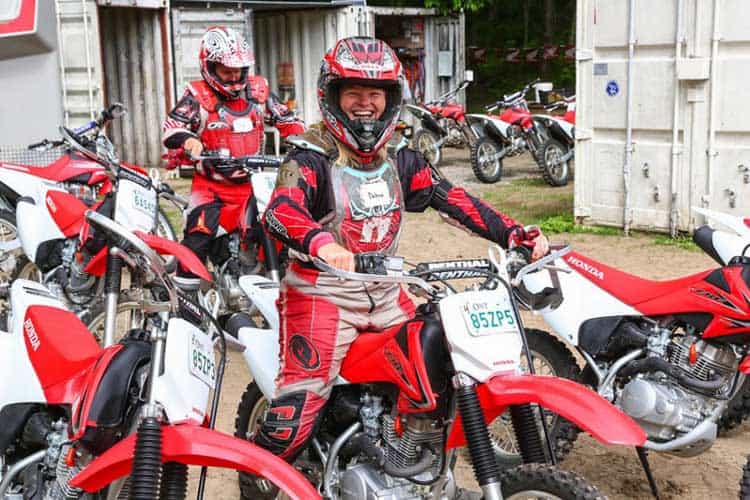 The Ganaraska Forest has some of the best dirt biking in Canada with hundreds of kilometres of trails to explore.
We learned how to skid on our bikes, stand up on the bikes, ride over logs, bridges, and how to take hard corners. Everything you need to know to survive in the woods.
13. Kayak and Caribou – Lake Superior's Slate Islands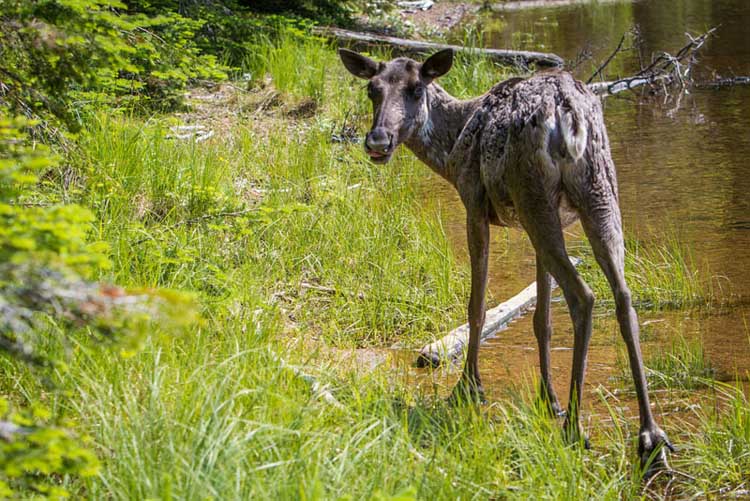 The Slate Islands on Lake Superior are one of the best places to take a paddling trip in Ontario. If the waters are too rough on the lake, you can stay inside the cluster of islands away from the wind.
There are many things to do on the Slate Islands, but it is the Woodland Caribou that are the top draw. They will walk right through your camp as you prepare dinner!
14. Kayak with Beluga Whales – Manitoba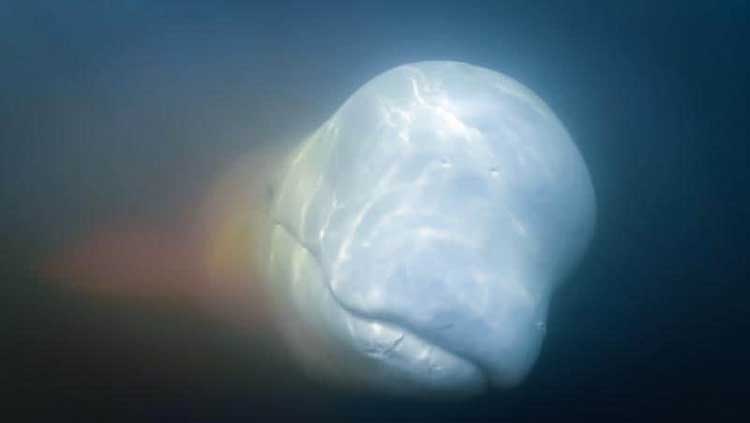 Before we move on to other things to do in Canada we need to talk about another must do Canada kayaking trip, Kayaking with Beluga Whales in Churchill Manitoba.
These are the cutest whales you'll ever see. And in Churchhill there are thousands of them to see!
Beluga Whales migrate through this corridor right off the shore of the city. They were so curious and surrounded our kayaks, even bumping our hulls and nipping at our GoPros as we sang to them. It was the most fun we've ever had on the water!
15. Sleep with Wolves in Parc Omega – Quebec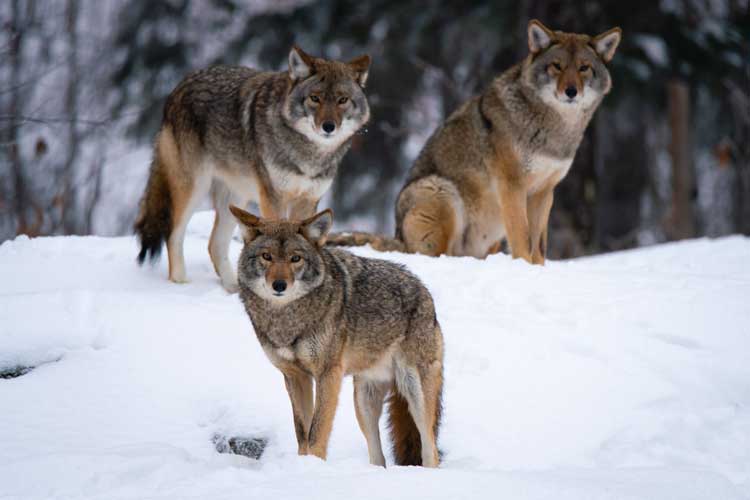 Our favourite place to see wildlife in Canada is at Parc Omega in Quebec. If you want to witness white wolves, Arctic fox, bison, caribou, and more in their natural habitat, this is the place to go.
But you can also sleep overnight in the wolf sanctuary with a wild pack of wolves. Waking up to a wolf howl in the wee hours of the morning as they call out to the night sky was a haunting and memorable experience.
16. Moose Safari in Algonquin Park – Ontario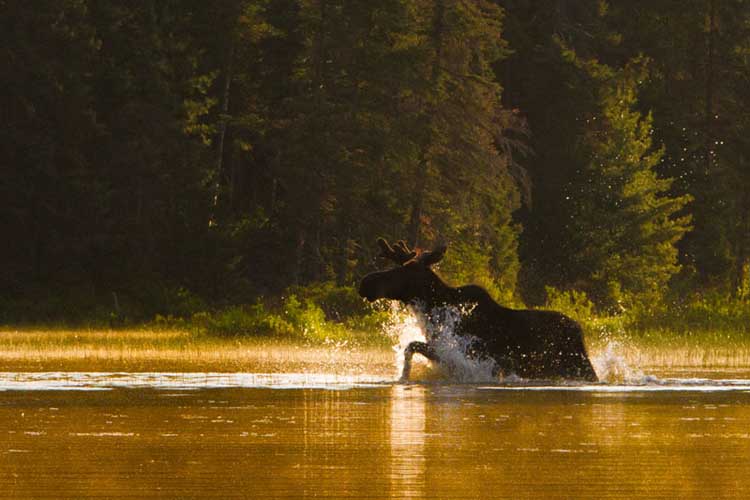 Want something a little more tame than kayaking?
A canoe trip to Algonquin Provincial Park in Ontario is a rite of passage for anyone residing in the province. It's also the best place on earth to spot moose in the wild.
We suggest booking a tour with Voyageur Quest because the professionals know exactly where the best moose spotting is.
17. Backcountry Snowboarding – British Columbia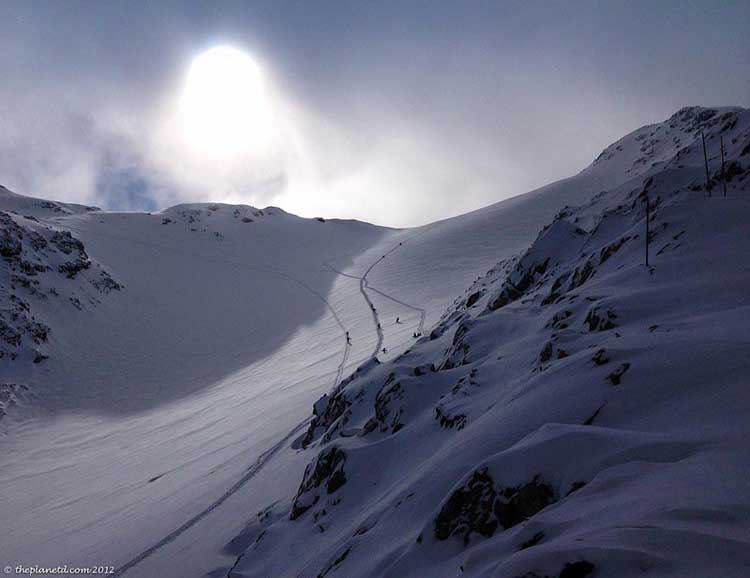 Sure Whistler has some of the best snowboarding on earth, but if you want to take it up a notch further, get away from the Peak to Peak Gondola and have a guide take you into the backcountry.
We hiked way up outside the ski zone into magnificent bowls filled with fresh powder.
Be sure to hire a professional, people have died skiing in the backcountry. We had our avalanche training before heading out.
18. Heli-Snowshoe in Banff – Alberta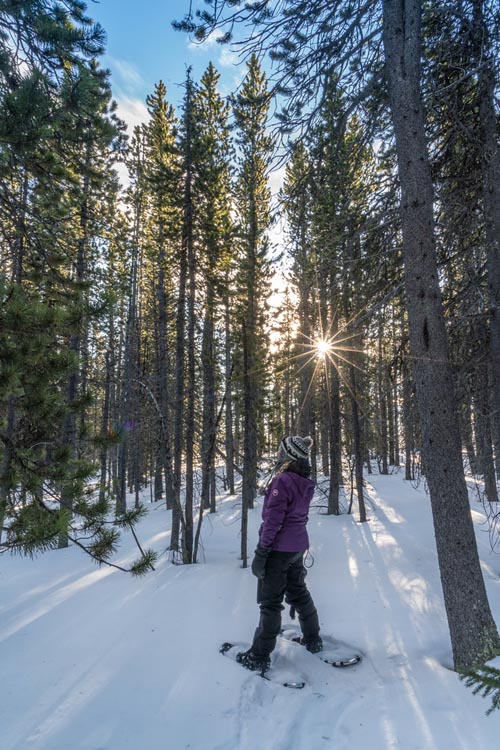 Our job has offered us the opportunity to take many helicopter tours around the world, but nothing was more beautiful than flying over Banff National Park in the dead of winter.
We then landed high in the Rocky Mountains where we went snowshoeing to take in more incredible views before enjoying a "hot toddy."
When visiting Canada, Banff is one of the top things to do. It is a UNESCO World Heritage Site and Canada's first National Park!
19. Great Spirit Circle Trail – Manitoulin Island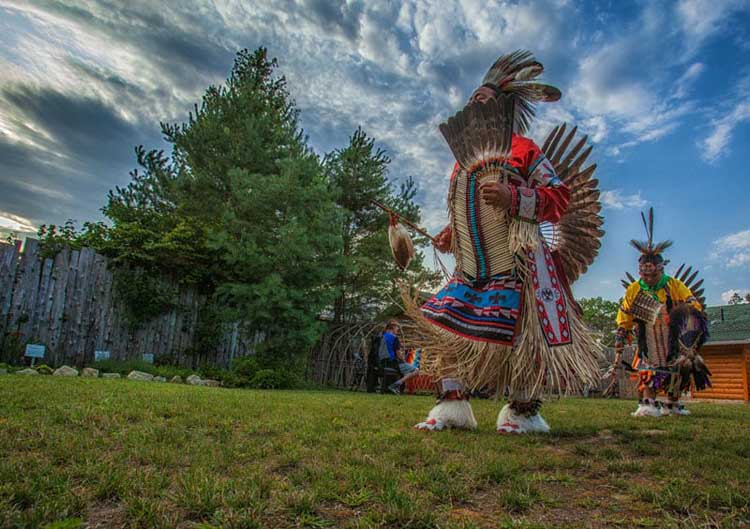 To really experience the Indigenous Culture of Canada, a trip to Manitoulin Island is a must.
The Great Spirit Circle Trail takes you around the world's largest freshwater island to experience the traditions and culture of the Inishabeck People. Take part in the Voice of the Drum, a Smudging Ceremony and so much more.
20. Diving Tobermory – Ontario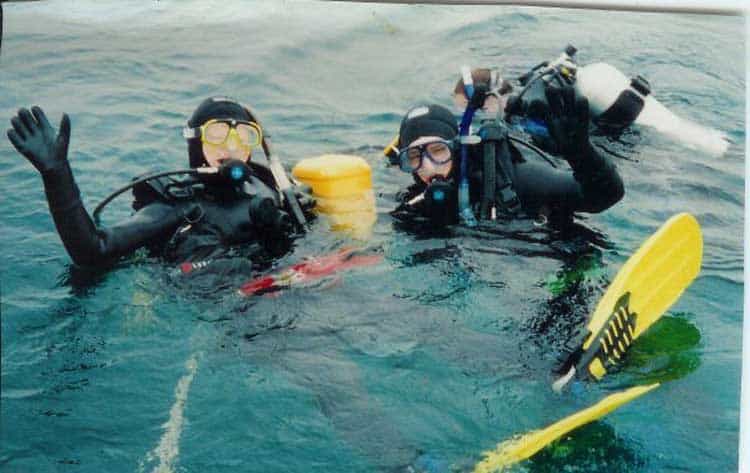 We became certified scuba divers in Ontario. We learned to dive in 7mm wetsuits in the chilly dark waters of the great lakes.
I'll never forget diving the wrecks of Tobermory. We only dove the shallow wrecks because we weren't experienced drysuit divers (the water is so cold, you can't dive deep in a wetsuit) but even those were a thrill.
We could actually see the thermocline coming our way as we approached the change from cold water to freezing cold water!
You don't have to dive to see the shipwrecks of Tobermory, some are jutting right out of the water!
21. Whitewater Rafting – Ottawa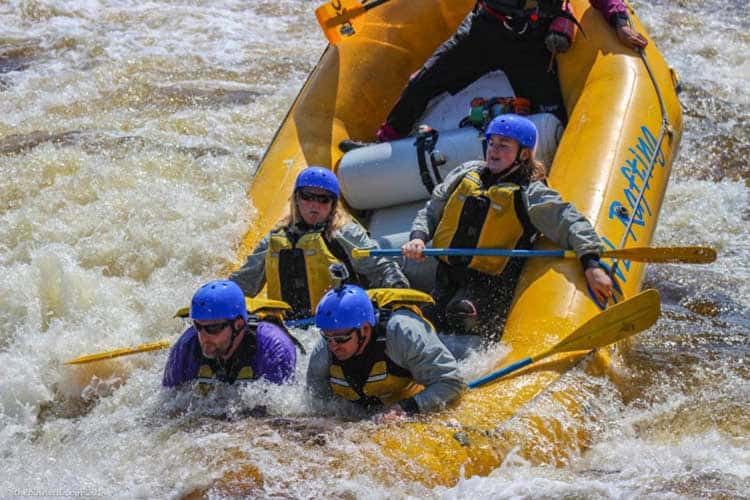 The Ottawa River attracts professional whitewater kayakers and rafters from around the world thanks to its impressive rapids.
We recommend staying the night and taking a two day trip with OWL Rafting.
Our first day was on the big raft going through class 5 rapids that other companies can't touch. Our next day was on the sport raft with just 4 people manning the boat!
22. Rocky Mountaineer – British Columbia / Alberta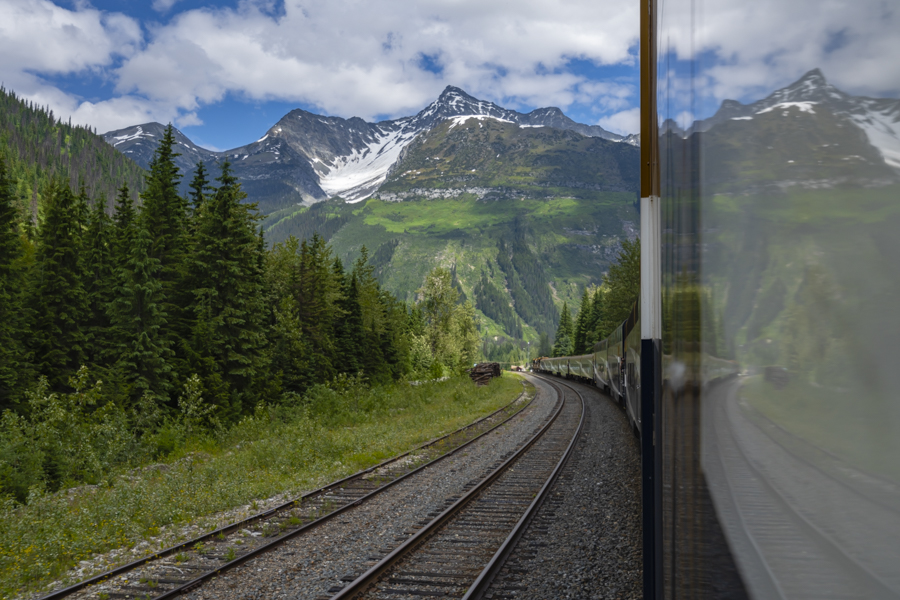 Speaking of the Rocky Mountains, taking a train journey through them is on many a person's bucket list.
We did it in style on the Rocky Mountaineer leaving from Whistler and ending in Banff. This two night journey goes through some of the most remote regions in Canada.
23. Conquer the Edgewalk at CN Tower – Toronto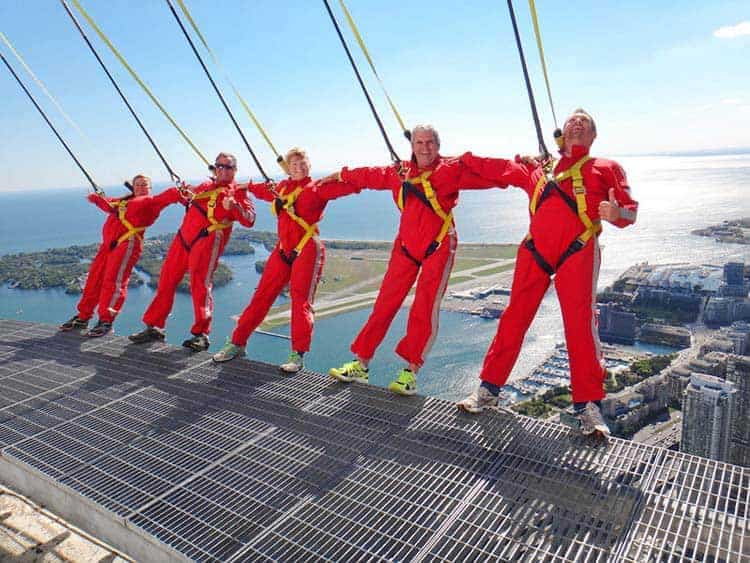 Most people have heard of the CN Tower and while many people go to the top of skyscrapers for city views, the CN Tower offers something different.
Going up the CN Tower is one of the top things to do in Toronto, but not as many people dare to try the Edgwalk.
We strapped ourselves to a harness and clung to the edge 110 stories high as we did our best superman impressions overlooking our home town of Toronto.
24. Walk Among the Hopewell Rocks – New Brunswick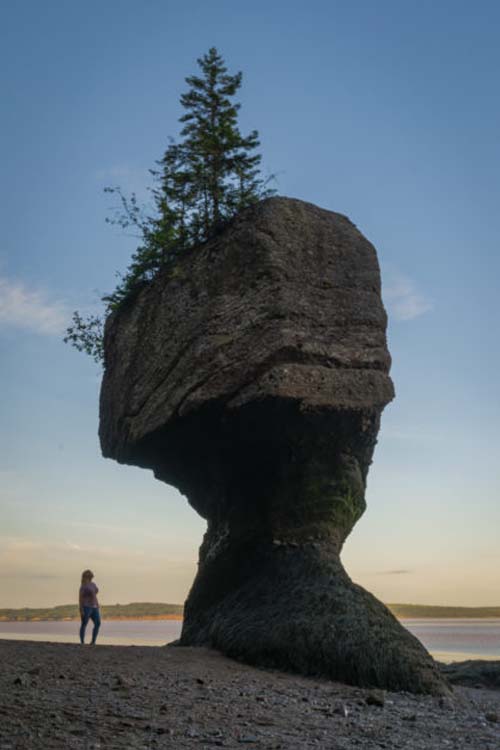 I know we mentioned Tidal Bore Rafting is the best way to experience the Bay of Fundy, but the most legendary way to see it is at the Hopewell Rocks.
Located in New Brunswick, the Hopewell rocks are an extraordinary site where we walked on the ocean floor surrounded by giant flower pot rocks and sea caves.
The Fundy Trail is an amazing hike that you can do in Canada and when we explored New Brunswick, we also made a point of crossing into Prince Edward Island.
25. Hike the Pukaskwa National Park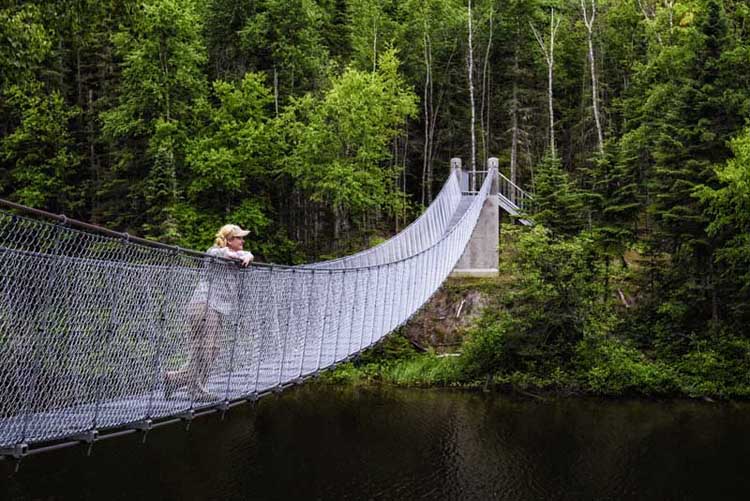 Not many people outside of Canada have heard of the Pukaskwa. But this National Park coastal hike is Ontario's answer to the West Coast Trail.
It's a tough adventure that took us through the back country on the North Shore of Lake Superior. We had to carry all our food and gear for seven days as we trekked through the incredible landscape.
26. Lake Superior Motorcycle Route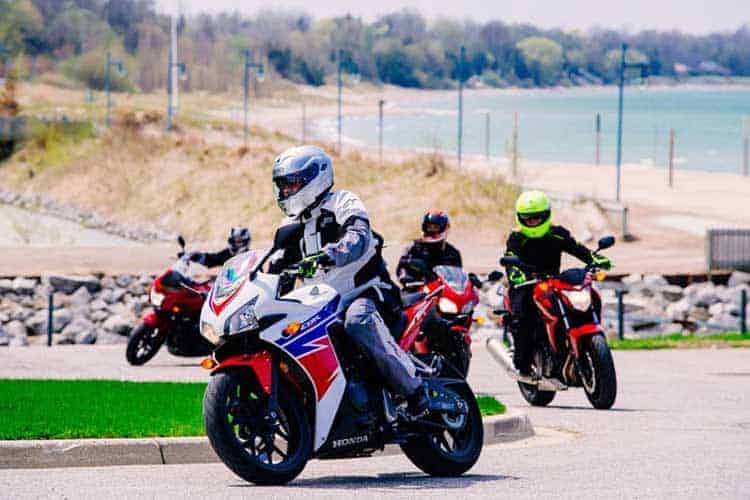 It's one of the bucket list motorcycle rides on earth!
This trip circumnavigates Lake Superior and takes you through three American states, plus Northern Ontario in Canada. It's a beautiful week-long ride that you'll never forget.
27. Cape Breton Road Trip – Nova Scotia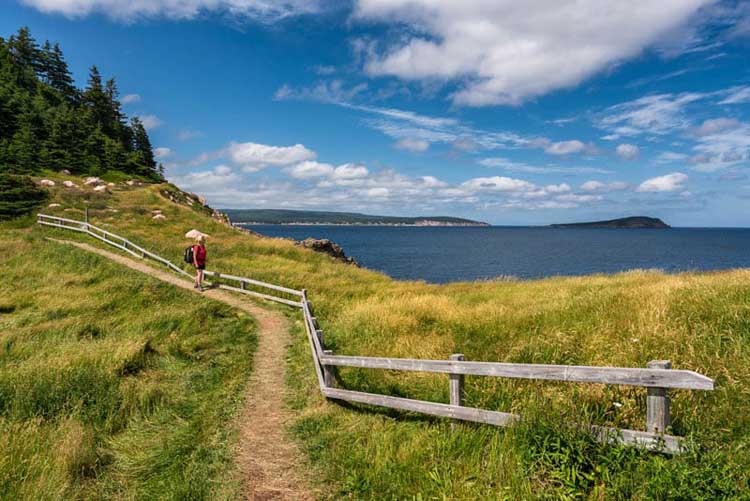 Driving the Cabot Trail of Cape Breton is a week long adventure filled with amazing things to do.
From kayaking to hiking the skyline trail, this is one of the premier driving routes in Canada.
Be sure to camp or if you don't want to rough it too much, book a glamping experience through Parks Canada.
28. Rock Climbing – Canmore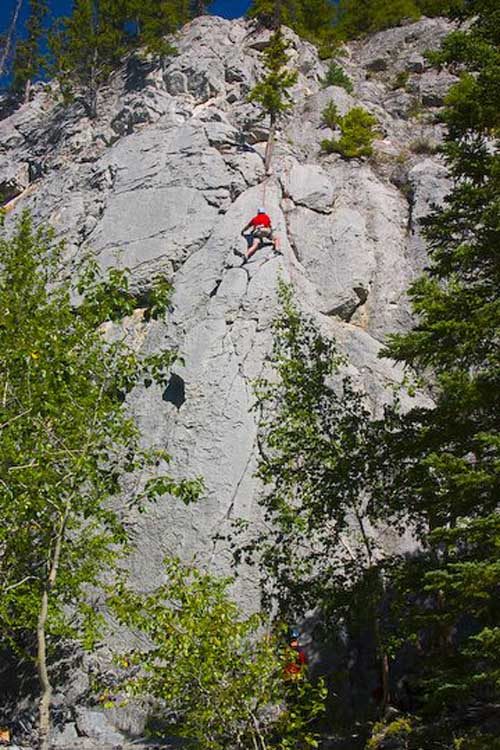 Rock climbing the rocky mountains is a dream come true.
Even if you don't have experience Yamnuska Adventures will take you out, set up top ropes and let you climb in safety up a sheer rockface.
29. Skate on the Rideau Canal – Ottawa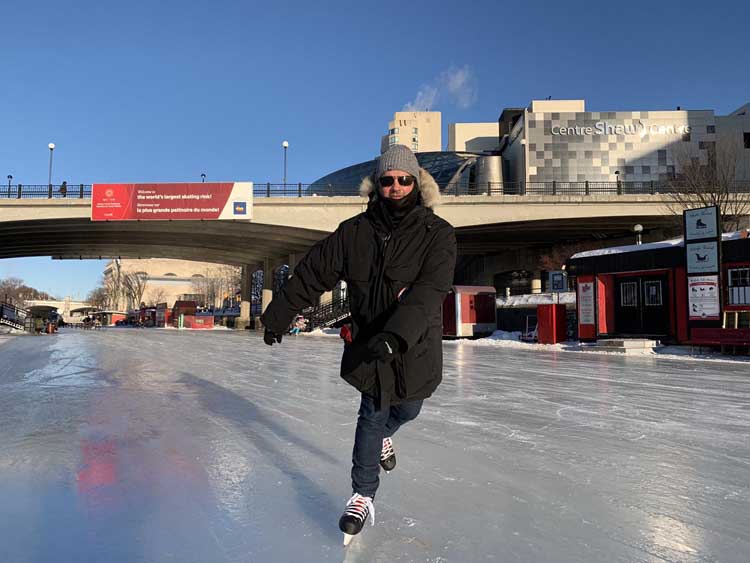 If you want to skate on another iconic Canadian arena, make your way to Ottawa for Winterlude.
The highlight of this winter festival is to skate on the world's largest ice skating rink. The Rideau Canal is a UNESCO World Heritage Site and The oldest continuously operated canal system in North America. But in the winter, it is the world's latest skating rink!
There are warming huts, places to get Beaver Tales and Maple Syrup, and a lot of skate rental shops to try Canada's favourite pass times.
30. Trek the Athabasca Glacier- Alberta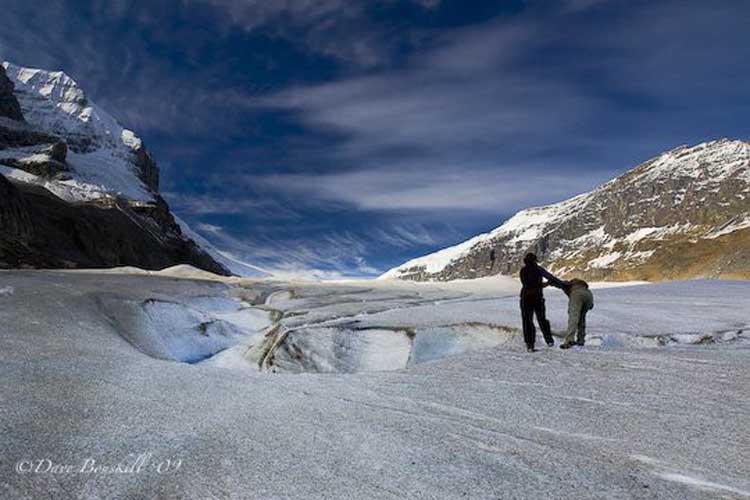 Driving along the Icefields Parkway in Alberta is one of the most beautiful drives on earth and there are many places to stop.
Be sure to book a hiking adventure tour of the Athabasca Glacier.
Walking along this mammoth glacier truly shows you the power of Mother Nature.
31. Midnight Sun of Dawson City – Yukon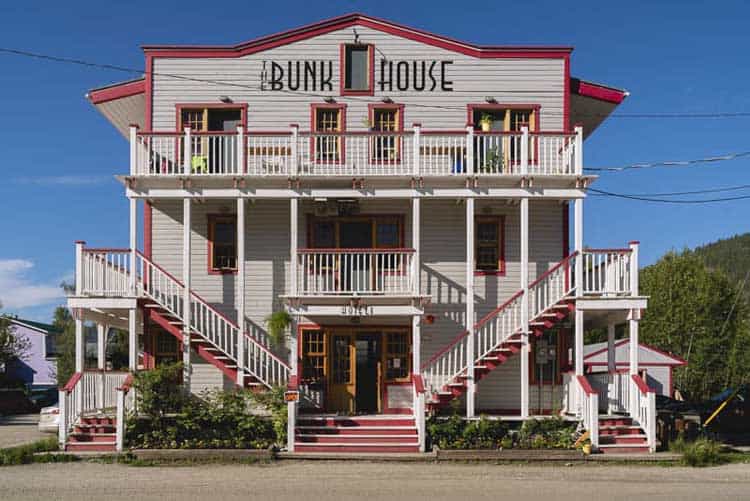 Dawson City, Yukon is like stepping back in time to the old west.
Visiting during the height of summer keeps you up until the wee hours of the morning because you have no idea what time it is!
We flew the drone from a high lookout at 11 pm and walked around the saloon facades of downtown at 3 am – all while lit by the bright midnight sun.
32. Drink the Sour Toe Cocktail – Dawson City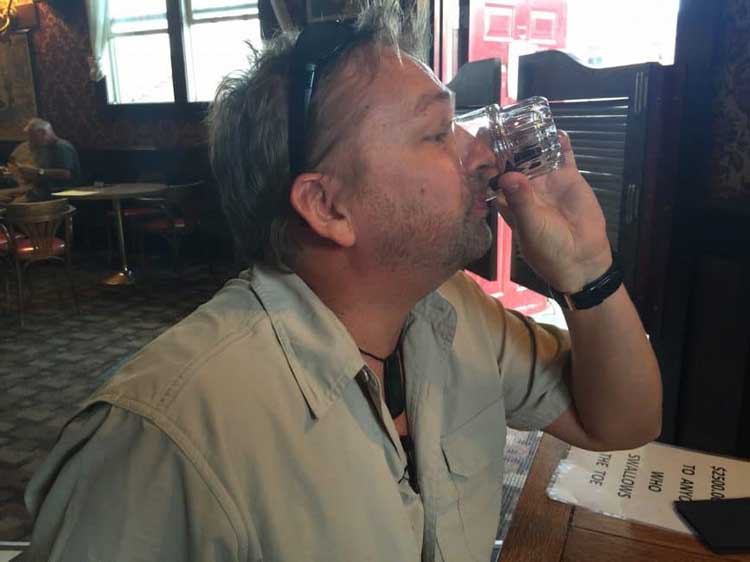 While in Dawson City, you cannot miss taking a shot of your favourite spirit containing a dead toe.
You heard me correctly, a human toe is at the bottom of the glass and you don't get your certificate until the toe touches your lips!
It's definitely one of the most unique things to do in Canada.
33. Sabre Champagne in Whistler – British Colbumbia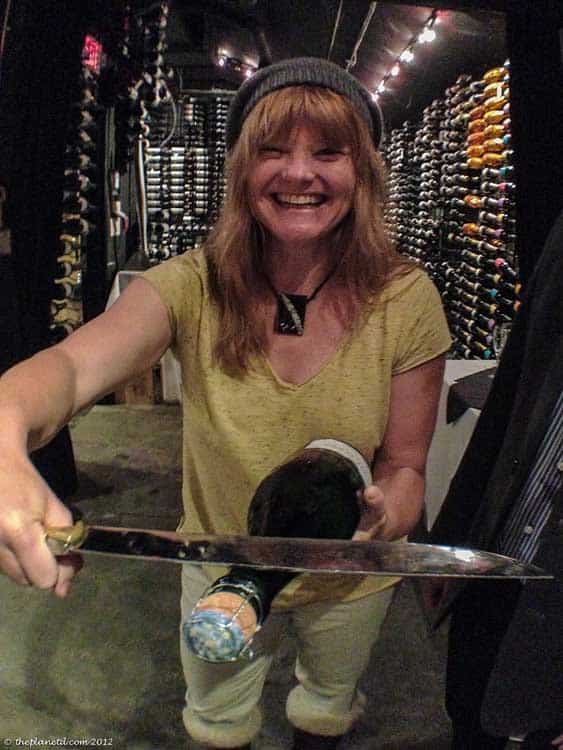 While we're talking about unique drinking experiences, we have to share another awesome thing to try.
Everyone goes to Whistler for skiing and snowboarding, but at the Barefoot Bistro that we had our most memorable time.
Splurge for the night starting in their Vodka Ice Room and then go downstairs to sabre a bottle of Champagne.
Every Canadian Gold Medalist on the slope came here to saber a bottle of their own!
34. Dark Sky Festival of Jasper – Alberta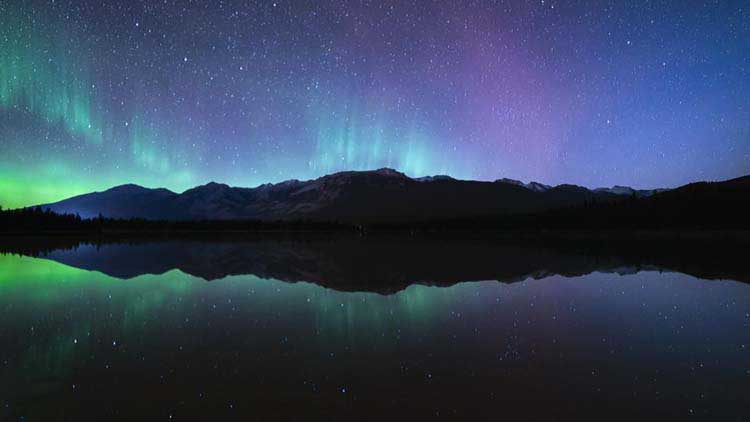 The Dark Sky Festival is an amazing way to witness the Canadian night stars without light pollution. Getting to see the stars in Jasper is an added bonus.
There are many lakes to go out to view the Aurora Borealis and milky way and there are plenty of special events to keep you occupied. We loved our stay at the Fairmont Jasper too!
35. Northern Lights – Manitoba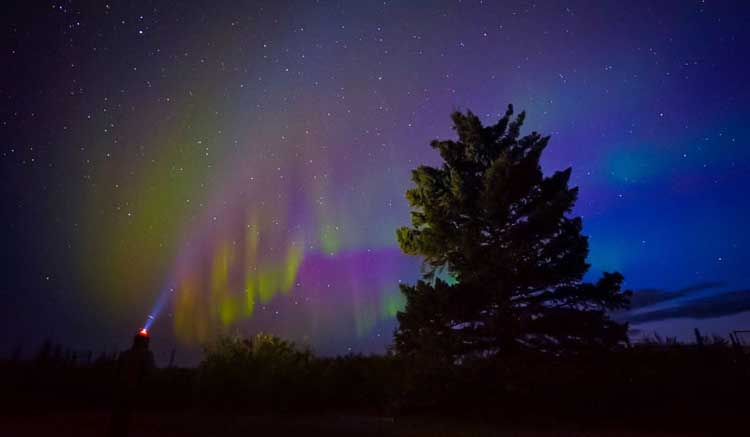 We had the honour of going back to Churchill Wild in the Winter to view polar bears.
The polar bears left for the icy waters of The Hudson Bay early that year, but we did see the Aurora Borealis every night while staying at Seal Lodge. There are many places to see the Northern Lights in Canada.
We've seen them in Ontario's north, Jasper National Park and Banff Alberta.
36. Whirlpool Jetboat Tour – Niagara Falls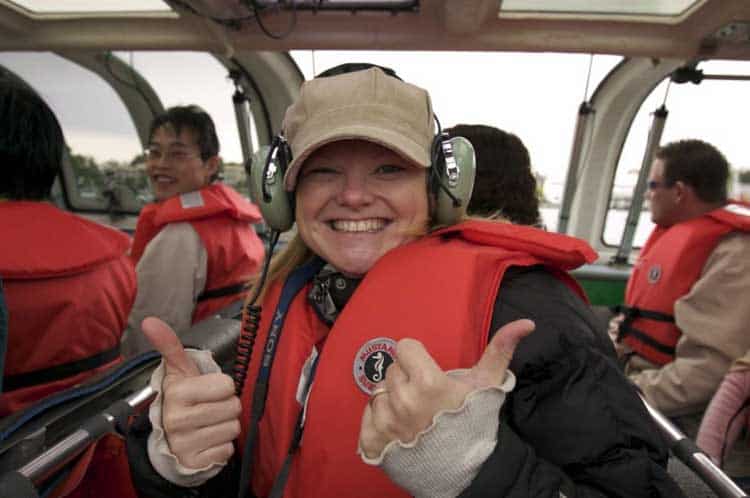 Canada is famous for Niagara Falls and we love visiting Niagara at least once a year.
But our favourite thing to do in Niagara Falls is located outside the city at Niagara on the Lake.
The Jetboat that takes you to the Class 6 rapids of the Niagara River Whirlpool. Nobody can kayak or boat on this, they'll literally get sucked to the bottom. But on these high powered jet boats were made to survive the powerful waves.
You sit on the edge either getting soaked on the open boat, or taking the covered boat along the Niagara River. (we've done both!)
37. Fly fishing – Saint Mary's River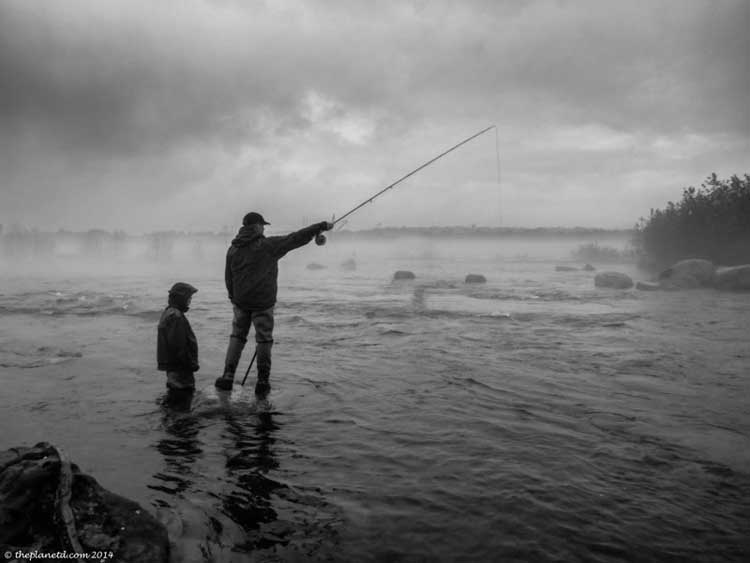 Hemingway said the Saint Mary's River in Sault Ste Marie is the best place in the world for fly fishing. You can hire a guide and rent gear to learn how to flyfish in these moving waters.
38. Float Plane in Squamish – B.C.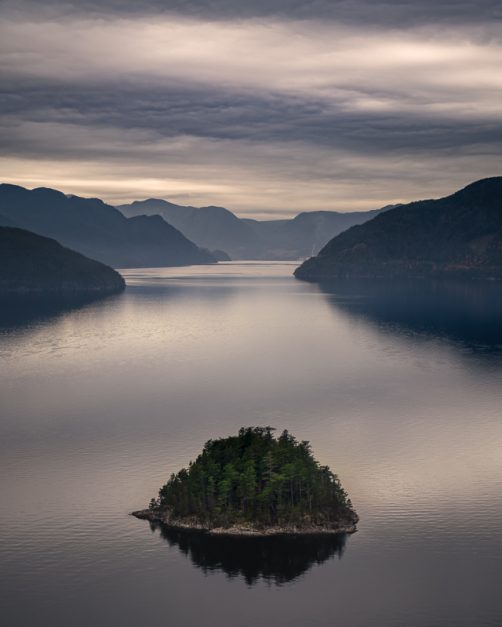 Another unique adventure in Canada is to take a scenic flight over Squamish.
Why is this unique? Well, we not only flew over the Big Chief and the Coast Mountains, but we also landed on Howe Sound and scooted along the water in our plane!
Squamish is just a short drive from Vancouver, so if you are looking for some unique things. todo in Vancouver, head out of the city and spend a few days. in Squamish!
39. BiPlane Flight – Ottawa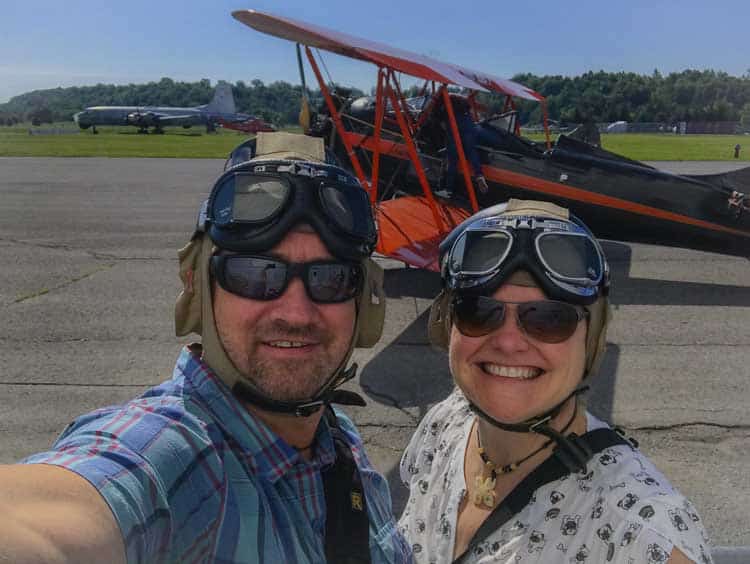 Canada's national capital is famous for the Parliament Buildings and Rideau Canal, but the most fun we had was heading over to the aviation museum and taking a classic biplane flight over Gatineau and Ottawa.
The open cockpit takes you back in time as you don leather helmets and goggles as you soar through the air.
40. Side Car tour of Jasper – Alberta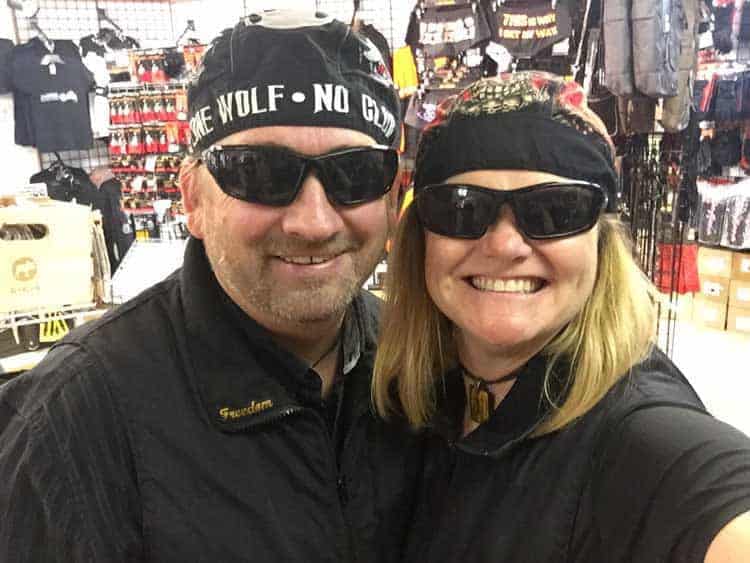 A fun and unique thing to do in Canada is to take a sidecar tour in Jasper National park.
We let someone else do all the work while we explored Jasper and watched a mother and cub grizzly bear munch on berries in the park!
41. Mackenzie Delta – Northwest Territories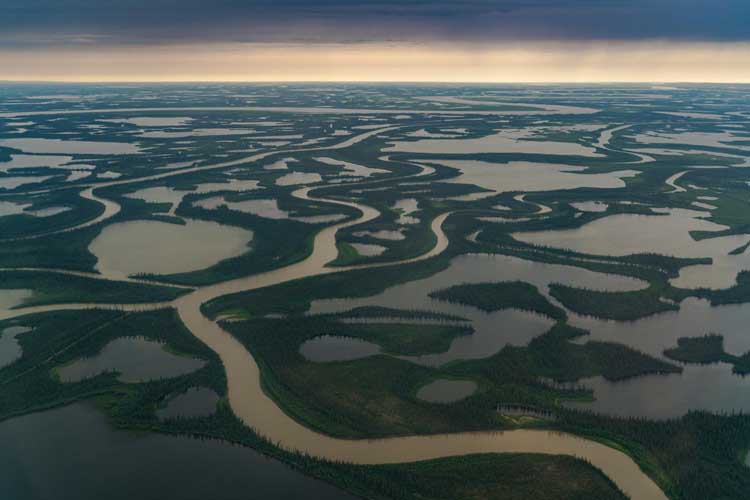 Flying over the Mackenzie Delta is one of the most unique scenic flights we've ever taken.
But when traveling the Great White North, we don't just take a scenic flight, it's too expensive to not have a purpose.
Our flight actually took us to Hershel Island, a tiny island 5 km off of the north shore of Canada. This is a unique stop to see the old RCMP Headquarters, old whaling stations, and the elusive muskox.
42. Hoodoos of Drumheller – Alberta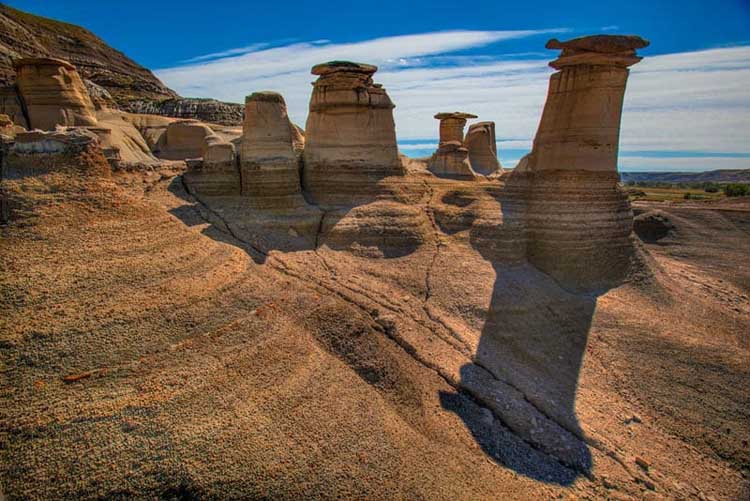 The Hoodoos of Drumheller are out of this world to see in person.
They are a tiny cluster tall, skinny rock formations that sit on the side of the road. Each has a mushroom cap on top and it is like nothing I've ever seen.
Driving this road is a great day trip to check out the Last Chance Saloon, the Canadian Badlands and the Royal Tyrell Museum.
43. Saint Martins Caves – New Brunswick
Speaking of sea caves, a lesser known spot to see the world's highest tides is at the Sea Caves in Saint Martins. When the tide goes out, you can walk directly in to the enormous caverns. Come back a few hours later and you will see them completely submerged by the Bay of Fundy.
44. Rock Climbing Niagara Escarpment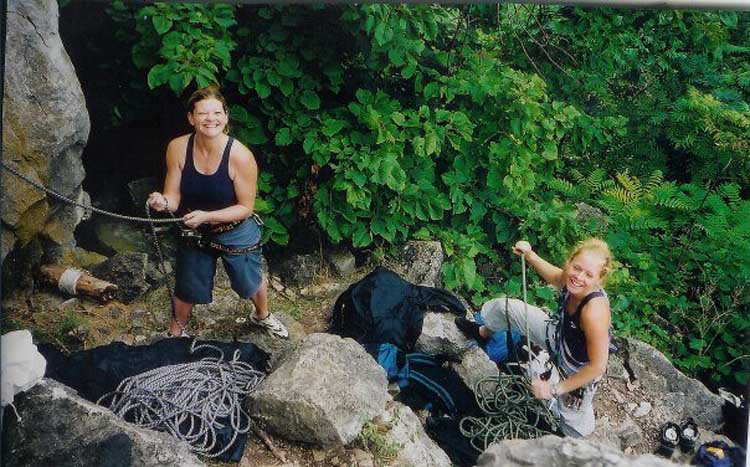 Ontario has some pretty amazing rock climbing!
While most people would go to Canmore Alberta or the Big Chief of British Columbia, there are great climbing destinations in Ontario including. a couple of our favourites at Rattlesnake Point and Lions Head.
These destinations are both great day trips from Toronto
45. Mountain Biking Hardwood Hills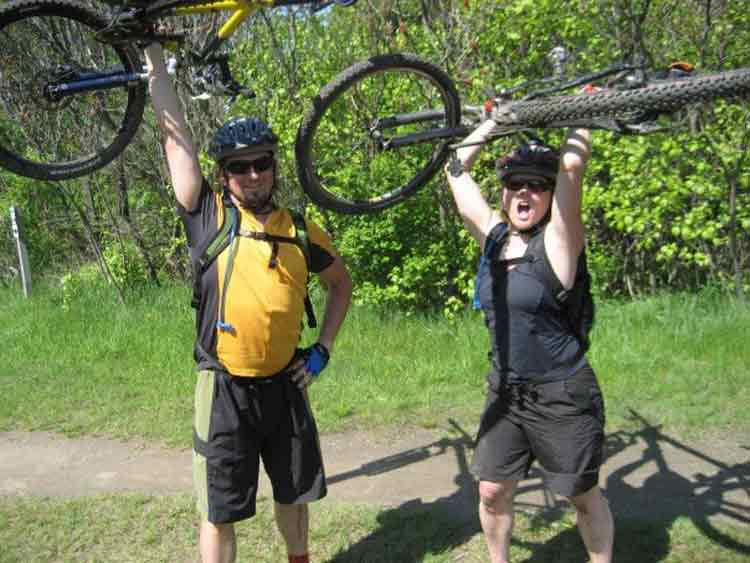 I was first introducted to hardwood hills when I was working for a catering company and made burgers for the 24 hours of adrenaline ride.
After that, Dave and I bought mountain bikes and rode its trails nearly every weekend. We've done a lot of cycling and mountain biking, and this is one of the best places in Canada to go mountain biking.
46. Backcountry Lodge Adventure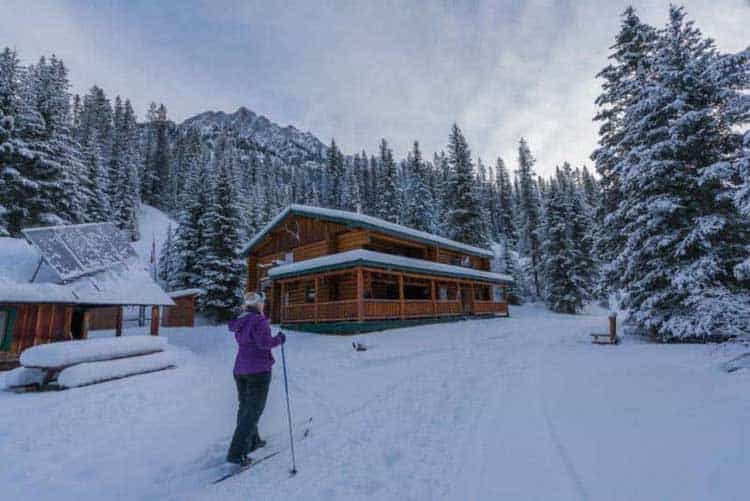 Hiking or cross country skiing for a day out to a backcountry lodge is the ultimate of things to do in Canada's wilderness.
The great thing about backcountry lodges is that you work hard all day and then enjoy a night in comfort as you sit around the campfire or woodstove and enjoy a gourmet meal cooked by a chef.
47. World's Fastest Zipline – Calgary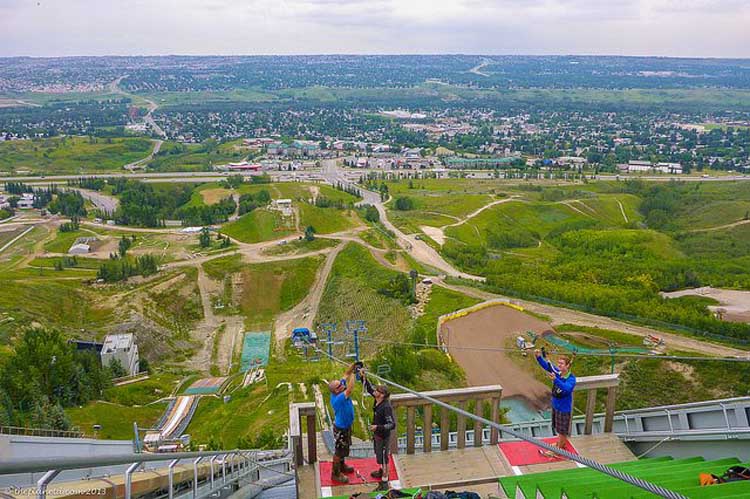 Who doesn't love a zipline? It's the ultimate thrill without needing any prior experience.
Just outside Calgary Alberta at Olympic Park is the World's fastest zip line. It takes off from the Olympic Ski jump and it is so fast and furious, you need to launch a parachute to slow down!
48. Snowboarding in Canada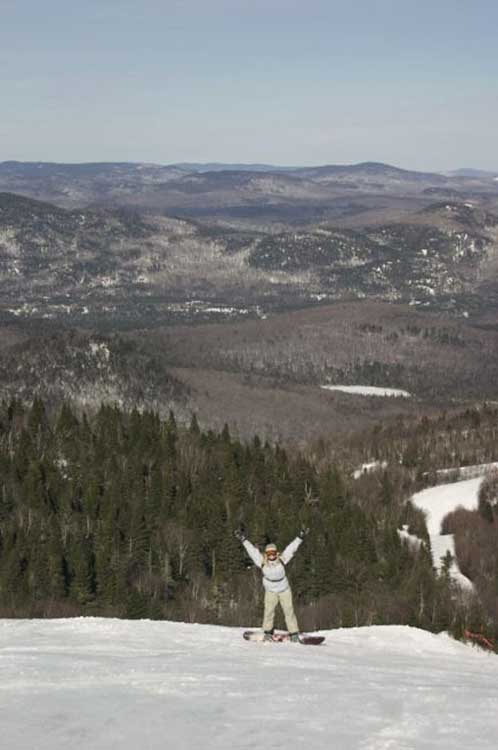 Our favourite place to go snowboarding in Canada is Mont Tremblant in Quebec. It is probably because it is the closest big hill to our home, but we love the vibe here. The village is fantastic and the skiing is awesome!
But when visiting Canada, you should try to ski or snowboard in the Rocky Mountains.
Lake Louise has some of the best conditions in Canada with the longest season. The Calgary Olympics held its alpine events here and the tracks are world-class!
Sunshine Village is another excellent ski destination in Alberta.
And don't forget Skiing in Whistler, it hosted the 2010 Winter Olympic Alpine events!
49. Columbia Ice fields Walk – Alberta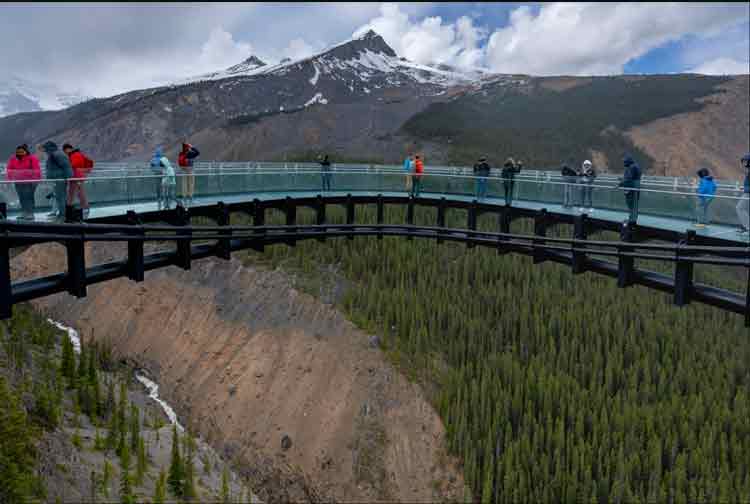 Ever since it opened I wanted to walk along this glass floor jutting out over the Columbia Icefields Valley. It's one of the coolest things to do in Alberta and it doesn't take up a lot of your day so go for it!
50. Dogsled with Siberian Huskies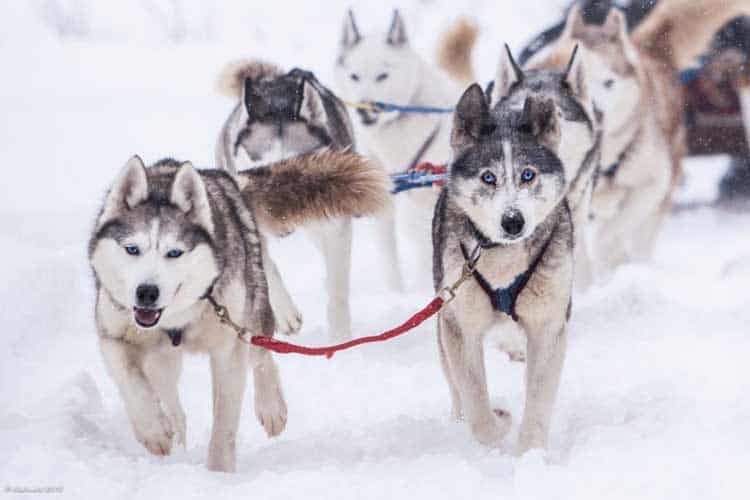 We've done a few dogsledding tours and they are a lot of fun. The dogs love to run. But it was with Hank DeBruin in Haliburton Ontario that we had the most special experience.
He and his wife Tanya love their purebred Siberian Huskies that are just as cute as a button as they run through the forest. If you slow down or fall off, these dogs are actually annoyed.
Baby they were born to run.
51. SkiJoring in Alberta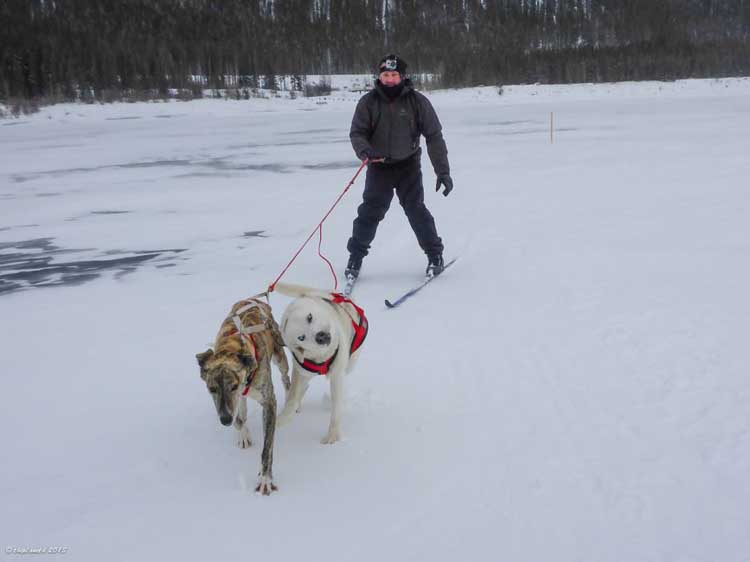 Continuing with dog adventures, an alternative to dogsledding is to go skijoring.
Put on a pair of cross country skis, head over to a frozen lake, preferably in the Rocky Mountains for optimal views and let a couple of dogs burn off their pent up energy as they drag you along the ice and snow.
52. Play Hockey on Lake Louise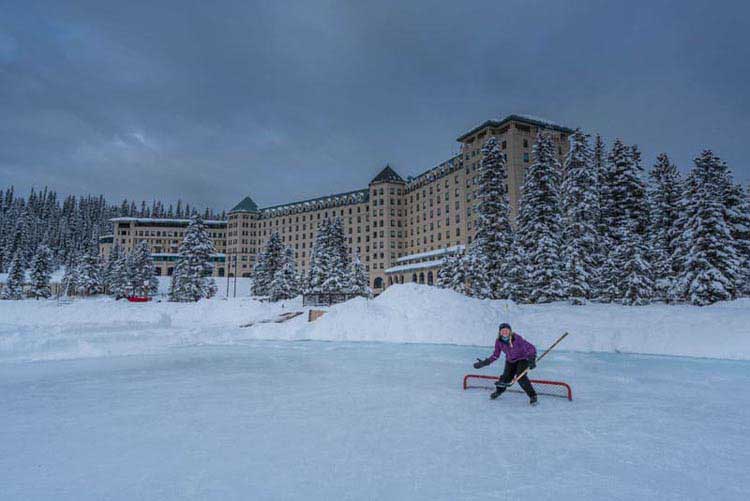 If canoeing Lake Louise sounds too touristy for you, skip it and go to Banff in the winter to join a game of pick up hockey. You can rent skates from Wilson Mountain Sports sports (skip the bad skates at Chateau Lake Louise and go here instead) rent your gear and be very Canadian for a day as you shoot the puck.
And that concludes our most epic list of adventures in Canada. There are so many things to do in Canada, the sky is the limit.
From exploring Vancouver Island to Stanley Park and the Fundy Footpath to Halifax Harbour, it takes a lifetime to see everything Canada has to offer. Luckily, we keep adding to the list every year.
Where have you been in Canada that you recommend?
Read Next:
Source link Travel Advisor