When we think of romance, we often correspond the thought to "long walks on the beach", or some other idyllic setting in a warm climate with palm trees fluttering overhead. This is part of the allure of South Florida, and what makes Fort Lauderdale such a great travel location for couples.
The endlessly beautiful weather, the balmy nights, and the island-life feel of Fort Lauderdale makes it a popular travel destination, but it's also remarkably romantic. If you find yourself here in either summer or winter, here are a few ideas that make for a great date night in Fort Lauderdale!
Fort Lauderdale has one of the few dine-in AMC theaters in Florida, with the newest flicks and comfortable reclining seats, where you and your date can grab a cold beer, dinner, and a movie all at the same time. Make sure to reserve your seats beforehand by going online and selecting your date night view, as there is limited seating (which only adds to the ambiance of the evening!)
Ticket price: About $17 per person post-matinee
Budget: $
Another great option for movie date nights in Fort Lauderdale is one of our favorites – the Classic Gateway Theatre, located right off of Sunrise Blvd not far from downtown. This mid-century treasure has a revolving stream of art films as well as blockbusters, where couples can find yourself back in time with your date.  Grab a soda and some buttery popcorn, admire the truly classic details within the theater, and hold hands across the comfortable and quaint seating while you watch the big screen. The Gateway is one of the most popular locations in Fort Lauderdale, having hosted classic openings for movies dating to the early 1950s.
Gateway is also the only venue to screen the Rocky Horror Picture Show in Fort Lauderdale, with a live cast every 1st, 3rd and 5th Saturday of the month!
Ticket price: $9 (Matinee) to $11.50 per person
Budget: $
Another fun way to spend a date night in Fort Lauderdale is to visit Parker Playhouse for an energetic and unique performance in a smaller venue. Located right on Federal Hwy near the Victoria Park area, this unassuming theater brings in an impressive array of comedians, ballets, musicians and plays that are second to none. Parker Playhouse serves small snacks as well as beer and wine, a perfect aperitif after a romantic dinner.
Our favorite annual ballet is their holiday presentation of the Nutcracker, as good a performance as we've seen anywhere. While there, make sure to look around the hallways and ceilings, the décor is gilded and warm, like stepping back in time with a modern touch.
Ticket price: $25 to $70 per person (depending on performance)
Budget: $$
The Broward Center is another classic and beautiful location for a perfect date night for couples. Offering Broadway-style performances, and a classy yet welcoming atmosphere, the Broward Center hosts multiple theaters that cater to all tastes. From world-renowned comedians to amazing symphonic events, check out their schedule when planning a romantic evening in South Florida. We caught a great performance of Big Fish at the Broward and were not disappointed by the setting (large enough to feel like a professional performance, but warm enough to give it an intimate feel). Make sure to pre-order your intermission cocktail and enjoy it on their warm, intracoastal-facing terrace for a truly romantic view.
Ticket price: $40 to $120 per person (depending on performance)
Budget: $$$
The Water Taxi in Fort Lauderdale is a great way to spend a day on the water with your date. Running from about 10am to 11pm with pick up and drop off spots from Las Olas to the 15th Street Fisheries and Bokamper's Sports Bar, the Taxi will take you from location to location all day long.
There are myriad bars and restaurants to visit along the way, and you're free to bring your own small cooler of drinks and snacks on the boat as well! The Taxis also have covered as well as uncovered seating for those who want to get either sunshine or shade on the water. Relax and sit back while the informative captains narrate along the way; you'll pass endless beautiful and famous houses and landmarks!
Ticket price: $26 per adult
Budget: $
If you want to spend time on land along the intracoastal, a great place to take a date for a low-key, sun-filled day is along the famous Las Olas Boulevard. A local favorite, Las Olas is a stretch of stores, restaurants and bars that go all day to all night. Stroll along the shaded streets and peruse the many art galleries and shops at your leisure, then grab lunch and a cocktail at any one of the amazing restaurants like Royal Pig, YOLO, or one of our favorites, Asia Bay, with a patio facing the water. For great Greek food, try Trata, the best Greek restuarant in Fort Lauderdale and another of our personal favorites.
Once the sun sets, hit up the night life at any one of the open-patio restaurants that offer specialty drinks, great appetizers and an unmatched ambiance. Many of the day-time haunts turn into fun and festive night spots, going late into the night.
Budget: $ to $$$, depending on your taste!
Downtown Fort Lauderdale also is home to a lively day-to-nightlife area along Himmarshee Street, where some of the best brunches turn into the best parties on the weekends. Take a Saturday and grab a cab down to this hot spot for great food at Public House and a dive-bar atmosphere at Capone's.
For a nightclub vibe, check out Stache, a local bar with unique craft cocktails and an upstairs seating area that will transport you to an old-school library while you both sip a well-made old-fashioned. There's also Cyn, a local club with high-energy dance music as well as a Latin lounge where you and your date can dance the night away. If lower-key is more your vibe, try Bull Market, where you can select from dozens of draft beers while mingling without the dance floor!
A personal favorite of ours is Rhythm & Vine, a partially-outdoor bar in downtown Fort Lauderdale that features food trucks, a beautifully-lit courtyard, thriving music, and an always-packed environment.
Budget: $ to $$$, pick your favorite haunts and decide for yourself! Bear in mind that most nightlife spots will require a small cover charge at the door for men.
Just five miles from downtown Fort Lauderdale is one of the only places where you can bowl, test your arcade skills and ride a go-kart all in the same night. X-Treme Action Park offers a great date night experience where you can grab a pitcher of beer, a burger and a game of ski-ball in one place.
If you're looking for the perfect package-deal, their Friday Date Night offers the choice of one of their exciting adventures from racing to roller-skating, as well as an arcade card and a food voucher for a single price.
One of our favorite weekend getaways, X-Treme is best at night and open until midnight on the weekends. Also offering a ropes course, the "Bazooka Blast" (a combination of paint ball and laser tag) and a trampoline area, leave your adult behind and find your inner kids together!
Ticket price: $49 per person on Friday Date Night
Budget: $$
For a fun and artistic approach to date night, you'll enjoy Wine & Canvas Fort Lauderdale, where you can choose your venue to paint and sip your beverage of choice while a trained instructor helps you with your painting skills. With a rotating schedule at many different local restaurants and bars, Wine & Canvas is a great way to express your shared creativity! They provide the paint, brushes and canvas; just bring your imagination and creativity.
Ticket price: $25 per person
Budget: $
For pet lovers, bring your date to Victorios Studio, located downtown on North Victoria Park Road, for one of their Paint a Portrait nights. Better known as Paint your Pet night, you can take along your date, a picture of your furry friends, and capture them in acrylic with the instructor's help. Paint, brushes and canvas are also included. Bring your own drinks and snacks for an ideal date night in South Florida!
Ticket price: $40 per person
Budget: $$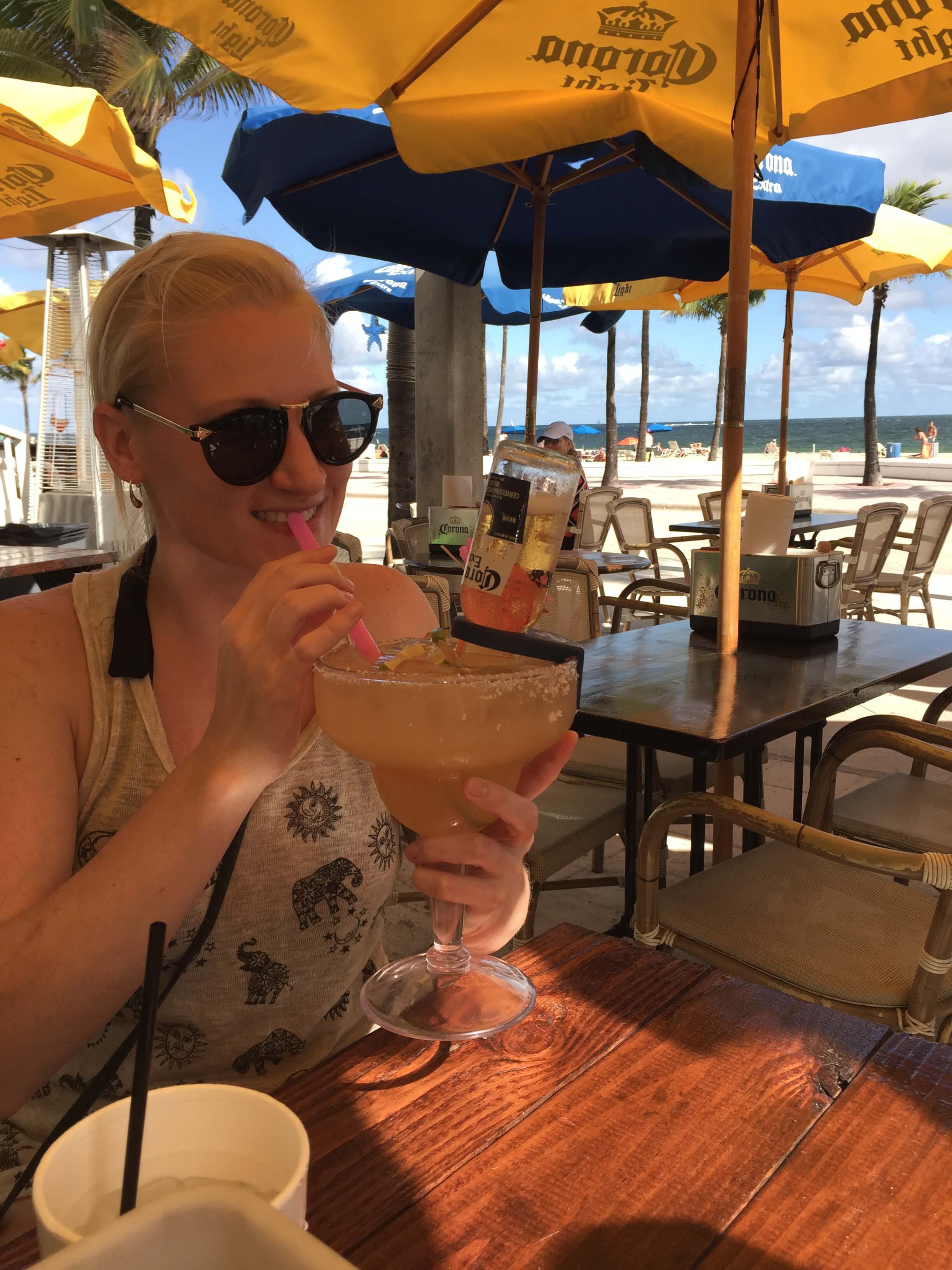 Fort Lauderdale's beaches are some of the most beautiful in North America, and no better place for sun-lovers to visit. Along A1A sits an endless array of bars and restaurants, where you can sit outside and grab a giant margarita while the beach breeze flows around you, day or night. Spend some time with your date on the sand with a cooler and some shades before the sun sets, and then take your time walking along the coast before heading to some of the most famous spots.
For a local vibe, visit the timeless Elbo Room, one of the most iconic bars in South Florida, where you and your date can meander among the festive and vibrant atmosphere with a cold drink, just steps away from the shore. For a more low-key evening, watch the sun set from the Café del Mar, one of our favorites for fresh sangria, and see the city pass by against the hum of the ocean.
Budget: Free to $$, from beach to beverages, make it a day!
No matter what you choose for your Fort Lauderdale date night, make it fun and festive. The city is full of endless romantic and unique options for any couple's adventures – at any budget. Find your favorite way to spend the day or night and make it your own!
Source link A Couple For The Road