There are so many things to do in Whistler that you'll need two seasons to do it all!
Whistler, British Columbia is Canada's mountain playground. With great summer and winter activities, it is the perfect year-round vacation destination.
The moment you arrive in Whistler, you feel the laid back mountain vibe. Everyone in the village is friendly and welcoming and their happiness is contagious.
When you sit at a bar or a table in a restaurant, conversations start with your neighbors and you soon become fast friends.
People will share their favorite trails, best places to eat and most epic rides as you enjoy a local craft brew. So make sure to start up a conversation and make the most of your time in the village and on the trails.
Things to do in Whistler, British Columbia
We always have a fantastic time in Whistler no matter what the season.
Everyone knows it's a great ski and snowboard destination, but there are plenty of things to do off the hills too!
Here's our Whistler guide to help you make the most of your trip!
Come for the Winter, Stay for the Summers
Everyone in Whistler told us that summers are extraordinary here and it's true!
You will have locals tell you that "People come to Whistler for the winters, but they stay for the summers."
Whistler is contagious and I wonder if we will ever join the many people who call Whistler their home?
With the help of Whistler tourism, we had the chance to experience a lot of Whistler beyond the hills. Here are the top things you should try when you visit Whistler.
What to do in Whistler and a few tips on what not to do in Whistler. You'll get the idea.
The Dos and Don'ts of all the things to do Whistler
Besides sharing all the things to do in Whistler, we thought we'd also some tips on visiting Whistler in a fun Do and Don't post.
1. Ski and Snowboard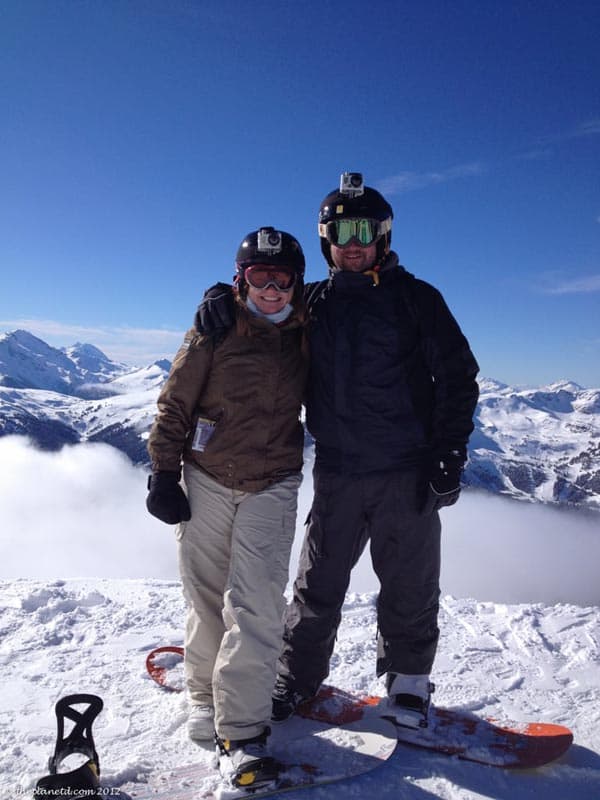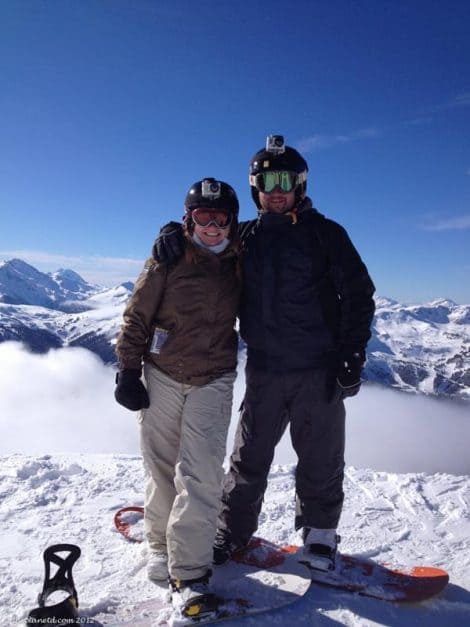 Do – Ski or Snowboard 
Whistler / Blackcomb is the largest ski resort in North America with 200 runs, 38 chairs and 16 alpine bowls spread over 8100 acres of terrain, there is a lot of ground to cover.
Even if you are not an avid skier, it would be a shame not to get on Whistler Mountain. It's one of the premier destinations for skiing on earth.
Don't – just ski for one day.
Make sure to get at least a three-day pass to truly explore all there is to see if you love skiing.
Between Whistler and Blackholm there are so many trails, it can be overwhelming to do it all in one day.
Instead, get the three-day pass so you can explore at your leisure and really take in all the great rides.
2. Free Guided Tours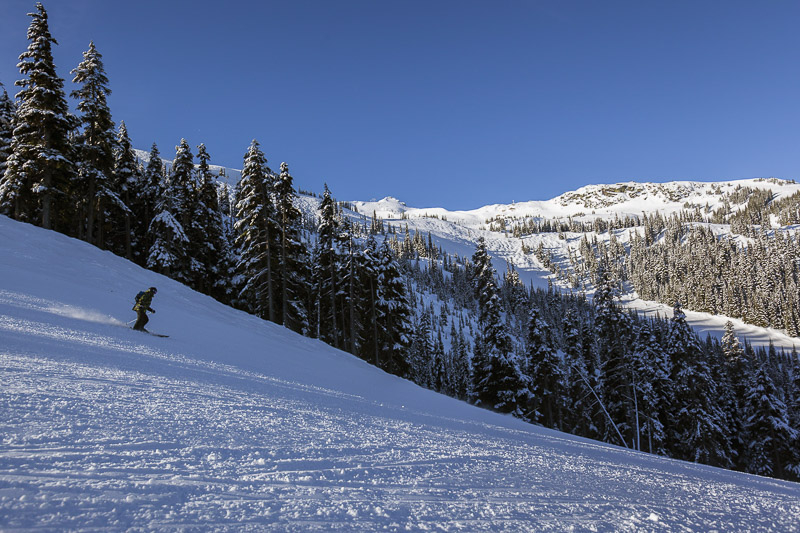 Starting every day at 11:30 on Whistler and Blackcomb at the top of the gondolas are free guided tours to get you a fantastic introduction to the mountain.
Taking a guided tour of Whistler's slopes will help you get your bearings and know where to start.
Plus the fabulous guides take you to trails that are gems and not as busy as others.
Do – Take advantage of the free mountain host guided Tours
Getting this introduction gave us insider tips to make our time in Whistler.
We knew how to avoid the crowds and when in doubt, we just went back to the trails our guide took us on because we knew it was going to be a great ride!
Read about our Snowboarding adventure
3. Peak 2 Peak Gondola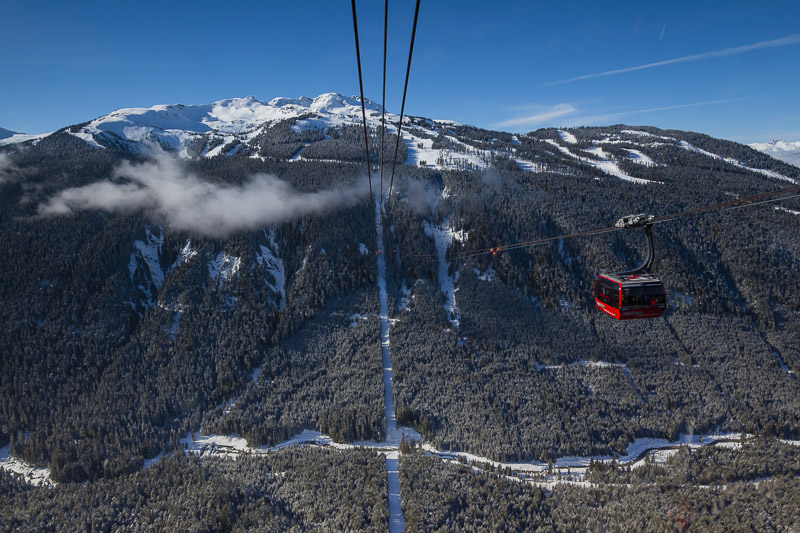 Even if you are not a skier, get on this gondola for amazing panoramic views of Whistler/Blackcomb mountains.
The gondola runs pretty much year-round with only a short hiatus in the fall for a week or two.
Do – Take the Peak 2 Peak Gondola for amazing views.
In the summers your ticket will take you up to the Cloudraker Skybridge and Raven's Eye Cliff Walk.
There are also free daily tours at 11:15 AM & 1 PM to give visitors a behind the scenes look at the amazing engineering feat it was to install this massive lift.
Don't Eat during lunchtime
The restaurants are crowded with people and you're missing primetime on the slopes.
Lunch is the best time to steer clear of crowds. Eat earlier or later, but not during.
4. Fresh Tracks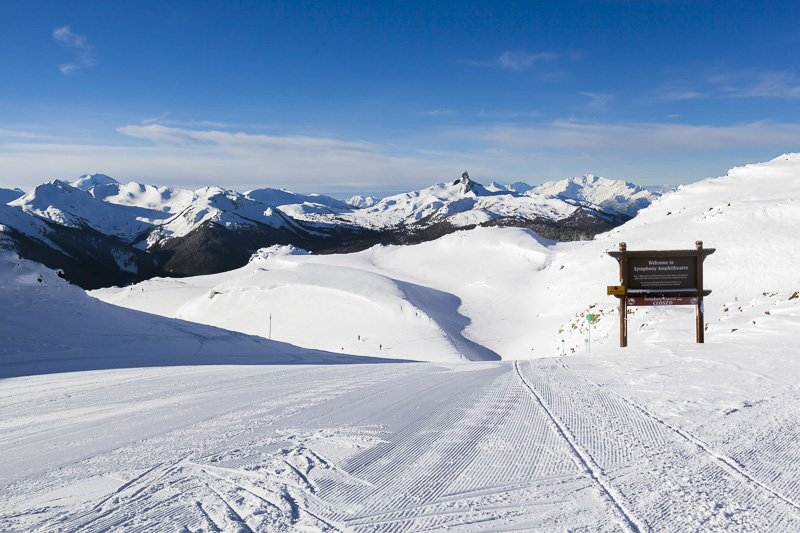 When snowboarding in Whistler, be sure to pay the $20 fee to be first on the hill! It is worth it for the buffet breakfast alone.
Do – Give Fresh Tracks a try. 
Having the chance to be the first up the gondola and ski down the slopes before anyone else is priceless. See what we thought of Fresh Tracks
Don't – arrive late for fresh tracks.
Get in line early so that you can be at the front of the gondola.
This allows you to eat first without having to stand in line for breakfast.
Then you'll be ready to ski the minute the horn goes off signaling that the slopes are open.
Find out when the gondola opens for Fresh Tracks at the Whistler Blackcomb ticket office and arrive at least 45 minutes early with a coffee in hand to pass the time.
5. Backcountry Skiing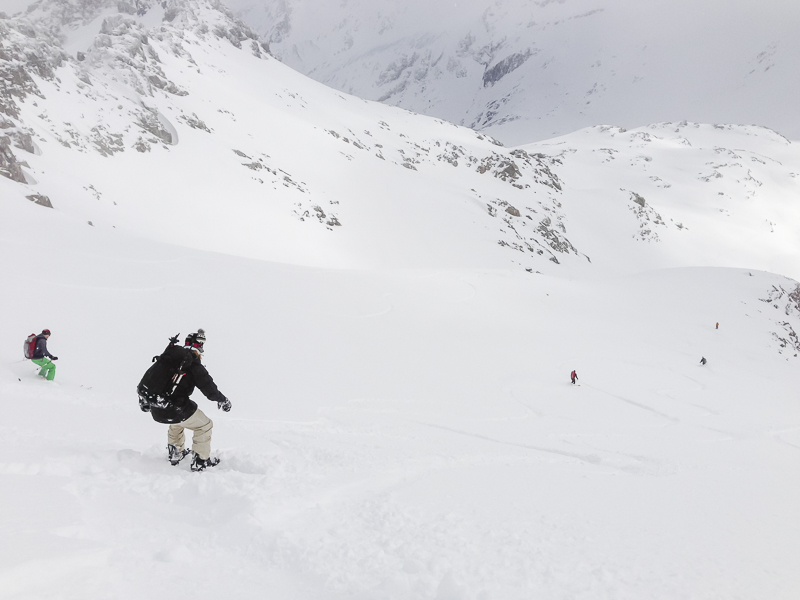 If you want to try one of the most quintessential of things to do in Whistler, try backcountry skiing.
Do – Backcountry Skiing
Whistler offers backcountry courses that teach you how to read the conditions, use your emergency beacon, dig someone out of an avalanche and enjoy unforgettable powder skiing.
Don't – Backcountry Ski without Experience
There is a very real danger of avalanche and getting lost when backcountry skiing.
If you have never gone backcountry skiing before, Stay in Bounds and enjoy the over 800 acres of terrain on Whistler Blackcomb mountains.
If you want to try backcountry skiing, join a tour that introduces you to everything you need to know.
Things to do in Whistler Besides Skiing
There are so many more things to do in Whistler than just skiing and snowboarding.
6. Bobsleigh or Skeleton at Whistler Sliding Centre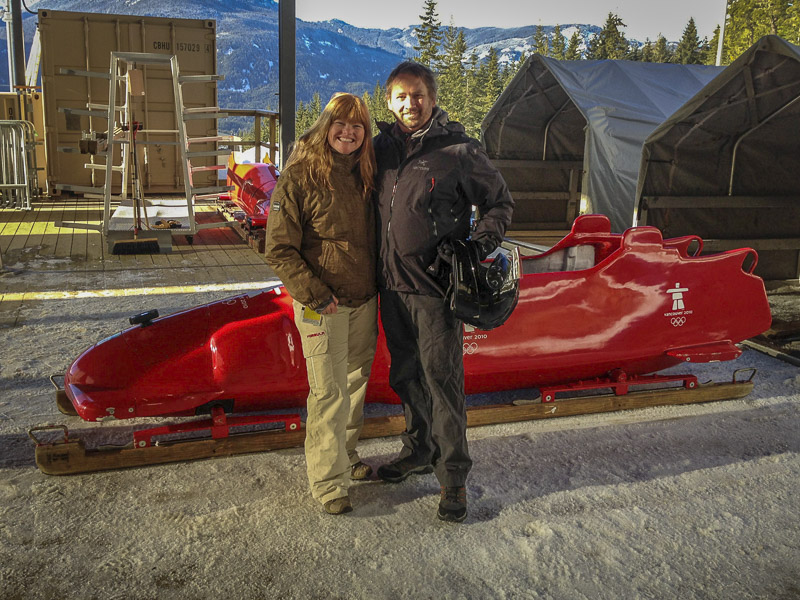 Home to the 2010 Winter Olympics, there is still a working bobsled track that allows visitors to go for a spin.
Try your hand at bobsledding and reach 125 km per hour or if you are really brave, give the terrifying skeleton a try.  
The skeleton is a tiny sled that you lay on and zip down the Olympic bobsled tracks at break neck speeds.
Read more about our bobsledding
Do – Get off the slopes and explore the area.
You don't have to do all the adrenaline activities in Whistler to have a good time. There is plenty of shopping in the village and a lot of hiking trails in the summer and snowshoe trails in the winter.
Getting out to see the mountains is a must!
Don't – be afraid of the cold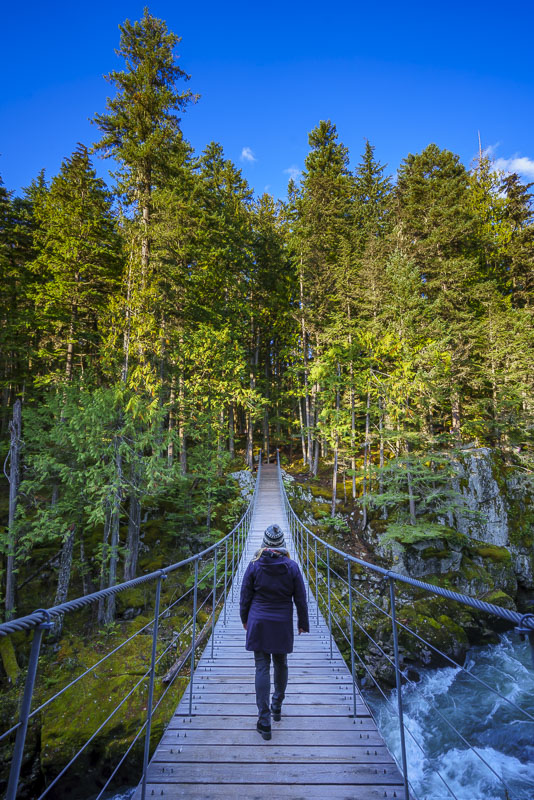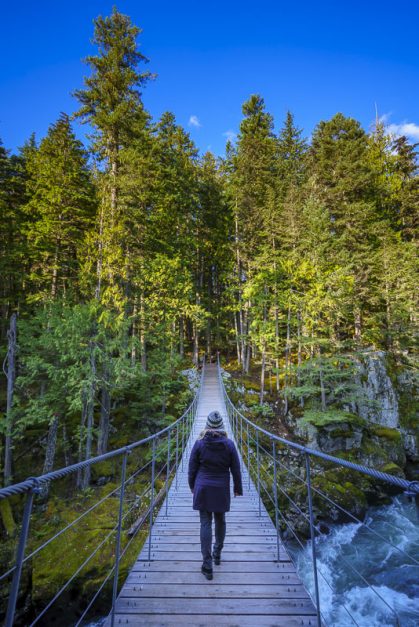 In Canada, we embrace the cold. If you dress properly, you can have a really comfortable time in Whistler.
Dress in layers and be sure to have a good base layer of clothing. You can walk around in your snow pants all day if you want!
Even in the summers, it can get chilly, so be sure to pack a good wind and waterproof outer layer with a cozy mid layer to keep you warm at night and in the early mornings.
Bring your warmest clothes possible, bundle up and get outside.
If you pack for it, wear proper footwear and cozy jackets with hat and mittens, you'll have an amazing time in Whistler in Winter.
Read our tips for layering for winter travel.
7. Backcountry Snowmobiling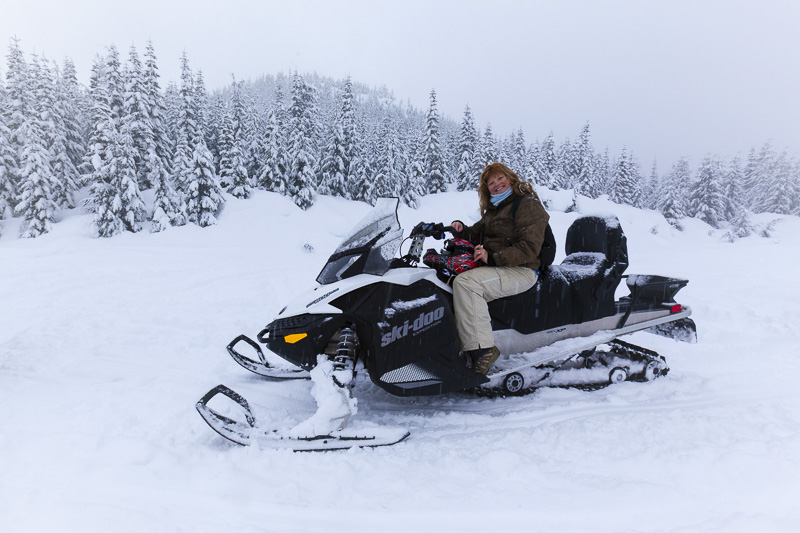 Do go Backcountry Snowmobiling.
Whistler has great snow conditions for snowmobiling. You can take a tour into the backcountry to rev your engines in the snow.
It's a great way to explore the wilderness while having a bit of a thrill ride!
This tour wasn't a lazy tour if you felt confident you could really rip it up in the drifts and zip along the trails. It was a thrill ride for sure.
Don't go by yourself.
When doing anything in Whistler, it's important to go with a guide. Conditions can be dangerous in the wilderness and mountain backcountry on your own.
If you don't already have survival skills, hire a guide, the guides in Whistler are skilled and passionate about their jobs.
Plus, you'll have a much better time than having to figure things out on your own.
8. Bear Safari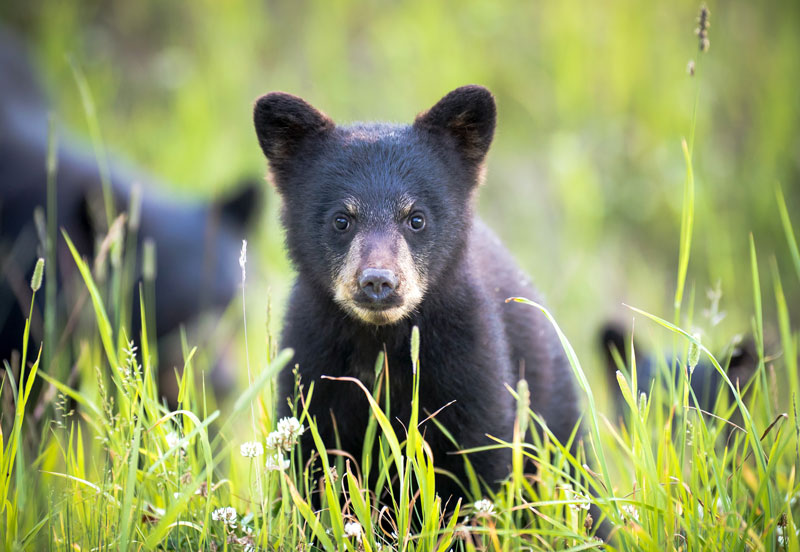 Whistler is known for its black bears and during the summer months.
We took a 4X4 tour to the Whistler Olympic Park where black bears love to hang out in the wide-open spaces.
Even if you don't see a bear, (which is what happened to us) it's a very cool tour because you get to go to the top of the Olympic Ski Jumps and get a bird's eye view of what it feels like to stand a the top of these mammoth slides.
Book your bear safari through www.whistlerphotosafaris.com
9. Squamish Lil'wat Cultural Centre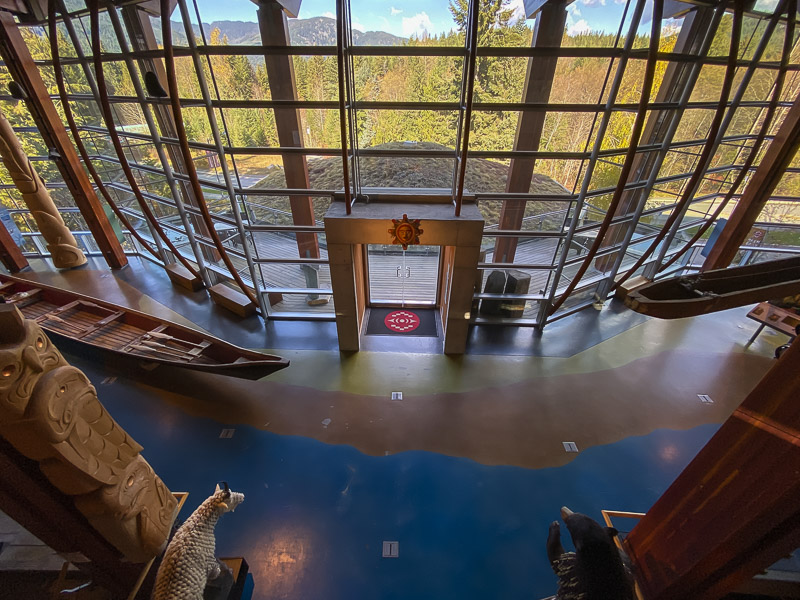 We normally spend our time outside when visiting Whistler, but a tour of the Squamish Lil'wat Cultural Centre is one of the best ways to connect with the culture and people of the area.
Do Explore the First Nation's Culture of Whistler
The Squamish and Lil'wat tribes have opened this cultural center up to welcome visitors to their ancestorial land.
Learn about the Squamish history and ways by watching the welcome video showcasing their culture and be sure to catch the welcome song.
Don't be afraid to ask questions.
The centre is here to introduce people to the culture of the First Nations People in this area. They are very friendly and open, so make sure to talk with them when you explore the gallery.
Take your time to examine the artifacts and art and be sure to go outside to walk the meditative trail.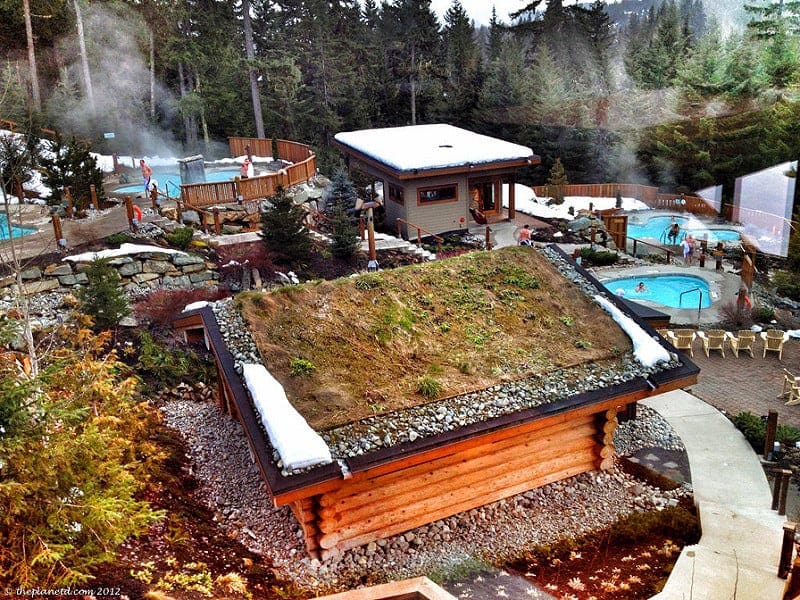 Most hotels have hot tubs and spas. After a day on the slopes, make sure to take advantage of this.
There is nothing more nordic than sitting in an outdoor spa as the snowfall.
Do – Pamper yourself.
If you want to take it one step further, try out the Spa Scandinave located five minutes from the village.
There are shuttles that will take you from your hotel to the spa and you can slip away for a few hours while basking in their saunas and steam rooms.
A Scandinave Spa is a unique experience where there are hot and cold pools set outside in the forest.
Visitors are given robes to walk around the grounds and immerse in the spa cycle of hot, warm, cold and rest.
See how we pampered ourselves in The Romance of Whistler
11. Hike the Train Wreck Trail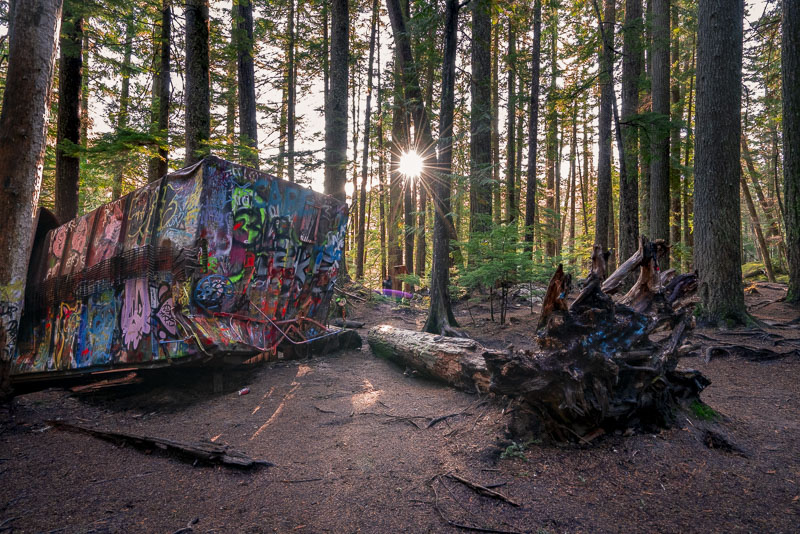 This easy hike to the Cheakamus River takes hikers over a picturesque suspension bridge before reaching the wrecked boxcars from a 1056 Train derailment.
Do arrive early in the morning. The trail can get very busy.
Since the opening of the Sea to Sky Trail, this has become a top attraction in Whistler where visitors seek out the graffiti that transformed the wrecks into works of art.
There are seven boxcars to view all sitting in the middle of the rainforest creating picture-perfect Instagram photos.
12. Explore the Sites of the Sea to Sky Highway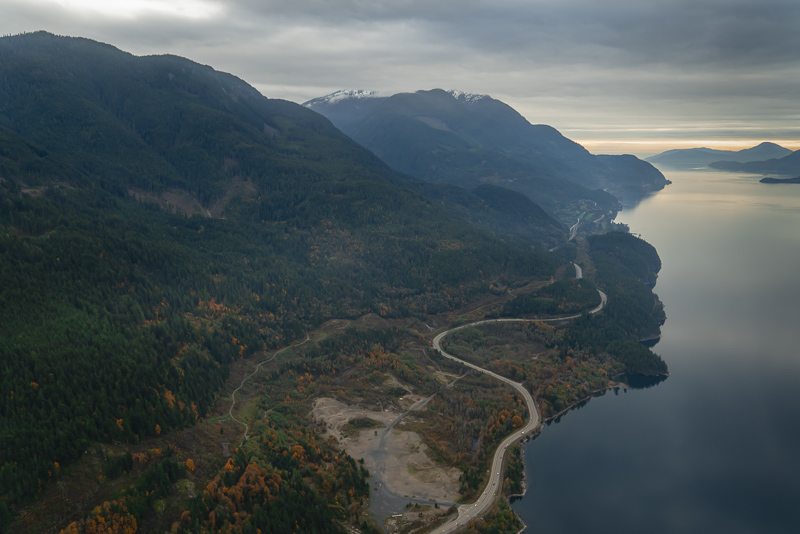 If you have taken a bus to Whistler, be sure to rent a car for a day to explore the views of the Sea to Sky Highway.
There are so many amazing viewpoints and hikes along the route that it's worth exploring.
Top things to see on the Sea to Sky Highway are:
Britannia Beach Mine
The Chief
Shannon Falls
Brandywine Falls
Squamish
Eagle Watching at Sunwolf Riverside Lodge
Helicopter Tour with Sea to Sky Air
Don't rush through the sea to sky highway
There are many things to see and do on the Sea to Sky highway. Even though it is just a 90-minute drive from Vancouver to Whistler, we suggest taking a day and spending a night in Squamish to really take in all the sights.
We'll be sharing all the best things to do in Squamish in a post soon.
13. Have Vodka in the Ice Cave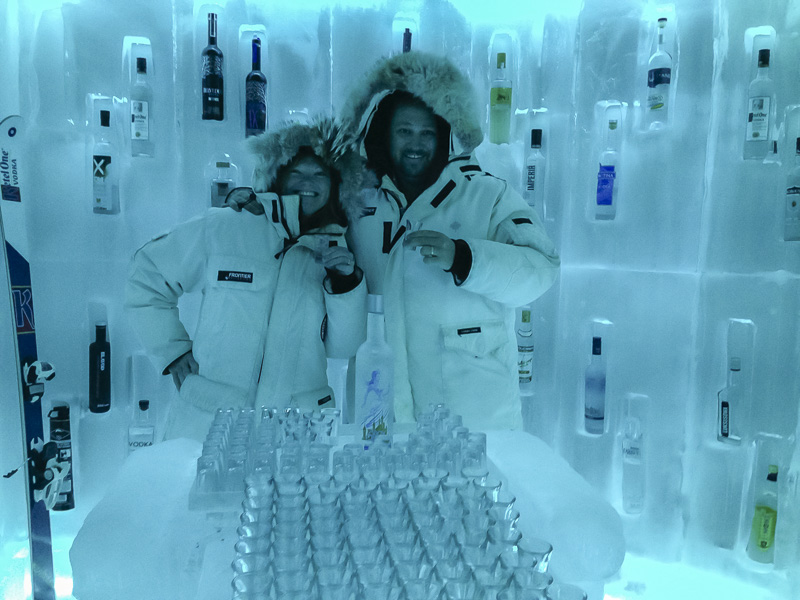 There are some amazing bars and restaurants in Whistler, but one of the most unique experiences for us was to go into the Belvedere Iceroom at the Bearfoot Bistro.
Here was donned Canada Goose Parkas and stepped into the coldest tasting room in the world.
We continued to taste shots of vodka from around the world served in ice-cold shot glasses sitting on a frozen ice sculpted table.
15. Apres Ski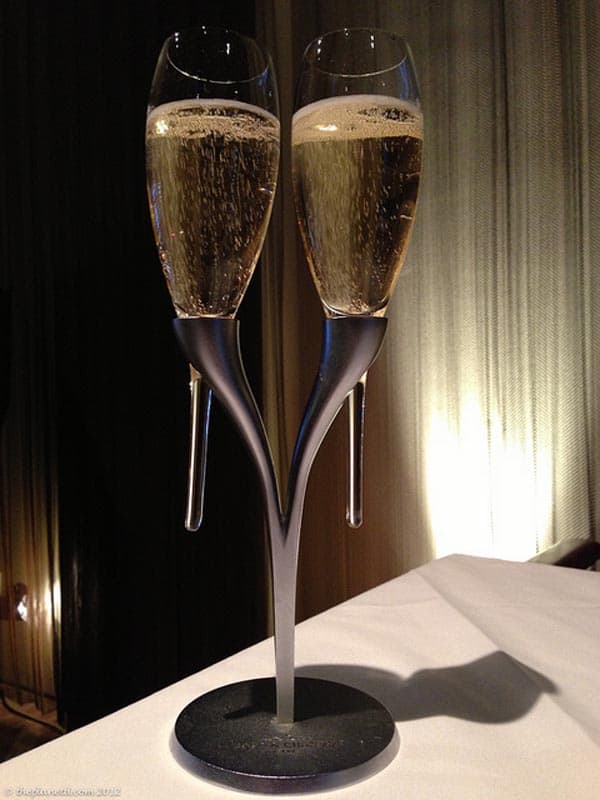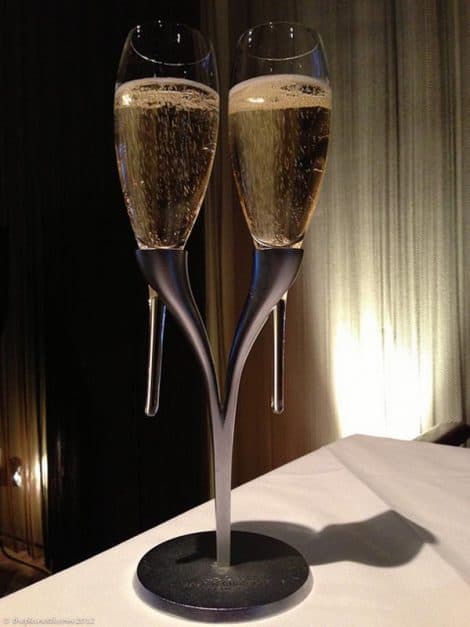 One of the best things about skiing is enjoying Apres Ski.
Everyone visiting Whistler is friendly and sitting on the patios (even in the dead of winter) is common.
Fires are burning and people are bundled up as they sip hot toddies or local craft beers on the patios.
Whistler village is full of restaurants and cafes, so be sure to stroll through the pedestrian paths to find a place that right for you.
16. Cross Country Skiing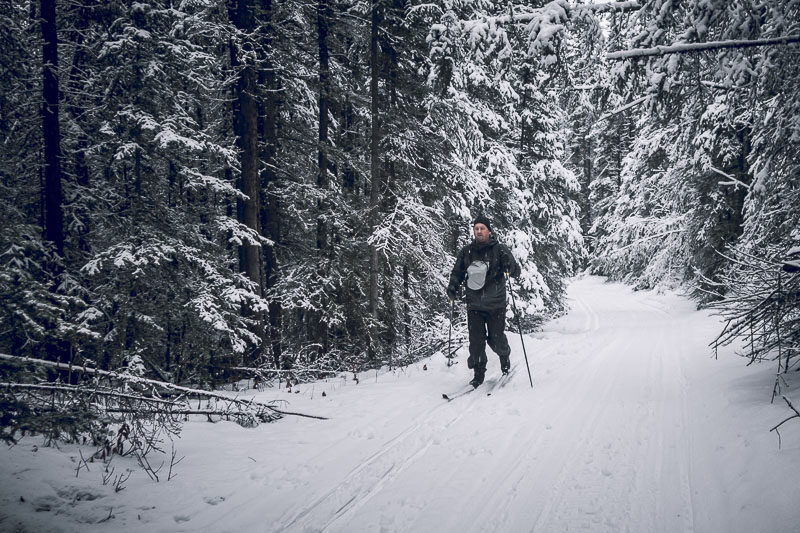 Nordic Skiing is just as big in whistler as downhill skiing. There are 160 km of trails and Whistler was host to the cross country skiing events at the 2010 Olympics.
Our bear safari guide is on the Canadian team and he trains in Whistler year-round.
Whistler even buries snow in the spring and stores it over the summer so that they can spread it out and start skiing early in the fall as soon as the temperature falls.
No matter what your skill, there's a cross country ski trail for you.
17. Bungee Jumping and Zip Lining
Adrenaline Junkies will want to try their hands at Bungy Jumping or Ziplining in Whistler.
Whistler is opening up to be more than just a ski destination. There's something for everyone from thrill-seekers to people looking for a romantic getaway or cultural experience.
18. Take a Sleigh Ride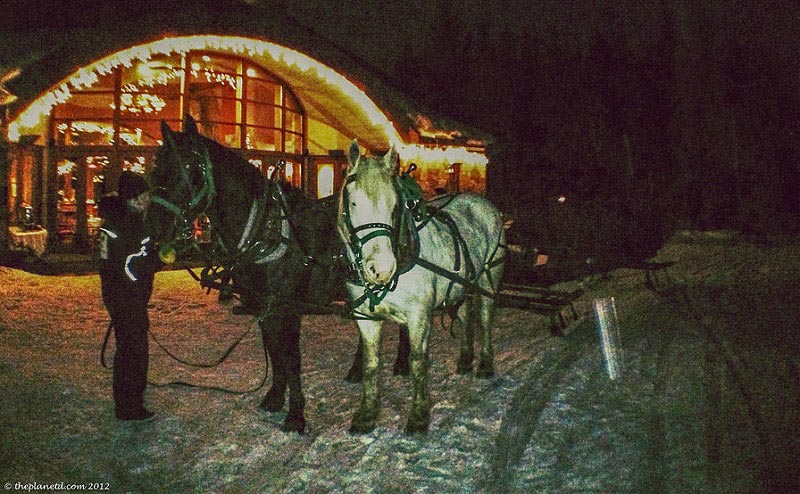 Nothing says winter more than taking a sleigh ride with Clydesdale horses.
A shuttle bus will pick you up and take you to the Fairmont chalet where hot chocolate or hot apple cider is waiting for you by a campfire.
Don't forget to dress warm
This is true for any adventure in Whistler. You are going to be spending a lot of time outside, so dress for it.
As far as the sleigh ride goes, even though they give you a blanket and hot chocolate, you still need to wear your winter gear.
The entire point of enjoying winter in Whistler is dressing for the occasion.
See our winter layering tips to help you pack for your Whistler adventure.
19. Audain Centre Art Museum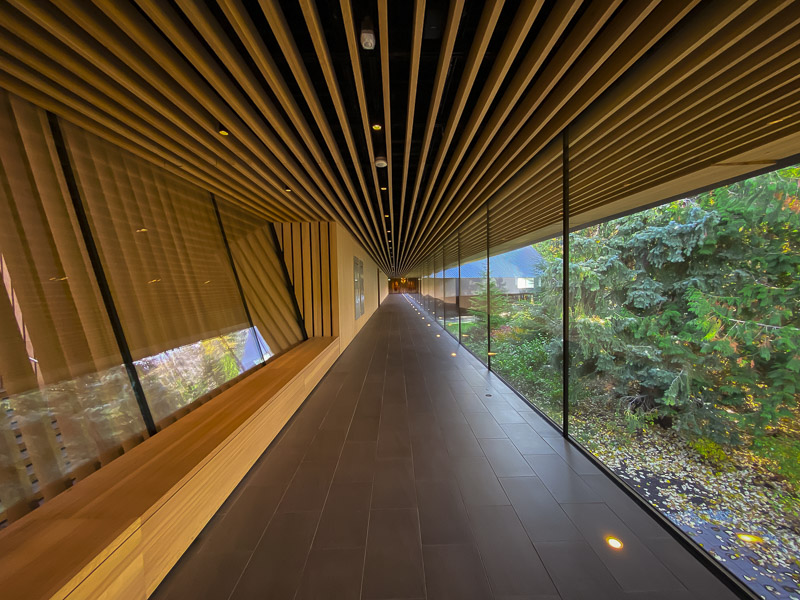 If you like art galleries, you'll love the Audain Art Museum. Located in the heart of Whistler Village, the Audain Centre is a wonderful cultural experience.
Set in a wooded backdrop, the entrance is in a serene setting that sets the tone to browse art.
There are permanent and rotating exhibits. The most fascinating to us was the First Nations Art exhibits.
20. Whistler Hikes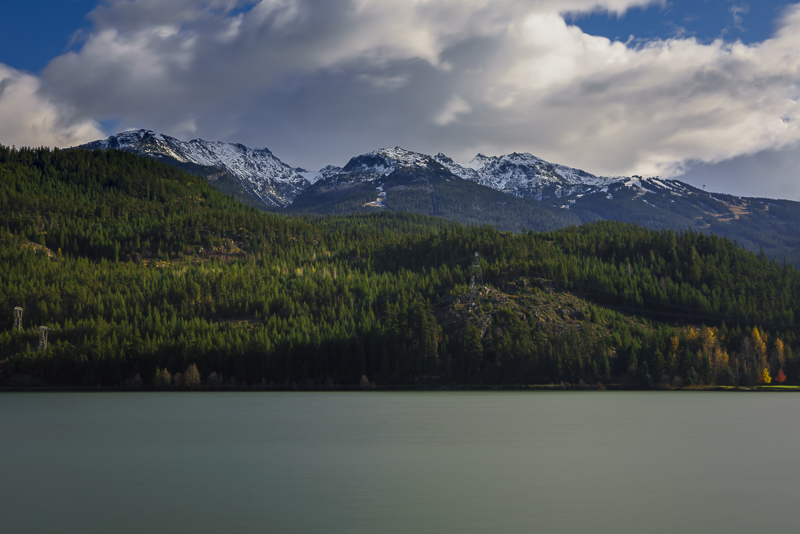 In the summer, Whistler turns into a hiking mecca with great trails throughout the mountains.
The Ski to Ski Trail is part of the Trans Canada Trail and runs from Squamish to Whistler.
For summer months it is used for cycling and hike and in the winter it's used for snowshoeing and cross country skiing.
But there are plenty of other trails to explore. Stop at the visitor's center for trail maps and get outdoors.
Best Whistler Hikes:
Ascent Hike
Cheakamus Lake – Easy hike to the Train Wreck Trail
Ancient Cedars Trail
Black Tusk (one of the hardest and longest trails in Whistler)
Blackcomb meadows.
Lost Lake Nature Trail – Easy access from Whistler Village
21. Mountain Biking
Any ski community has mountain biking in the summer and Whistler is no exception.
Whistler has one of the best mountain biking parks in the world and it is beginner friendly too!
Mountain bikers can access the trail via Whistler Village by taking the Fitzsimmons Chair, the Whistler Gondola or Creekside to get to the top of the mountain.
There are 70 bike trails spanning 80 km with routes for every level.
Be sure to rent all the gear you need and know your limits before setting out.
22. Sample Whistler's World Class Food Scene
There are many places to eat in Whistler from small coffee shops and chain restaurants to classic bistros and fine dining establishments.
The possibilities are endless, but here are a few of our favorites.
Bearfoot Bistro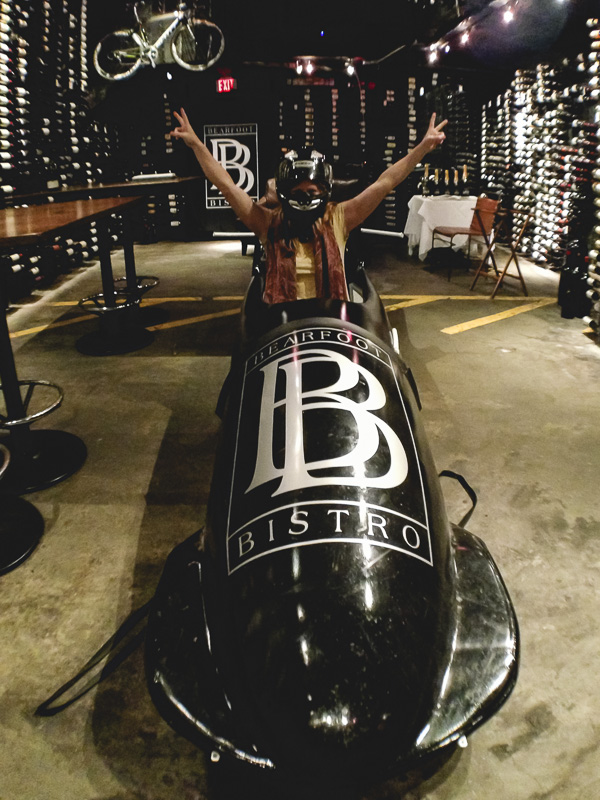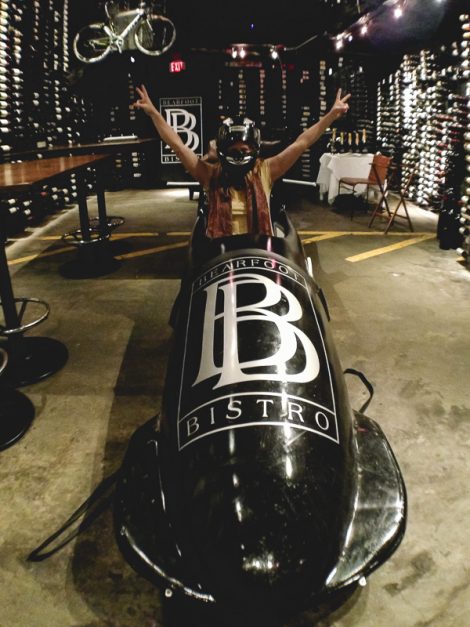 The Bearfoot Bistro has a great apres ski with oysters and champagne. It's a great appetizer before digging into their 5-course dining experience complete with ice cream made right at your table.
Do – Enjoy the fine cuisine in Whistler Village.
Be sure to go into the wine cellar to see the hanging bobsleigh and to ask about sabring a bottle of Champagne.
Read about our time at Bearfoot Bistro,
Araxi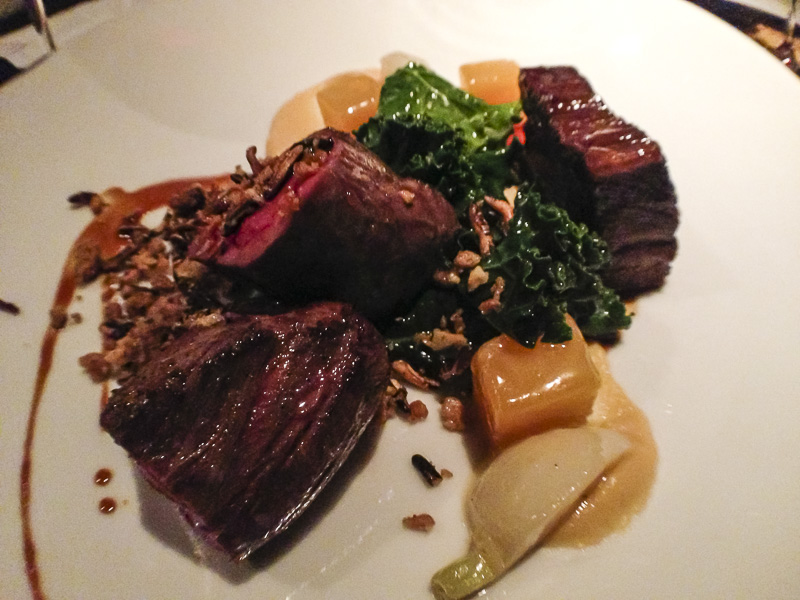 For award-winning dining in a quiet atmosphere, we suggest Araxi, voted the best restaurant in Whistler 10 years running.
Araxi prides itself on its farm to table menu created by award-winning chef James Walt.
It has become so popular, they have opened a second establishment in nearby Squamish.
Fairmont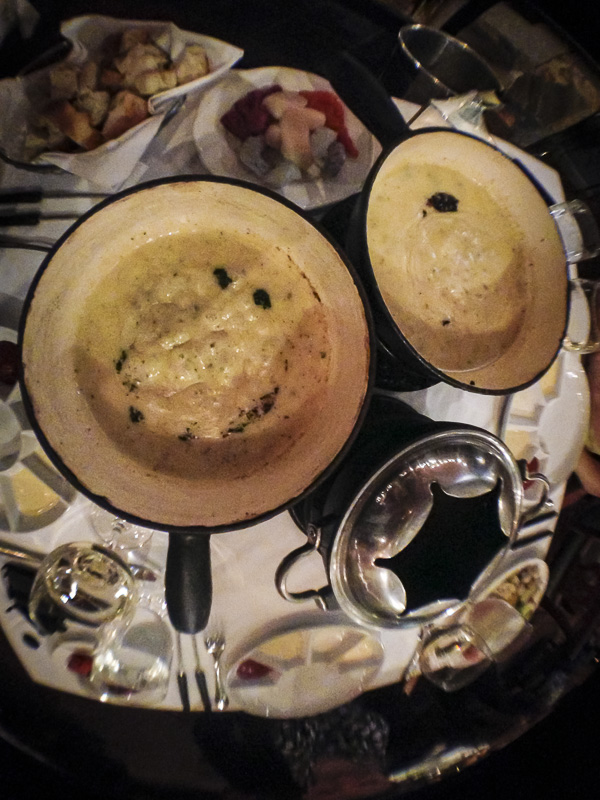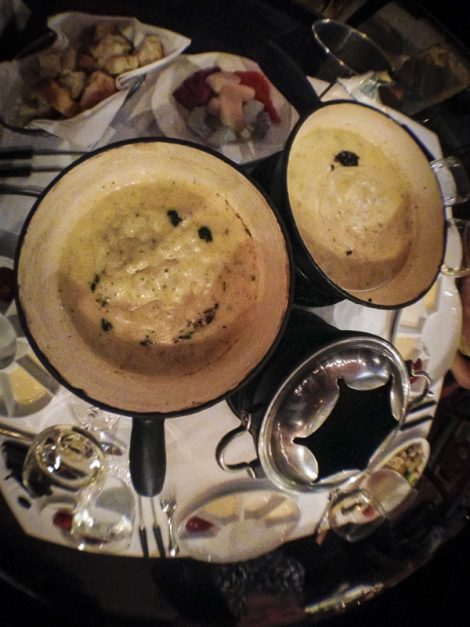 Our suggestion for the Fairmont is to have a fondu dinner.
Do – have a fondu at the Fairmont – The best winter food is warm and delicious.
Start with a cheese fondu for your appetizer, then move onto broth to cook fresh meats for your main course and finish it off with a chocolate fondue.
It's a perfect romantic evening to share chocolate while dipping fruit, cakes, and marshmallows.
21 Steps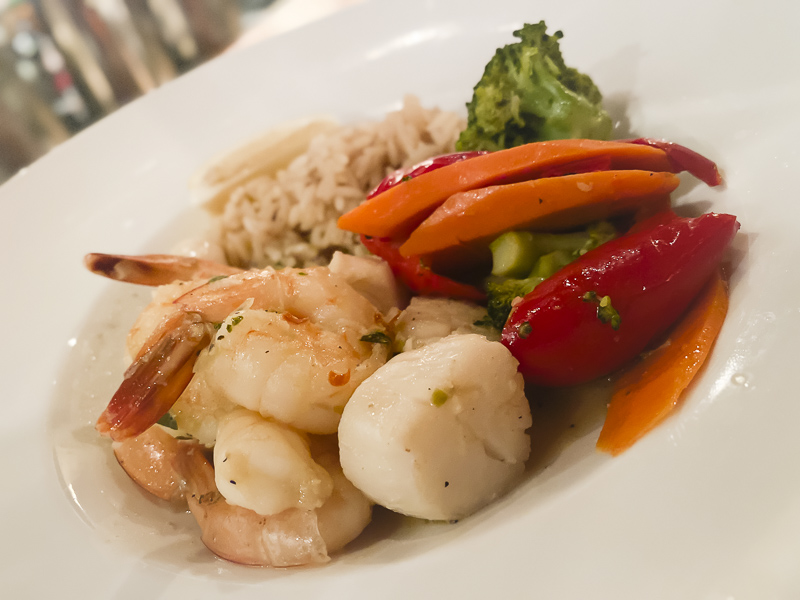 21 Steps is a popular eatery in the heart of all the action.
We were last in Whistler on the offseason and made the mistake of not making a reservation here. It was packed and we ended up eating at the bar.
Don't worry about your weight. You'll be doing so many activities each day,  you'll work off everything you eat!
The food was excellent and the portions are huge! Note, if you are ordering the ribs, be prepared to bring home a doggy bag.
The bartenders were going crazy making signature cocktails. If you love a cocktail, this is the place to go in Whistler for a drink.
23. Explore the Village
There's always something going on in Whistler Village. So be sure to walk around the experience it in full.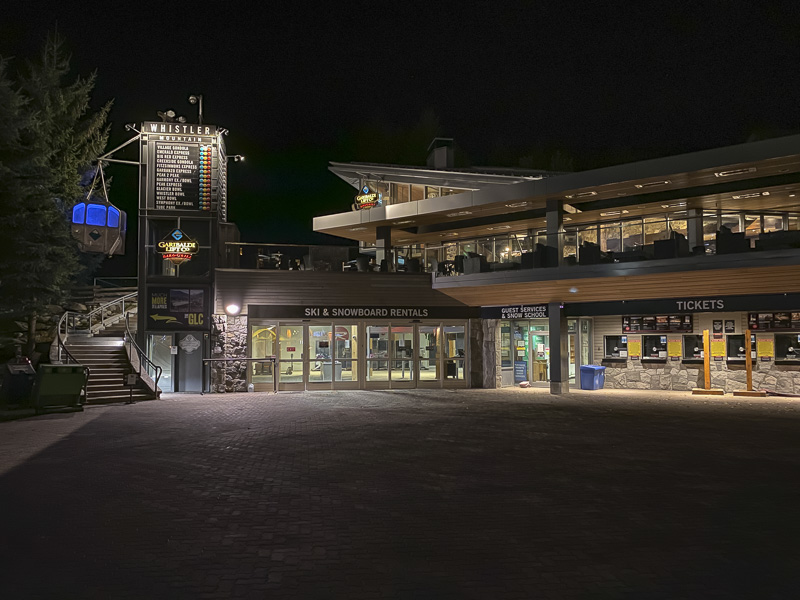 Don't hesitate to book your next vacation to explore all the things to do Whistler winter yourself! It's a great destination for everyone and you're gonna love it!
Where to Stay in Whistler
We loved staying on the slopes of Whistler when snowboarding in the winter and exploring in the off season.
The Pan Pacific Whistler Mountain is a superb location with ski storage, underground parking and chalet style rooms.
Located right in the village we could walk to anywhere and it has outstanding views.
Getting to Whistler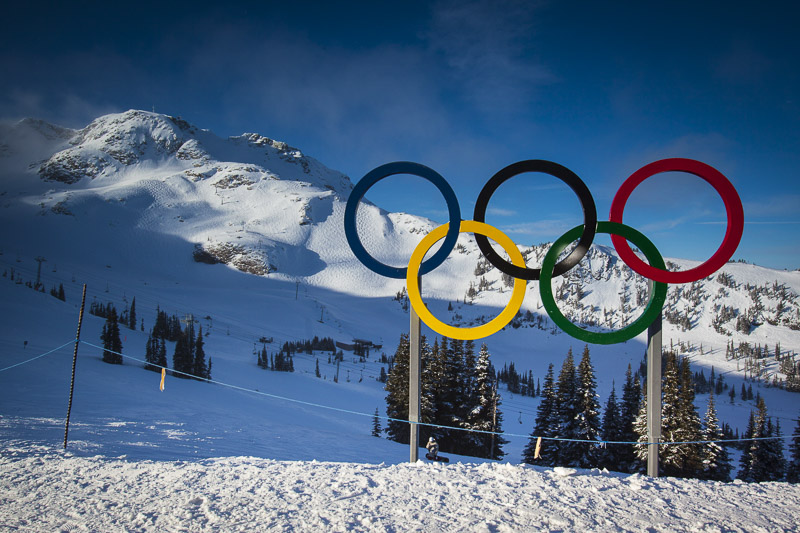 Whistler has direct airport buses from the arrivals to your hotel and once you arrive at the village, there are plenty of free shuttles to take you around.
Car Rental – We find that the best way to experience Whistler is to rent a car. It gives us flexibility to explore the area and get out of the village.
There's free parking at most hikes making it easy to get out to the more off the beaten path spots of Whistler.
Check out car rentals here.
Enjoy this post? Save it to Pinterest for future travel planning.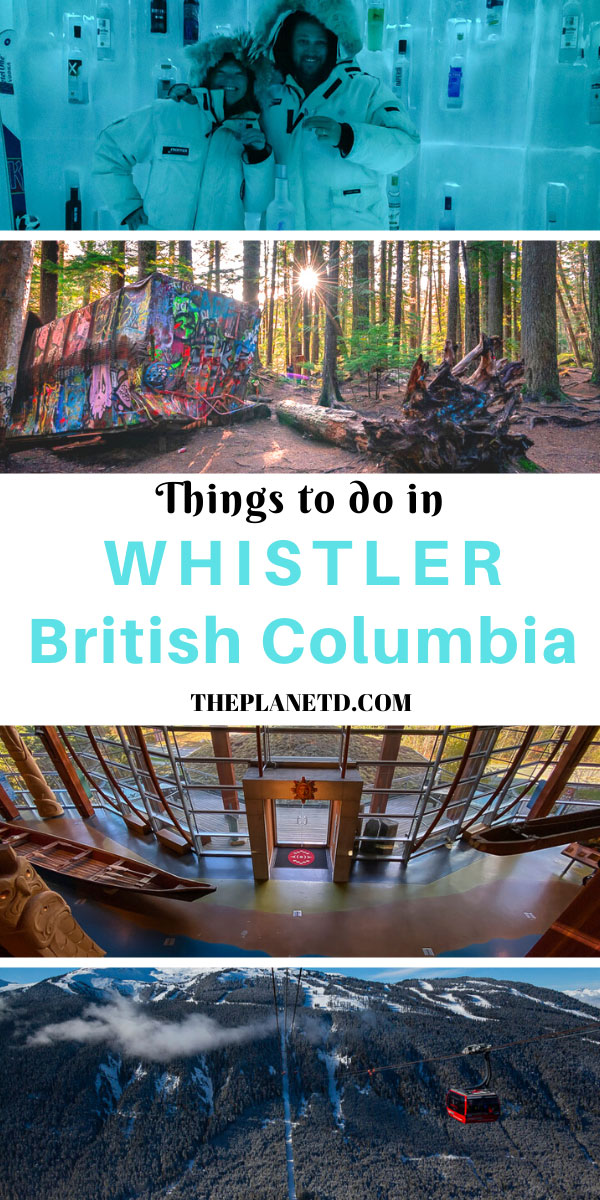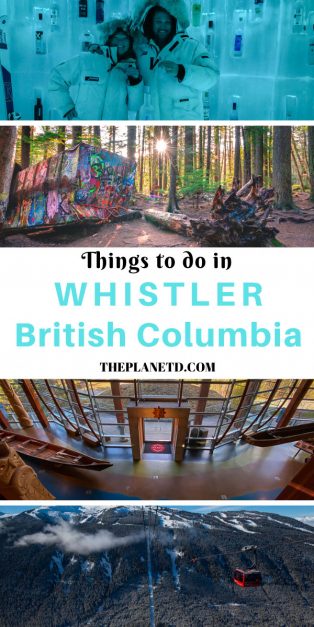 ---
Read More:
Snowmobiling Thrills for Amateurs
Fresh Tracks in Whistler
Romantic Whistler
Bobsled Whistler
SaveSave
You Might Also Enjoy
Source link Travel Advisor