Adventurous Kate contains affiliate links. If you make a purchase through these links, I will earn a commission at no extra cost to you. Thanks!
May is the most beautiful month of the year in Prague, but this year I took two little side trips, each four days each: one to Calabria, Italy, and one to Reykjavik, Iceland. And the weather was pretty close to perfect in all three destinations.
This month also included quite a lot of writing in between those two trips, and entertaining two very clingy cats (Murray is curled around the keyboard as I type this, wanting all the pets and snuggles).
I also made one of my biggest travel blunders in quite some time. Let's take a look at May 2022!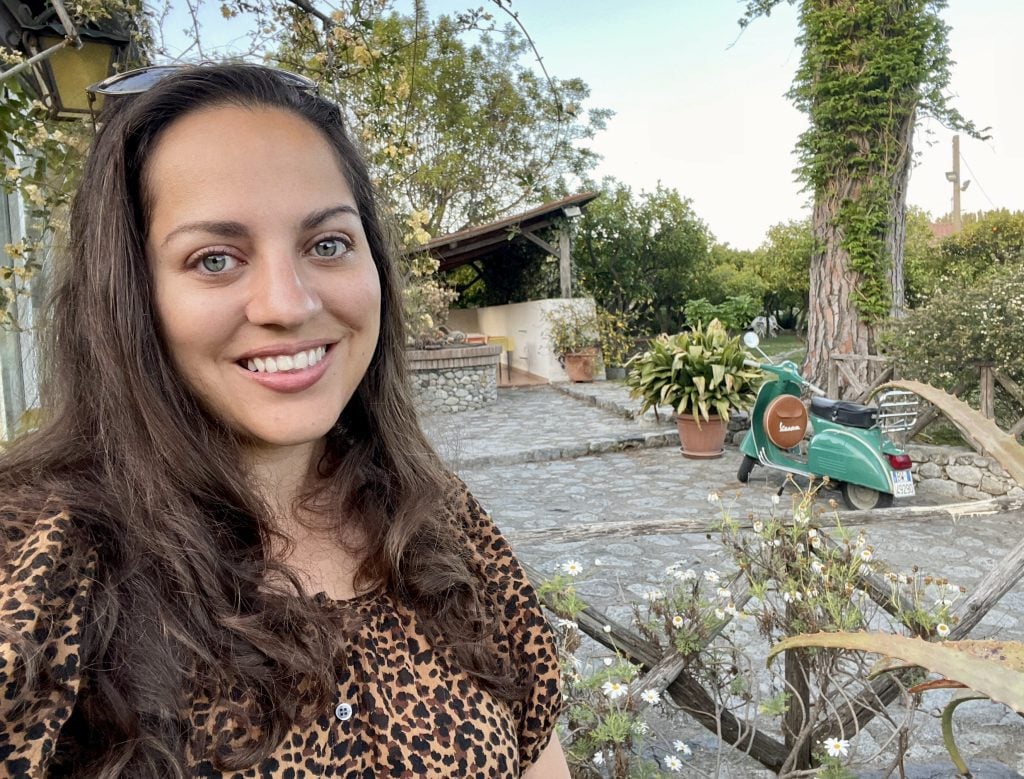 Destinations Visited
Prague, Czech Republic
Catanzaro Lido, Guardavalle, Aspromonte National Park, Siderno, Scilla, Reggio Calabria, Tropea, Pizzo, and Gizzeria Lido, Italy
Reykjavík, Iceland
Highlights
Visiting my 19th and second-to-last region in Italy: Calabria! Charlie and I had a lovely weekend in Calabria and got to see quite a few places within the region.
My first impressions? Calabria was rough. Rougher in some ways than Sicily. Highway hedges so tall and unkempt that you couldn't see past them. Google would try to send you down roads that didn't exist. Everything was cheap cheap cheap.
We spent the first two nights at an agriturismo near the Ionian Coast, and got to see some of the towns along the sea. This part of Calabria is lesser developed and seems barely touched by international tourism. We got to have some great lunches with homemade pasta, including one eggplant parmigiano pasta that absolutely rocked my world.
Next up, we headed to the Tyrrhenian Coast, which has a lot more tourism with towns like Tropea, Pizzo, Scilla, and Reggio Calabria. The coastline here is spectacular, with clear bright water and soft sand beaches. Many of the towns are built atop cliffs looking down over the sea.
Tropea is the big resort town of Calabria, and this was the highlight: built on tall cliffs with gorgeous beaches, some nice restaurants, and a lovely atmosphere for much cheaper than more popular Italian beach towns.
Overall, I would say that I'm glad to have visited Calabria, and I especially enjoyed Tropea and Pizzo, but I don't feel the overwhelming love for the region as a whole that I feel for, say, Puglia or Emilia-Romagna or Umbria.
Fun times in Prague. We went to Sausage Fest, which was on for the first time since COVID began, and ate a million kinds of sausages while enjoying the lovely weather outside. There were a few other food festivals. Charlie hosted a few colleagues in Prague and we enjoyed some nights out.
And May is one of the best months to visit Prague. Such good weather with lots of flowers blooming. If you want to visit Prague, aim for May!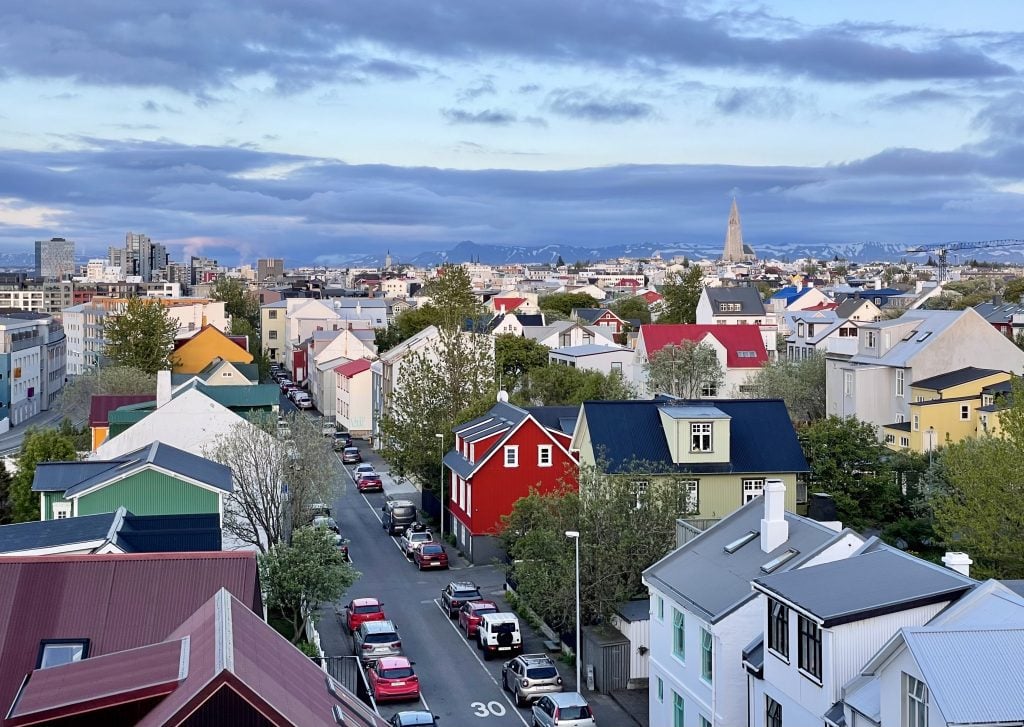 A lovely four-day trip to Reykjavik, Iceland. My first trip to Iceland since 2015! I was invited to visit two attractions: the Sky Lagoon and Flyover Iceland — and it was rolled into a wonderful four-day trip with travel writers from the US and UK. We had INSANE weather — bright blue skies for three of the four days!
The Sky Lagoon is a FANTASTIC luxury escape, much closer to Reykjavik than the Blue Lagoon, and just an extraordinary setting that was even more beautiful on our one gloomy day. FlyOver Iceland is a combination of an IMAX film of Icelandic landscapes with a ride that whirls you around — and WOW. It's similar to Soarin' at EPCOT, but even more impressive and all Iceland, and it made me tear up with its beauty.
In my free time, I explored a lot of Reykjavik — the Reykjavik baths, the famous hot dog stand, the shopping street, the Harpa, a gin bar, the geothermal beach, a looooong walk back form the beach on a coastal walking trail — and I actually ran into some friends I had met in Mexico City in February! So cool to see them again.
Josh Duggar was sentenced to 12.5 years in prison. Yes, following the Duggars is a bit of a hobby of mine, and perhaps that's embarrassing. But over the past year, I have learned more about the US legal system than ever before as I dove into every detail of this case. Josh was convicted of receiving and possessing CSAM in December and his sentence could have been minimum of five and maximum of 20 years. Most legal experts predicted 8-12.
12.5 years isn't the max, but it's a good sentence. He'll be gone at least 10.6 years, as in federal prison you must serve at least 85% of your sentence. But the probation is downright draconian. He can't be around children, watch pornography, or USE THE INTERNET UNSUPERVISED for 20 YEARS. Holy hell. In that since, it's a much harsher and longer sentence, and I'm relieved he won't be around children for a long time.
Finally, we at r/DuggarsSnark raised even more money for the Children's Safety Center of Northwest Arkansas and other organizations helping child victims of abuse.
Challenges
A collection of awfulness in the United States. The Supreme Court moving to overturn Roe v. Wade, which will have cataclysmic effects upon the United States for decades to come. You can read my thoughts on that here.
Then there was the shooting in Uvalde, which was unspeakably tragic, and continues to get worse day by day as more information about the police comes out.
I've been grieving my country for a long time.
My Iceland road trip fell apart. Originally I had planned on extending the Iceland trip and doing an 8.5-day Ring Road trip, doing tons of research for the site.
But I showed up to rent my car and realized that I had accidentally booked a manual, and I can't drive stick. Not sure how this even happened, as I had been checking and re-checking that I was only looking for automatic cars.
There were no other automatic cars available in the entire country. Not that day. Not the next day. Not even all the way north in Akureyri.
I evaluated my options and decided to cut my losses and head home. That might sound insane to some of you. It WOULD have been insane if I hadn't spent four days in Iceland already. But this trip was for work purposes and I couldn't do the research or photography I needed to do without a car. Almost everything was refundable, too.
GUESS WHAT, THOUGH — I HAVE PLANS TO RETURN TO ICELAND! You'll hear more when the time comes.
An airport cop almost destroyed my suitcase. I had 10 hours to kill in the Reykjavik Airport, and there is nothing there. (And the Blue Lagoon was fully booked. Believe me, I tried.) So at one point I went to Joe & the Juice but left my bag just outside the restaurant. And then I started watching the This is Us finale on my iPad and forgot I left it there.
I went back to get it and the airport cop pulled me aside, telling me he had been so close to taking it and destroying it. DESTROYING IT. That's what they do, apparently. Or that's what he said to freak me out. Don't leave you bag unattended in an airport, people!
A hiking trip cut short. Charlie and I were supposed to go on a four-mile hike in Aspromonte National Park in Calabria, but we got about one mile in and the waterfall and river were impassible. This is southern Italy; it's not like they'd actually say so at the trailhead. Oh well.
The worst plumbing incident I have ever had while traveling. Ugh. Guys, this was bad. At the agriturismo in Calabria, we noticed that the water took a long time to drain in the shower; that's not unusual.
But on the final morning, the shower started filling with water from the bottom when we flushed the toilet. And then IT STARTED FILLING WITH POOP-FILLED WATER.
We were about to leave anyway, but OH MY GOD. The stuff of nightmares.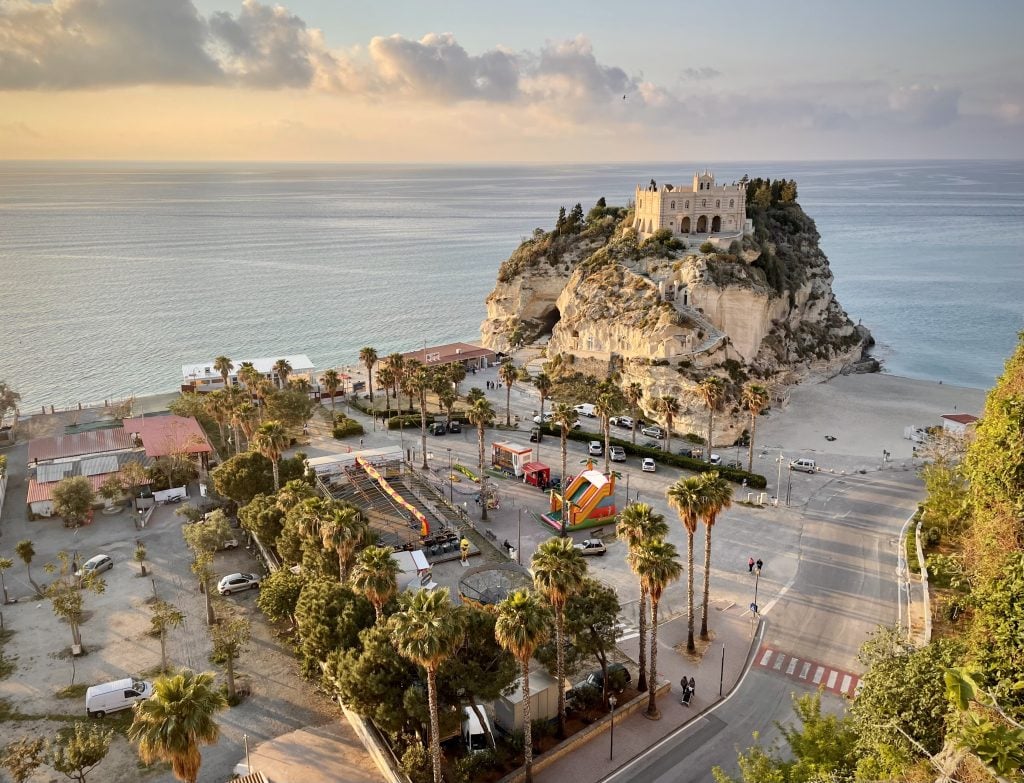 Blog Posts of the Month
Tropea, Italy: A Spectacularly Situated Beach Town — A guide to lovely Tropea, the Pearl of the Tyrrhenian Sea, which is still pretty off-the-beaten-path for non-Europeans.
17 Must-Know Tips for Driving in Italy — I was so afraid of driving in Italy before I actually did it and realized I had nothing to worry about. Here are the things you need to know before you drive in Italy, including the best regions to explore for first-time drivers.
A Travel Guide to Bucerias, Mexico: Things to Do and More — If you love the convenience of Puerto Vallarta while being in a calmer, smaller-town environment on the beach, you should take a look at Bucerias! Here's a guide to the town.
35 Fun Things to Do in Guanajuato, Mexico — Oh, I absolutely LOVE Guanajuato! One of my new favorite places in Mexico! It's still pretty off-the-beaten-path, and so much better than nearby San Miguel de Allende.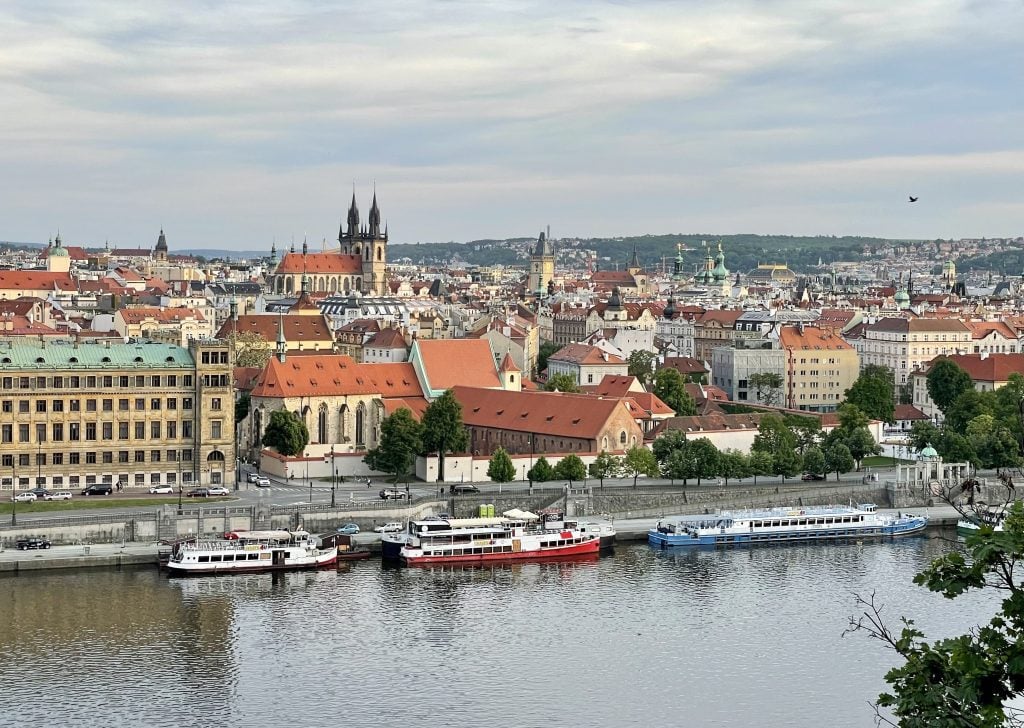 This Month on Patreon
On the Adventurous Kate Patreon, I publish exclusive content and never-told stories that you can access for $6 per month. We also have a private Facebook group and members get free access to the Book Club each month.
This month, there were three posts on the Patreon itself. I wrote a long preview post of my would-be Iceland trip, and how I was planning it, why I made the decisions I did, what I was excited for and what I was worried about — before it all fell apart spectacularly.
I also did a long-form post about some new genetic discoveries from Ancestry.com and how it could end up telling a different story than what I first told myself.
And for fun, I shared something I wrote for the DuggarsSnark subreddit — if the Duggars were travel influencers. A clip:
Michelle, the mother of 19 kids, who only takes care of each baby for six months before handing it over to one of her older daughters to raise, yet earned a ton of "Mother of the Year" awards in her prime: The overworked blogger who has a breakdown a few years in and hires a team of low-priced writers to write poorly about places they've never been for $20 a pop. She keeps this a secret and somehow keeps getting asked to speak at conferences about her productivity strategies.
Josh, the recently convicted sexual predator: The male travel blogger who has several open threads about him on women-only blogging groups and a whisper network telling the new girls, "Don't ever be alone with him."
Joy-Anna, who grew up rough and tumble with her brothers and had her tomboy personality beaten out of her because it wasn't traditionally feminine enough, but once she got married her husband encouraged her to do sports, and she flourished: The backpacker on a Thai island who drinks a lot of Sangsom, volunteers to get in a Muay Thai ring, and promptly kicks the ass of every competitor who joins her.
Justin, who left home at age 17 to move in with the family of the girl he was courting, then proposed to her at 17 and married shortly after turning 18: The 17-year-old TikToker backpacking Southeast Asia solo whose parents are somehow okay with this, and you wonder how he's even able to check into hotels without an adult present.
Etc. etc. I'm probably the only person out there who can make make Duggars-meet-travel-blogging content!
Book Club This Month
Our next book club will take place on Sunday, June 5, at 1:00 PM Eastern Time.We will be reading Sankofa by Nigerian British author Chibundu Onuzo.
"A woman wondering who she really is goes in search of a father she never knew–only to find something far more complicated than she ever expected–in this "stirring narrative about family, our capacity to change and the need to belong" (Time).
"Anna is at a stage of her life when she's beginning to wonder who she really is. In her 40s, she has separated from her husband, her daughter is all grown up, and her mother–the only parent who raised her–is dead.
Searching through her mother's belongings one day, Anna finds clues about the African father she never knew. His student diaries chronicle his involvement in radical politics in 1970s London. Anna discovers that he eventually became the president–some would say dictator–of a small nation in West Africa. And he is still alive…
When Anna decides to track her father down, a journey begins that is disarmingly moving, funny, and fascinating. Like the metaphorical bird that gives the novel its name, Sankofa expresses the importance of reaching back to knowledge gained in the past and bringing it into the present to address universal questions of race and belonging, the overseas experience for the African diaspora, and the search for a family's hidden roots.
Examining freedom, prejudice, and personal and public inheritance, Sankofa is a story for anyone who has ever gone looking for a clear identity or home, and found something more complex in its place."
You can sign up for the book club here. Patreon members get access in the Patreon.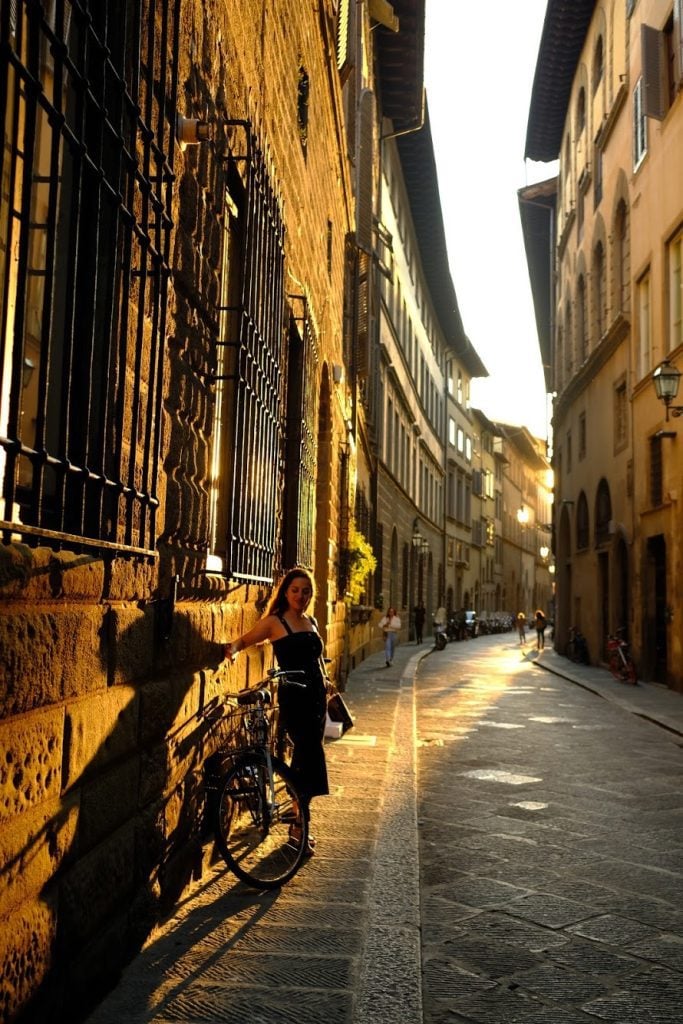 Most Popular Photo on Instagram
This photo above was taken on a photo shoot in Florence in 2019, and I love it! But the reason why it was popular because I used this to share commentary on the Supreme Court moving to overturn Roe v. Wade. You can see the commentary in full here.
This month I finally started making reels on Instagram, and they're a lot of fun. Trying to curate a 90s-dance-music-meets-gorgeous-interesting-places aesthetic. You can follow me on Instagram at @adventurouskate.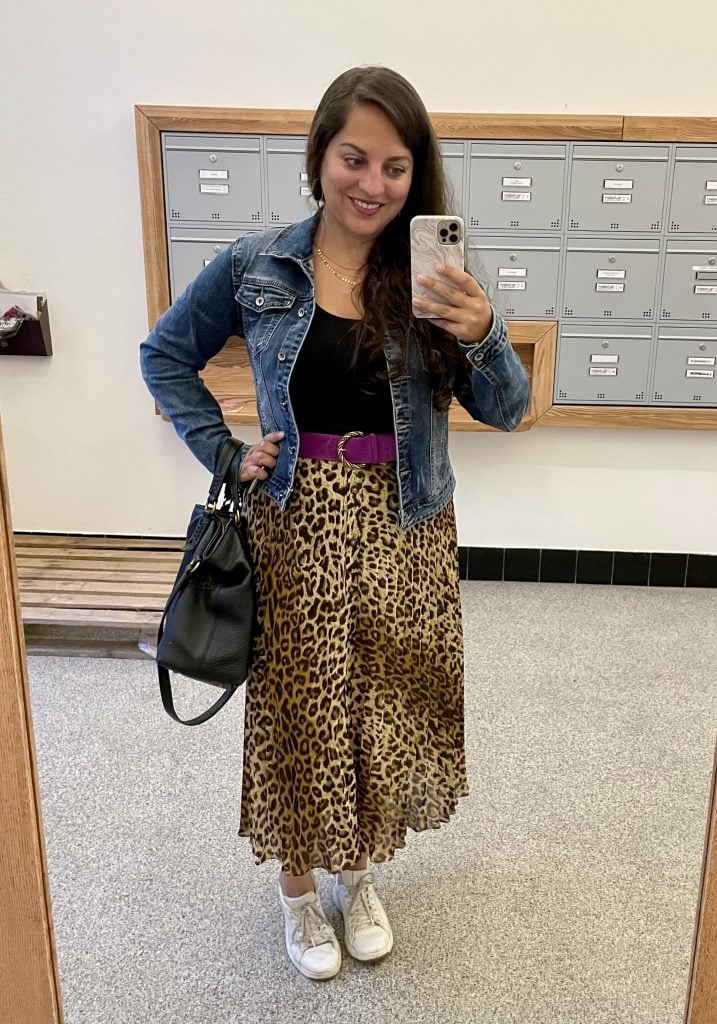 Fashion Find of the Month
This month I found a secondhand And Other Stories leopard skirt online and bought it. It's actually a bit too small for me, but I can just leave the top button unbuttoned, roll it, and put a belt on top. Is that doable long-term? Hmm. Not sure. But I love mixing fancy-feeling pleaty skirts with more casual items like denim and sneakers.
Worn here with a thrifted denim jacket found in Prague, Old Navy black first-layer tank top, magenta suede Sézane Ava belt, and white leather Cole Haan GrandPro tennis sneakers, carrying a thrifted black leather Lauren Ralph Lauren bag.
What I Listened To This Month
I have a new favorite podcast: Sounds Like a Cult! This podcast does deep dives into things that are technically not cults, but use a lot of elements of cults: think veganism, Crossfit, twelve-step programs, true crime, SoulCycle, essential oils, fraternities and sororities, etc.
Each episode is hosted by two brilliant women, Amanda Montell and Isabela Medina-Maté, and each episode they have on a guest who is involved in the "cult" to talk about what it's really like.
If you did theater when you were growing up, you MUST listen to the Theater Kids episode. That hit home so hard for me. It's nice knowing that a lot of the dynamics that played out at my high school are common in other places.
But my favorite episode was the Disney Adults episode. That's a good one to start with. Enjoy!
What I Watched This Month
I know, I said I was done with Netflix dating shows last month, but this month I watched Love is Blind: Japan. And I am so glad I did. It's a completely different show from the booze-and-drama-soaked American version.
It's refreshing how everyone takes marriage so seriously on the Japanese version. They each take notes through their meetings in the pods, they have long drawn-out discussions about what they want in marriage, and some couples stay up all night trying to bridge their differences.
The show is also beautifully shot and edited, with a first meeting on a bridge under cherry blossoms. It's paced better and less sloppy than the American version. And there are lots more episodes in the pods.
Japan is very different culturally, and I missed a few things. Following the r/LoveIsBlindJapan subreddit helped a lot. For example, Japanese people tend not to speak directly, so a woman who was listing her specific expectations for marriage was considered rude by Japanese standards.
And one of the men kept saying, "I want someone who supports my dreams." As a westerner, you think, "Well, of course you do! Everyone does." But what he actually meant was, "I want a wife who quits her job to be a full-time homemaker and do nothing but support me." Once you understand that, your view of him totally changes.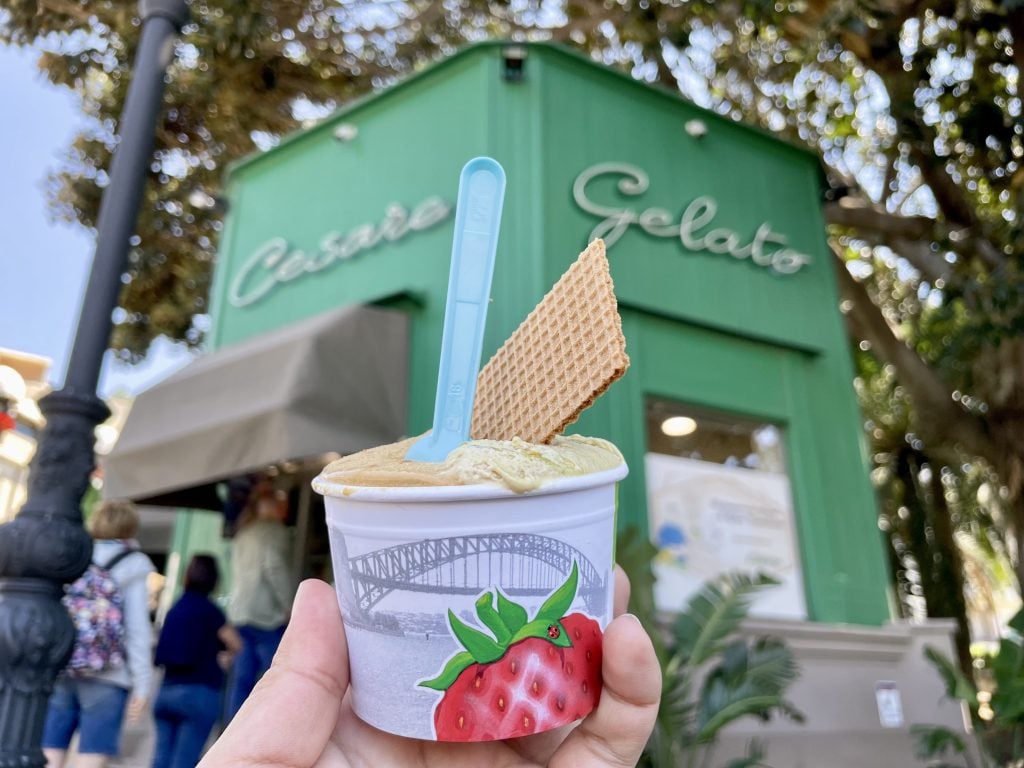 What I Read This Month
The Curated Closet: A Simple System for Discovering Your Personal Style and Building Your Dream Wardrobe by Anuschka Rees (2016) — How do you create a personal style that is actually YOU? No matter how many clothes you have, this book takes you through steps toward building a wardrobe that works for you, your lifestyle, and your budget.
Okay, folks: this is a book that all of you should read. Seriously. As I get deeper into refining my style this year, I saw this book recommended on all the fashion subreddits and podcasts. This book works with what you have and gets you to grow from there.
You know what this book taught me? What I actually like. I like square or scoop necks, black and white patterns, patterned tights, cool belts, 3/4 sleeves, boots, leopard print, magenta-berry-blue shades, and gold jewelry. I don't like high necks, corduroy, loud plaids or oversized prints, cowl necks, miniskirts, strapless tops, ruffles, or yellowy-green-orange-brown shades.
And now I have a process for every time I want to buy something: Does this fit into what I like style- and color-wise? Can I make five outfits with this item? Would tailoring get this less-than-perfect piece to what I want it to be? Am I okay with the level of upkeep this item requires (hand washing or dry cleaning)?
You Got Anything Stronger? by Gabrielle Union (2021) — This essay question is the sequel to her first, We're Going to Need More Wine. In this collection, Union goes into the infertility journey leading to the birth of her daughter via surrogate, racism in Hollywood, the gender and power dynamics of being married to an NBA player, her journey in parenting a trans daughter, and what it's like to get ready for an audition for The Matrix, dress up like Janet Jackson, and who walks in to audition for the same role but JANET JACKSON HERSELF.
I love Union's voice — walking along and listening to this audiobook feels like you're hanging out with a good friend. She has so much wisdom to share and more than anything, I love the example that she and her husband are setting for parents of trans kids. Like most essay collections, there are a few weaker ones among the stronger ones, but this was a read I definitely enjoyed.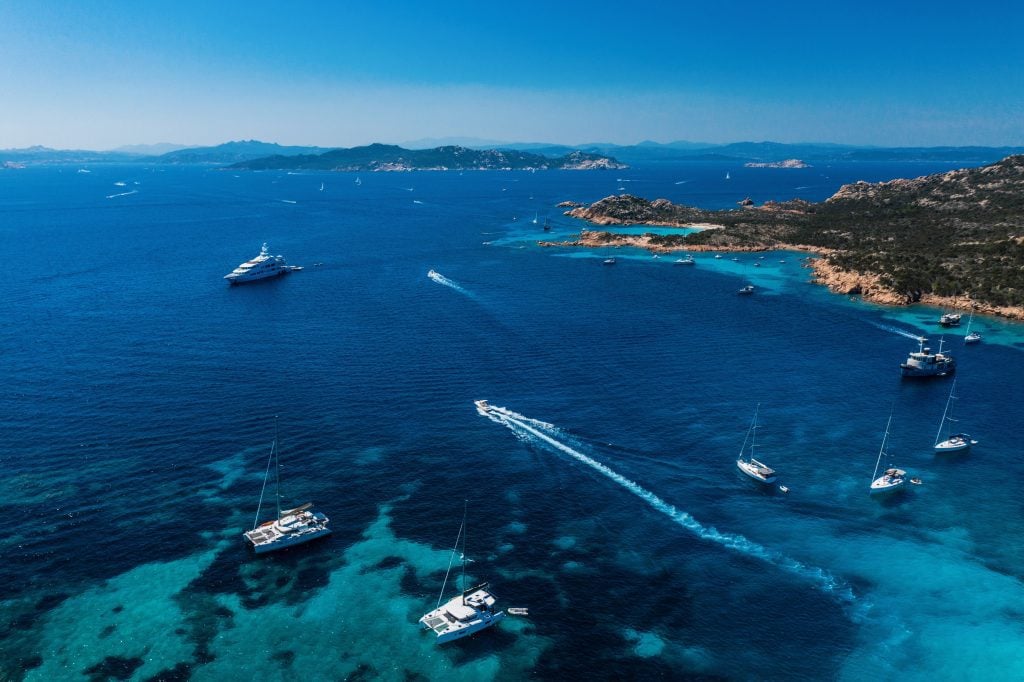 Coming Up in June 2022
Woohoo, am I excited for what awaits me in June! Charlie and I take a big special trip each summer, and this one, of course, is another Italy trip. It was originally going to be a two-week trip to Sardinia, but then we found out the Rolling Stones are playing in Milan on June 21, so we had to extend it an extra week!
So now we are driving from Prague to Lake Orta, where we will spend a few days before hitting up the concert in Milan. For a few days after that, we'll be spending time in Liguria, including Cinque Terre. This week in northern Italy we will be working a bit, but not full-time hours.
Then we will put our laptops away and drive onto an overnight ferry from Genoa to Olbia and begin a two-week road trip in Sardinia, continuing into July. We are skimming across the northern coast and spending time in La Maddalena, Santa Teresa Gallura, Castelsardo, Alghero, Bosa, and San Teodoro. (On the drive back we're stopping in Liechtenstein for the night, because it's on the way and why not?)
Sardinia is the 20th and final Italy region for us both! I'm so excited to achieve this milestone.
So what will we be getting up to? Sardinia is home to the best beaches in Italy, with soft white sand and Caribbean-blue water. We're staying in three fabulous agriturismi, a mid-range guesthouse, and a small mid-range-to-high-end resort, and even so, our accommodation is averaging only 115 euros per night.
As for the kitties, they will be living their best lives with our dear friend and favorite cat-sitter, who is coming to stay in our apartment for the whole time we're away.
Because I'll be not working until mid-July, I'm still deciding what to do about next month's recap. I've never missed a month since starting them. Maybe I'll just do the June recap in mid-July, or maybe I'll roll July and August into one. We'll see.
What are you excited for this month? Share away!
Get email updates from KateNever miss a post. Unsubscribe anytime!
Source link Travel Diary