Adventurous Kate contains affiliate links. If you make a purchase through these links, I will earn a commission at no extra cost to you. Thanks!
After a quiet March, it was time to hit the road again! This month I enjoyed the benefits of living in Europe with easy travel to two different countries: Italy and Germany.
Looking back, it's been so bizarre to arrive in a new country to live in, then to be locked down for so much of it. I still feel like I'm just starting to explore Prague in depth. But now that things are starting to feel more normal (believe me, I'm knocking on wood HARD as I type this), I'm starting to take advantage of hopping to different countries in Europe.
Naples was a quick budget flight from Prague. But Hamburg was a much more pleasing 6.5-hour journey by train, the second weekend getaway I've done by train (Budapest last November was the first). No stop necessary; trains run direct from Prague to Hamburg!
I really want to do more getaways by train this year. I'm starting to think a bit about exploring the lake-studded Salzkammergut region in Austria for a weekend this summer. Maybe Wroclaw in Poland for another weekend. And maybe even a return to Hamburg in August. Apparently there's a cool festival where people dress up like birds.
Destinations Visited
Prague, Czech Republic
Naples, Procida, Amalfi, Bomerano, Nocelle, and Positano, Italy
Hamburg, Lüneburg, and Hanstedt, Germany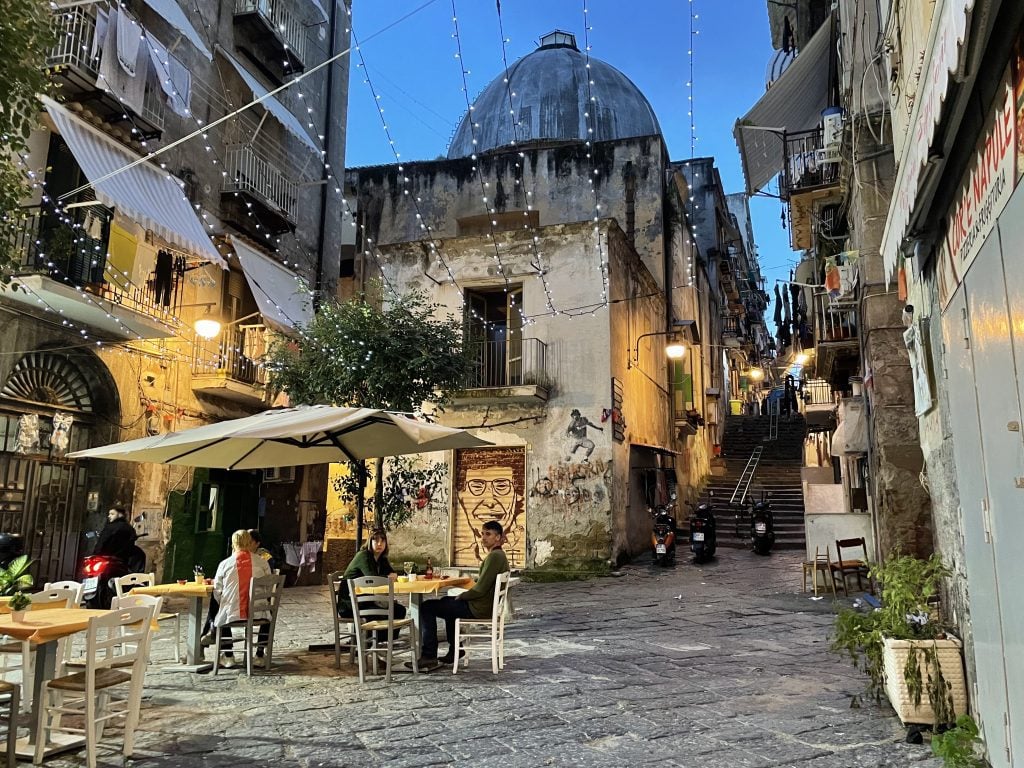 Highlights
A fantastic weekend in Southern Italy. Before this trip, my only time in the Campania region had been a memorable weekend trip to Capri during my semester abroad in 2004. It was time for more of the Bay of Naples.
We kicked off our weekend in Naples and right away, I was hooked. Was it the best pizza in the world for five euros a pie? Was it the chaotic streets, the layers upon layers of history, the tiny handmade figurines, the men singing from a balcony to people waiting in line for pizza, the gregarious and no-nonsense people? I can also see why people dislike Naples (chaos and dirtiness), but I couldn't get enough of it!
Naples is wonderfully unpretentious and it's now one of my favorite places in Italy. I can't believe it took me so long to visit. It's an essential place in Italy.
A day full of surprises in Procida. We decided to visit the island of Procida for an afternoon, and it turned out to be the day Procida was being crowned Italy's 2022 Capital of Culture! The island was scrubbed clean, pink flags were hanging from balconies, and even the Italian president came to visit! In the evening, the waterfront turned into a parade. It was a delight.
Some nice time on Sorrento and the Amalfi Coast. We spent two days based in Sorrento, which is convenient for exploring the region transportation-wise, but I didn't love it as a destination. It's very watered down and geared toward international travelers, particularly Brits. We did a lemon experience and has some of the best limoncello of our life.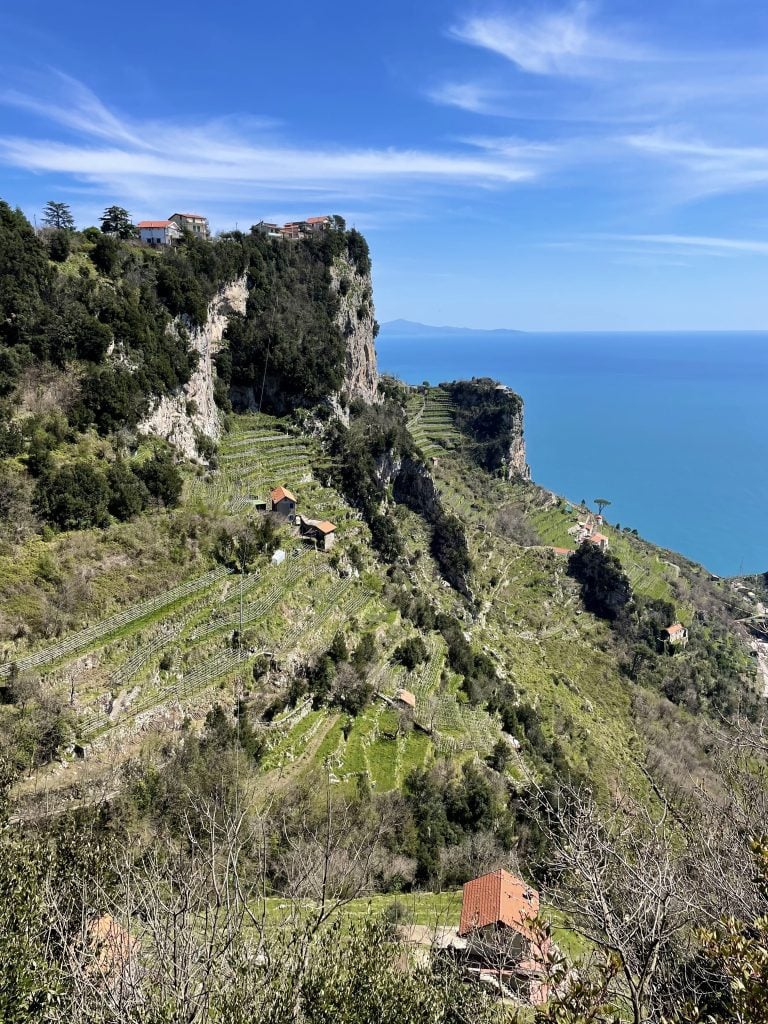 Finally seeing the Amalfi Coast. We took a spectacularly gorgeous boat ride from Sorrento to Positano to Amalfi, but we weren't staying for long. We grabbed a quick lunch and hopped on a cliff-clinging bus ride to the town of Bomerano to begin the Path of the Gods hike.
The Path of the Gods hike is probably the most beautiful hike I've ever done. You can't top the scenery of the Amalfi Coast's cliffs, and you get to enjoy the views (and occasional bleating goats!) for hours. The hike ended with a FUCKLOAD of stairs into Positano, which was hell on my knees for the next few days, but it was so worth it.
I highly recommend this hike, including for solo women, as it's a decently trafficked trail and you won't be isolated. Know that it's a moderate hike with a few technical sections where you'll have to use your hands. Trail runners were good enough shoes.
I will say that early April is a bit early for the Amalfi Coast — too chilly in the shade, though great weather for hiking. If you wanted to experience the best of the Amalfi Coast, I would go from May to October.
A wonderful time in Hamburg at the Reboot Conference. This is the first conference I've attended in person since the pandemic began, and it was such a healing balm to see my friends and spend so much time with them. This conference was about creativity and mindfulness and it was nice to hang out and learn things without being so hardcore business-focused all the time.
And Hamburg is a FANTASTIC city. Cool architecture, a real bohemian feel in St. Pauli, a real London feel in Winterhude, Miniatur Wunderland, fun riverboat cruises, Beatles history, the best red light district in London, and the occasional roller disco!
I also got to visit the lovely little city of Lüneburg, just 35 minutes by train from Hamburg and home to some of the best architecture I've seen in Germany. It's adorable and a wonderful side trip from Hamburg.
Beautiful spring weather in Prague. I think spring is the best time of year here. It's a wonderful time to walk around town and enjoy all the flowers in bloom, including plump cherry blossoms in front of my apartment. (And unlike New England spring, it actually lasts a decent amount of time!)
My first Witches' Day in Prague. April 30 is Witches' Day, and effigies of witches are burned all over the city.
I FINALLY got a dresser. After a year and a half in Prague, I was still using one normal-sized drawer and three tiny drawers and everything was full to bursting. After a long and fruitless search, I concluded that I couldn't find any decent and affordable non-IKEA furniture that would ship to the Czech Republic without a hassle, so I gave in and got the nicest IKEA dresser: the IDANÄS. Charlie got one too, so they match. The drawers close gently so it feels nicer than their other dressers.
It feels so luxurious to have a dresser that can fit all of my clothes. And the occasional cat.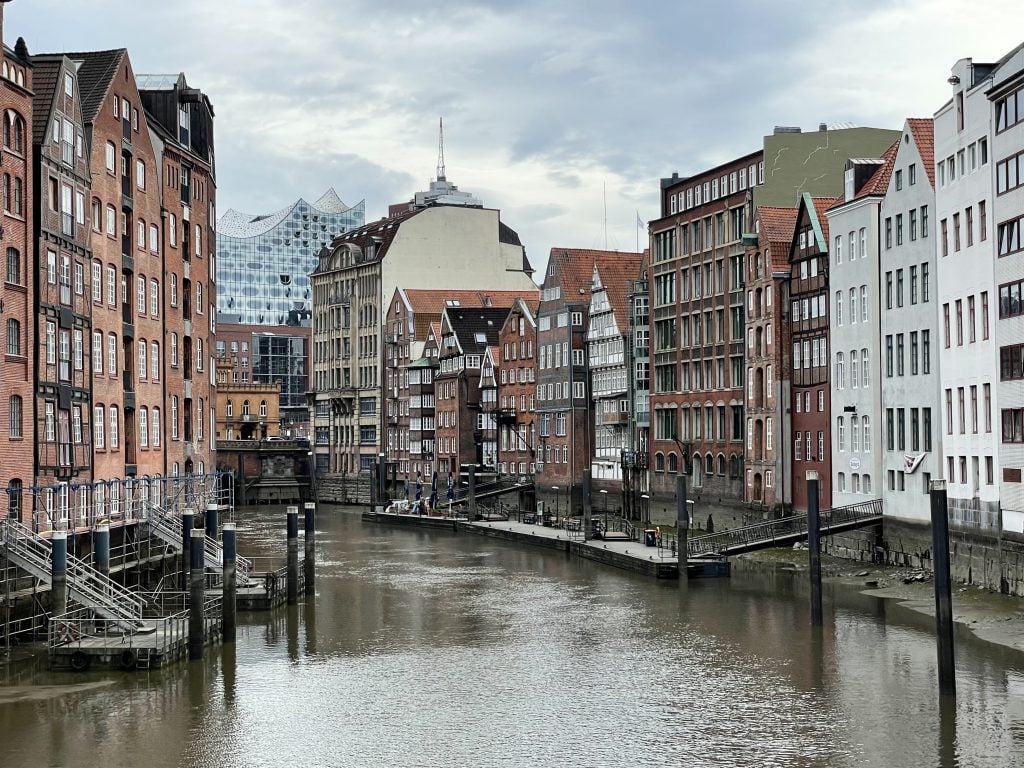 Challenges
We almost missed our flight out of Naples. Are any of you in a mixed airport arrival time relationship? By that, I mean one partner stresses out and likes to get there extra early, and the other likes to push it to the last minute? I am the former and Charlie is the latter.
We've tried to accommodate each other a bit more over the past few years. I try to relax more. He adds in a bit more time. But it's always a dance. And when we found a shuttle bus that would get us to Naples 90 minutes before our flight to Prague, I told myself, "Loosen up a bit, that should be fine."
Well. Did you know that everything in Southern Italy often takes much longer than it should? That bus was late, we arrived to a super-long RyanAir check-in line, the airline people wouldn't let us skip to the front until it became clear that we were, in fact, minutes from missing the flight.
My recommendation? Always expect transportation in Southern Italy to take 50% longer than you think.
A comedy of errors in Sorrento. It was our last night in Italy and I really wanted to eat some spaghetti al limone, pasta with lemons and cheese. We found a wine bar that had it on the menu and sat down.
Our first warning should have been when the bathroom was a mess, door handles unscrewed, the soap a neon orange Dial in an industrial size container. Our second warning should have been when the waiter said they were out of Franciacorta but had a great sparkling alternative, but he couldn't even say which region it came from. In a wine bar.
Clearly there were staffing issues in the restaurant that night (chefs in full garb delivering plates, the sole waiter also tending bar) — and as a former server I'm sensitive to that. But while the pasta was decent, the rest of the food was awful.
When I went to go pay, he charged me in USD at a highly inflated rate. I told him to void the transaction because it was inflated. He told me it was the same. Nope, it's NEVER the same. I pulled up my currency app to show him that it had overcharged me, and he just threw a 10 EUR bill at me. Okay then!
We thought Lewis the cat might be sick. He started drooling a ton this month — like, sleeping on the bed and there's a huge wet spot beneath his mouth. He never drools, ever. Drooling can be a sign of mouth trouble, so we brought both cats to the vet to get examined. And both were fine with perfect teeth! Lewis's drooling stopped a day later.
The good? Examinations of two cats cost just 360 crowns, or $16. The bad? Murray cried the whole way to the vet, and it nearly made me cry.
Blog Posts of the Month
18 Fabulous Places to Visit in Cuba — If you're curious about Cuba but don't know where to go beyond Havana, this post is for you!
5 Stunning, Offbeat National Parks of Québec — There is a LOT more to Québec than just Montréal and Québec City. If you're a national park fan, I bet you'd really love these cool parks.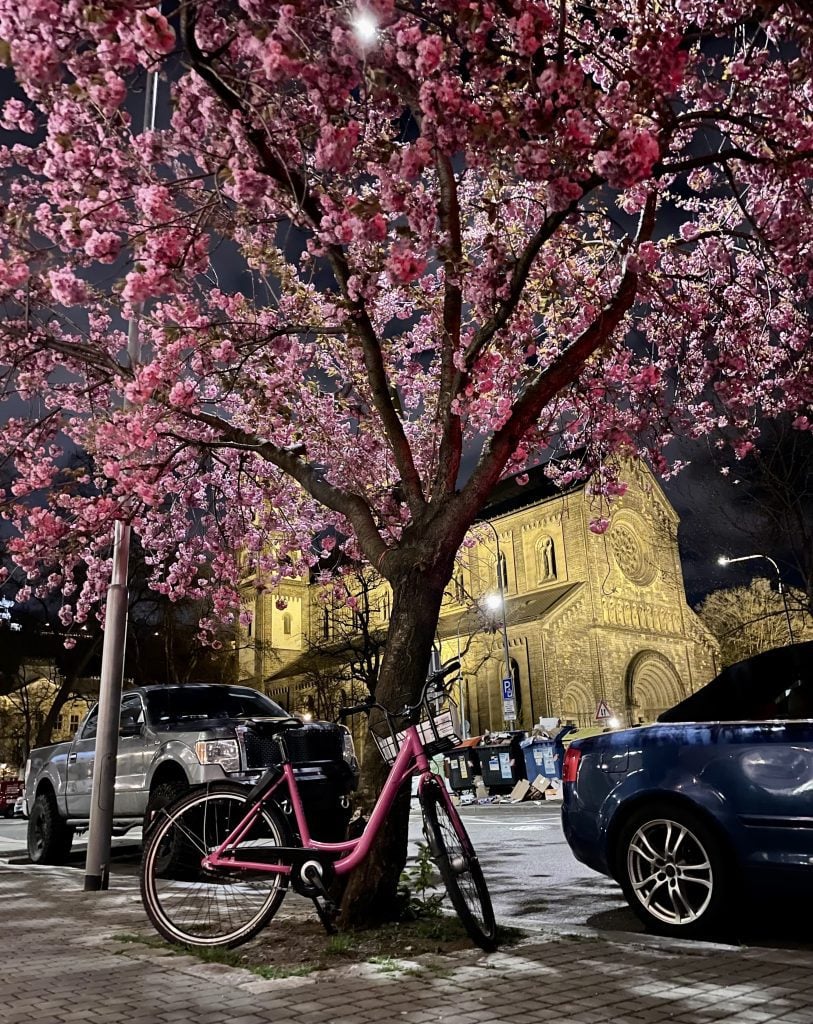 This Month on Patreon
On the Adventurous Kate Patreon, I publish exclusive content and never-told stories that you can access for $6 per month. We also have a private Facebook group and members get free access to the Book Club each month.
I have a new and exciting trip coming up — but I'm not ready to announce anything to the general public until it's finalized. BUT my patrons know all about it, and we've had some great conversations about advice and what to do!
I also hired an illustrator for the side project I've been working on for months, and they got to see the final product this month! It's a map, because of course it is.
Finally, there's a long-form essay on Germany this month — a country I visit so often but I used to think wasn't very interesting. Germany is an interesting nut to crack.
Book Club This Month
Our next book club will take place on Sunday, June 5, at 1:00 PM Eastern Time. We will be reading Sankofa by Nigerian British author Chibundu Onuzo.
"A woman wondering who she really is goes in search of a father she never knew–only to find something far more complicated than she ever expected–in this "stirring narrative about family, our capacity to change and the need to belong" (Time).
"Anna is at a stage of her life when she's beginning to wonder who she really is. In her 40s, she has separated from her husband, her daughter is all grown up, and her mother–the only parent who raised her–is dead.
Searching through her mother's belongings one day, Anna finds clues about the African father she never knew. His student diaries chronicle his involvement in radical politics in 1970s London. Anna discovers that he eventually became the president–some would say dictator–of a small nation in West Africa. And he is still alive…
When Anna decides to track her father down, a journey begins that is disarmingly moving, funny, and fascinating. Like the metaphorical bird that gives the novel its name, Sankofa expresses the importance of reaching back to knowledge gained in the past and bringing it into the present to address universal questions of race and belonging, the overseas experience for the African diaspora, and the search for a family's hidden roots.
Examining freedom, prejudice, and personal and public inheritance, Sankofa is a story for anyone who has ever gone looking for a clear identity or home, and found something more complex in its place."
You can sign up for the book club here. Patreon members get access in the Patreon.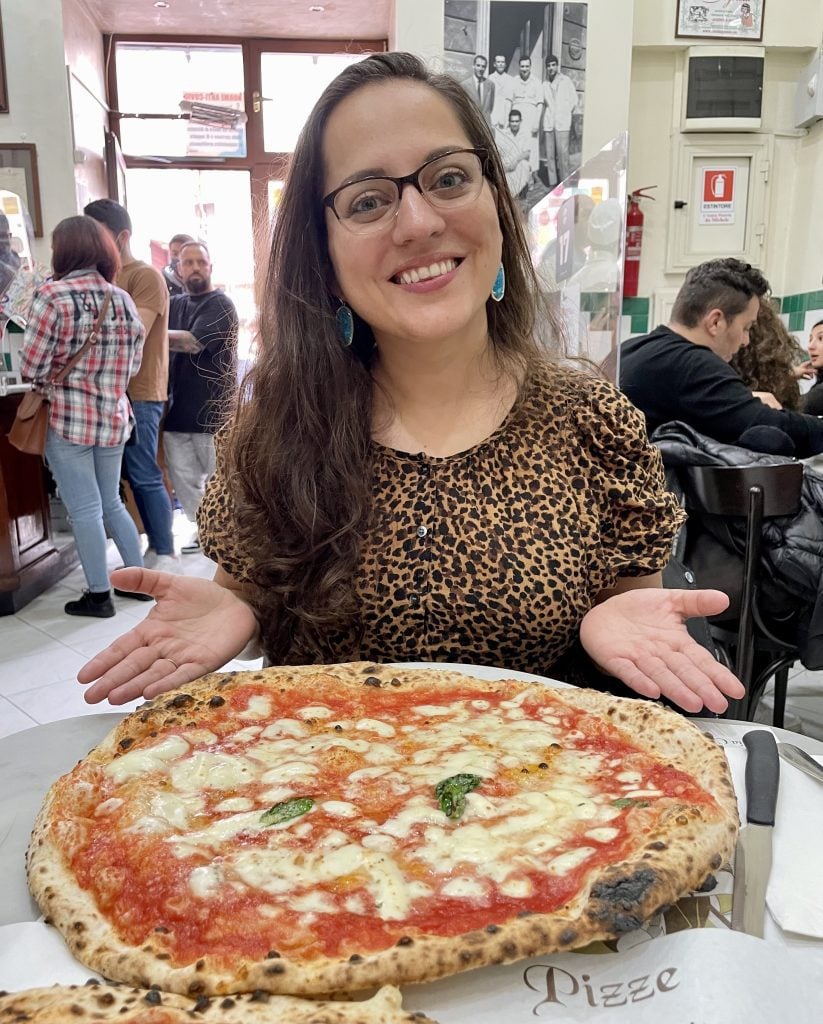 Most Popular Photo on Instagram
My first true Neapolitan pizza ever, served at Da Michele in Naples! Yes, that giant pie is all for me, and it cost 5 euros.
For more live updates from my travels, follow me on Instagram at @adventurouskate.
What I Listened To This Month
I'm so behind in music, so never expect me to be current, and this month I was listening nonstop to Silk Sonic's album An Evening with Silk Sonic. How did I not know that Bruno Mars and Anderson .Paak, two artists I love, made an album of 70s R&B, one of my all-time favorite genres?!
So yes. People know this album exist. It won a million Grammys (do you know Bruno hasn't LOST a Grammy since 2014? Dude is unstoppable!). And I love love loooove it.
What I Watched This Month
Why did I watch The Ultimatum? This may be the most horrific dating show I've ever seen. Do yourself a favor and don't start. You will hate everyone and yourself.
I finished The Dropout, which was excellent. I've eagerly consumed every piece of Theranos content I can find, but this series was the only one to focus on Elizabeth and Sunny's relationship. And Amanda Seyfried was amazing. She plays a weirdo so well.
I am inhaling the final episodes of This is Us the moment they become available on Hulu as the tear-filled finale season continues.
Still working on Ozark, Pachinko, and Russian Doll.
What I Read This Month
A Biography of a Chance Miracle by Tanya Maljartschuk (2018) — This novel tells the story of Lena, a young woman growing up in Ukraine. She is a bit of an outcast and forever a crusader for the less fortunate. The story follows Lena through her life in a continuously changing Ukraine, trying to carve out her own place for herself.
This was our book club choice this month, and I wanted us to read a Ukrainian author. What an interesting book this was! I feel like it was a good introduction to the Ukrainian sense of humor — smart, outlandish, and frequently quite dark. It's the kind of book that makes you wince a lot.
And while there's nothing that can show you what Ukrainians are going through right now, I think this book gets you a bit closer to understanding what life used to be like there.
Group: How One Therapist and a Group of Strangers Saved My Life by Christie Tate (2020) — When Christie Tate was attending law school in Chicago, she was consumed with desire for death. She found a therapist, then group therapy — weekly sessions with a group of strangers sharing the darkest things about their lives. This book follows years upon years of group therapy as Christie takes a LONG time to get herself to a good place.
This book was an absolute shitshow, a train wreck, and I could not turn away from the horrific scene before me. I devoured it as fast as I could. Then I felt like I had to go take a shower.
First off, I'm shocked at the concept — that people in Group are not bound by confidentiality and tell each other all these secrets about the people in their lives, and then go on to tell other random people whenever they feel like it. And Christie goes through a long string of appalling relationships that was tough to witness, and she also shared some of her worst moments.
The author seems to be the kind of person who likes to hang all her worst qualities out for the world to see. Not surprising considering she does that in Group THREE TIMES A WEEK. She was also in the news for writing that piece about how her daughter wanted her to stop writing about her online and she refused.
The Last Thing He Told Me by Laura Dave (2021) — Hannah's world is rocked when her husband's company goes under and he disappears, then the FBI and US Mmarshals show up at her door. With her husband's teenage daughter in tow, Hannah takes off across the country trying to figure out what's actually going on.
This was a mediocre thriller that I kept expecting to get better and never did. Don't waste your time.
In other news, I've noticed I'm reading a lot of Reese Witherspoon's book club picks lately, including Group and The Last Thing He Told Me. It's not intentional; I tend to go for what's available at the library. Maybe her team superstocked libraries with her books.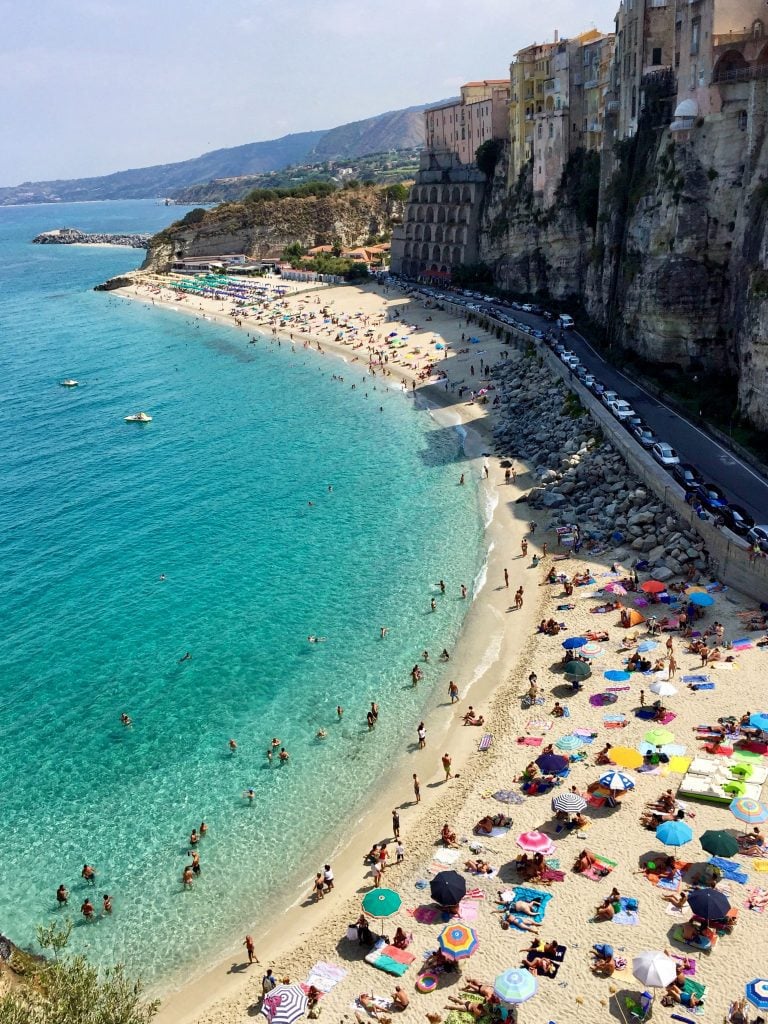 Coming Up in May 2022
Two more European trips are planned for this month! One is still in the works, so I'm only sharing it with the Patreon for now, but I can talk about the other one. In mid-May, Charlie and I are going to Calabria, Italy, for the weekend!
Calabria is the toe of the boot. Charlie has already been, but for me it will be my 19th of Italy's 20 regions! We're flying into Lamezia Terme and exploring the region for four nights: two at an agriturismo near the Ionian coast, and two in Tropea, Calabria's most famous resort town.
Calabria is a gorgeous, offbeat, and cheap part of Italy to visit. (It also has some painful problems, like poverty and organized crime, and if you're in my Patreon I wrote about that recently.) I'm looking forward to discovering what Calabria has to offer. We will be road tripping around the coast, hiking a bit, and eating lots of 'nduja, Calabrian chilis, and Tropea onions.
Also, May brings SAUSAGE FEST in Prague, which happens to be my Prague friends' favorite food festival of the year. We've got our table booked already. In 2009 they were at the festival for 12 hours straight.
Any plans for May? Share away!
Get email updates from KateNever miss a post. Unsubscribe anytime!
Source link Travel Diary