He's the undisputed king of modern Pizza in Rome – made internationally known by a visit paid by Anthony Bourdain's The Layover in 2011. Gabriele Bonci is the owner and chef at one of Rome's most unique pizzerias – Bonci Pizzarium, located just behind the Vatican. After a visit to the ever-more-popular pizzeria, it became clear why Bonci, and his unique style, are changing the complexity of how pizza is cooked and perceived on Italy's western coast.
We first became aware of Gabriele Bonci's revolutionary style pizza in Rome in the same way most in America did. In 2011, Bonci was the subject of Season 1, Episode 7 of Anthony Bourdain's The Layover, an episode in which Bourdain was clearly besotted with Bonci's genius, establishing to the rest of us in the world what Romans already knew – Gabriele Bonci is one of the world's brightest culinary minds.
(You can view a few minutes of the segment below)
Since that time, Bonci has been frequented by hundreds of thousands of visitors and the small pizzeria in a small corner store behind the Vatican has expanded internationally, as well as making its owner a household culinary name.
Today, it's a phenomenally famous location with more than 5,300 reviews on Google from patrons around the world!
What makes Bonci's pizza different can be found both in the method and materials used in the creation of the pizza, which the Pizzarium has been doing in Rome since 2003. First, Bonci's crust is cooked using a 250-year-old bacterial culture that Gabriele Bonci himself hunted down and selected originally, and since that time each dough is made using this first culture.
Next, the crust is baked and served with an assortment of unique toppings (which we'll get to in a moment) using a style called Roman-style Pizza al Taglio. Pizza al Taglio essentially means that the pizza recipes are changed up frequently and that each daily menu is driven from what products they have on hand. Once baked, the pizzas are served in a display-style where the customer chooses how much of what types of pizza they would like, which is then freshly cut with scissors and weights for a pay-by-weight system.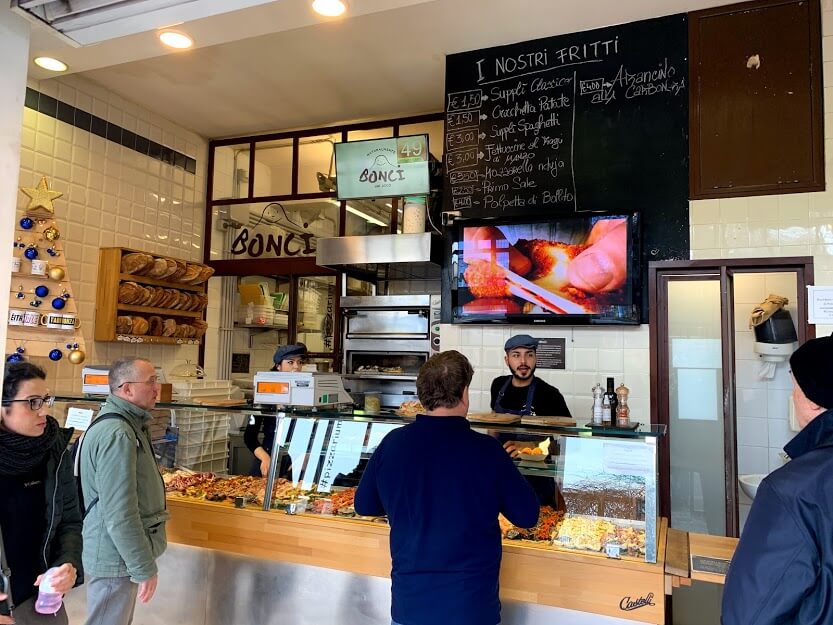 While the system driving Bonci's is unique, it's his wild creativity that is the true differentiator for Bonci. Ingredients typically not found on pizza, such as foie gras, cherries, potatoes, leeks, and uncommon, locally-made Italian cheeses all present on Bonci's menu. The creations are fantastic, fanciful, and an experience unlike any you'll get in another pizzeria on the planet.
Outside of pizza, one of the most delicious things we've ever eaten in Italy are also on the menu at Bonci – Roman Suppli. Similar to the Sicilian dish, aranicini (view our recipe for arancini!), the main difference between the fried rice balls is that suppli are made with arborio rice and mozzarella, while arancini are made with arborio rice, mozzarella, and the addition of beef and peas.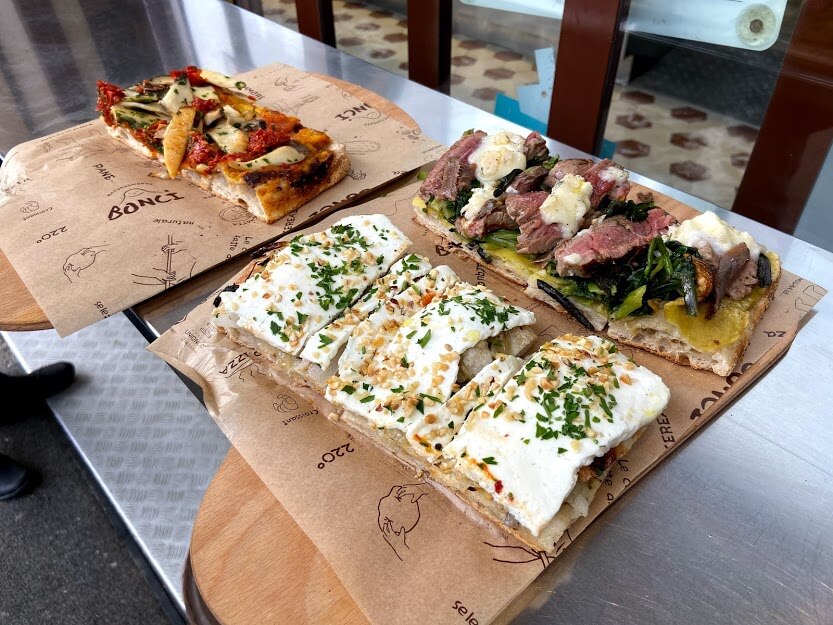 When you're in Rome and want to eat at Bonci's, get there early and plan ahead. On our most recent visit to Rome, we arrived at Bonci's about 20 minutes before it opened while anticipating it to be busy once it opened. What we found was accurate to our expectations, as a handful of patrons had already gathered outside the garage-like drawing door that covers the building's facade. Outside, there is a "take-a-ticket" type of system that gives the customer a number that corresponds to your spot in line.
Once open, the cafeteria buffet line moves quickly, with a stand-and-order type of system where the patron pays for their meal at the end of the line. The employees are incredibly knowledgeable and helpful, answering questions about the day's menu with speed and accuracy. We ordered a trio of pies, ranging from sirloin and arugula to cherry and leeks as well as fresh garlic with locally made cheeses – all which are present in the photo above.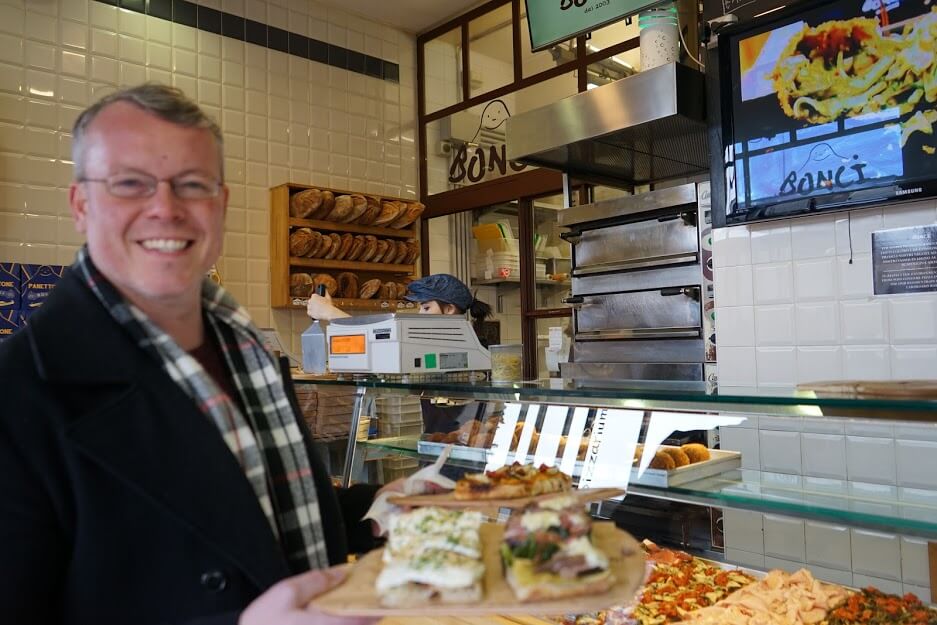 The highlight, for us, was the toppings. While there will be some combinations that don't work for everyone, that really isn't what Bonci is about. It's a daring pizzeria that takes chances and is refacing Italian food as we know it.
If you're looking to create the taste of Bonci at home, check out Gabriele Bonci's newest cookbook featuring recipes from the famous pizzeria below!
Pizza: Seasonal Recipes from Rome's Legendary Pizzarium
Bonci's Pizzarium is, without question, worthy of going out of the way of visiting if you find yourself in Rome. For Americans, our journey is even shorter now with the famous pizzeria having expanded to Chicago and New Orleans, as well as offering nationwide shipping within the United States through their partnership with Gold Belly!
Let us know your thoughts on Bonci, no matter if you have your first experience of this ironic chef in Rome, Chicago, New Orleans, or even right in your own home!
Source link A Couple For The Road