A list of the best road trip songs from the classics to today
Have you ever been driving along the highway, belting out the lyrics to your favourite tune and look over at the people in the car next to you staring at you while laughing hysterically?
Oh, yeah, been there, done that.
It is moments like these that gave us the inspiration for compiling our list of the best road trip songs ever.
Best Songs for a Road Trip
Don't be embarrassed about having a good time in the car. It's your own little sanctuary. It's just you, the steering wheel, and the open road.
Check out our Full Playlist for Road Trips songs now
Nothing makes a road trip better than a good playlist and we've compiled the ultimate road trip songs playlist for your next overland adventure.
Do you love a road trip? Check out our list of the Best Road Trips in the World!
1. Sympathy For The Devil by the Rolling Stones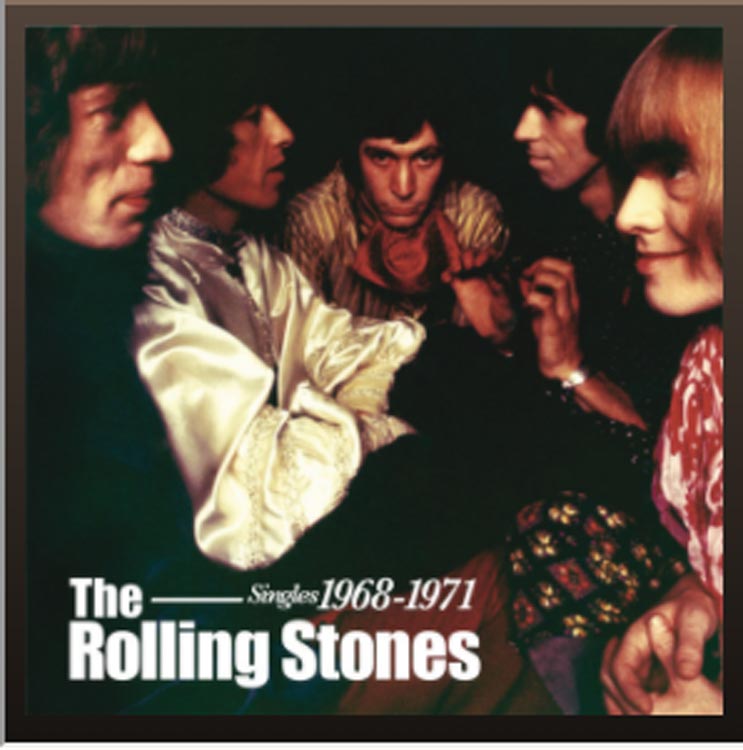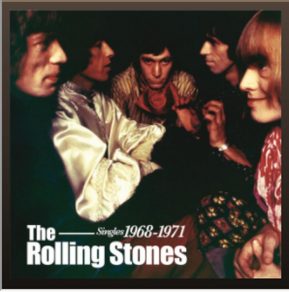 We've been lucky enough to see the Rolling Stones in concert three times. Dave even met the band way back in 2003 when he did lighting for a media blitz they did in Toronto.
This is by far our favourite Stones song for a road trip.
Even if we have to get out of the car soon, we'll leave the engine running until the final chord is played!
Get it on Amazon for just $1.29
Buy the Rolling Stones Greatest Hits on Amazon
2. Sweet Home Alabama by Lynyrd Skynyrd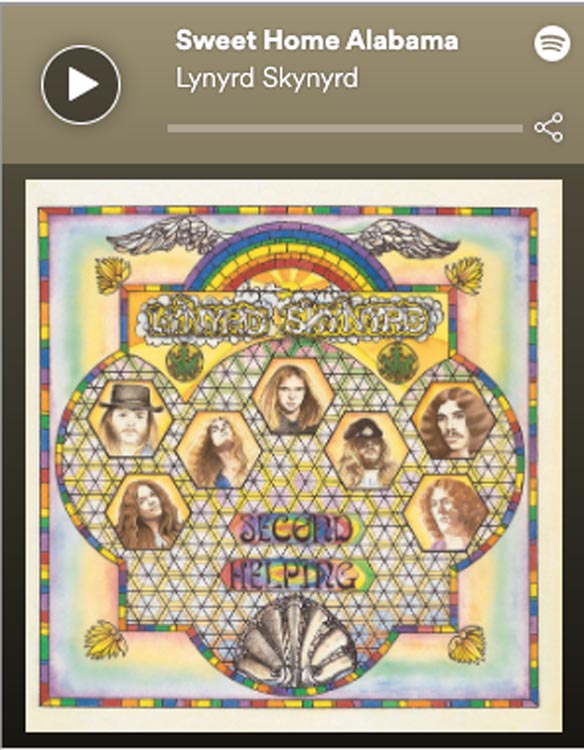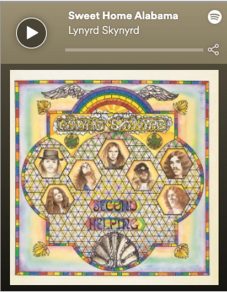 I didn't know a lot about Lynyrd Skynyrd until I watched Muscle Shoals; a music biography about one of the most innovative sound studios of the 60s.
In Sweet Home Alabama, there's a stanza saying:
"Now Muscle Shoals has got the Swampers
And they've been known to pick a song or two"
It made us want to book a trip to see the famous studio.
Purchase Sweet Home Alabama for $1.29
3. Little Red Corvette By Prince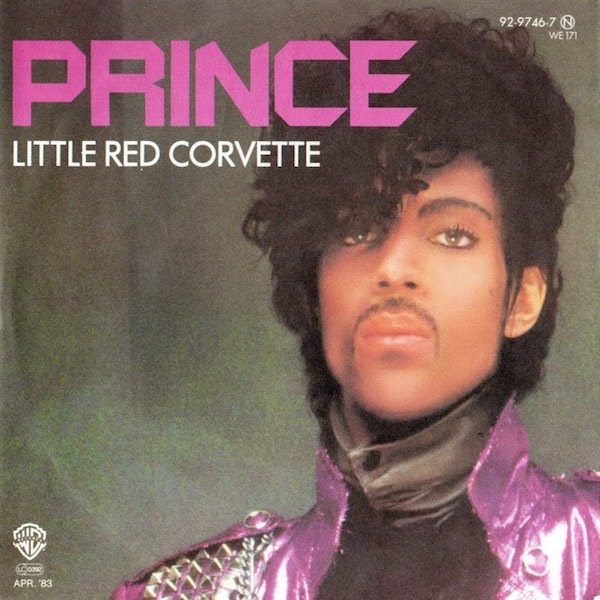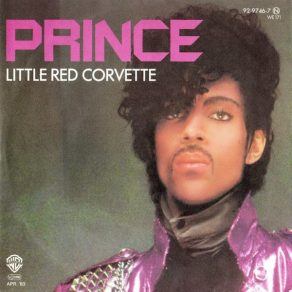 Right about here we wanted to include Prince's Little Red Corvette, but he didn't have any songs on Spotify.
Since I started making this Best Road Trip Songs Playlist with my Spotify account, I realised that I couldn't properly include him.
But if you can get your hands on some Prince music, put him on your playlist. Sad to see another legend lost, but his music lives on.
Buy Little Red Corvette $1.29
Pick up a copy of Prince's Greatest Hits, you won't be disappointed. But there are some tributes happening on Spotify now.
4. 500 Miles by The Proclaimers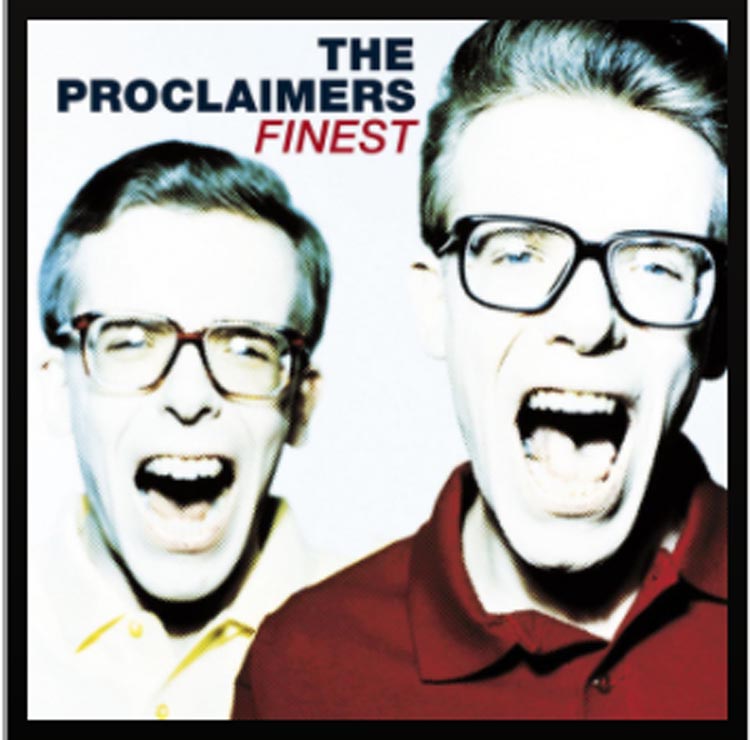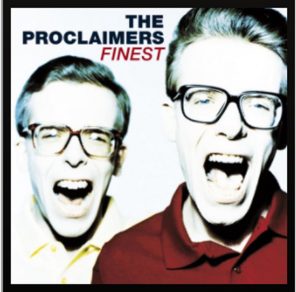 There's nothing really amazing musically about this song by the Scottish Band the Proclaimers, but when it comes on the playlist, everyone stops to sing along.
It's one of those songs that you can't help but love. Even if you hate it! "
I'm Gonna Be" 500 miles must be included on your Road Trips Songs playlist, it would be criminal to leave it out.
Buy it on Amazon for $1.29
Rent Benny and Joon starring where the song was featured
5. Take it Easy by The Eagles
Remember when Elaine's boyfriend refused to speak to anyone when Desperado came on the radio during a classic Seinfeld episode?
Well, when it comes to the Eagles, Hotel California is our song.
But when it comes to road trip songs by The Eagles, Take it Easy is Number one.
"Well I'm a runnin' down the road trying to loosen my load
I've got seven women on my mind"
This song was meant for driving.
If you happen to be going on an Arizona Road Trip, be sure to stop on the corner of Winslow Arizona like in the lyrics "Well, I'm a standin' on a corner in Winslow, Arizona. Such a fine sight to see."
Don't speak to me, don't even look at me when Hotel California comes on because I am going to sing along and play air guitar to that classic solo.
Get it now on Amazon
Get the Hell Freezes Over Tour where the Eagles come together live.
6. Dream On by Aerosmith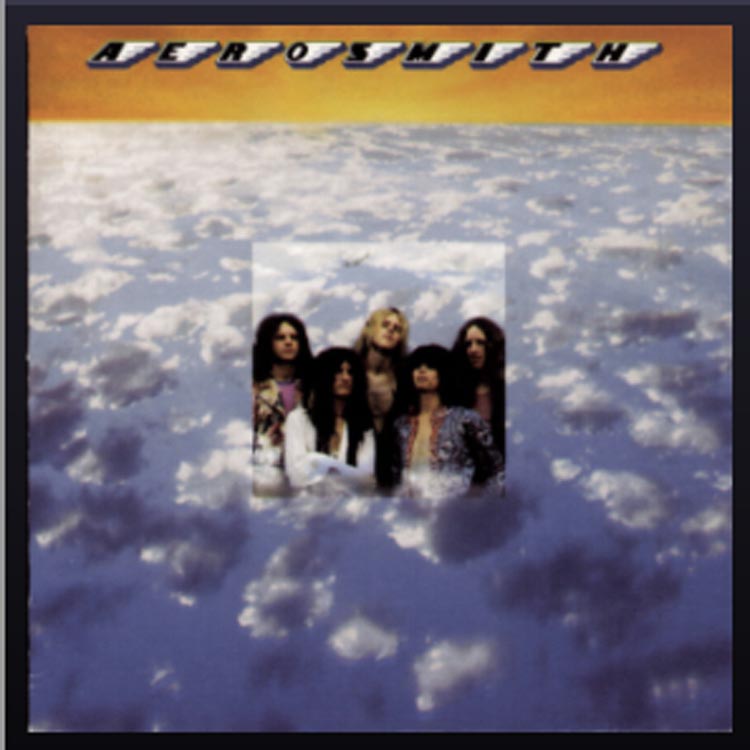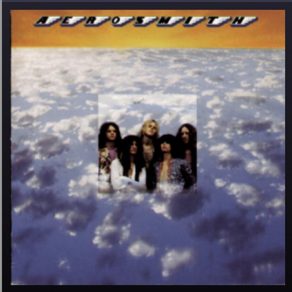 This song starts off slow and builds to a screeching point with Steven Tyler wailing "Dream On, Dream On, Dream On, Dream Until Your Dreams Come True!"
You don't want to be in the car with us when this song is on. Both of us are yelling at the top of our lungs and banging our heads to the beat.
When Dream on comes on the radio, there's no talking to either of us until the song is over.
Buy AeroSmith's Greatest Hits
7. Uptown Funk by Mark Ronson Featuring Bruno Mars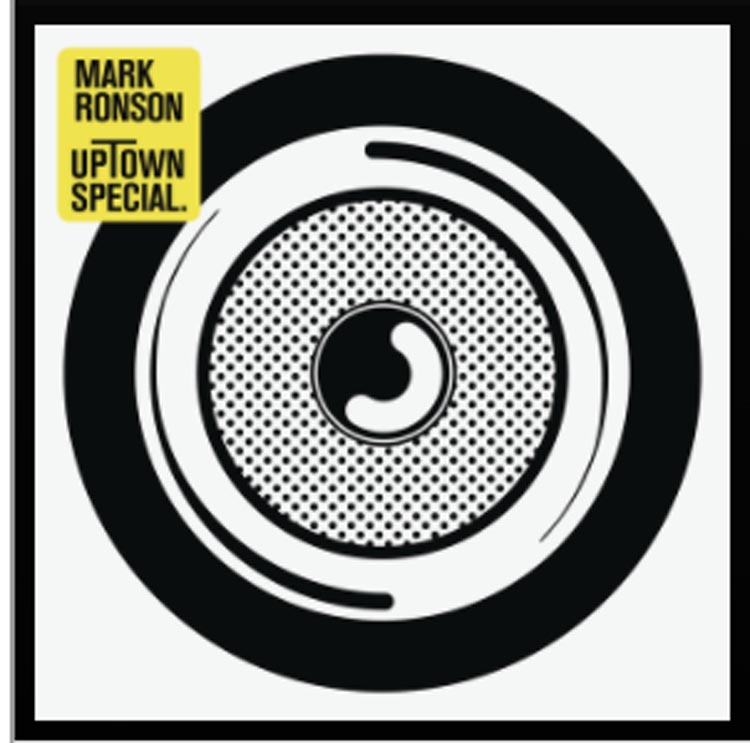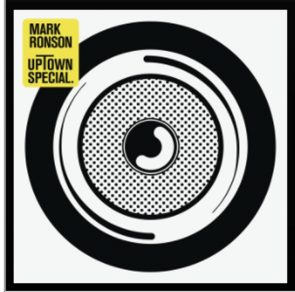 Last year while driving around Costa Brava in Spain, the Mark Ronson/Bruno Mars tune was was our go-to road trip song.
We called it the song of summer and whenever it came on, we'd jive and jam in the car.
Dave and I love to sing during a road trip and this one makes you want to wail at the top of your lungs.
We're gonna Uptown Funk you Up!
Download Up Town Funk on Amazon 
8. Home for a Rest by Spirit of the West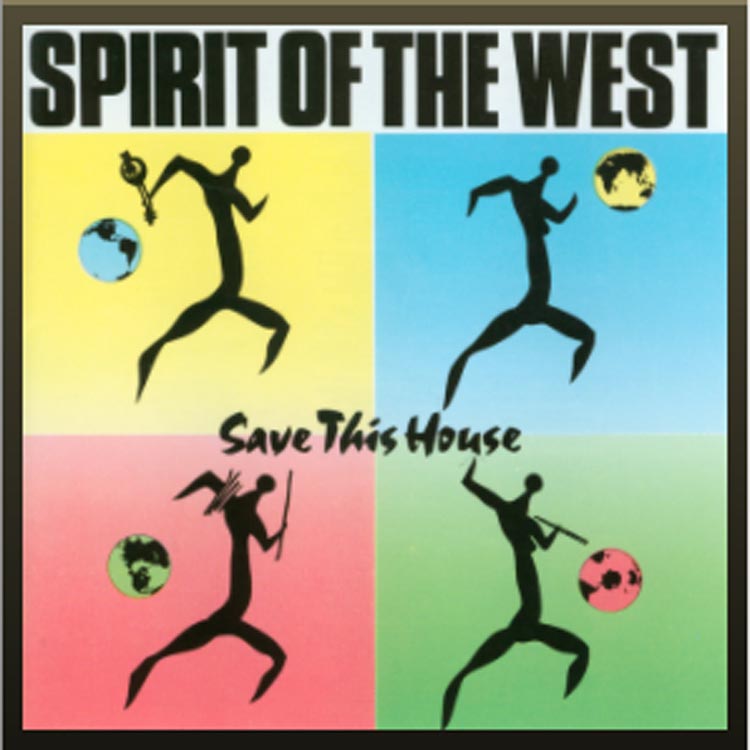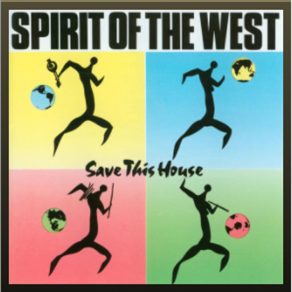 This road trip song by Canada's Spirit of the West always makes me want to go to London, England and hang out in the pubs.
I think about all the travels we have done and when we do come home, we need a rest. Travel is exhausting and when you add pub crawling to the mix, it is doubly exhausting. I love the opening:
"You'll have to excuse me I'm not at my best,
I've Been Gone for a Month, I've Been Drunk Since I left.
These so called vacations will soon be my death,
I'm so sick from the Drink, I need home for a rest…"
Download now on Amazon
9. Californication by Red Hot Chili Peppers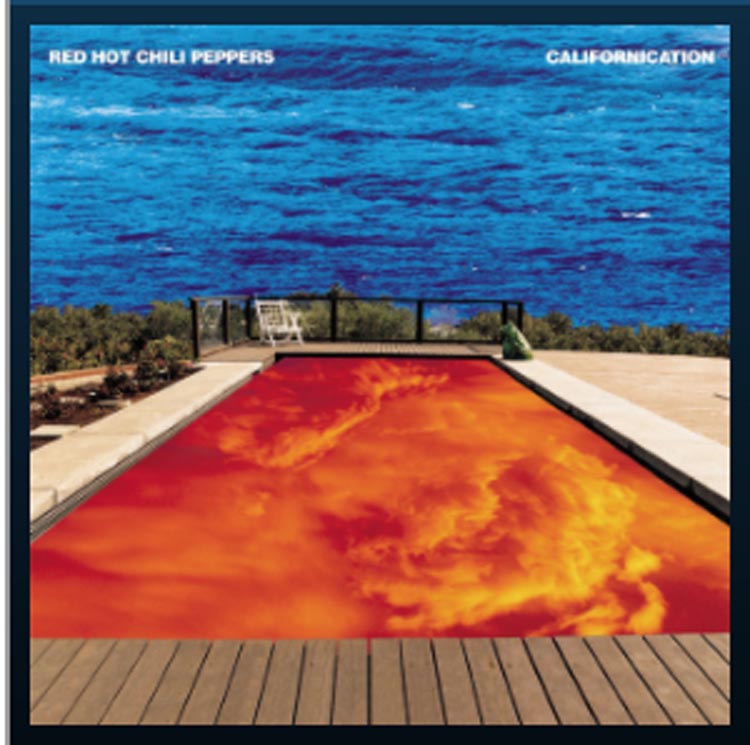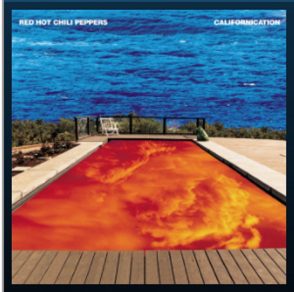 How does one choose a favourite Red Hot Chili Pepper's song? They have so many great albums.
But Californication is the perfect tune for a road trip. Heck, even the video is all about driving. I used to say, "How can anyone not name Red Hot Chili Peppers as one of the greatest bands of all time?" I mean, everything is perfection.
Anthony Kiedis is a poet, Flea is a master on the bass, John Frusciante creates the most memorable and intricate guitar riffs out there today.
Plus, how can you forget Chad Smith on drums. He's quiet and unassuming in real life, just like his music: Subtle and creative.
Plus, he looks exactly like Will Ferrel. Nobody has the same feel or sound as the Red Hot Chili Peppers.
You've got to read Scar Tissue by Anthony Kiedis – this book will blow your mind about everything he and the band have gone through.
Buy the album Californication. The entire disc is perfection.
Bonuses: Buy your copy of the book Scar Tissue, by Anthony Kiedis on Amazon: It's a great read for rock bio lovers.
And rent Muscle Shoals on Amazon Instant Video (just $3.99) today. 
Even short trips need rockin' tunes
Enjoy reading about our off-road driving in Ireland. 
10. You Oughta Know by Alannis Morisette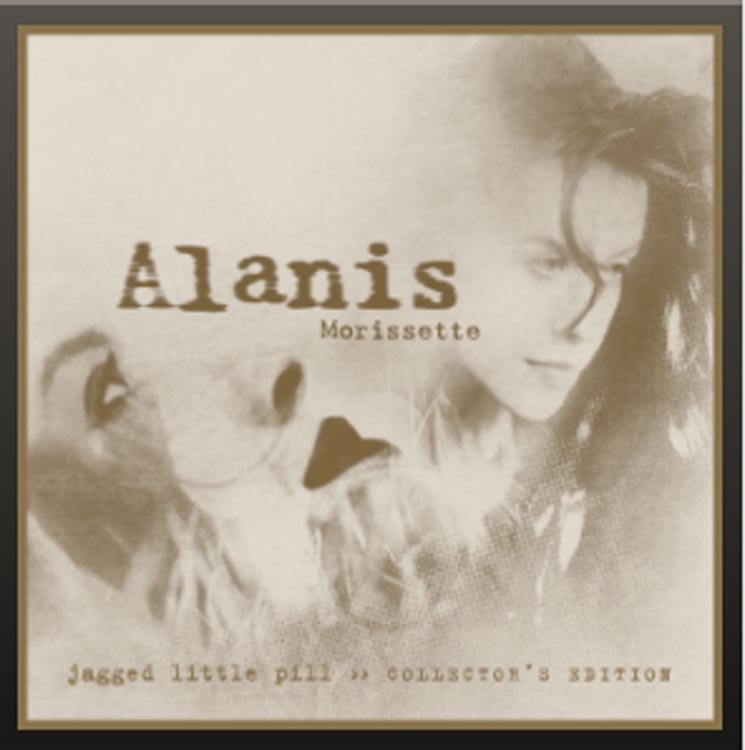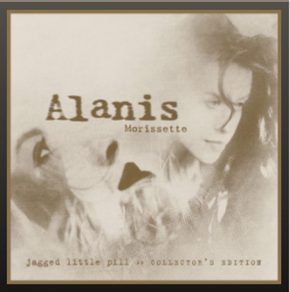 The feminism anthem of the 1990s was written and performed by a Canadian. We owned Jagged Little Pill and there isn't a bad song in the bunch.
But it's You Oughta Know that is one of the best road trip songs on the album. The staccato speech at the beginning gets you hooked for the driving beats ahead.
I – Want – you – to – know. That – I'm – happy for you. I – wish – nothing – but – the – best – for – you both.
Was this sone about Joey from Full House? We'll never know. But you oughta know!
Buy the album Jagged Little Pill, it's a good one!
11. See You Again by Wiz Khalifa, Charlie Puth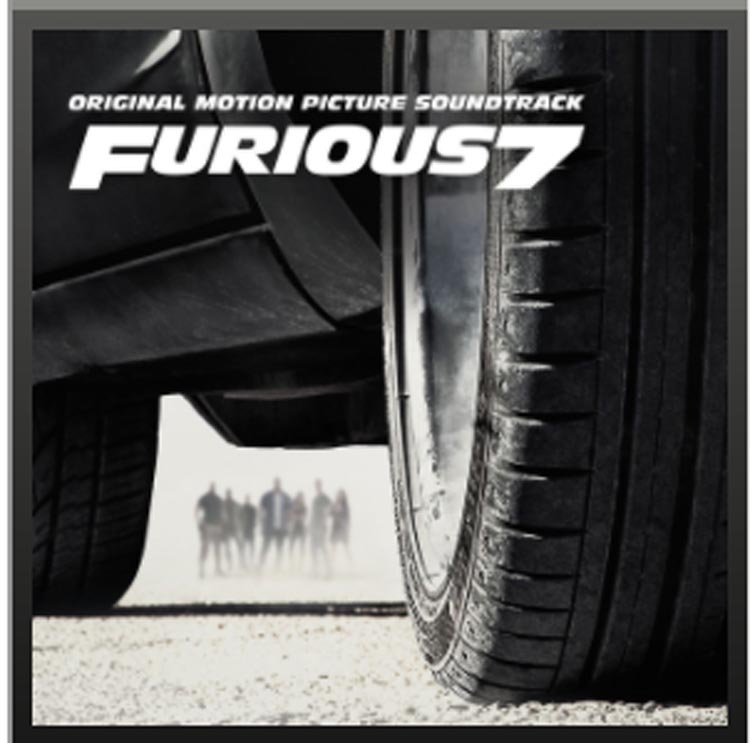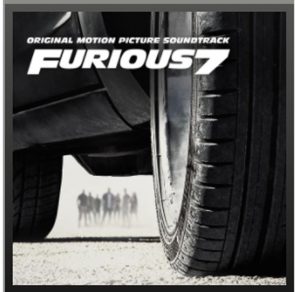 Why this song wasn't nominated for an Academy Award was beyond me. Everyone was shocked when Paul Walker was killed in a car accident two years ago. He died during the filming of Furious 7.
I never did see the film, but this song played during his final scene in the movie, which I read all about. It seemed to be a beautiful send off to him and whenever I heard it it brought a little tear to my eye.
This is a great song for a road trip and is fitting since it's the title theme for a movie about fast cars.
Buy this song on Amazon $1.29
Watch all the Fast and the Furious Movies in this Box Set.
12. Jack & Diane by John Mellencamp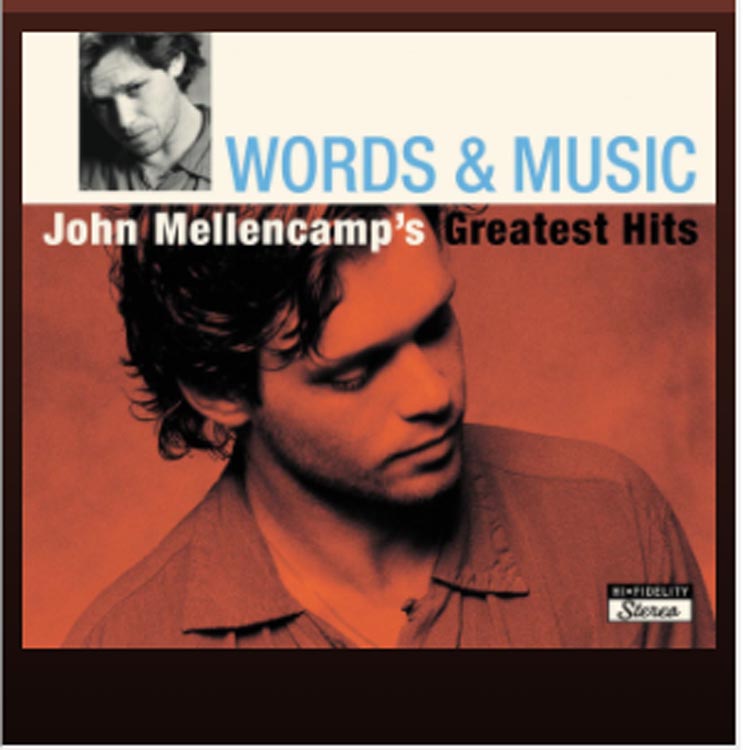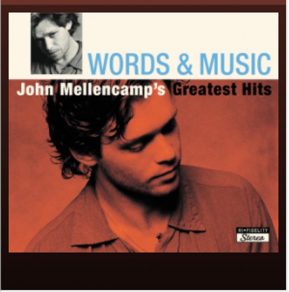 John Cougar was the first musician I ever saw live. My brother and now sister in law brought me to a show at Copps Colluseum in Hamilton and I couldn't get enough of his music after that.
I loved his rockabilly sound and to this day, the minute those first five chords ring out over the car stereo, I start rockin'.
Jack and Diane is probably his best song and is all about two American kids living in the heartland.
Dave and I still feel like a couple of kids when this song starts to play, bringing us right back to our childhood every time.
Check it out on Amazon $1.29
13. Good Vibrations by The Beach Boys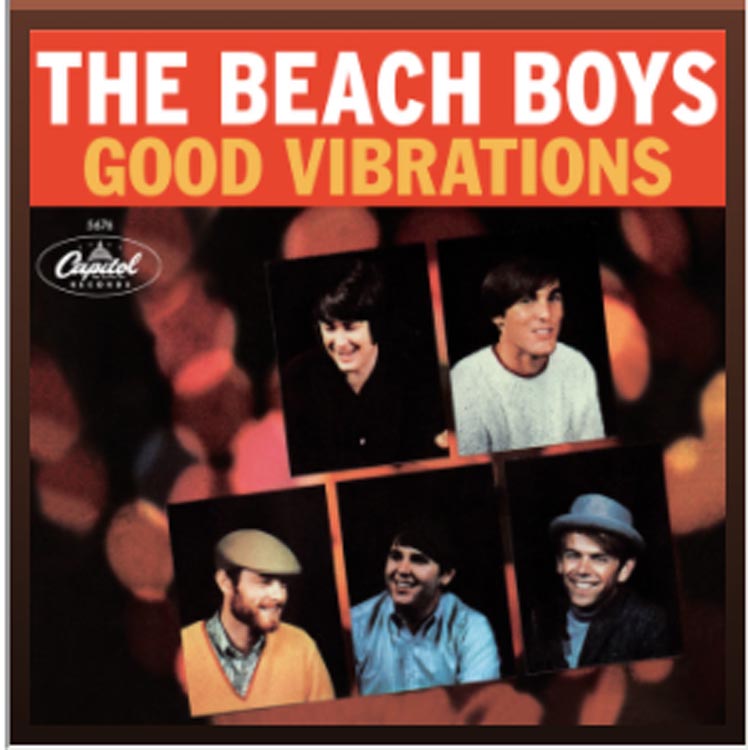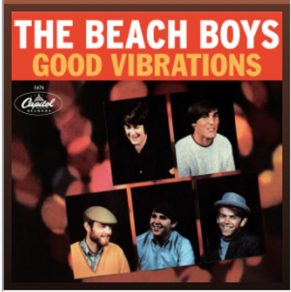 It was after watching Love and Mercy and The Wrecking Crew that we realised just what a genius Brian Wilson is.
We even had the opportunity to see the Beach Boys live (sans Brian Wilson) two summers ago while in Orlando.
They made a lot of good lighthearted songs like California Girls, Surfin' USA and Kokomo, but it's Good Vibrations that really shows the depth and musicality of the band's genius.
This song has the vibe that both Dave and I love for a road trip. I'm pickin' up Good Vibrations.
Listen now on Amazon
One of our many road trips – this to Niagara Falls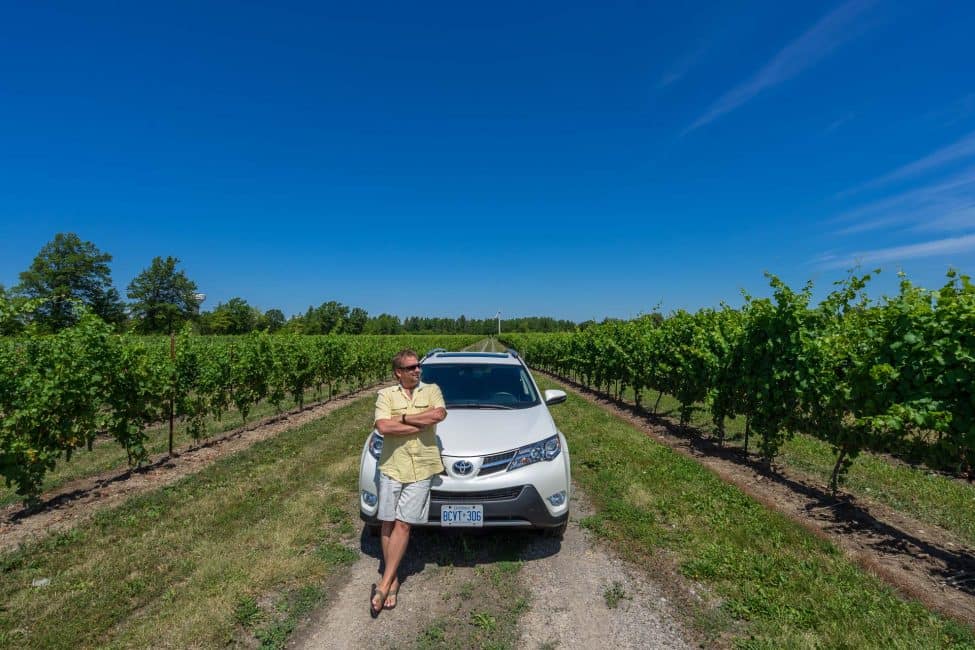 We took a great road trip along the Niagara Parkway right in our own backyard. Check out all the things there are to do in the Niagara Falls Region. 
14. Sweet Child O'Mine by Guns n' Roses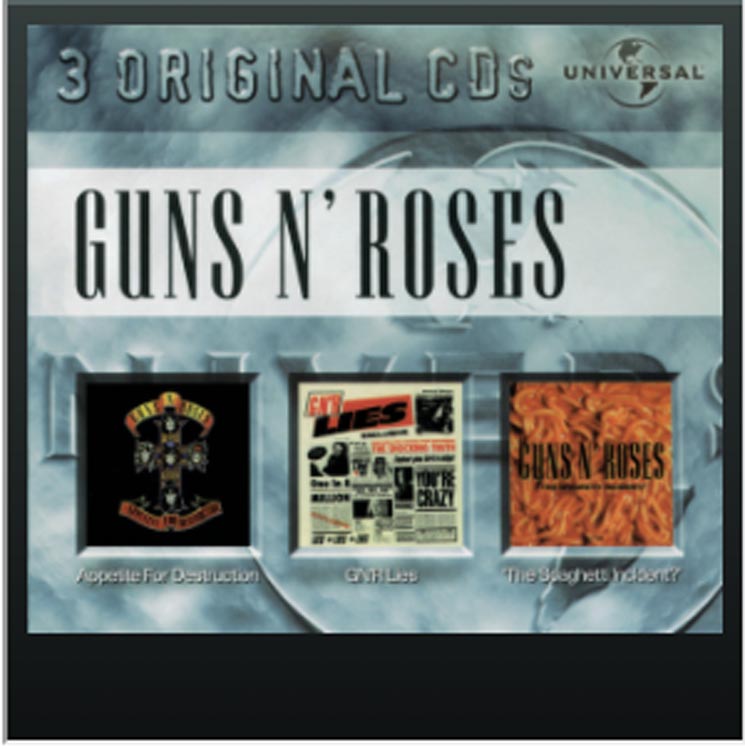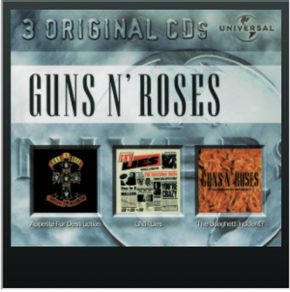 Okay, Dave and I are huge Guns n' Roses fans. When choosing road trip songs, GnR is right at the top.
We know every word and both of us immediately stop talking and start singing and playing air guitar. (Or if Dave's driving, air drumming on the steering wheel.) Guns n' Roses' music holds up after all these years and it's awesome that they are finally back together touring.
If anyone has tickets they want to give us, send them our way!
Download Sweet Child O' Mine on Amazon
15. Hello by Adele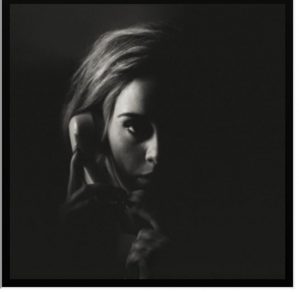 Who doesn't love Adele's velvet voice?
Sure, "Hello" isn't a fast paced tune, but it is an excellent road trip song. Why? Because you can howl, scream and holler along. She reaches those high notes and you just want to join right along.
Turn the stereo up to 11 and belt out those notes along with Adele. Don't worry, everyone in the car will be singing along, so nobody will hear you scream "Hello from the outside".
Buy Hello to Add to your Road Trip Songs playlist $1.29
16. Love Shack by the B52s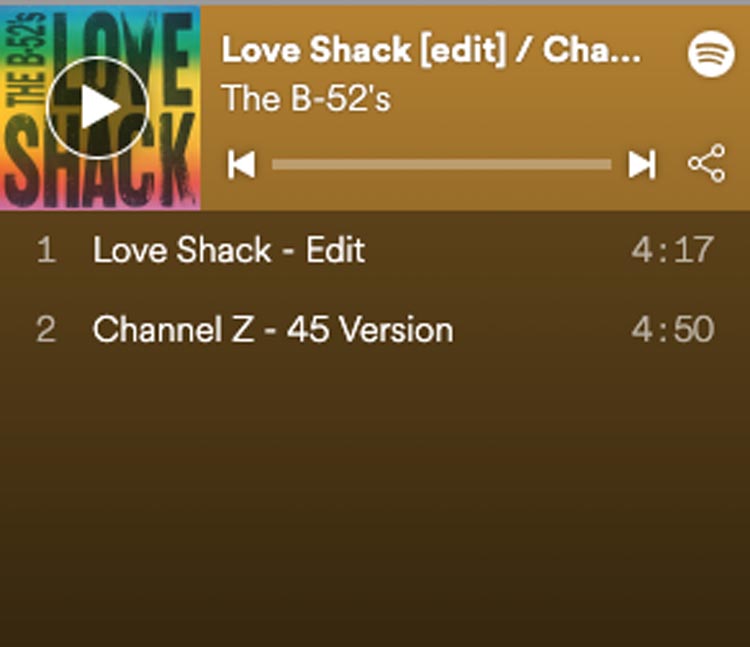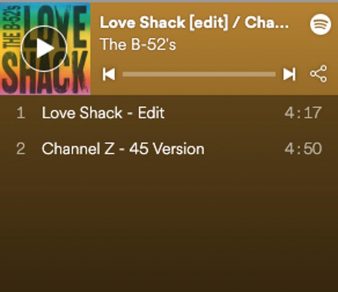 You can't have a party without The B52s. I'll never forget going to their concert in 1990. (Yes, it was that long ago.) I had no idea who they were, but a co-worker from my show at Canada's Wonderland invited a bunch of the cast along.
We arrived at Massey Hall in Toronto where the crowd was filled with people sporting beehive hairdos and wardrobes straight out of Austin Powers.
Once the music started, we rushed the stage and there I stood there at the very front listening to the best party tunes I've ever heard. It was all awesome until someone stole their Rock Lobster and they refused to continue until they got it back.
They got it back and the party continued with Love Shack.
Get Love Shack on Amazon
17. Coming to America by Neil Diamond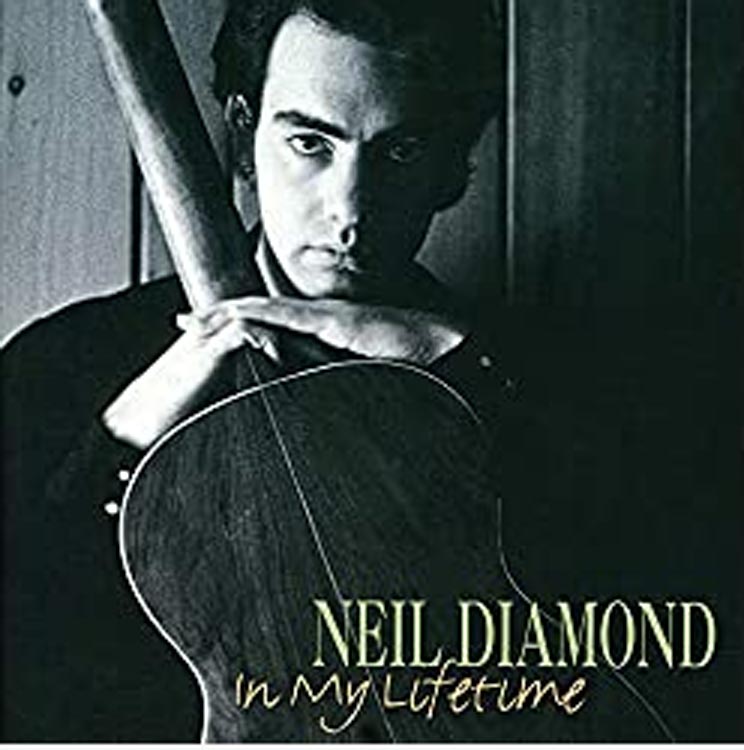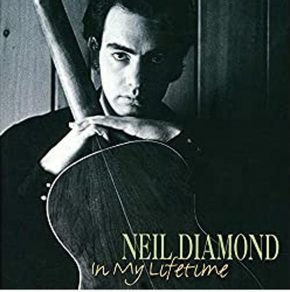 During our sort of road trip through Africa. (We cycled 12,000 km from Cairo to Cape Town in 2008.) I had Neil Diamond's Greatest Hits on my iPod.
Whenever I was feeling exhausted or just overwhelmed with the scope of the day's ride ahead, I'd put on Neil Diamond's mix of mellow and fun tunes.
It was "Coming to America" that picked me up the most. It's just so motivating.
The driving beat makes you feel that you can do anything. It's all about traveling far and coming to America. I'm not even American, and it inspires me. This song captures what America used to be to so many people. Let's hope they get there again.
Buy on Amazon Now
Road Trip through Northern Ireland
Enjoy reading about our road trip through the Causeway Coast at The Best Things to do in Northern Ireland
18. Carry on Wayward Son by Kansas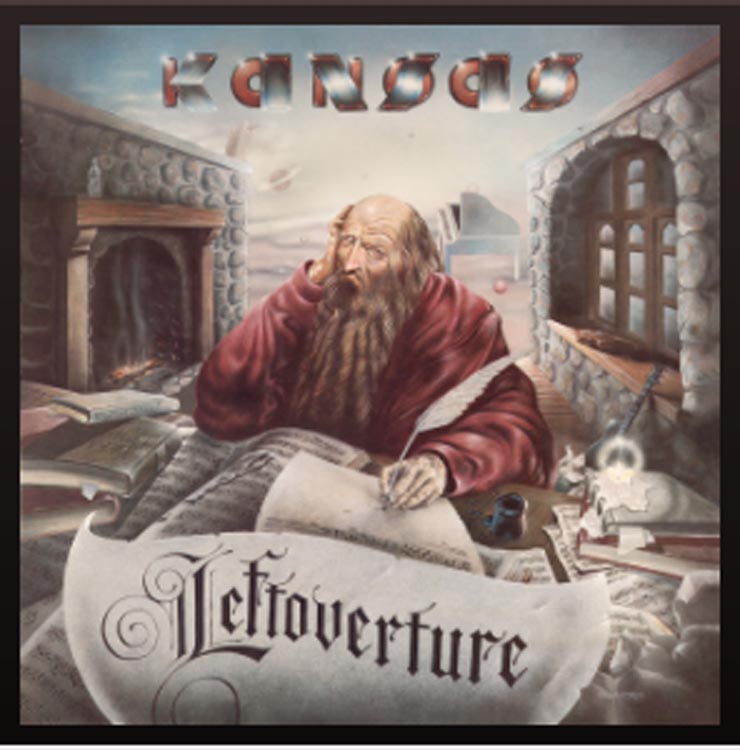 If you are a fan of Supernatural, (the TV series) you'll recognize this song from the recaps they do at the beginning of most seasons.
This song by Kansas has stood the test of time, not only because of Supernatural, but it was huge during the Guitar Hero days.
When they belt out their harmonies at the beginning followed by the hard drums and guitar solo, you can't help but bounce to the beat.
Buy it on Amazon
Get the complete series of Supernatural, this song is heavily featured in it.
19. The Nights by Avicii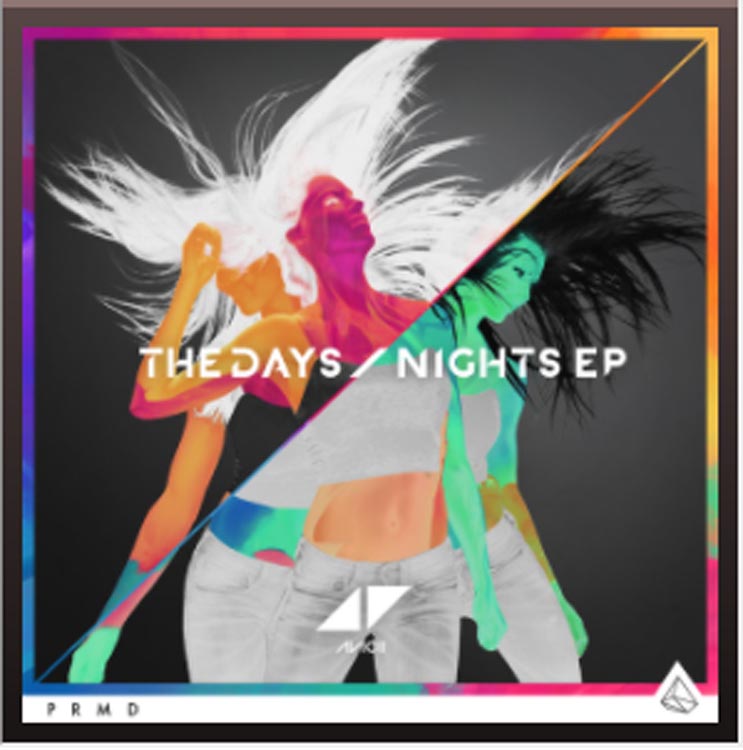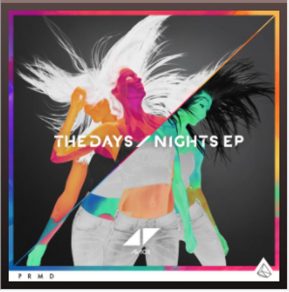 The best road trip songs are upbeat and easy to sing to. If you agree with that definition, The Nights is definitely a perfect tune for your playlist.
It's easy to learn the lyrics and a lot of fun to sing a long with. The song is by the Swedish DJ Avicii, but it feels more Celtic to me.
It was an awesome tune on our playlist for our road trip through Ireland last year.
You can buy the single on Amazon
20. The Distance by Cake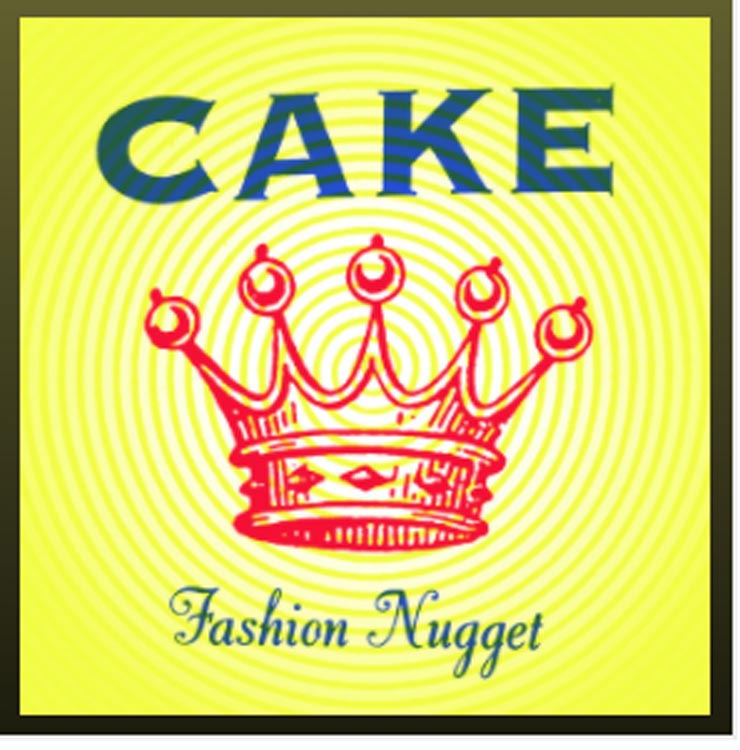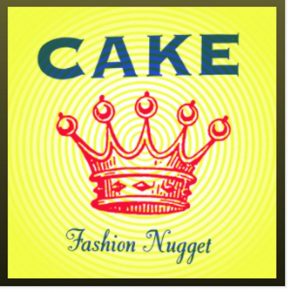 Man, Cake has some great road trip songs. They have a super sense of humour and their music is just simply a lot of fun.
I could choose a couple of their songs for our road trip playlist, like Short Skirt Long Jacket or the hilarious Sheep go to Heaven, but Going the Distance is the song that was made for a road trip.
Because that's in essence what you are doing when driving, right? "You're going the distance, and you're going for speed."
Add the Distance to your Road Trip Playlist
21. More Than a Feeling by Boston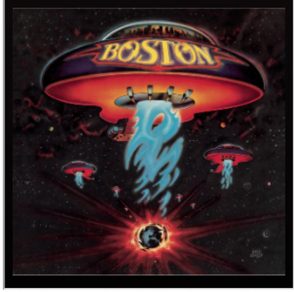 Lead Singer Brad Delp had one of the best voices in Rock n' Roll. Dave and I love great vocalists and Boston's songs were meant to wail to.
He could reach the high notes with such clarity and there's nothing more satisfying when out for a long day on the road than reaching those notes in the car and pretending to be a rock star.
This is the song to do that to.
Buy More than a Feeling on Amazon
Never fear, we compiled that list a long time ago when we held a contest asking people for the best song.
Here's what everyone came up with. The Ultimate Travel Song Playlist.
22. American Pie by Don McLean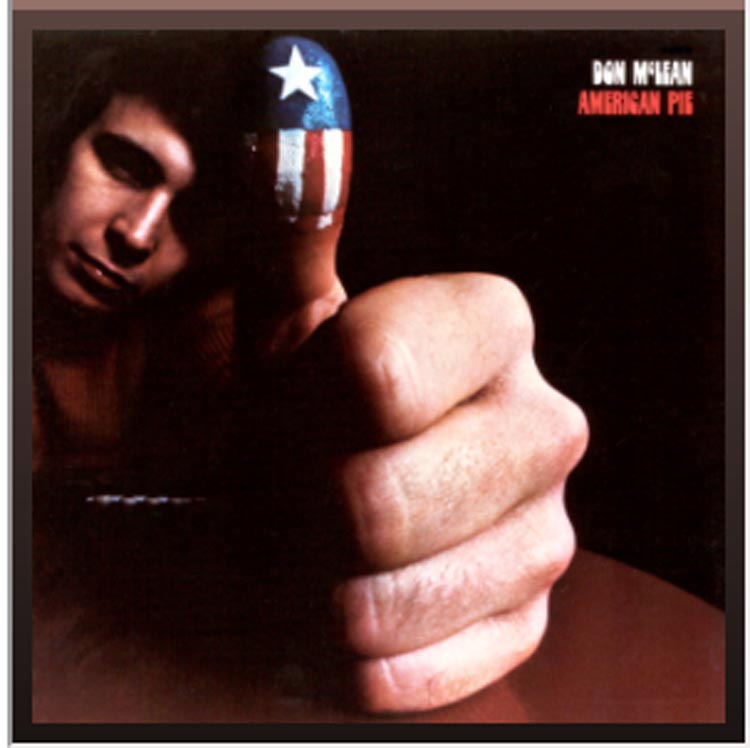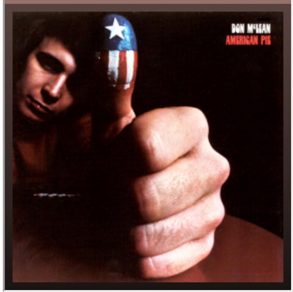 When on a long road trip, there's nothing better than a really long anthem-like song to come on.
The miles seem to just fall away on the road. American Pie is one of those songs. A song that cuts nearly 10 minutes out of your road trip, as you sing along with each verse.
There's something about knowing all the lyrics of American Pie that makes you feel like you are smart or something. When you know every word, it's impressive to others.
Well, at least Dave and I impress ourselves and that's all that matters since we're usually the only two in the car!
Download the ultimate road trip song on Amazon
23. American Woman by The Guess Who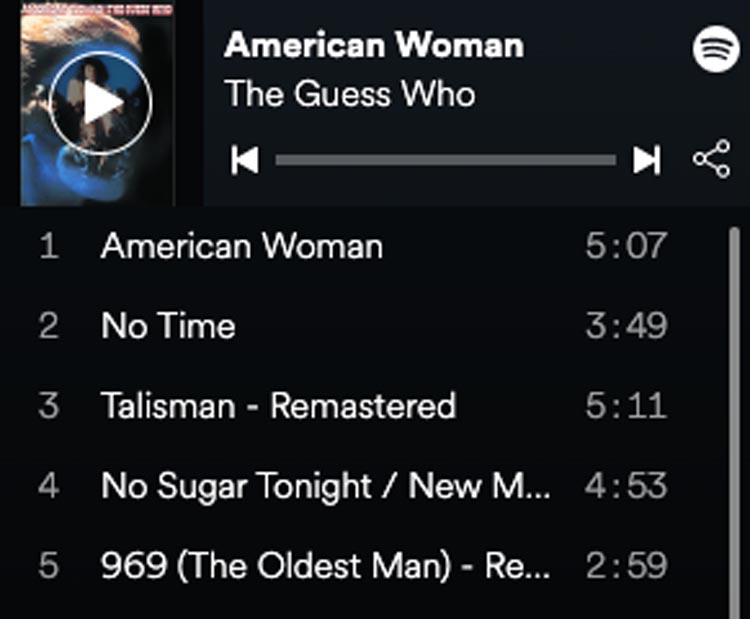 Let's stay with the American theme and go with this American classic, written by Canadians!
When Dave and I got free tickets to see The Guess Who from his friend who ran their lighting, we weren't sure what to expect. Weren't these some old guys that sang songs we've never heard of?
Boy were we wrong. Burton Cummings' voice is outstanding and Randy Bachman can make his guitar sing.
But you'd also be surprised how many songs you know by the Guess Who.
They had hit after hit. American Woman has been deemed an American Anthem, but what's funny about it is that the entire song disses America.
"I don't need your war machines,
I don't need your ghetto scenes".
Colored lights may hypnotize
Sparkle someone else's eyes"
Listen closely and you'll see that they're telling America to stay away from them!
Get American Woman on Amazon 1.29
24. All About the Bass by Meghan Trainor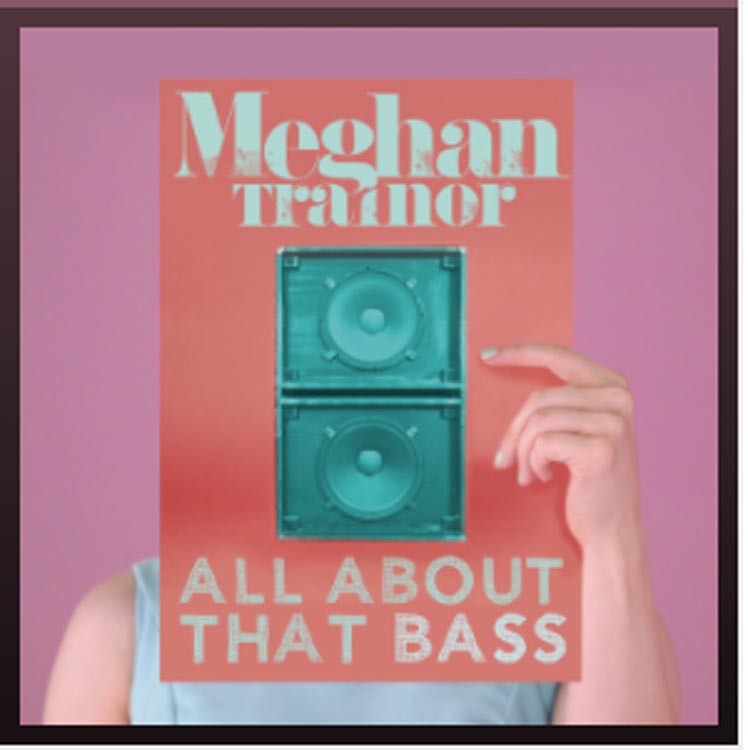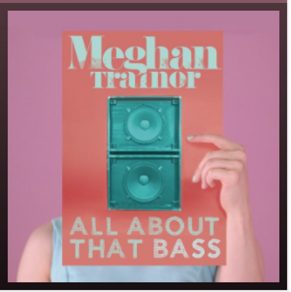 When I first heard Meghan Trainor's voice I was hooked. It's so clear and fun.
Have you seen her sing on Jimmy Fallon with the Roots playing kids school instruments as back up? It's amazing.
That's how you know someone can sing: When they've got nothing backing them up but a kazoo and they sound awesome.
This tune is so much fun.
We're also fans of Your Lips Are Movin' by her as well. Meghan Trainor's tunes were made for road tripping.
Get this road trip song on Amazon
25. Africa by Toto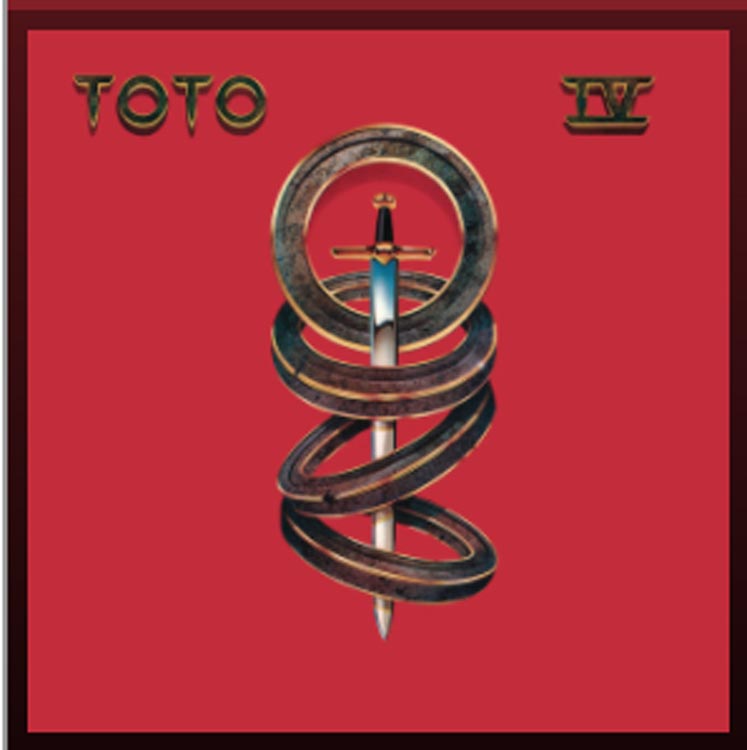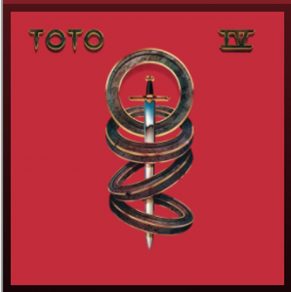 Let's slow This Road Trip Songs Playlist down a little now.
Africa by Toto didn't mean a lot to me until I went to Africa. They capture it beautifully in the song and it's so soothing to listen to.
Wild dogs really do cry out in the night and yes, Kilimanjaro does rise like Olympus above the Serengeti.
When Africa comes on, it makes me want to book a flight to Tanzania or Kenya.
These countries are two of our favorite places in the world and we could go back again and again. But until we do, there's always Toto there to remind us of how much we love it.
Download on Amazon
One of our favorite road trips where we had the tunes cranked was definitely a drive along the Cowboy Route in Southern Alberta.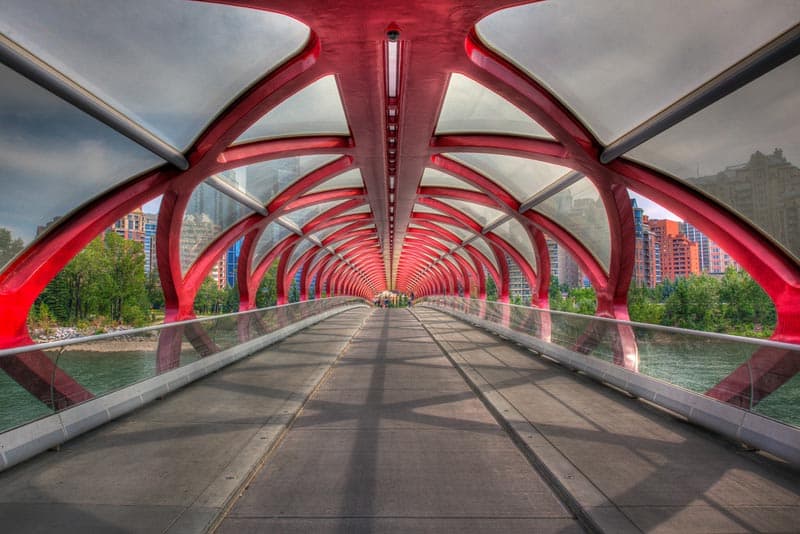 26. Running on Empty by Jackson Browne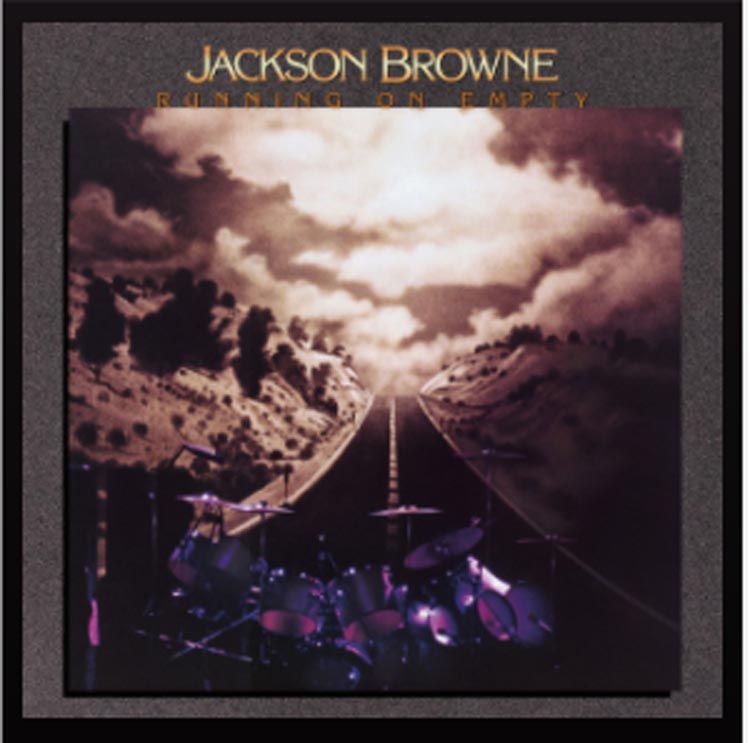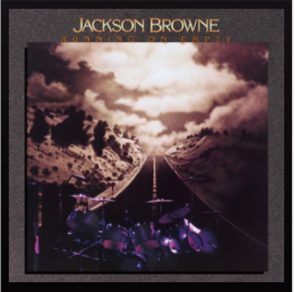 I bet you didn't know that Jackson Browne played a huge role in making the Eagles famous.
He was roommates with Glen Frey and Don Henley at one point.
Heck, for the longest time when I was a kid, I thought Running on Empty was performed by the Eagles. They have similar sounds because Jackson Browne actually co-wrote a lot of the Eagles songs.
How do we know all this? We watched the Eagles documentary.
Anyway, back to the song. Running on Empty is a road trip song, period. Come on, the album cover has a road on it!
Buy Running on Empty on Amazon
Rent the movie The Eagles History to see the role Jackson Brown played in their success.
27. Don't Stop Believin' by Journey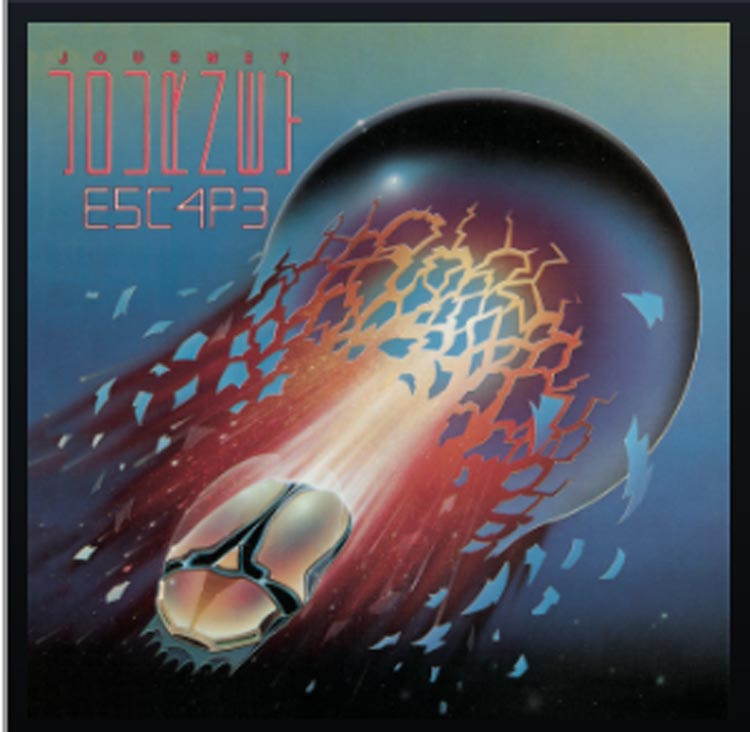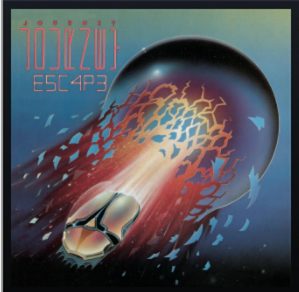 Journey may have had a resurgence thanks to Glee, but we have always loved them.
Open Arms is actually my favourite by them, but it doesn't exactly fit the bill as one of the best road trip songs of all time. It's more of a love ballad. We were both huge fans of Separate Ways, but perhaps the synthesizer is a little dated.
Don't Stop Belivin' is definitely the Journey song that was made for driving. Heck it's even about taking a journey. "Just a city boy, born and raised in South Detroit. He took the midnight train going anywhere".
Have you ever taken a road trip going anywhere?
Buy the song on Amazon
Rent the movie Don't Stop Believin', it's so inspiring!
28. I Bet My Life by Imagine Dragons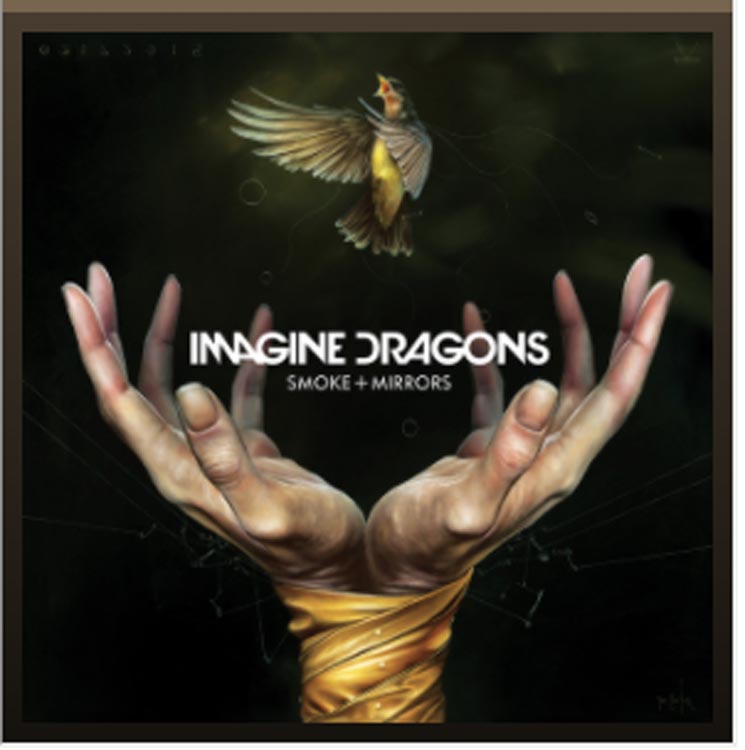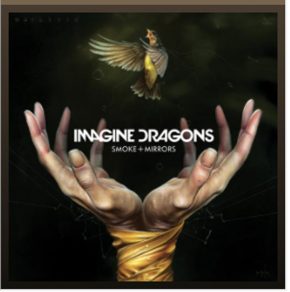 Imagine Dragons are quickly becoming one of our favourite bands of the 2000s.
They are so versatile, with so many hits you don't even realise they are the same band.
They are the same guys that sing Radioactive, Demons and It's Time. All songs are so different.
But it's I Bet My Life that makes us want to bop our heads to the beat. We drove a lot through Europe last year and this was one of the big road trip songs for us to listen to.
Buy I Bet My Life for just $1.29
29. Another One Bites the Dust by Queen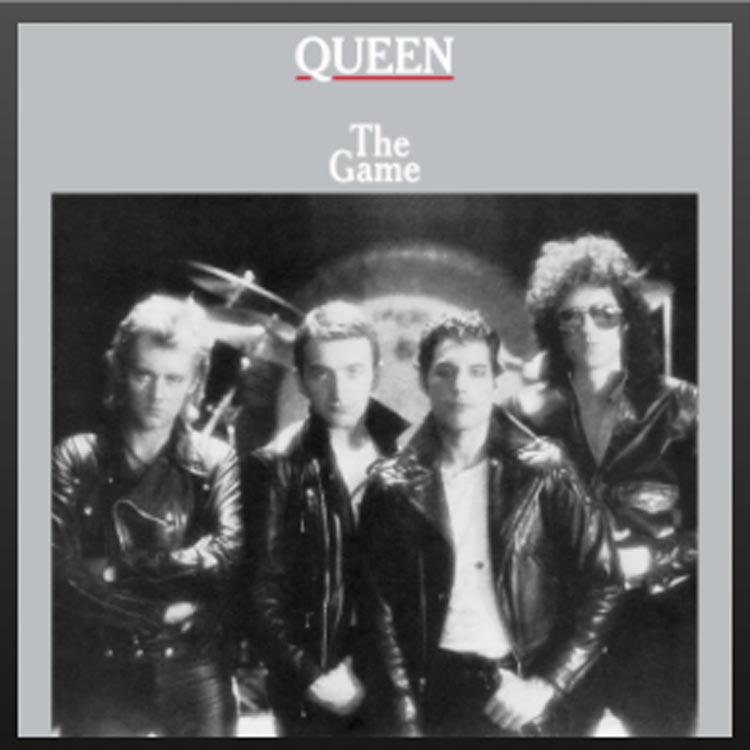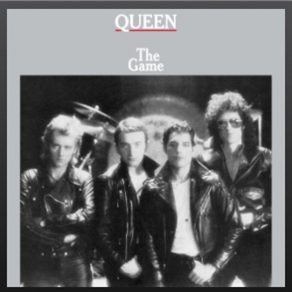 Queen is my ultimate favourite band. Metallica is Dave's.
I could have just said, "buy Queen's greatest hits and you'll have the perfect Road Trip playlist".
However, I can only choose one, and if you want a song that picks you up when you're feeling a little groggy on the road, Another One Bites the Dust does the trick. Man, I love the bass in this song.
If you watch the Queen Documentary on the BBC, you'll learn that the Bass Player, John Deacon, actually wrote some of Queen's biggest anthems, like this one, You're my Best Friend and I Want to Break Free.
Get Another One Bites the Dust on Amazon just $1.29
Watch Bohemian Rapsody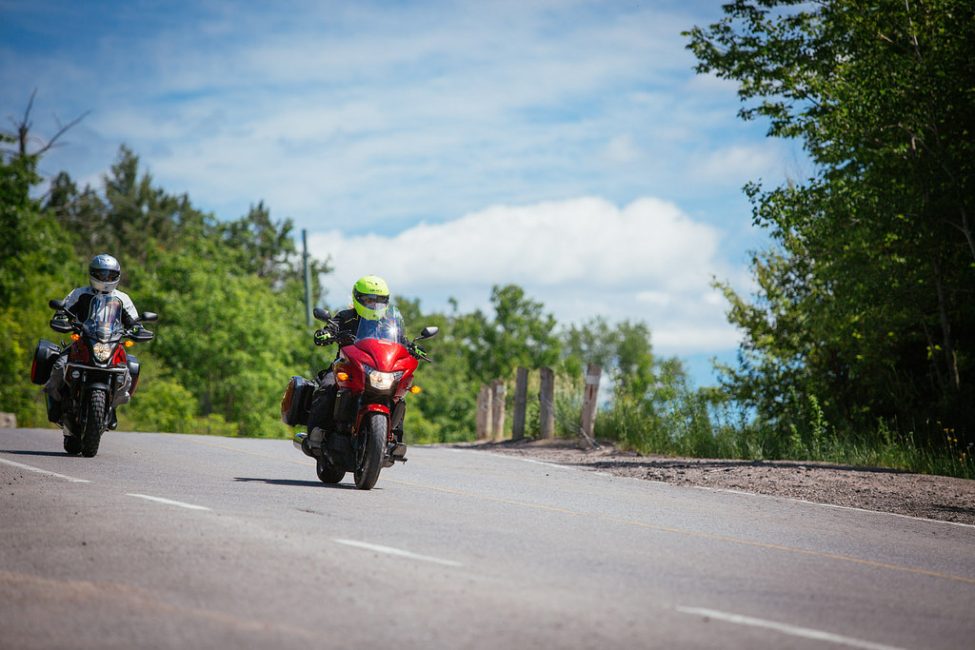 You don't have to be in a car to appreciate good music. We had our playlist going like made in our Bluetooth helmets during our tour around Lake Superior on motorcycles. 
30. Lose Yourself by Eminem
I once sang this song in Belize with the local crime lord. I didn't know it at the time, but after I got off the karaoke stage, where I was joined by a random man who had a big grin on his face, I was told, he was that man. Woah.
The friends you make when you sing Eminem. But this song rocks. Dave and I saw 8 Mile in the theatre and were totally impressed with Mr. Marshall Mathers' acting ability.
We promptly bought the soundtrack and learned the lyrics to this song.
It's one of those songs where, once you learn the lyrics, you never forget them because they are so fast and furious, you fall over yourself trying to say them with him!
Listen to Lose Yourself now
Get the Movie 8 Mile on Amazon Prime
31. Paradise by the Dashboard Light by Meatloaf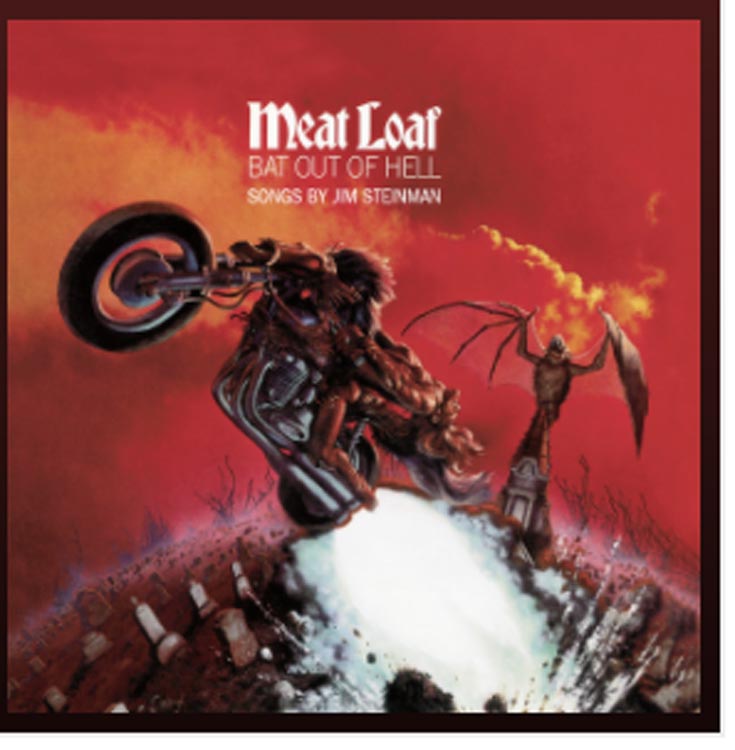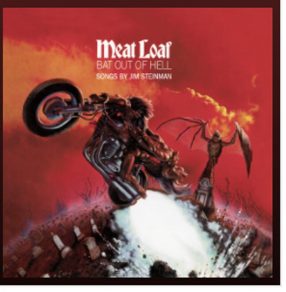 Who doesn't love Meatloaf? Paradise by the Dashboard Light was the song of the 70s. There are so many layers to this song and right from that first guitar lick, you can't help but get ready to start singing along in the car.
Dave and I love it when it breaks into a duet and we sing back and forth. We start screaming until our vocal chords nearly break.
After that song, you almost have to pull over for a break. It's that intense.
Get the album Bat Out of Hell. Every song is great.
A great one day drive that we highly recommend is the Hana Highway on Maui. Make sure you have your road trip songs picked out because radio service in limited. 
32. Rock Star by Nickelback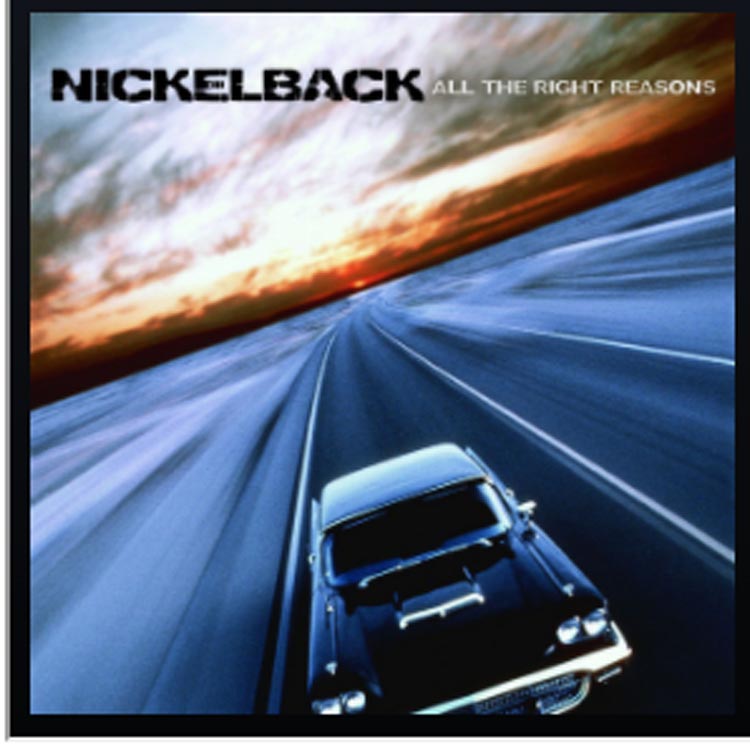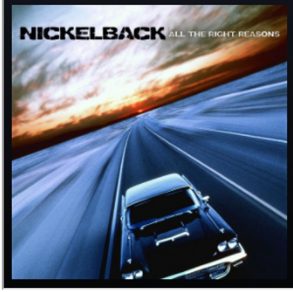 Hey, don't hate on Nickelback okay? Everyone loves to hate this band, and yet they still have tons of top hits and sold out shows.
Yes, Chad Kroeger's hair sucks with his long bleach blond locks and dark roots and his goatee does not fit his face, but Nickleback has some pretty memorable tunes.
I remember listening to them sing live from "The Edge Studios" in Toronto for the first time when they belted out How you Remind Me. That song was their breakout hit, but you gotta listen to Rock Star. The lyrics of this song are hilarious and it was made for singing along to in the car.
Who doesn't love the lyrics "I wanna be great like Elvis without the tassels. Hire eight body guards that love to beat up assholes."
Give Rock Star a chance now
33. Hey Ya by Outkast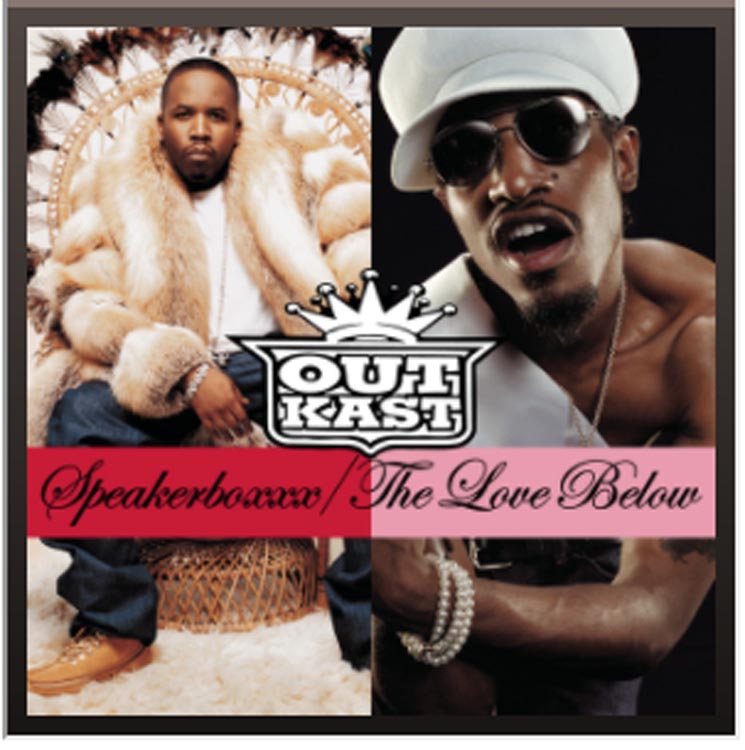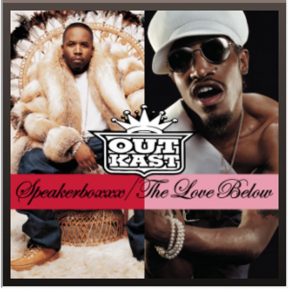 I love the positive beat of this song.
Sure it may or may not be a break up song, I can't be sure about the lyrics – is it about breaking up or staying together? Who cares, it's gone a cool vibe.
The video is so much fun and when this tune comes on, you instantly feel good. Andre3000 was named one of the best rappers of all time, and yet it's this little ditty that we love for a road trip.
My Baby don't mess around.
Hey Ya on Amazon
34. Take the Money and Run by Steve Miller Band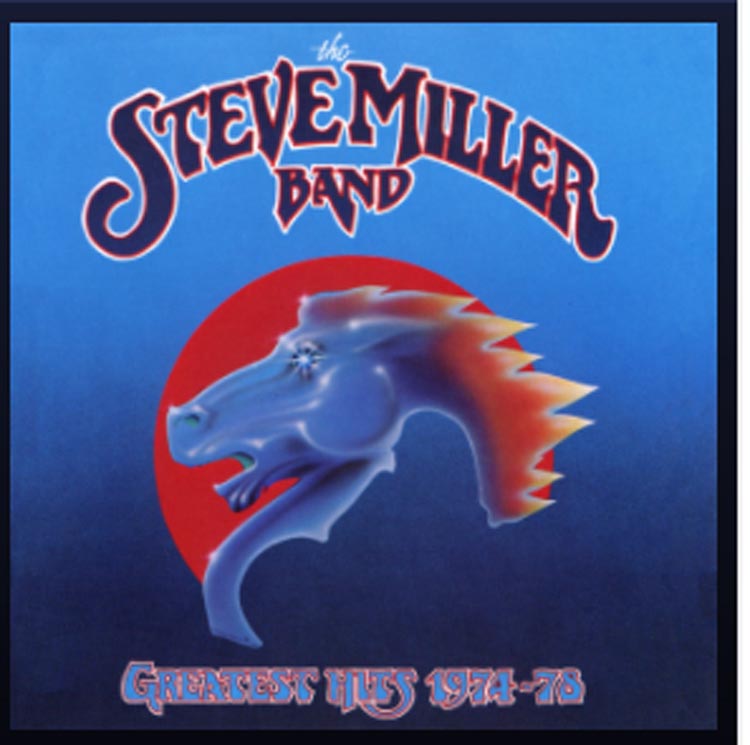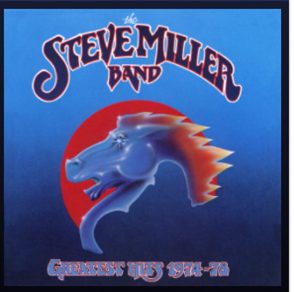 "This here's the story 'bout Billy Joe and Bobby Sue".
The Steve Miller Band's Songs were made to sing along to. Dave and I love to harmonize to their music. It's just so easy to hear the thirds and fifths.
The reason we chose Take the Money and Run is that " They're headed down south and they're still running today."
We don't plan on shooting anyone and taking their money, but we do plan on traveling forever.
It's in our blood and even if we do settle down a bit, something tells me we'll always be on the move.
Dave and I moved to Vancouver in 1992 and we're still moving today. Maybe not running, but definitely at a steady pace.
Get Steve Miller's Take the Money and Run
35. Back in Black by ACDC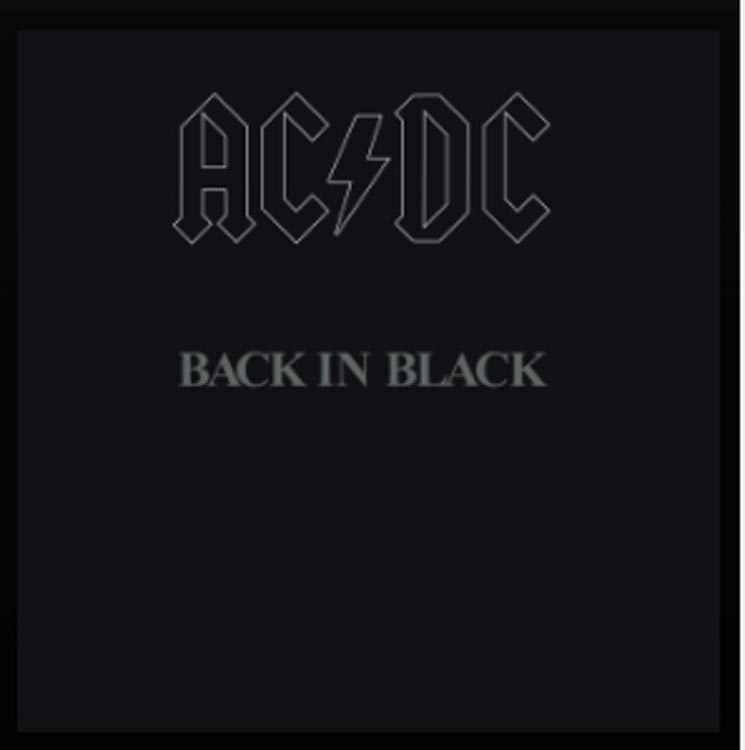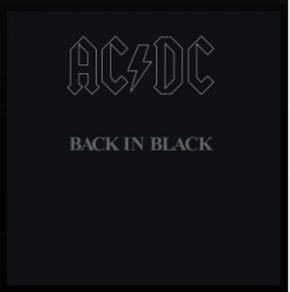 You may be thinking "No way, Highway to Hell is the ACDC song that fits in the road trip play list". You may be correct, but doesn't Back in Black have an awesome beat. That guitar at the beginning just rocks.
It's no wonder Iron Man used it as the song for their opening scene as Robert Downey Jr. was driving with a band of army guys (and gal) from his arms dealing display in Afghanistan.
Ever since then I've associated Back in Black with driving. Sure, he was in a Humvee and I'm usually in a mini compact economy car, but hey, I feel tough when that tune is playing.
Start making your own road tripping playlist for just $1.29
36. Edge of Seventeen by Stevie Nicks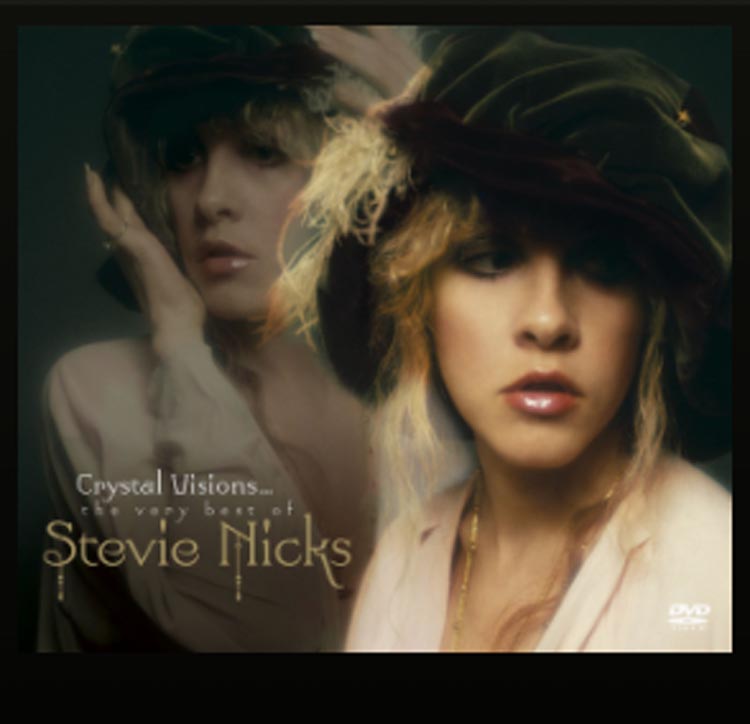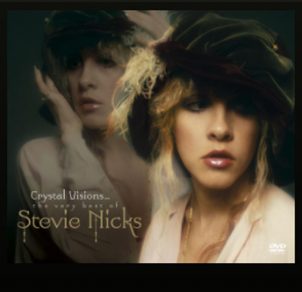 The ultimate female rock voice is Stevie Nicks. This has been one of my favourite songs for years.
I could only wish that I had a Rock n Roll voice. Mine was stuck in the pop world, but that didn't mean that I didn't daydream about rocking it like Stevie on the big stage one day.
This rock song is great for anyone.  Even Dave rocks out to it when I turn it on.
It may have never made it to the top 10 when it was released in 1981, but this is the most memorable of all her songs and over time has gained more fame and glory than it had during its original release.
Give it a shot and listen to it!
37. I Wanna Be Sedated by The Ramones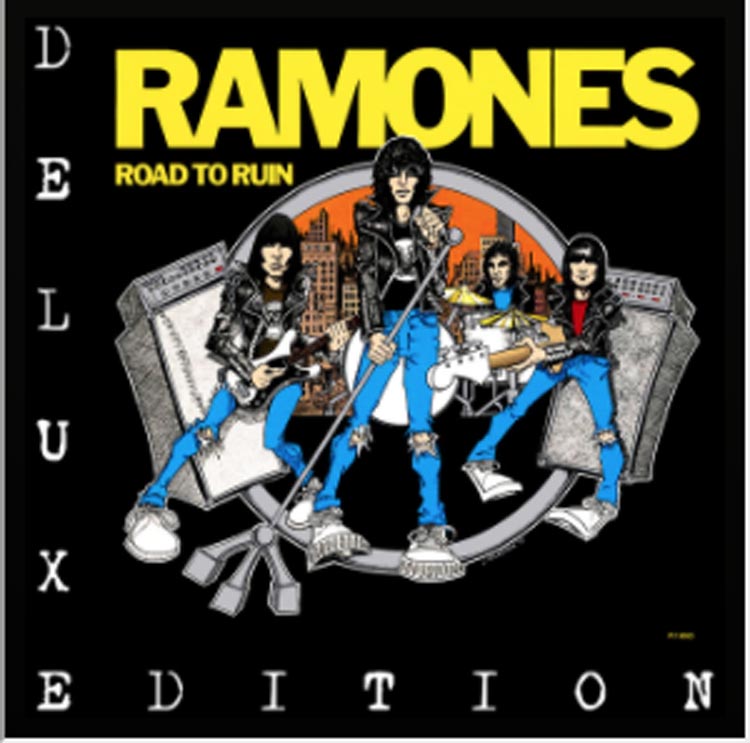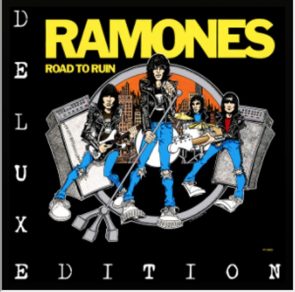 This is the easiest song to sing along to. It repeats and repeats but the beat keeps on going.
When we're on a super long road trip, we agree, Twenty, Twenty, Twenty-Fours hours to go! I wanna be sedated. Get the Ramones on your road trip playlist now.
They'll have you Ba ba baba, baba ba baba along all night long!
Purchase I Wanna Be Sedated
One of our latest road trip adventures took us to Fraser Island in Australia. We spent 3 days driving through the sand dunes and scenery of this amazing destination. 
38. Redemption Song by Bob Marley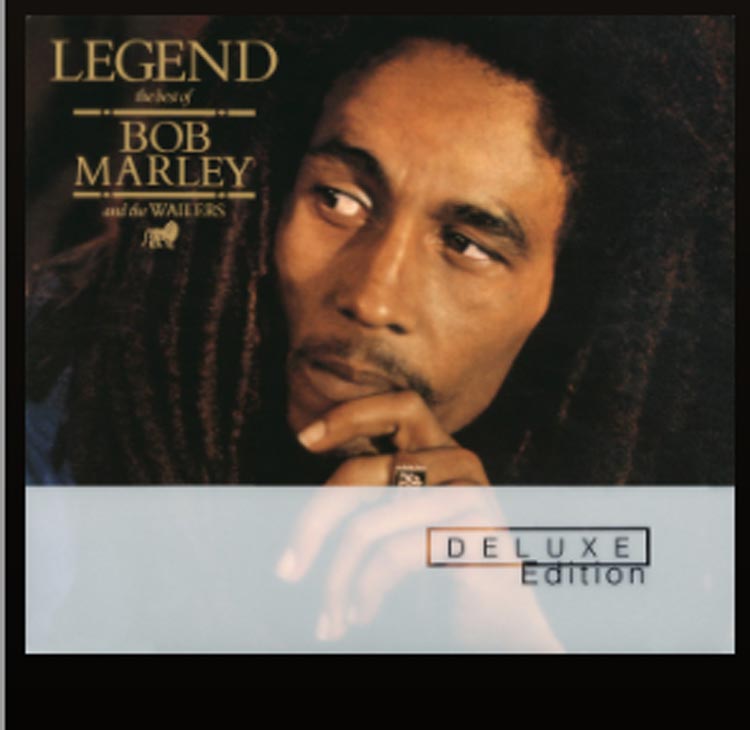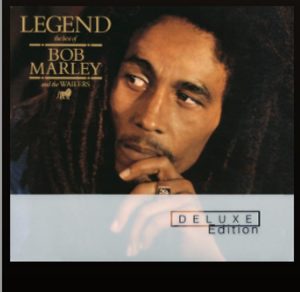 Bob Marley is another artist where we could just put on his greatest hits and make that a road trip playlist. But the self imposed rules of this article was to choose only one song per artist.
Yes, he has more up-tempo songs that could fit the genre better, but we feel that sometimes you gotta slow down when choosing a road trip song and let the mellow feeling takeover as you drive the open road.
Redemption Song is the perfect song for that occasion. It's one of those songs where you can put your vocal skills to the test and sing with feeling.
Download Redemption Song for 1.29 on Amazon
39. Follow You Into the Dark by Death Cab for Cutie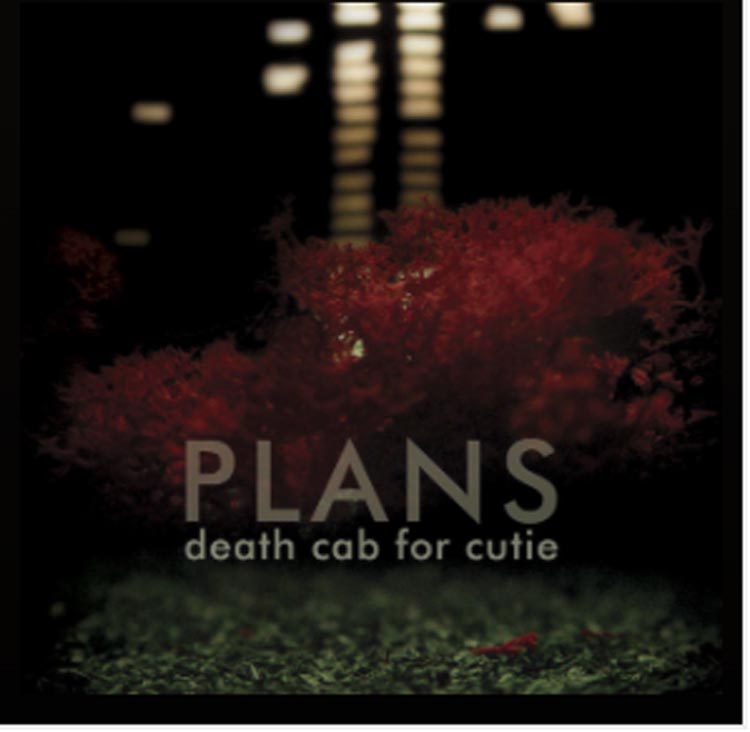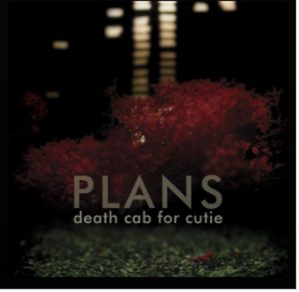 Sticking with slow songs, Dave and I love this one by Death Cab for Cutie. It's a love song and we love a good love song. Hey, we're both romantics at heart. One of my favourite lines is:
"You and me have seen everything to see
From Bangkok to Calgary
The soles of your shoes are all worn down"
That's how Dave and I feel, we've seen it all together and we love doing so.
Download this now for your Road Trip Song Playlist on Amazon
40. Life's Been Good by Joe Walsh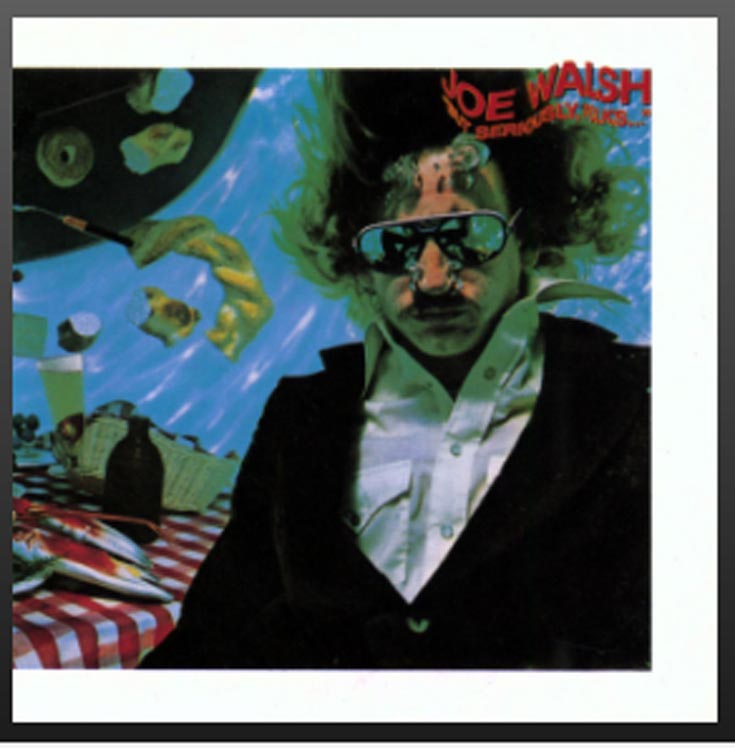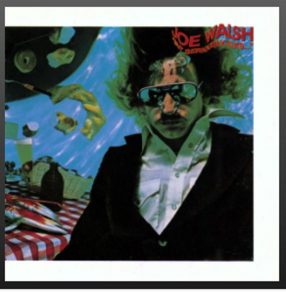 Another very long tune. Life's Been Good is a great road trip sing-a-long song.
It goes on for a whopping 8 minutes. Do you know how many km you can cover when driving at 100km (or if you're like most people, 120km) per hour?
That's right, 15km will fly right by! How does Life's Been Good fit with a road trip?
Well, he does sing, "My Maserati does 185, I lost my license, now I don't drive."
Best lyrics ever!
Get it now
41. Shelter from the Storm by Bob Dylan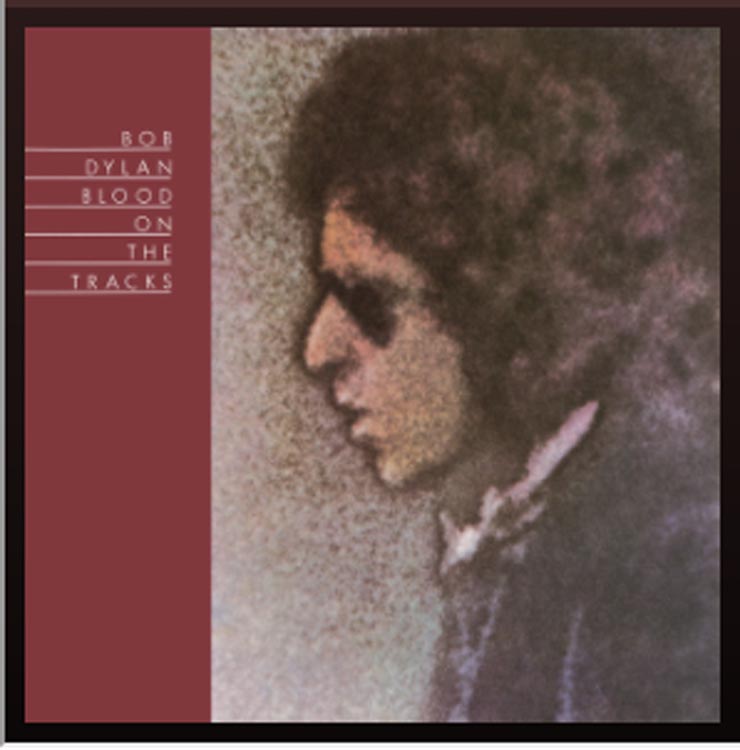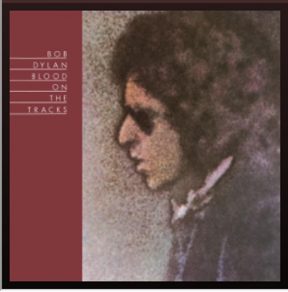 Well, since we're in the vein of 1960s music icons. We must include a little Bob Dylan. You see, you want your road trip playlist to be versatile.
You can't stick with one genre or one decade. It needs to span many years and cover all music types.
That way you never get bored. Shelter from the Storm is one of Bob's greatest hits and he's had many.
You may choose one of his more famous songs like Blowin' in the Wind, Knockin' on Heaven's Door or Mr. Tambourine Man, But listen to Shelter from the Storm. This is a great song.
Purchase Shelter From the Storm Now
42. Piano Man by Billy Joel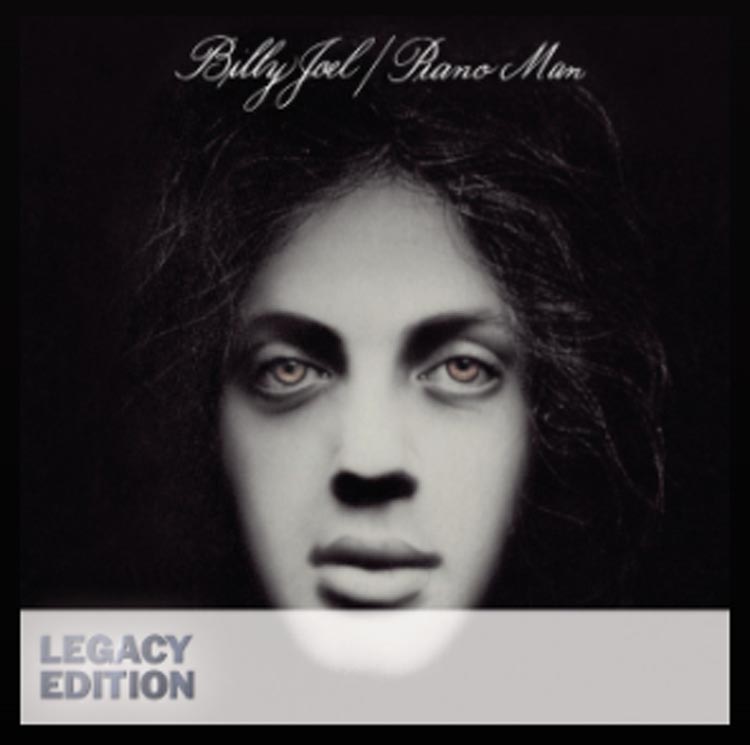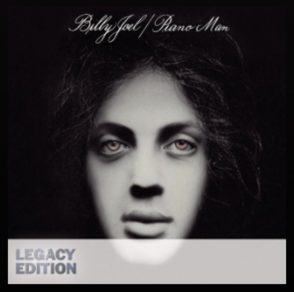 I'll never forget locking up Sherry Ott's phone (of Ottsworld's) during the Mongol Rally. She and Rick had to listen to our playlist the rest of the 10,000 km and she mentioned, if only we had some Billy Joel. I love Billy Joel, so I felt the same way!
We didn't have Spotify then, so we couldn't just magically download Billy Joel in the Gobi desert, but I do agree, he makes for some great road trip music. Yes, he has a lot of hits, but Dave and I both love Piano Man.
It's another long anthem type song that lets you sing along forever. With verse after verse our voices grow stronger and more powerful in the car until we're both belting out "Sing us a Song You're the Piano Man!" no you're the piano man!
Get it on Amazon
43. Old Man by Neil Young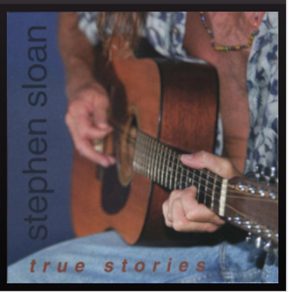 From Piano Man to Old Man. Niel Young is another iconic Canadian in our list. I could do a Canadian version of Road Trip Songs, but I am afraid half of you wouldn't know the songs I am talking about.
Anyone else out there know of The Tragically Hip's Fireworks? Our Lady Peace's Starseed or Blue Rodeo's Bad Timing? Didn't think so.
But we the world knows Neil Young. Even the younger generation knows him thanks to Jimmy Fallon. Old Man is our favourite. What's yours?
Listen to Old Man Now
Jimmy Fallon and Niel Young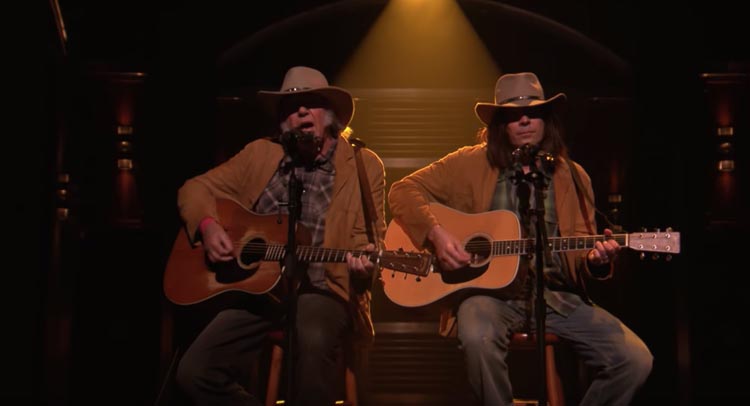 Watch Jimmy Fallon and Neil Young on YouTube
See what songs we feel inspires travel? Can we Say One Night in Bangkok for your next trip to Thailand? Or how about Bali Eyes by Porno for Pyros?
44. Lust for Life by Iggy Pop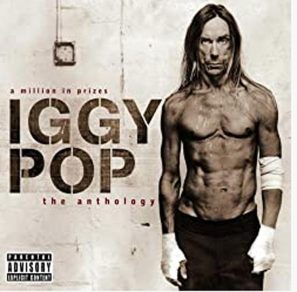 In the 1990s, I didn't know a lot about punk rock. Dave and I were into Grunge at the time.
But when we went to go see Trainspotters at the theatre, we were introduced to Lust for Life by Iggy Pop.
If this doesn't get you rocking in the car, nothing will. It is the perfect way to end our road trip songs playlist with an upbeat tune that was made for road tripping.
Lust for Life is on Amazon for just $1.29
45. Born to be Wild by Steppenwolf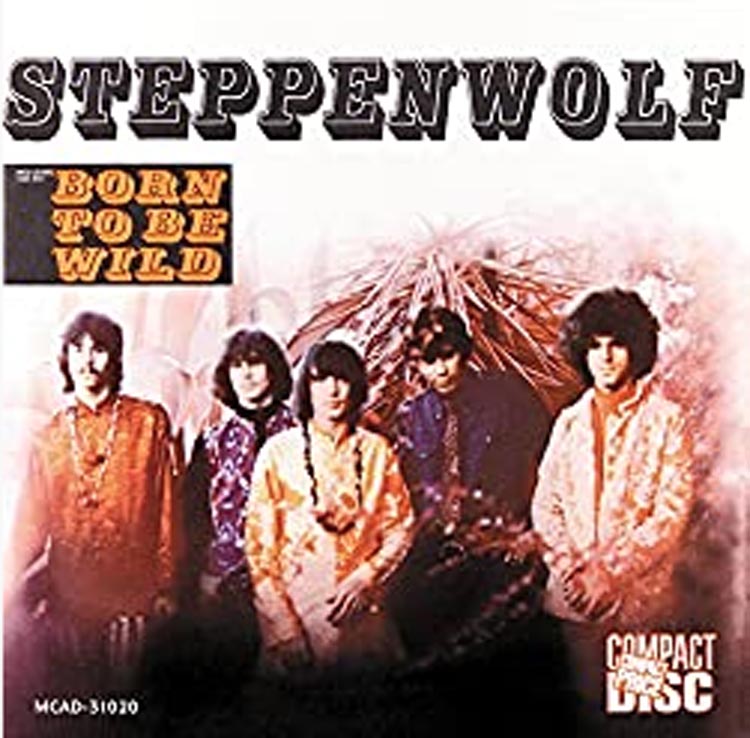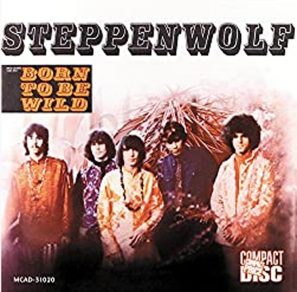 It's probably the first and most cliché road trip song that anyone thinks of.
Considering the lyrics start with
"Get your motor running
Head out on the highway."
So, really any road trip playlist would be remiss by not including it. It's a good one to get the energy up when hitting the open road.
Add it to the list from Amazon
46. I've Been Everywhere by Johnny Cash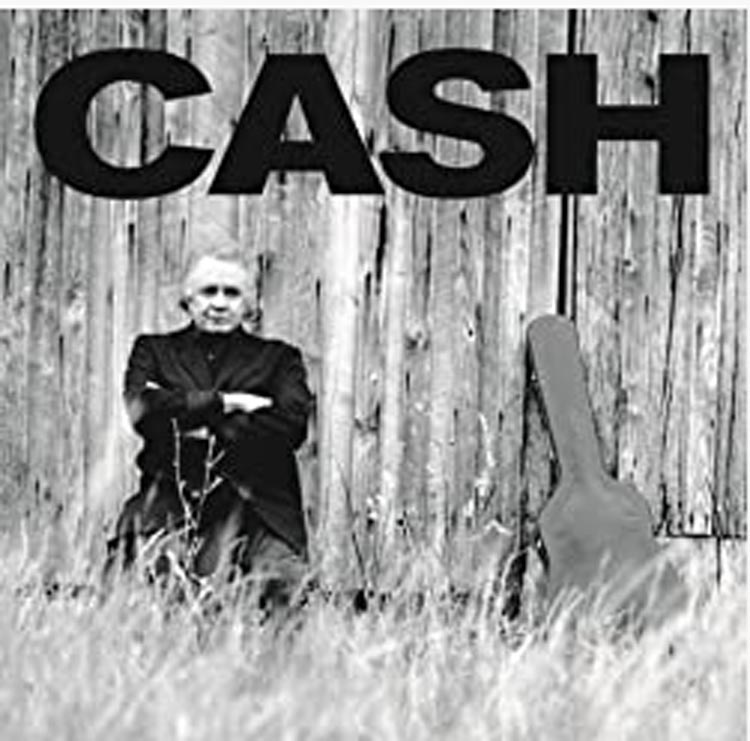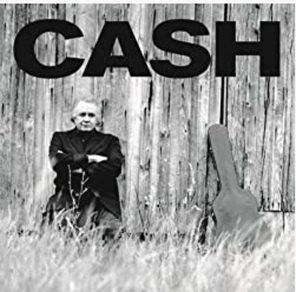 I love this song by the Man in Black.
It's all about the places he has been crisscrossing through North America on his tour bus.
I originally only had this song in our travel songs playlist, but I realize that not everyone checks out both articles, so I had to bring it over here. You can't ever leave out Johnny Cash man.
Get motivated on Amazon
47. On the Road Again by Willie Nelson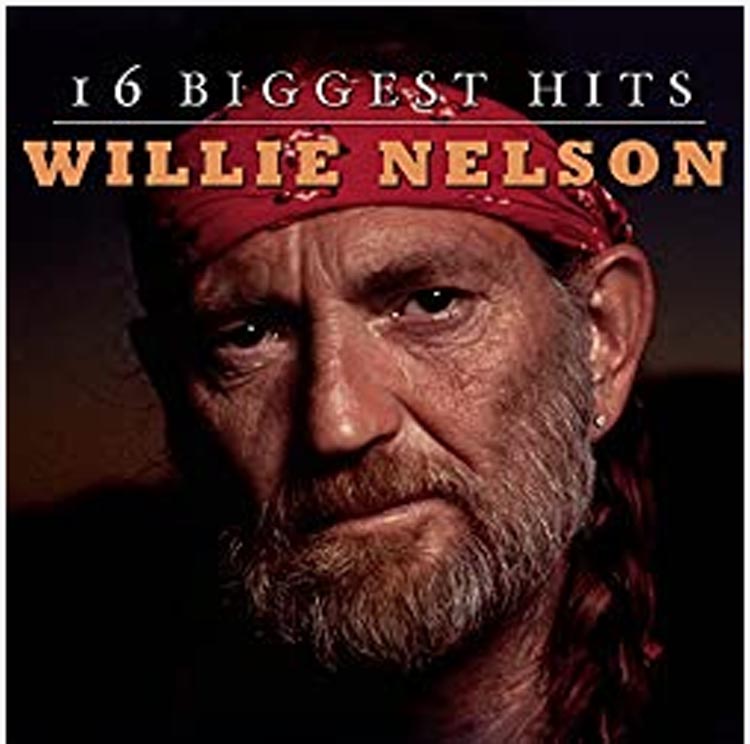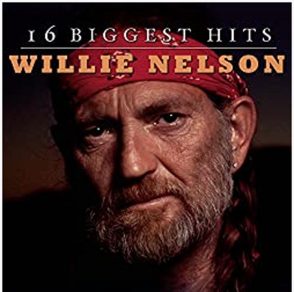 Oh Willie. He's almost become a caricature of himself with all the pot smoking.
But, his laid back style of singing will make for a relaxed road trip moment and be sure to keep you within the speed limit.
It's a fitting song for this list because after all "I just can't wait to get on the road again."
Buy it now $1.29
48. Born to Run by Bruce Springsteen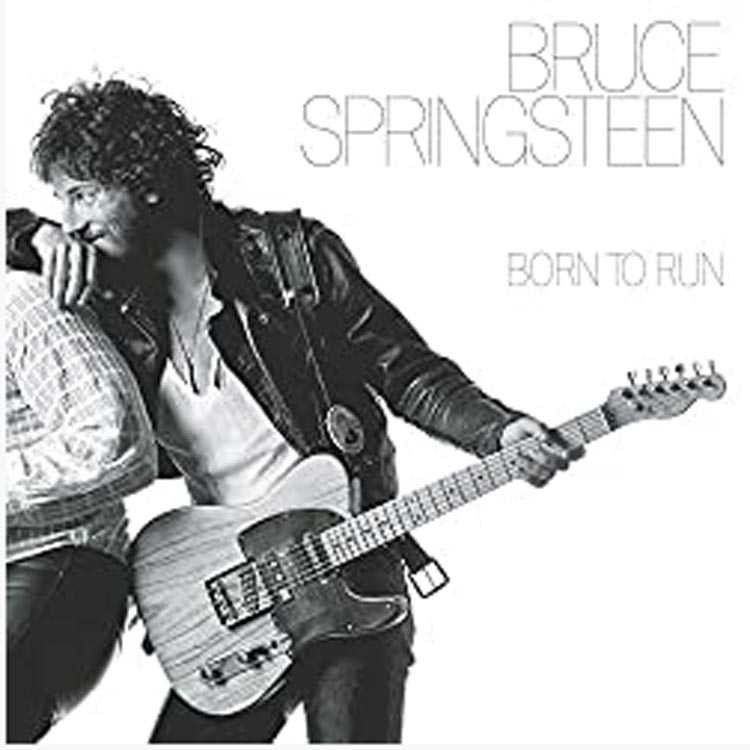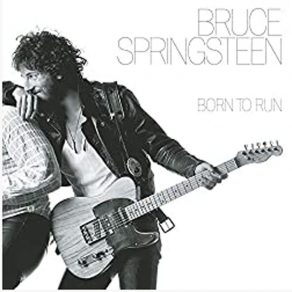 Everybody loves Bruse Springsteen.
This entire song is about driving and running. It's about getting out of the small town trap and getting to the place you want to be.
The Boss is a great lyricist using car metaphors to tell his story. This driving beat will make you want to get behind your engine and run too.
Buy it on Amazon
49. Graceland by Paul Simon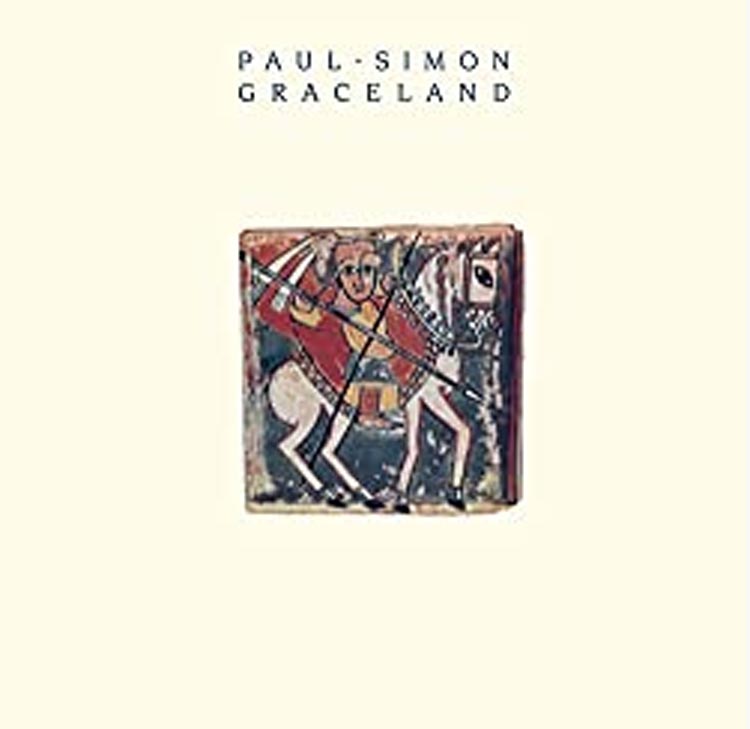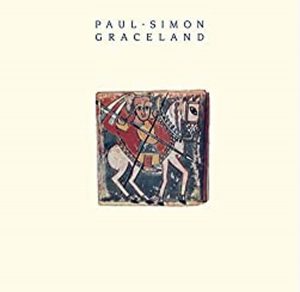 When Paul Simon's Graceland came out I went nuts for the rhythms inspired by his trip to Africa.
When I went to Kenya for the first time, I was totally blown away that I stayed at the same lodge that he and Carrie Fisher stayed at during that exact trip. But that's another story.
Graceland is an awesome song that fits with driving through America's southern states.
Who wouldn't want to take a road trip to Elvis's Graceland?
Get it now to see what I'm talking about
50. Life is a Highway by Tom Cochrane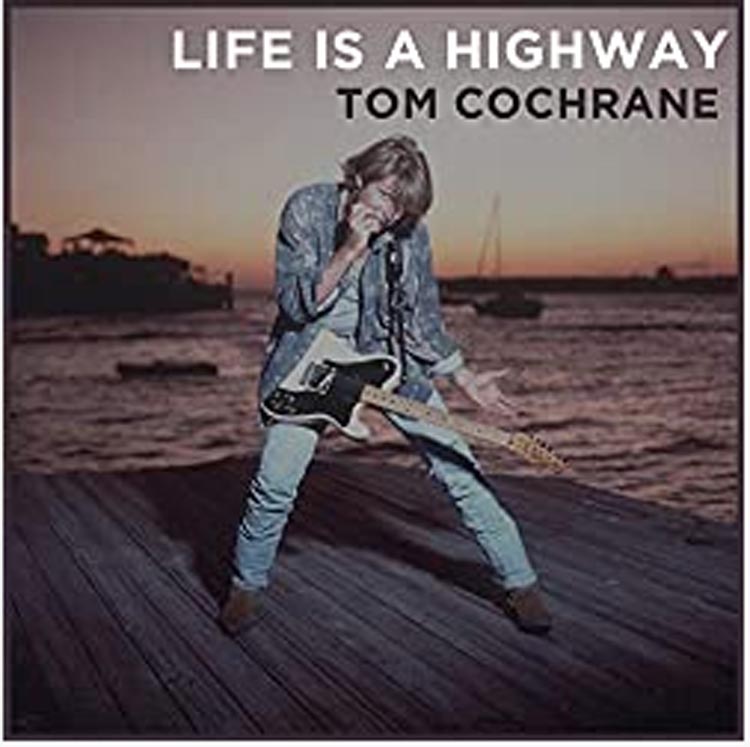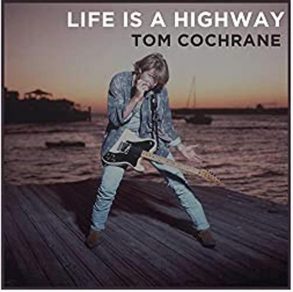 We always love ending with a Canadian. Tom Cochrane's anthem Life is a Highway was playing across radio stations throughout the summer that Dave and I met.
We'd drive down the road belting out "life is a highway, I wanna drive it all night long."
It has a great driving beat and the lyrics are easy to learn. It's perfect for a road tripping son.
get it on Amazon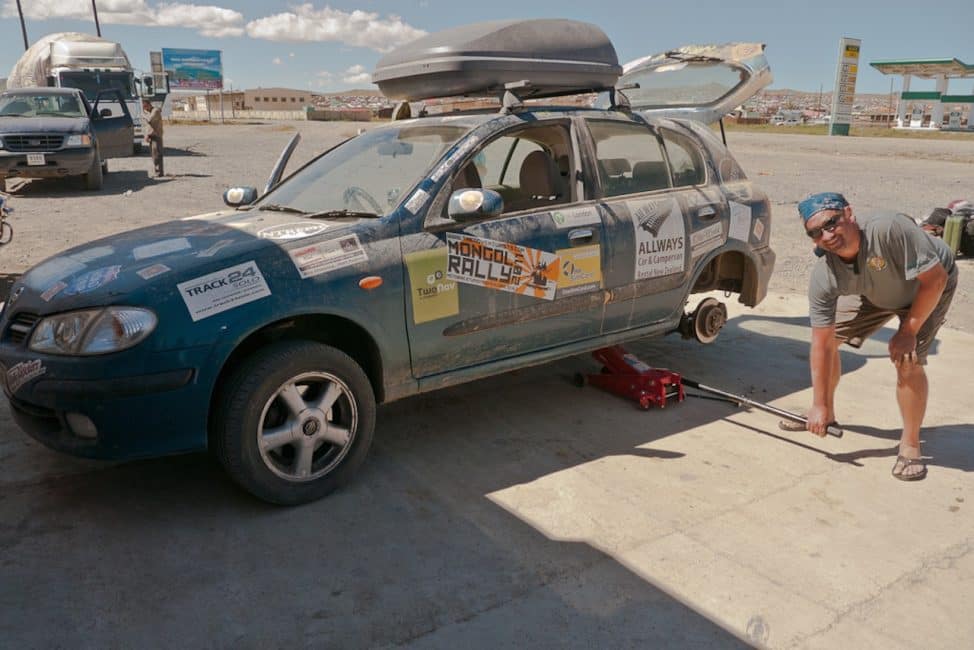 We've done so many road trips, we're a whiz at changing tires.
So there you have it. This is our list of our favorite road trip songs.
So are you ready to hit the road with the best playlist ever?
We have this on our playlist, what's on yours?
Do you have a song that needs to be included when you go traveling? We'd love to hear in the comments below.
Read Next:
Best Travel Songs Playlist – It's different from this!
Best Travel Books to Inspire the Wanderer in you
Best Travel Tips from 20 Years of Traveling
Source link Travel Advisor