Dave and I have been fortunate enough to visit Budapest on three separate occasions and we've compiled a list of the best things to do in Budapest.
Budapest, Hungary is fast becoming a travel favorite for anyone visiting Europe. It truly is one of the most romantic and beautiful cities on the continent.
Budapest is actually made up of two cities straddling the Danube River. Buda on the West bank and Pest on the Est. Together they create the most lovely city in Europe, Budapest.
Things to do in Budapest
We've been to Budapest in both summer and winter and each season is a beautiful time to visit.
As a matter of fact, Budapest has a very popular Christmas market. In the months of November and December it's a thriving tourist destination and many Danube river cruises visit Budapest.
Having spent quite a bit of time exploring the city, we thought we'd share some of our favorite things to see and do in the beautiful Danube River cities known as Buda and Pest.
1. Enjoy the Széchenyi Thermal Baths
The most famous is the Széchenyi Bath and it's located just a 5-minute walk from Hero's Square through City Park. A trip to Budapest wouldn't be complete without a stop at the Thermal Baths.
Hence the reason we have to go back! The city is filled with hot springs and you can experience authentic Turkish Baths here. Since we came directly from Turkey to Budapest, we skipped the baths, but we still regret it to this day.
Things can get busy during peak season. Buy tickets in advance and skip the line.
Check out the most romantic getaways around the world.
Make sure to pick up a Lonely Planet guide book to help you plan your Budapest Trip.
2. Heroes' Square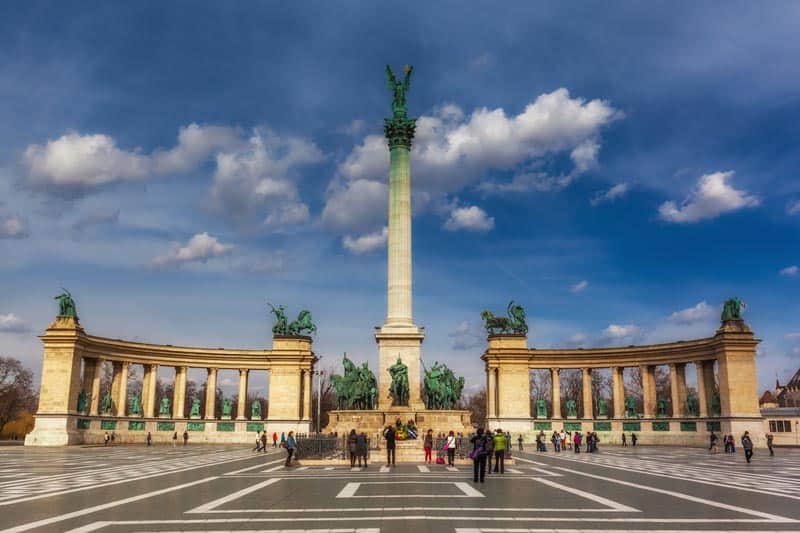 Heroes' Square can be found at the end of Andrássy Avenue: an excellent walking street. Heroes Square is one of the world's oldest squares.
The Millennium Monument in the centre of the square surrounded by statues honoring the seven chieftains of the Hungarian tribes who conquered the area now known as Hungary.
3. Andrassy Avenue
Speaking of Anrássy Avenue, this is a beautiful walking promenade stretching from Erzsébet Square.
A walk along this street will take you through an architectural journey of Budapest relishing the mansions, townhouses, and embassies.
The architecture dating back to 1872 is so important that the Avenue was named a World Heritage Site in 2002.
4. Take a Danube River Cruise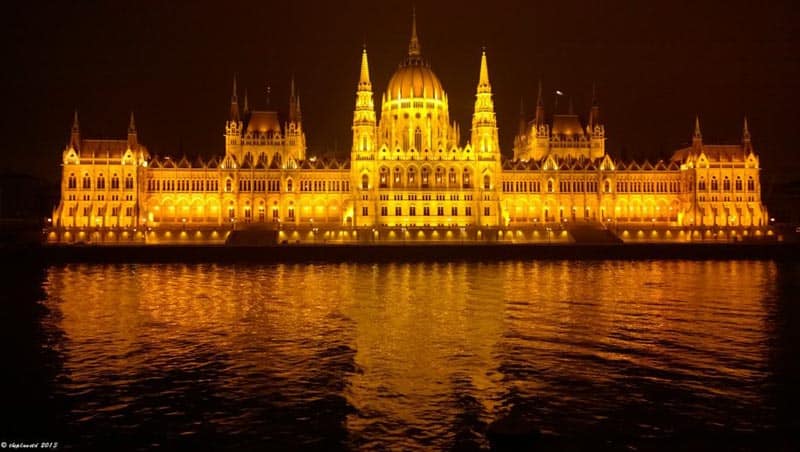 There is nothing more romantic than watching the lights of the city from the Danube River.
Many week-long river cruises go through Budapest and that is how a lot of people see the city, but you can take dinner and sunset cruises in Budapest as well.
If you do a river cruise, we suggest booking a cruise at night to see the lights of Budapest. It truly is beautiful once the sun goes down.
Want a closer look at the Parliament Building? Check out this skip-the-line guided tour of the Budapest Parliament Building through Get Your Guide.
Enjoy our round up the world's most romantic cities
5. Liberty Square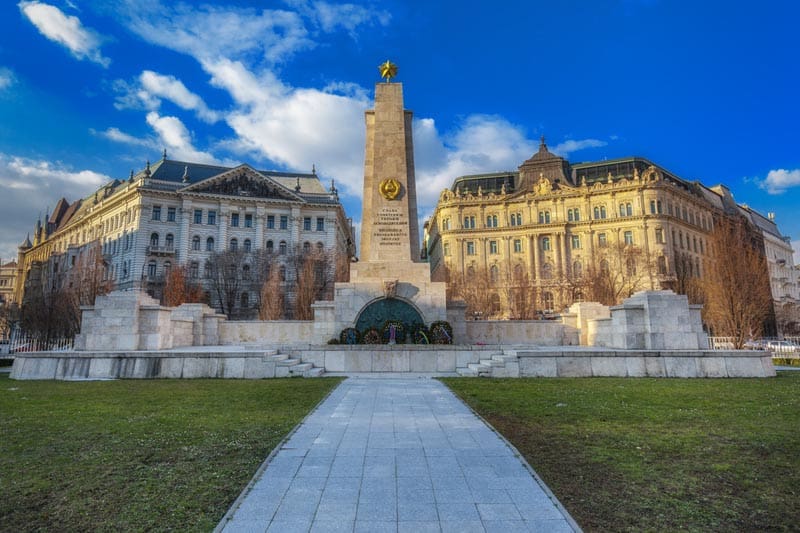 This Russian monument honors the soldiers of the Red Army who died during the liberation Budapest from the Nazis.
It is ironically located directly across from the US embassy and a statue of Ronald Reagan stands on the other side of it.
Reagan played a key roll in putting an end to communism in the Soviet Union.
6. Ronald Reagan Statue at Liberty Square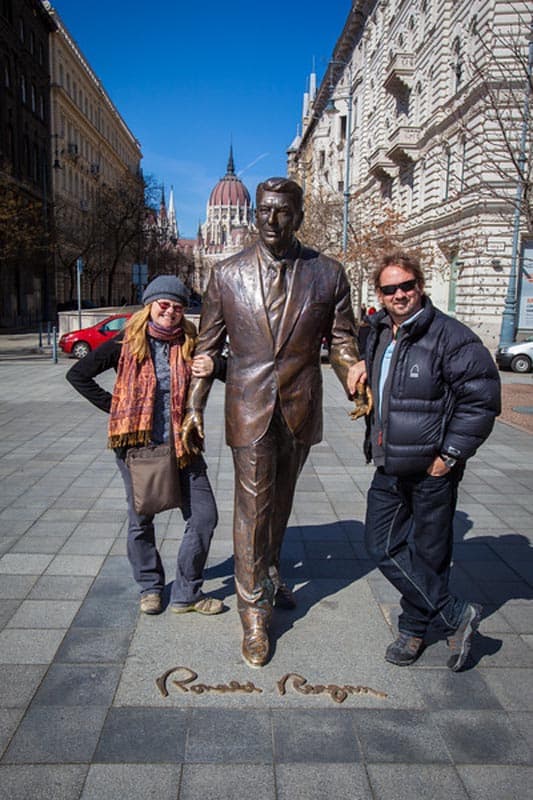 Well, Ronald Reagan wasn't the first thing I thought of when looking for things to do in Budapest.
I mean, who would have thought there'd be a statue of an American President on display?
But Ronald Reagan played an intricate part in the fall of Communism and Budapest is communist no longer. So, while you are visiting the Russian monument to the Red Army,  check out the nearby statue of Ronald Reagan.
It's an odd site but a fun photo spot.
Check out 18 Pictures of Budapest That Will Make You Want to Pack Your Bags.
7. Imre Nagy Memorial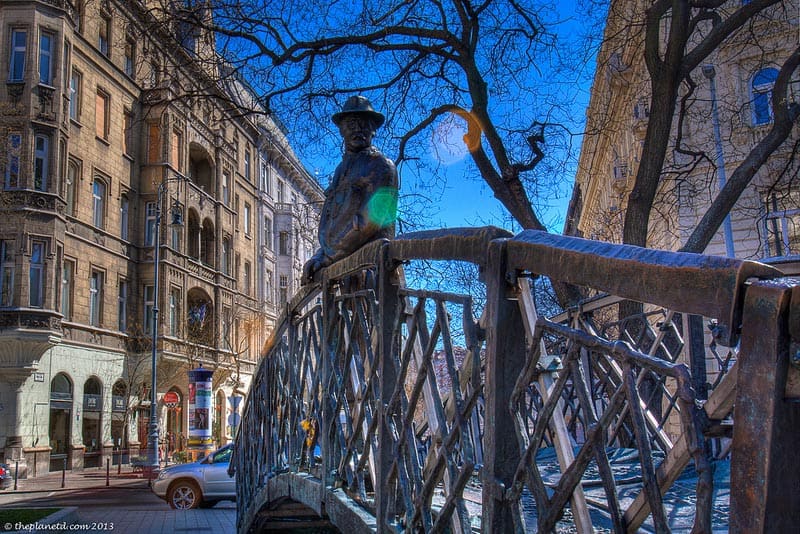 Speaking of politics, something you must do in Budapest is probe further into its communist past. Just a short walk from the Ronald Reagan statue you'll find another noteworthy monument of Imre Nagy.
This statue of a man standing on a bridge looking over to the Parliament Buildings longing for freedom attracts crowds each day on walking tours to learn about the city's communist past.
He led the failed Hungarian Revolution of 1956 and was executed for treason two years later. This monument symbolizes the difficult road to freedom.
8. The House of Terror Museum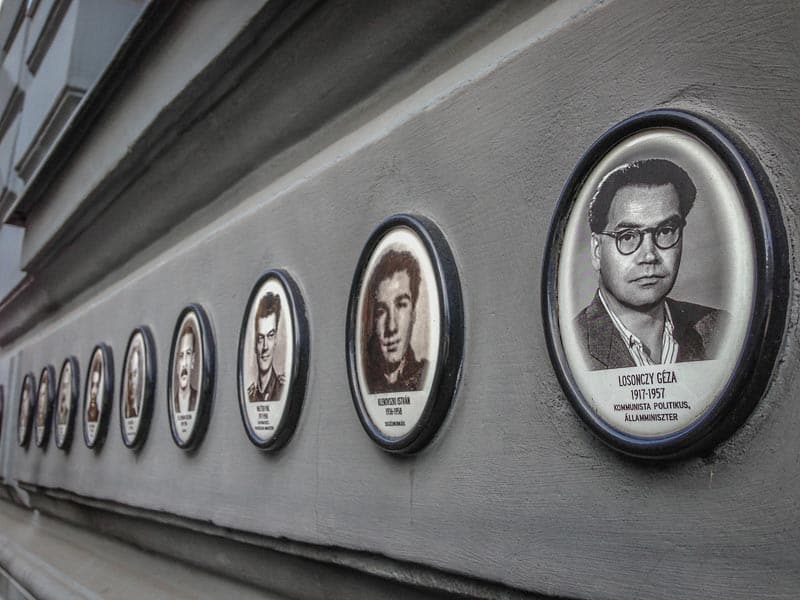 The House of Terror is a memorial to those who fought and died during the Communist era of Budapest.
It was the former headquarters of the Nazis and was used as a prison. Many atrocities happened behind these walls.
Be prepared for a somber visit to a building where prisoners were tortured and killed.
but it is an important reminder to visit memorials like this to make sure this type of human atrocities never happens again.
9. Visit St. Stephen's Basilica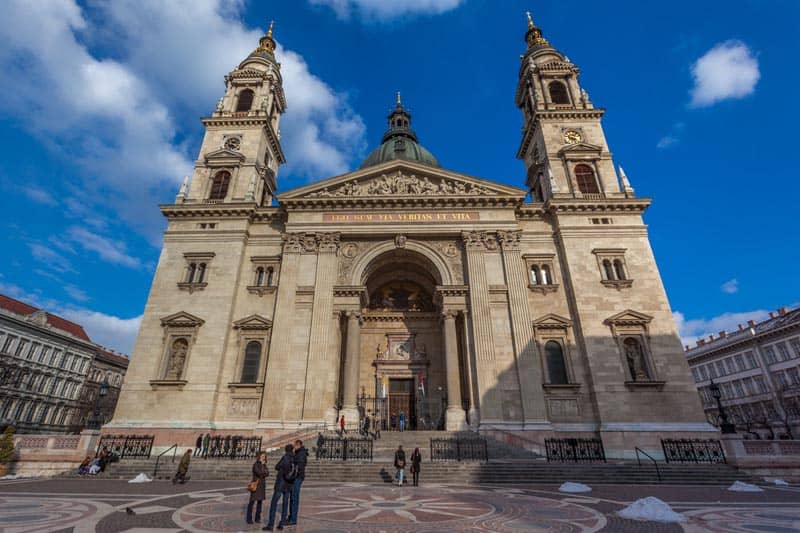 St. Stephen's Basilica is one of Hungary's most significant tourist attractions and a site you must see when planning your things to do in Budapest.
Can you believe it is the highest building in the city? It shares that position with the parliament buildings standing at 96 meters (316) feet high.
The church was named after the first King of Hungary, Stephen I and is the most important church in the country.
We're not huge churchgoers and there is a back story to this place, but honestly we didn't listen to much. It was pretty though!
You can find out more about it here.
10. Take a free walking tour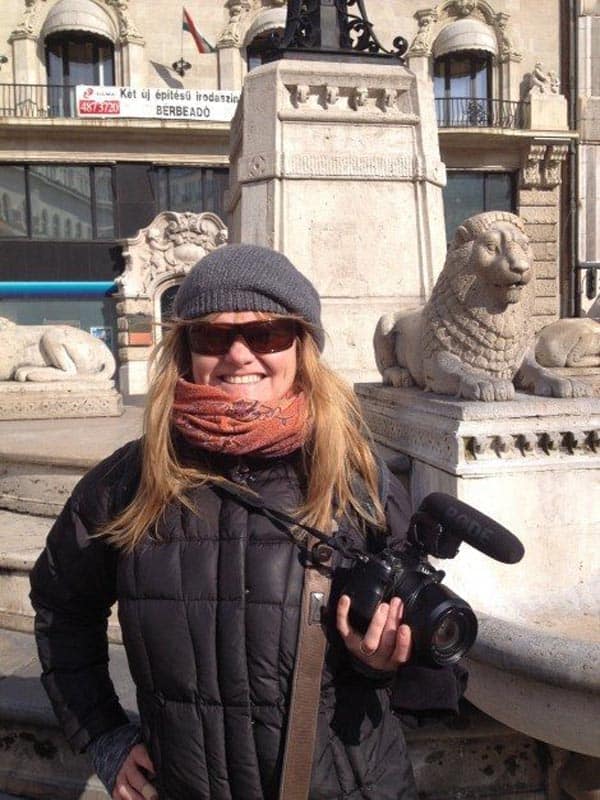 A free walking tour of Budapest is an excellent way to learn about the history of the city.
We took a walk with Get Your Guide's free walking tour where we met at Vörösmarty Tér in central Budapest. (The meeting point was the white lion.)
As advertised it is a free tour and guides make their money off of tips. Whatever you feel it is worth, you pay.
They are great guides and it doesn't feel like a free tour at all.
They're working hard for your tips and it's polite to give them something useful.
As an alternative, try a bike tour of Budapest instead.
11. Trabant Tour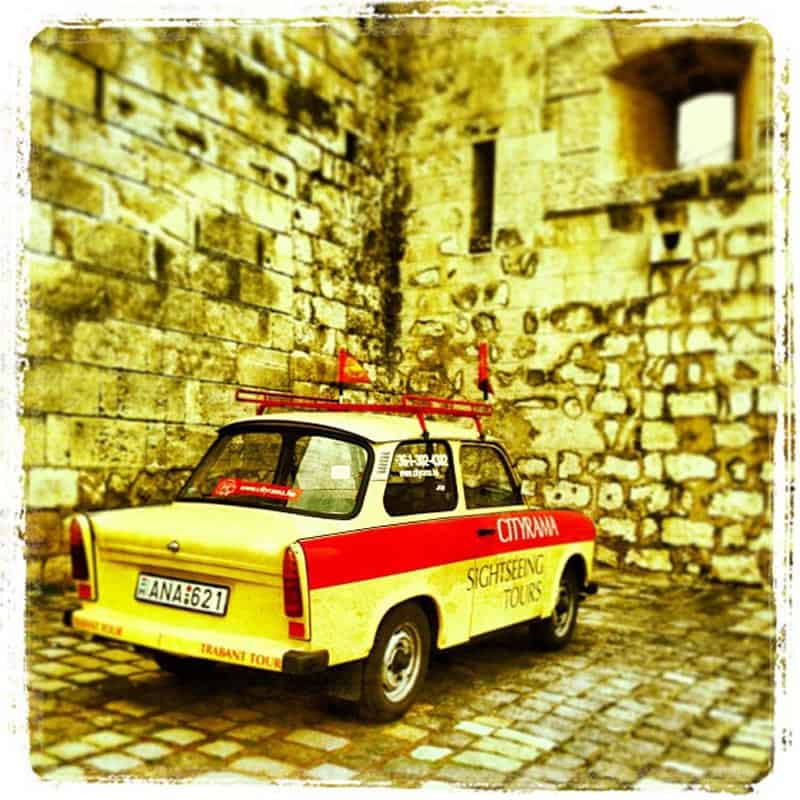 One of the coolest things to do in Budapest is to hire a Trabant Car.
A chauffeur will drive you around town and let me tell you when people see you in this car, they are going to wave and laugh and point.
This was the big car of choice during the Communist era of Budapest and many people will have fond memories of owning their first Trabant.
It's a tank and it sounds like one. It was known as "The Paper Jaguar" back in the day.
Some tours, like this one, will even let you drive the car!
Get around Budapest with a 24, 48 or 72 hour Budapest Card. It also offers free entry to a thermal spa and other discounts. Details here.
12. Walk Across the Szechenyi Chain Bridge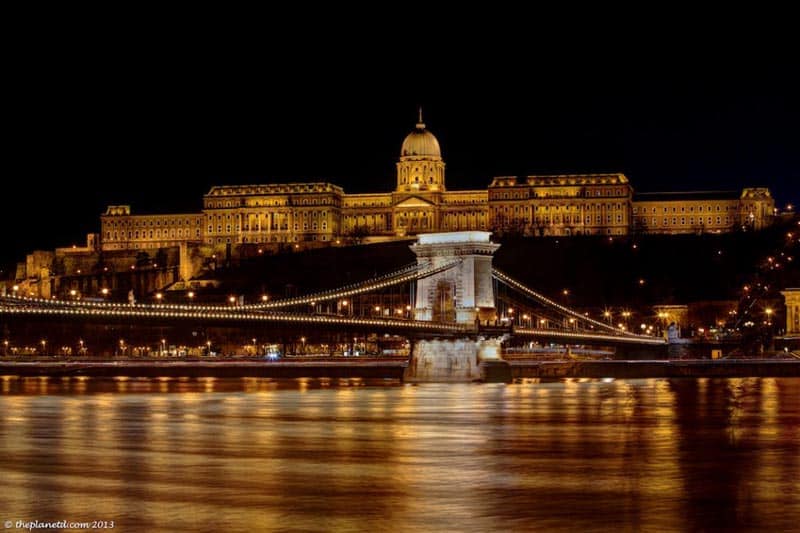 The Budapest Szechenyi Chain Bridge was the first bridge to connect the towns of Buda and Pest. Spanning across the Danube River, this bridge is a thing of beauty.
It's a pleasant stroll across the bridge giving you a view of both sides and down the river. But make sure to walk it at night when the bridge is all lit up.
13. Walk Along the Danube Promenade
There is nothing more romantic than a stroll along the Danube. Spanning from the Chain Bridge to Elizabeth Bridge, it is a good way to see the main attractions along the river.
The Promenade is located along the Pest side of the river passing cafes and high-end hotels. From here you will see great views of Buda Castle across the river in Buda.
14. Shoes on the Danube Bank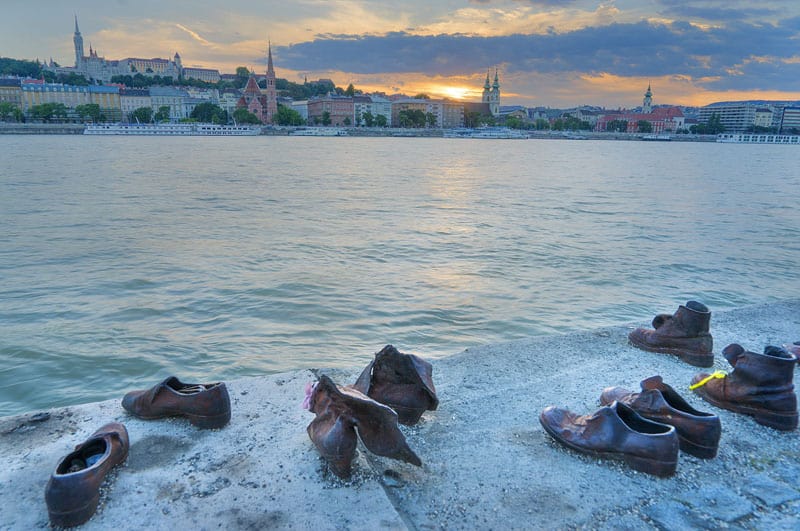 This memorial is dedicated to the people killed by the fascist Arrow Cross during World War II.
It is a sad reminder of just how evil humanity can be. 3500 people, (including 800 Jewish people) were shot into the Danube River in 1944 and 1945.
60 pairs of shoes line the Danube paying tribute to the people killed on the River's Banks.
Photo by Always Wanderlust, Check out more of his images of Budapest.
15. Buda Castle
Behind the bridge is Buda Castle another site not to be missed! This UNESCO World Heritage Site dates back to 1265 and was once home to Hungarian Kings.
You can visit the castle grounds any time of the day, but the opening hours for inside are open daily from 10 – 6 pm.
16. Buda Castle Funicular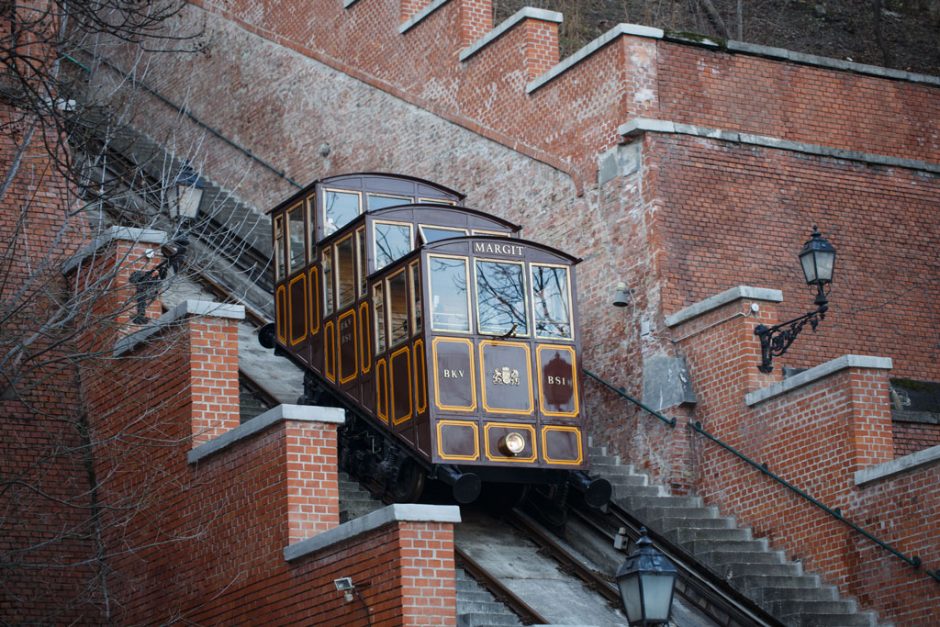 Take the funicular up for another fun attraction in Budapest. Dating back to 1870, it was the 2nd funicular built in all of Europe.
The funicular is a great way to get up to Buda Castle and take in the sites of the river without having to walk up yourself.
It runs continuously each day every 10 minutes so the long queues move quickly.
17. Views from Fisherman's Bastion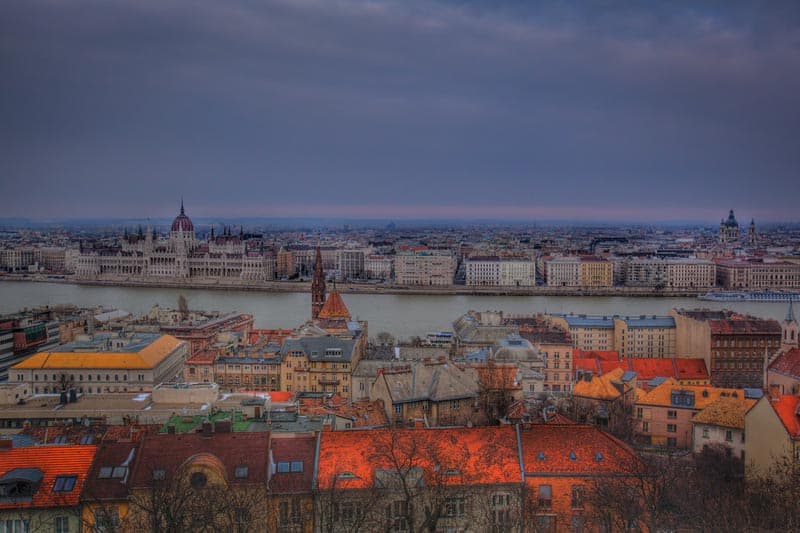 Located above Buda Castle, Fisherman's Bastion is an excellent spot to take in city views. It's also a great walking destination with a fairytale setting.
Seeing Budapest from above is an excellent way to take in the beauty of the city. It's a unique location with beautiful buildings on either side of the river.
It's no wonder so many people are falling in love with Budapest.
A great way to explore Gellert Hill, Fisherman's Bastion, Castle Hill, and more is by taking a Budapest sightseeing tour.
18. Hungarian State Opera House
The State Opera House is now reopened and visitors can check out performances at this historic theatre.
Tourists can take guided tours through one of the most beautiful buildings in Budapest.
19. Go to a Ruin Pub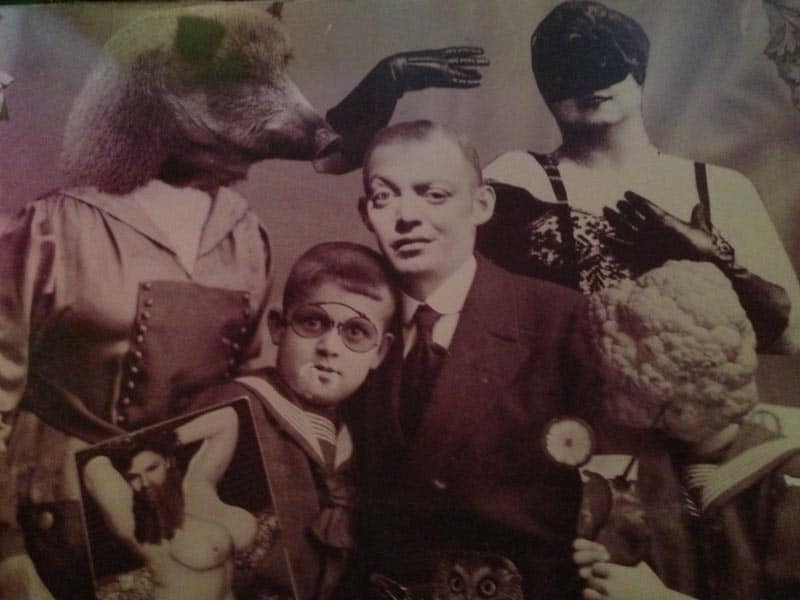 Ruin pubs are funky and trendy bars that have popped up in previously abandoned buildings.
Ruin bars are decorated with old eclectic furniture and have a funky vibe.
A ruin bar is where the hipsters and cool cats hang out, listen to music and have some drinks. This is where you should too!
20. Jewish Quarter
Many cities of Europe have a historic Jewish Quarter and Budapest is no exception.
It is a colorful neighborhood dotted with shops and synagogs. The largest synagog in Europe is located on Dohany street.
It is in this quarter that you will find many ruin pubs as well.
21. Central Market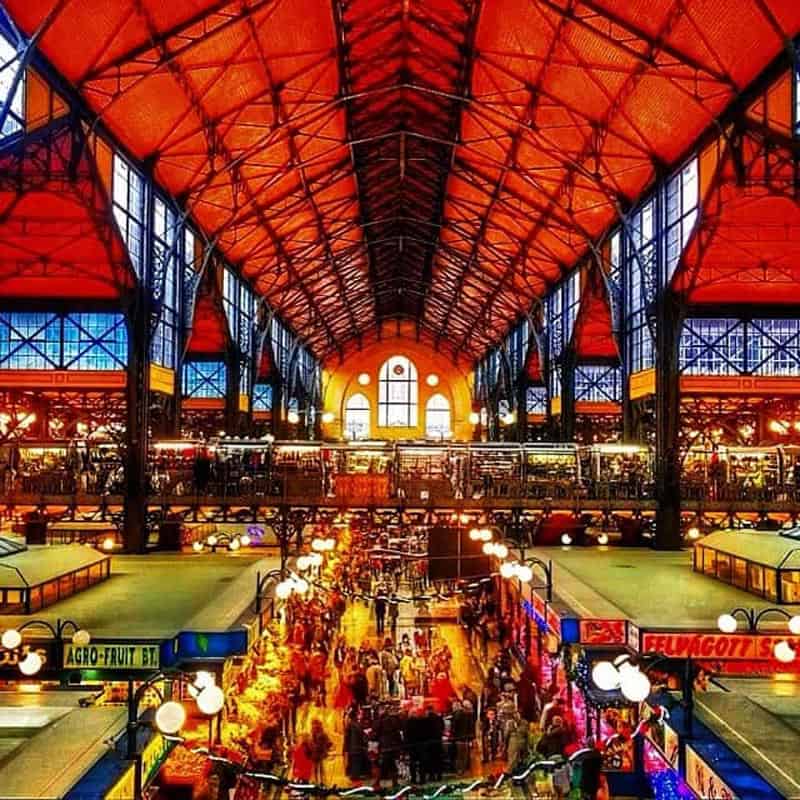 The covered Central Market Hall is an excellent spot to shop for souvenirs and nick-nacks.
From here you can escape the cold in winter and heat in summer and it's bustling with shops and eateries and a lot of places to buy meat and cheese. It's the largest indoor market in Budapest.
Located right at the river, ships used to sail right into the market back in the day.
Dig a little deeper into the history of the market and Budapest's food culture with a fun and tasty food tour.
22. Gellert Hill Liberty Statue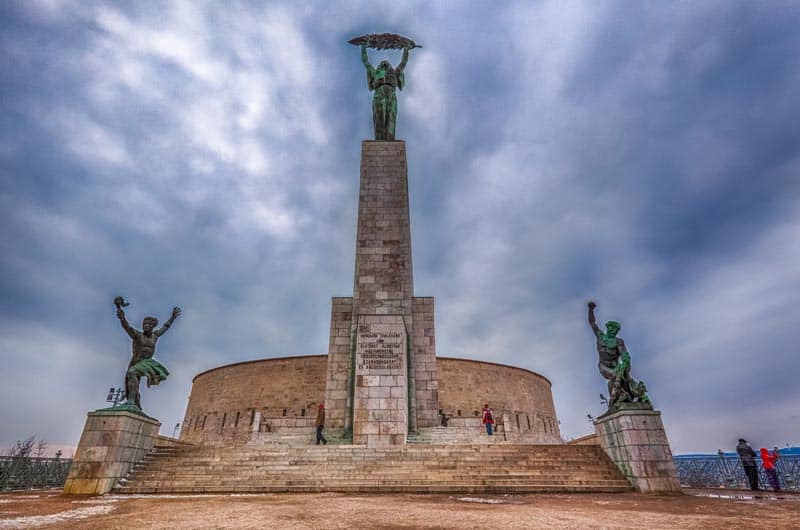 Gellert Hill offers great views of the city and the Danube.
There is also a monument paying tribute to the Soviet soldiers who liberated the city from the Nazis. Erected in 1947.
It's a good place to explore just outside the city on the here's a cave church, old army barracks, the citadel and the Gellert monument to see up there.
23. Eat at the Gundel Restaurant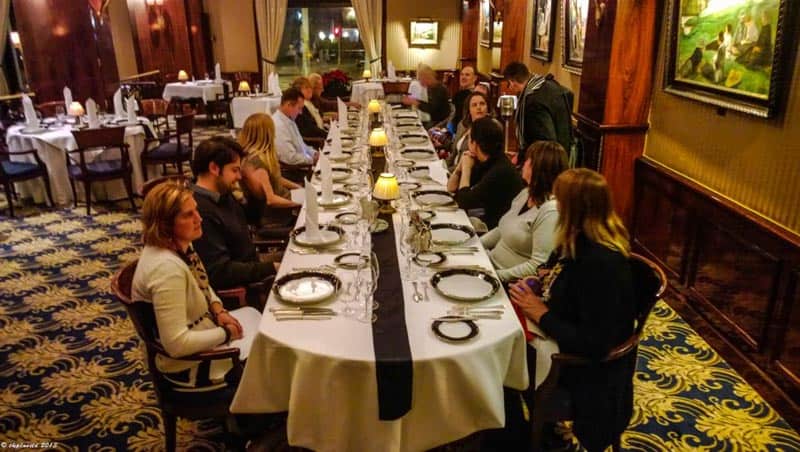 The Gundel Restaurant dates back to 1894 and is considered one of the pioneers of Hungarian gastronomy.
It is the premier spot for traditional Hungarian food in Budapest and if you want to savor authentic Hungarian cuisine in a historic grand fashion. This is the place to do it.
24. Learn Hungarian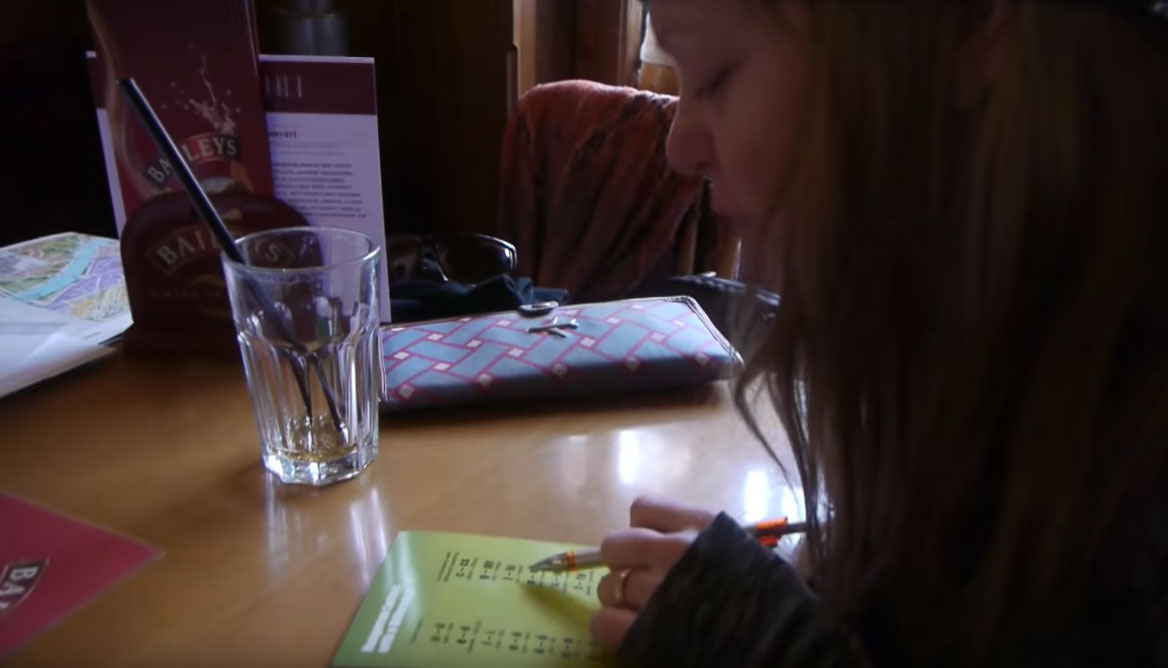 Hungarian is one of the hardest languages in Europe to learn, and there is nothing more fun than meeting your language coach at a cafe to learn a bit of Hungarian.
We met with Fungarian Language Tours to learn the basics helping us make the most of our stay and to learn a bit more about Hungarian culture while mispronouncing the Hungarian language.
25. Attend Europe's Coolest Music Festival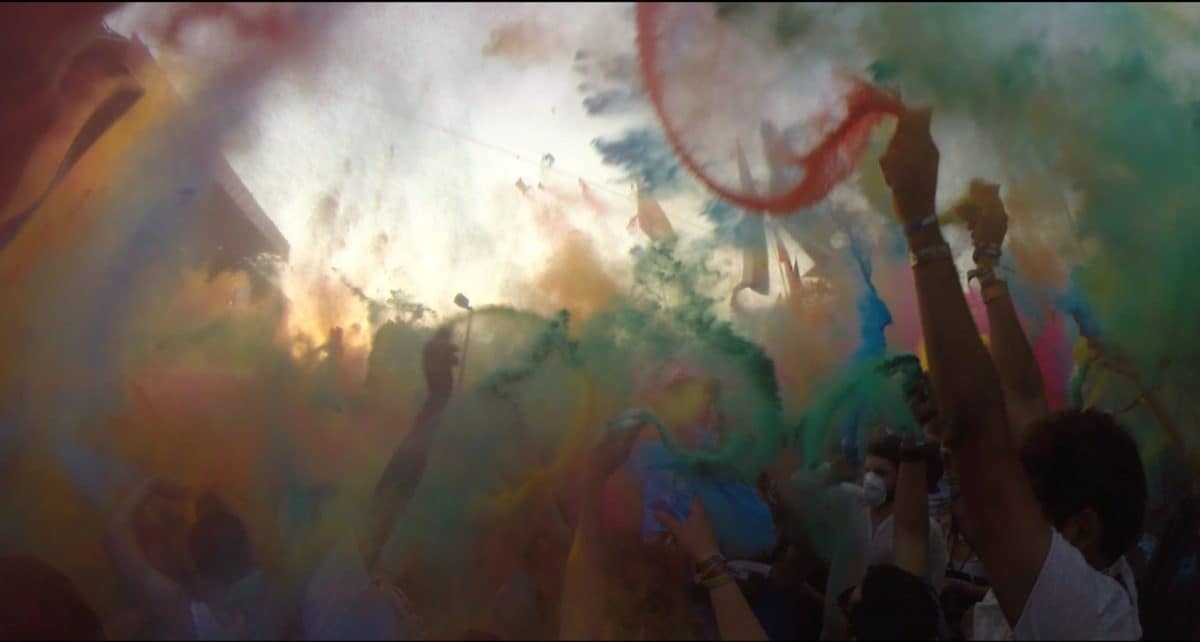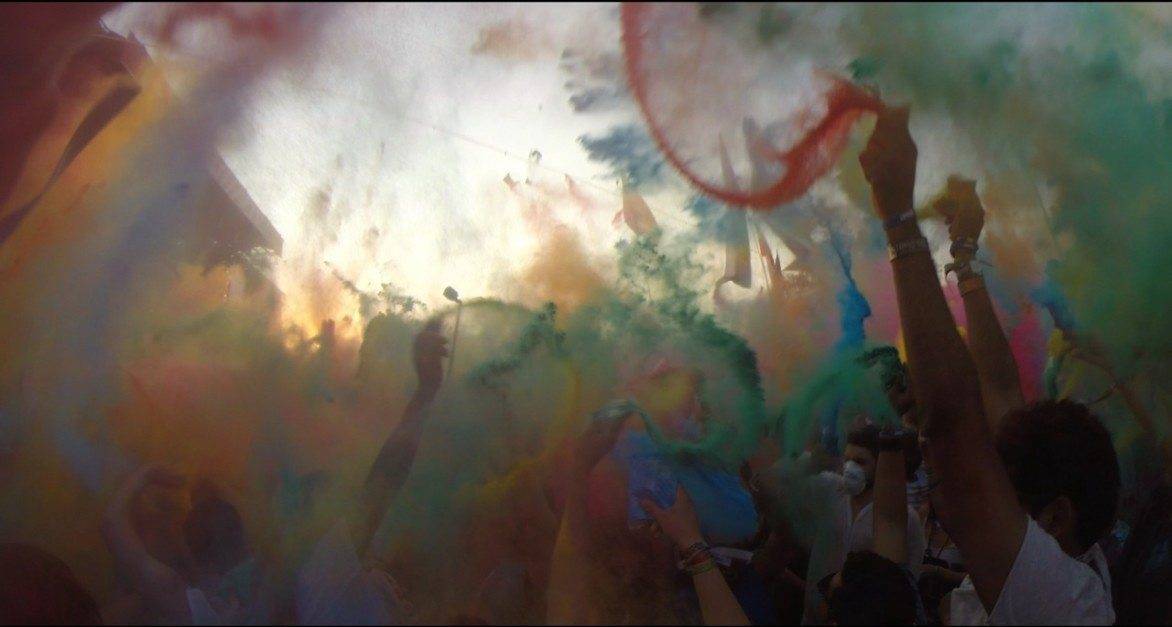 For 7 days each summer, the island of Obuda turns into Europe's largest music festival, the Sziget Festival. With headliners like Ed Sheeran and the Foo Fights, it attracts the biggest names in the music industry.
It also is a freedom festival of love and laughter with many other activities to do than watch the bands play.
check out this post telling you everything you need to know about the Sziget Festival
26. Chill out at Margaret Island
Margaret Island sits in the middle of the Danube between Buda and Pest. The 2.5 km long piece of green space is a quiet retreat from the city and is accessed by Margaret Bridge.
Margaret Island's water tower is one of the most distinct features on the island. Built-in 1911, the art nouveau style building was open to visitors in 2012.
Margaret Island even has its own thermal baths that you can visit if you don't want to go to the more popular ones in tow.
Video: Things to do in Budapest
Before you go, check out our video of the very best things to do in Budapest.
If you enjoyed our article, be sure to save it to Pinterest for future Hungary travel planning.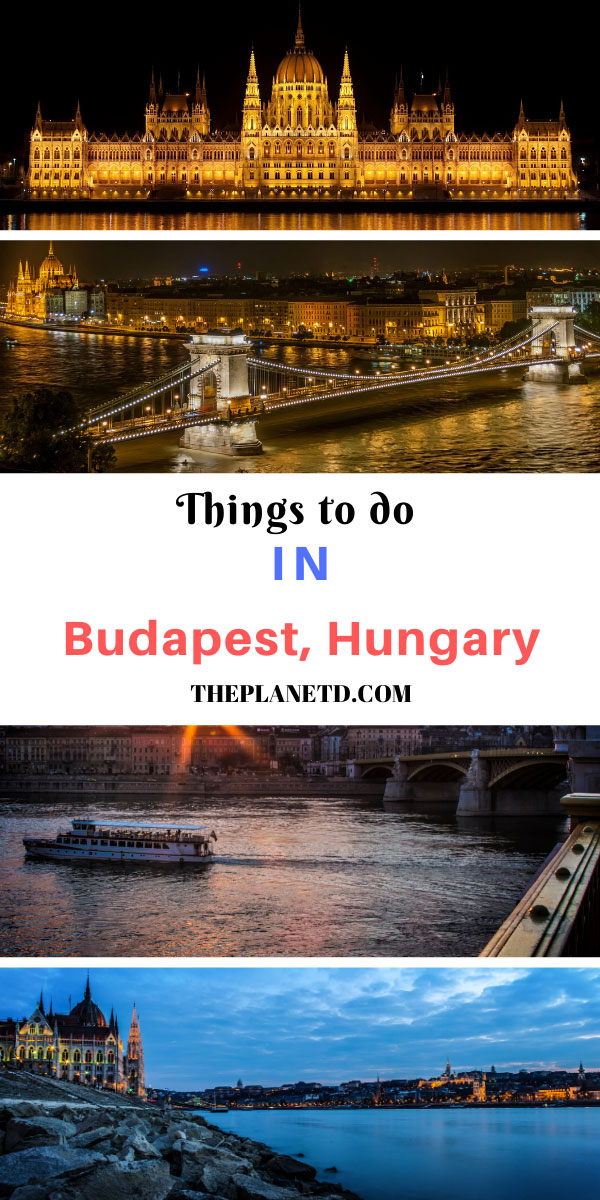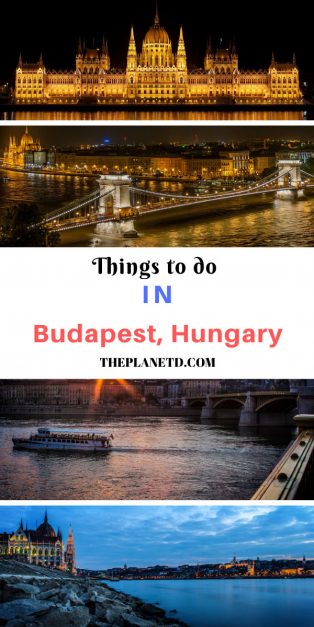 What's your favorite European City? Do you have a suggestion for things to do in Budapest?
Read next:
18 Beautiful Pictures of Budapest
Budapest Communist tour
Top 10 Things to do in Poland
You Might Also Enjoy
Source link Travel Advisor