Santorini is an island paradise. Not only is it the most beautiful setting in Europe, but there are so many things to do in Santorini, you'll need at least a week to explore it!
Forget taking a cruise and spending just one short day in Santorini. Instead, book a luxury cave hotel suite with a beautiful infinity pool overlooking the most incredible views of the Aegean Sea you'll ever witness.
If you follow our Santorini guide you too will fall in love with Santorini too.
25 Things to do in Santorini
What is the number one things to do in Santorini?
The number one things to see in Santorini is its famous blue domes of Oia.
What is Santorini known for?
Santorini is famous for its whitewashed villages on high cliffs overlooking the caldera.
Is Santorini Expensive?
The luxury cave hotels of Santorini are expensive, but you can get good deals in shoulder season (autumn and spring). There are also affordable hotels in Santorini to suit all budgets.
I don't think we've ever seen such a beautiful vacation destiantion as Santorini. If you don't agree, take a look at the photos below and it may change your mind!
1. Stay in a Cave Hotel
Part of the attraction of Santorini is experiencing the luxury and elegance of the white cave hotels.
When you get out of the taxi and walk up to the caldera for the first time, the view literally takes your breath away.
I honestly gasped at Santorini's beauty when seeing it for the first time.
If there is one time to splurge on a hotel in your life, this is the time to do it. We stayed in three different luxury hotels in Santorini and each one made the trip even more special.
Best Cave Hotel in Santorini
2. Look out from Infinity Pools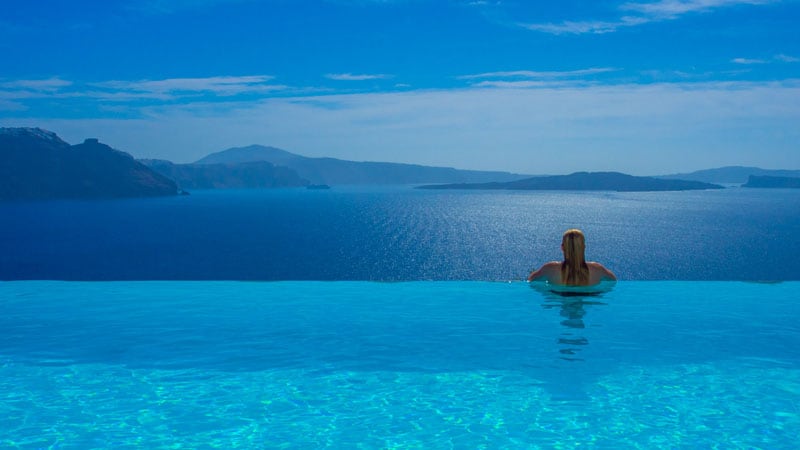 You will be able to bask in the sun by the infinity pool and have the most spectacular meal in peace and quiet.
No matter how busy the streets of Santorini get or how packed they are with cruisers and tourists, you'll have a quiet sanctuary in your cave hotel.
Suggested Oia Hotel Infinity Pool View: Andronis Luxury Cave Hotel in Oia
3. Take a Sailing Trip to see the Caldera
You cannot truly appreciate the beauty of Santorini until you witness it from the sea. The massive sea cliffs are mesmerizing.
Plus on a sailing trip, you can go snorkelling, visit some of the lesser visited beaches, and have a swim in the hot springs.
There are several boat tours around Santorini and Get Your Guide has several you can book in advance with easy cancelation.
We suggest a sunset cruise for some of the best caldera views.
We took the 3 pm departure Catamaran Tour to be able to watch the sunset from our boat.
You really get a feel for how massive the cliffs of the Santorini caldera really are!
4. Walk on Perissa Black Sand Beach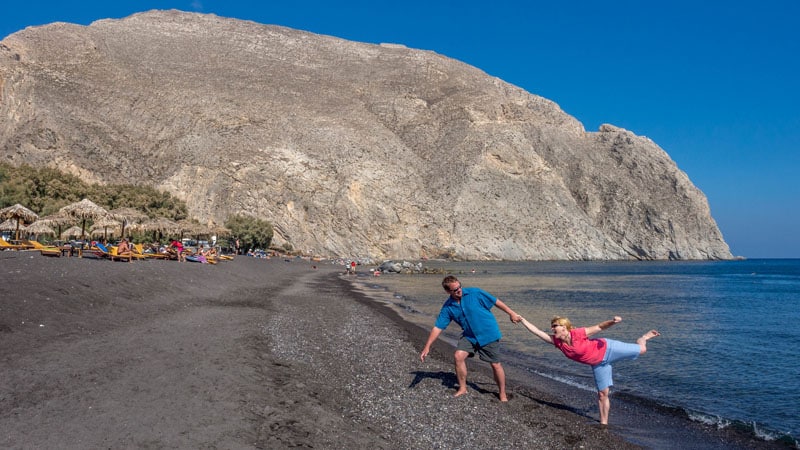 Black Beach is the most popular sunbathing spot on the island of Santorini with many restaurants and markets lined along the sand.
It is worth spending a couple of days here rather than simply taking a day trip.
We actually stayed in the area so that we could get some optimal beach time in.
Suggested Hotel near the beaches – Suites of the Gods in Megalochori
5. Hike to Red Beach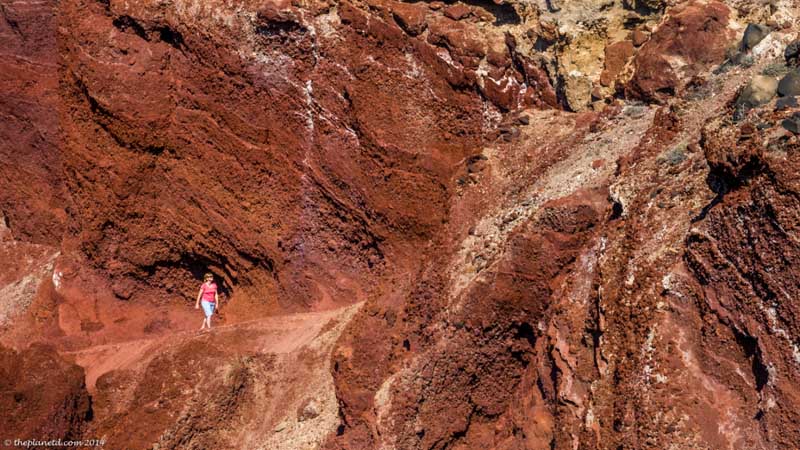 This is a popular stop for day cruises and sailing cruises, but it is nice to visit early in the day when the crowds are low.
Using our car rental, we drove to the parking lot, packed a picnic and spent the morning on Red Beach taking in the gorgeous views.
6. Get Lost in Oia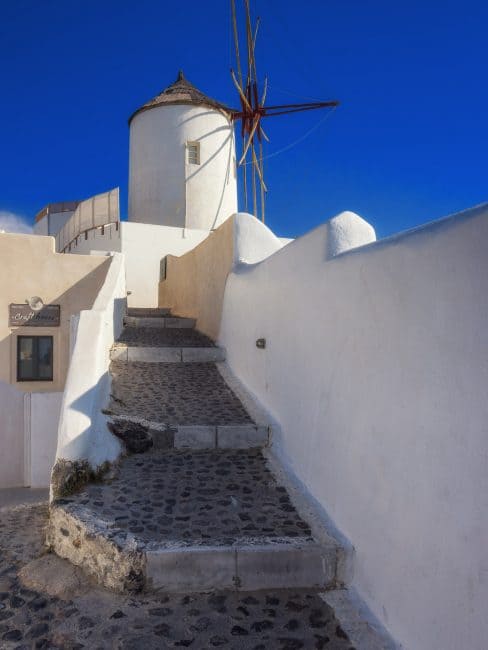 Staying in Oia was our favorite location on Santorini. There are so many things to do here and it is home to some of the most iconic views on the island.
There are many places you can duck into a side street to explore hidden alleyways of cobblestone.
There are famous views of Oia but when exploring the hidden pathways you will find different views of the Caldera.
Oia is where you'll find the windmills, the famous blue domes and has some excellent shopping.
7. Go to Amoudi Bay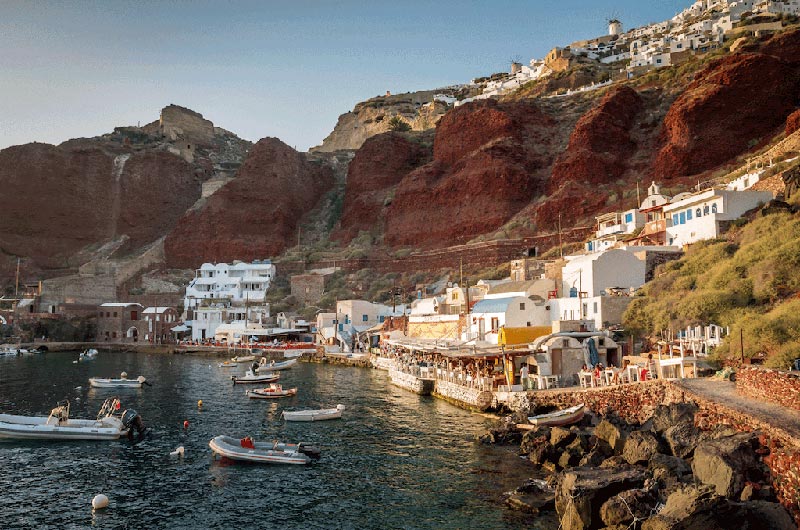 Be sure to walk down the path to the beach of Oia. 300 steps down is a completely different atmosphere to Amoudi Bay.
The small village has several tavernas and there is a popular beach.
If you want a little adrenaline in Oia, you can do some cliff jumping too!
8. Dine with a View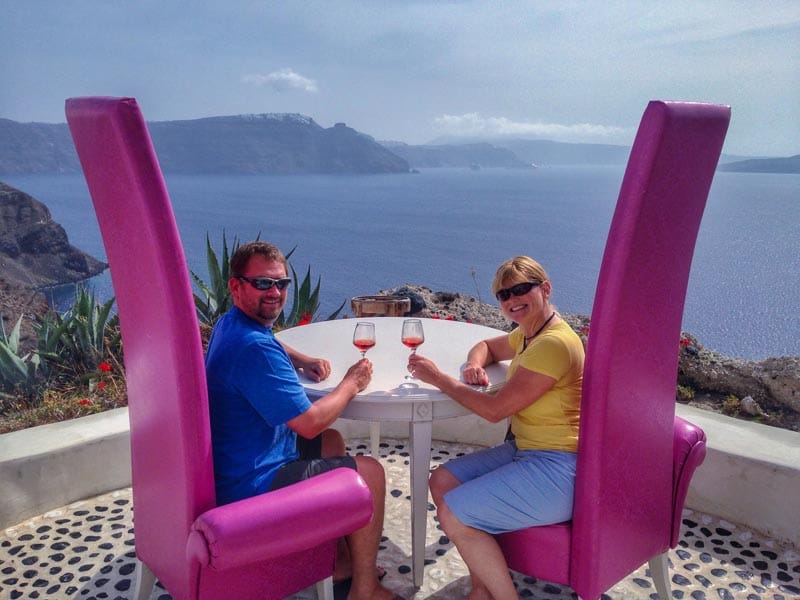 There are numerous restaurants in Oia serving delicious Greek cuisine.
Some of the best restaurants are inland along one of the many cobblestone streets, but nothing ssays romance like toast over one of the most magnificent views in the world.
Suggested restaurants: See Trip Advisor Reviews for Oia Restaurants. 
Lauda Restaurant
Pelicanos
Petrosia
9. Have a Fish Pedicure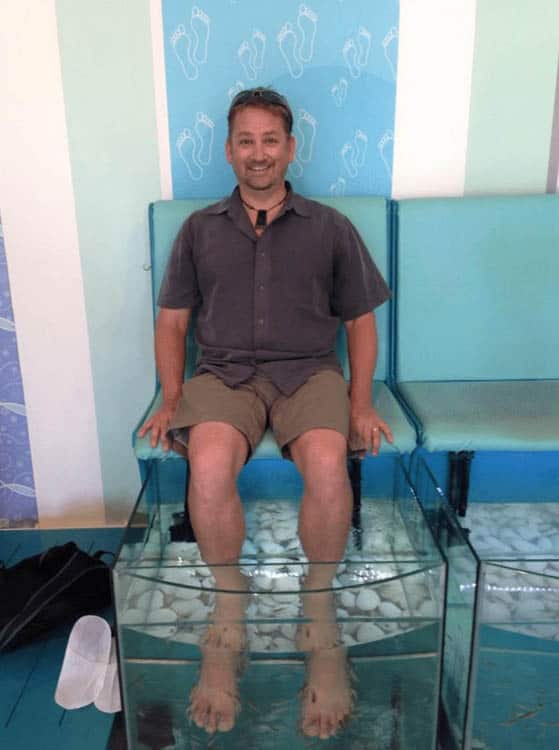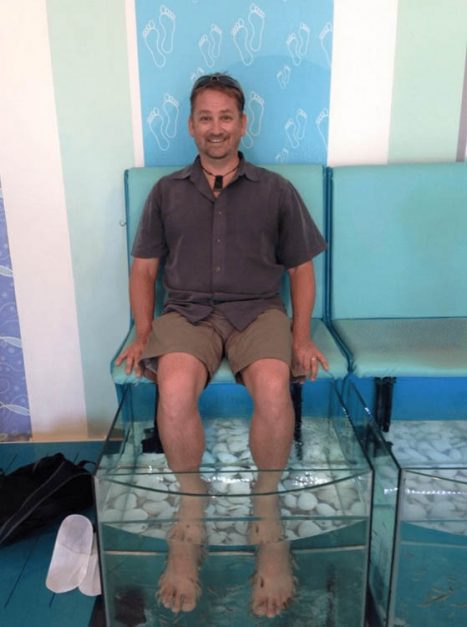 It may not be one of the typical things to do in Santorini, but after all that walking, a fish spa is just what your feet require.
We always wanted to do a fish spa, but wondered just how clean they'd be in places like Thailand or Cambodia.
So when wandering the streets of Oia we saw a fish spa and said "let's do it!"
It is one of the most unique spas you'll ever have.
10. Watch Sunset Over the Blue Domes of Santorini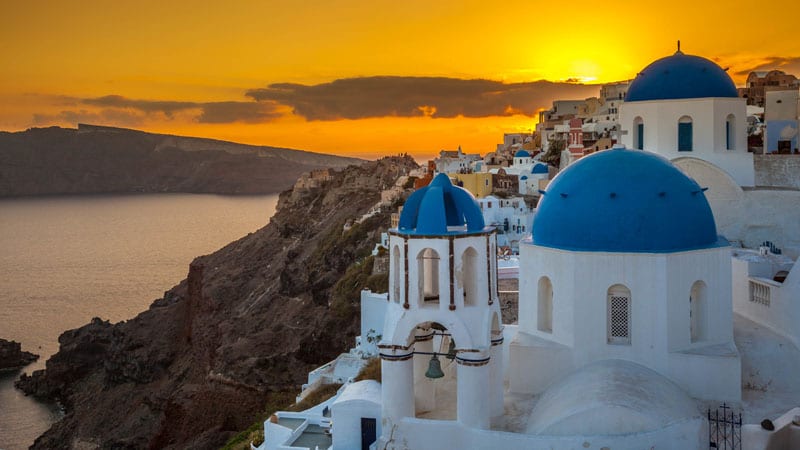 While crowds of people gather at the caldera to watch the sunset, we found our way to the Blue Domes for sunset. It is the most iconic place to photograph in Santorini,
It had a bit of a crowd itself, but by the time blue hour hit, most people were gone and we had it to ourselves.
We recommend taking Santorini Photography Tour as there are so many places to photograph in Santorini. Believe me, we got lost a lot looking for our iconic photographs.
You can customize your tour to choose the places you want to capture the best photographs of.
11. Sunset from the Castle of Oia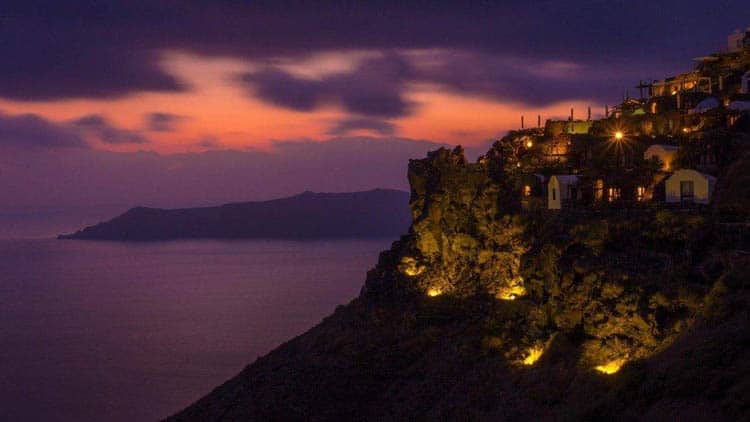 I know we said it is crowded, but there is a reason this is the place to watch the sunset on Santorini. It has the best sunset views on the island.
Sitting in the ruins of the Santorini Castle to watch the sun go down over the windmills gives you incredible caldera views. Sneak a bottle of wine to sip in style as you relax in the festive atmosphere.
Or enjoy a sunset wine tour of Santorini where you can learn about Santorini wine followed by a glass while you to take in spectacular views.
12. Walk from Oia to Fira Town (or Vice Versa)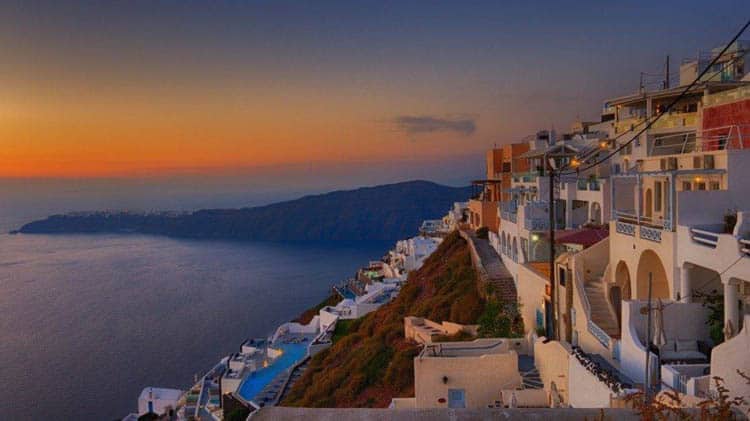 We actually walked from Imerovigli to Oia since we were staying at the time in Imerovigli but one of the amazing things to do in Santorini is to hike from Fira to Oia.
You'll have the chance to go through the villages Imerovigli and Firostefani taking in the gorgeous views of the caldera from all directions.
It's such a fun way to take in the different villages and all the different views from the caldera.
Where to Stay in Santorini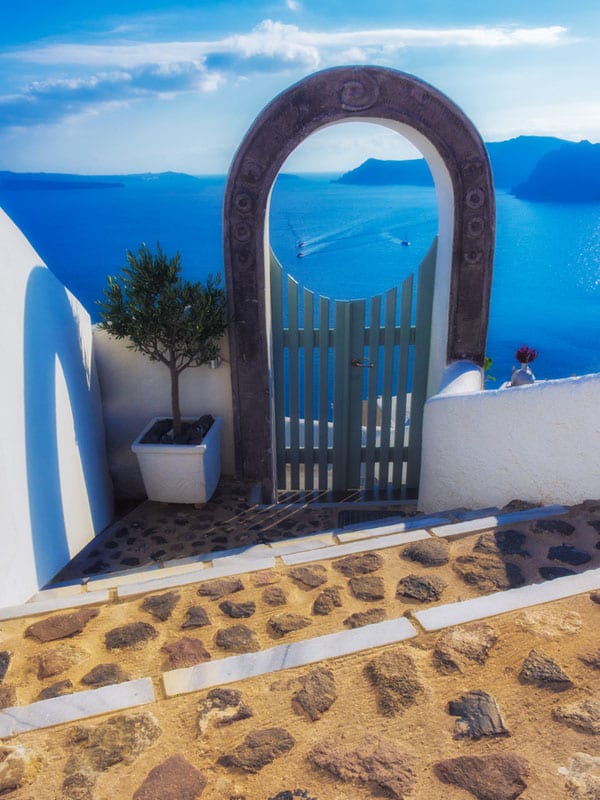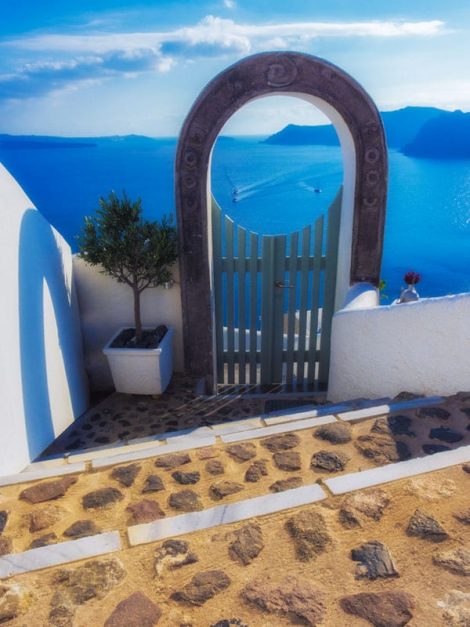 Oia – Santorini
This was our favorite spot to stay in Santorini. It is the most popular village on Santorini with the most iconic views. But it is busy and expensive.
Andronis Luxury Suites – Andronis Luxury Suites are located in Oia and has one of the best views in Santorini. With beautiful rooms and a stunning infinity pool this is luxury at its finest.
Check out Availability & Prices on TripAdvisor / Booking
Fira Santorini
Hotel Villa Renos Fira – Villa Renos is an affordable option. Located in Fira it has great views and a breakfast to die for. The rooms not as luxurious but the staff is the most friendly in Santorini.
Check out Availability & Prices at TripAdvisor / Booking.com
Imerovigli – Santorini
This is a beautiful location that is much quieter than Oia and Fira. You can still stay in cave hotels and luxury hotels with infinity pools. It is along the walk between Fira and Oia. 
Check out Availability & Prices at TripAdvisor / Booking.com
Perissa 
If you want to spend time at the beaches, Perissa is located right at the Black Beach. 
We found it to be out of the way for anything else, but while we enjoyed the beach life, it was great. 
We stated in a beautiful cave hotel here with our own private swimming pool and kitchen and it was a wonderful place to relax and have a simple romantic vacation. 
13. Three Bells of Fira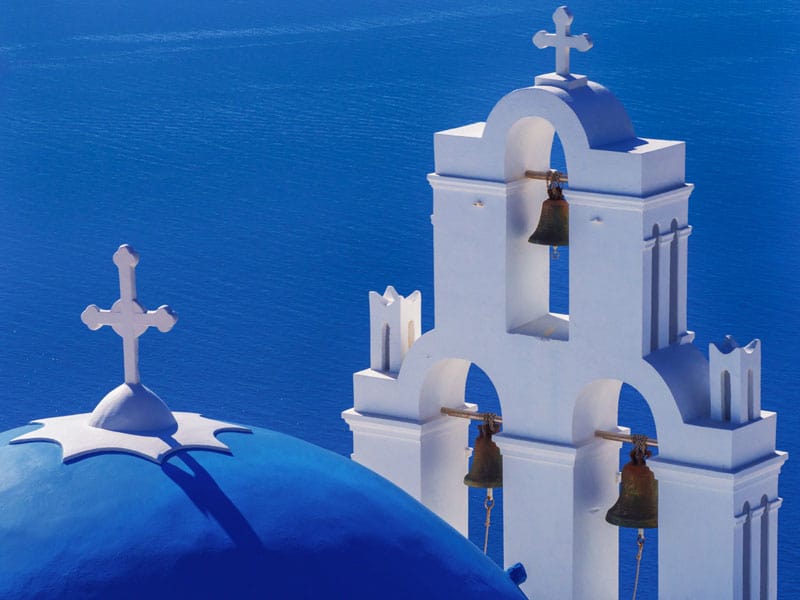 Next to the Blue Domes of Oia, the Three Bells of Fira are the most photographed site on Santorini.
How to find the Three Bells of Fira
To find these bells, go to Fira and search for the restaurant Mama Thira. From there, walk up to the top of the cliff to a parking lot.
When you look over the parking lot, you will see these bells.
14. Museum of Prehistoric Thera – Akrotiri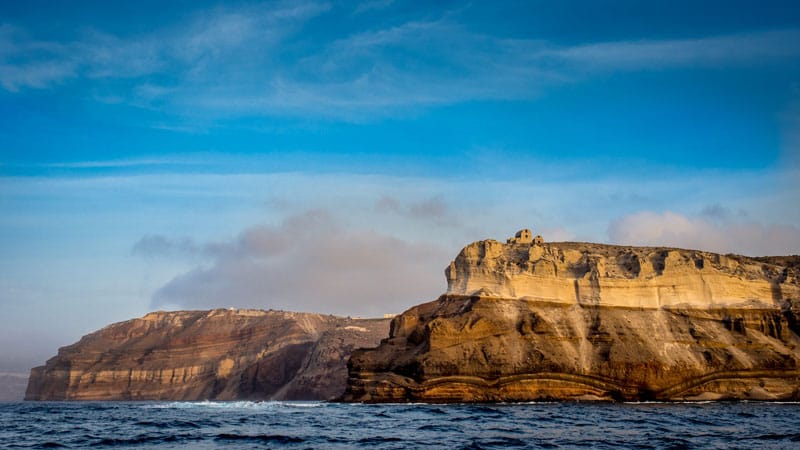 If you like museums this is a good stop to see the finds from excavations of Akrotiri.
This archaeological site dates back to the Bronz Age. In the 16th century BC it was destroyed by a volcanic eruption that covered it is ash.
This helped to preserve its remains which were discovered in 1967.
The most notable find? Fossilized olive tree leaves from within the caldera.
15. Shopping in Fira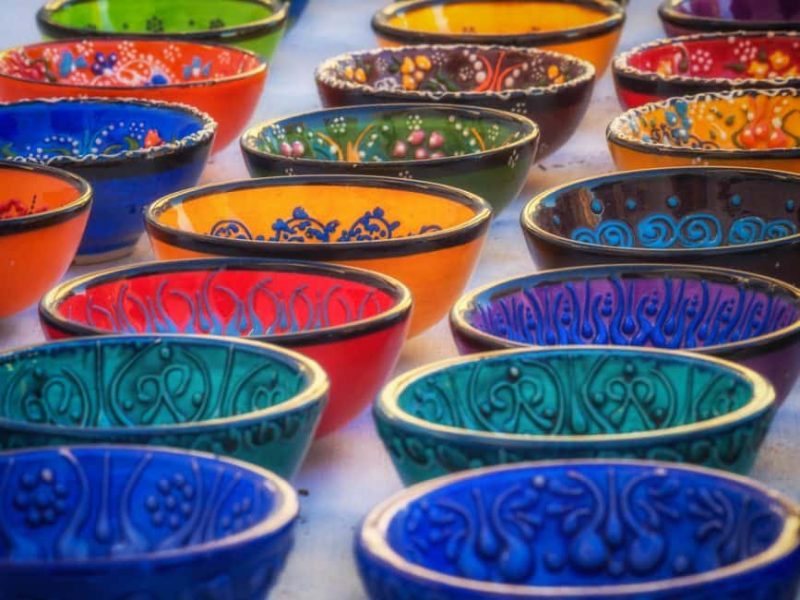 Fira is by far the busiest of towns in Santorini with cruise ships coming in here at the port and passengers taking the gondola or doing donkey rides up from the water.
While there is lots of shopping in Oia as well, Fira is the place to find your souvenirs.
16. More Blue Domes in Perissa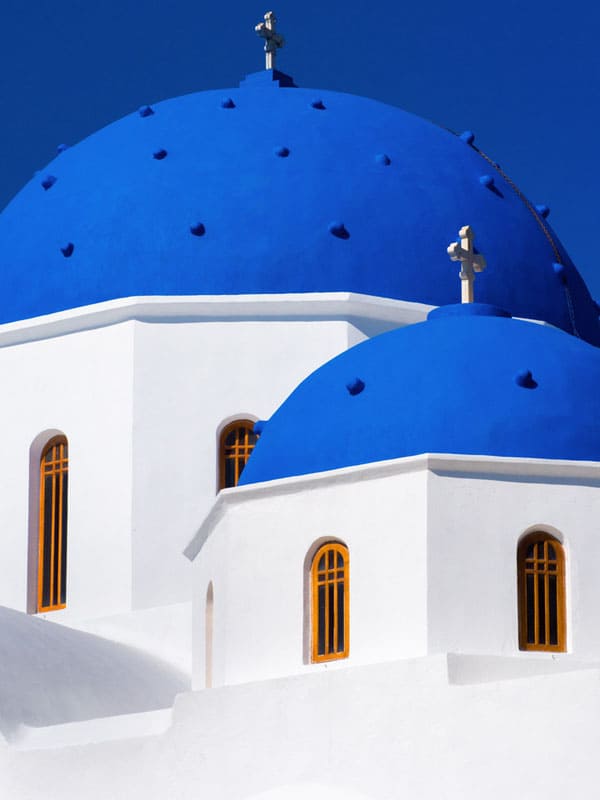 The Church Holy Cross in Perissa was a highlight of our walk through the village.
Perissa is 15 km south of Fira and if you want to enjoy beach life, this is a good spot to make a base.
It has the alleyways and beauty of Oia without the crowds. Perissa is still very busy since it is close to Black Beach, but it another great place to explore.
17. Take a Santorini Wine Tour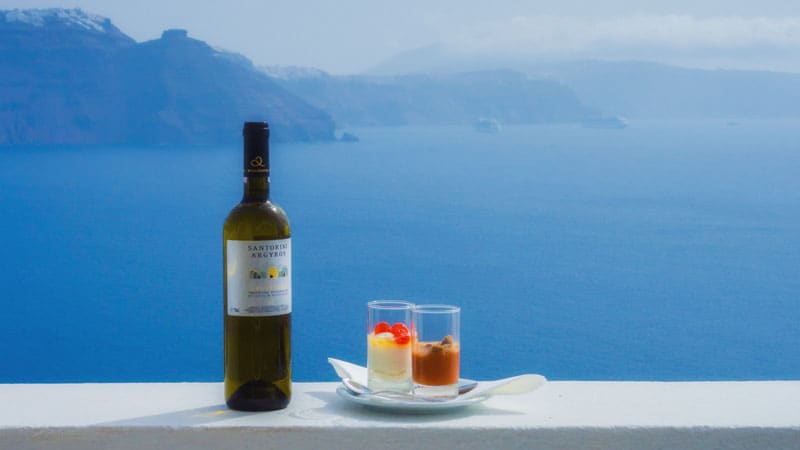 Santorini has a surprising number of wineries for one single island.
Wine tours are popular on Santorini and are an excellent way to explore more of the island while soaking in the culture.
Get Your Guide offers a sunset wine tour with 8 tastings at two different Santorini wineries before watching the sunset over the caldera in Oia.
18. Greek Cooking Class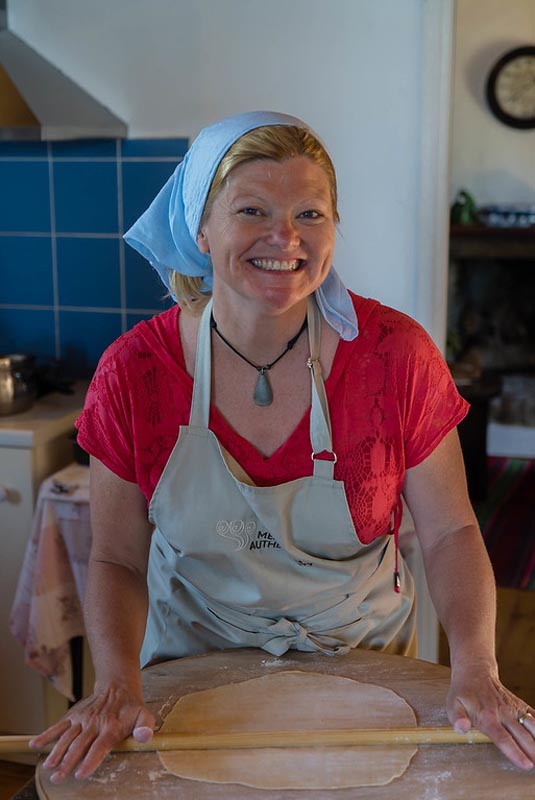 Learning to cook Greek food was one of the best things we ever did. We take a lot of cooking classes whenever we travel and Greek food is the best!
When you learn how to make iconic food in the destination, it makes for a special experience when you come home to relive your Santorini vacation.
So take a cooking class in Santorini that includes wine tasting at two wineries and a chance to sample your hard work at the end!
19. Eat Yogurt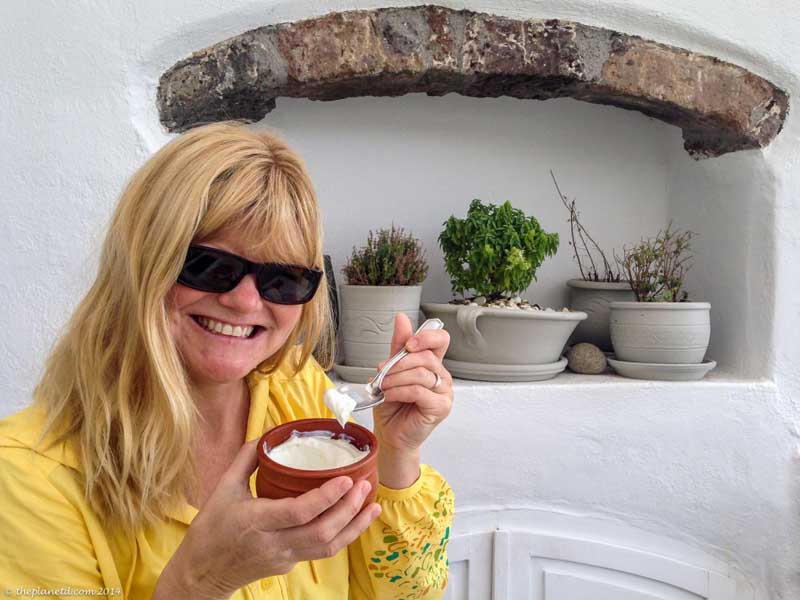 Ever since those Oikos commercials where the woman daydreams about eating yogurt in Santorini have I wanted to do the same.
It was a dream come true to have Greek yogurt with fresh Santorini honey drizzled atop my bowl filled with fresh the fresh and delicious treat!
Yogurt really does taste better in Santorini.
We were served a private breakfast on our balcony at Iconic Santorini in Oia complete with Greek Yogurt and fresh Santorini honey.
20. Get off the Beaten Path in Pygros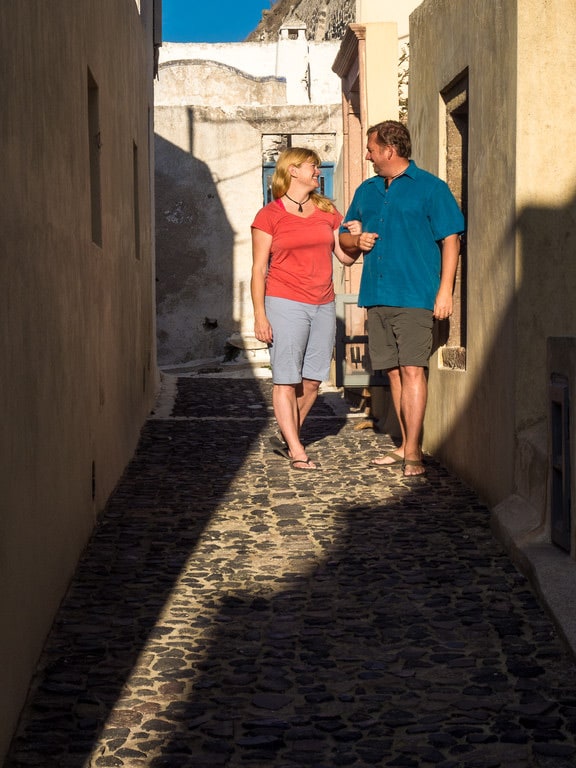 This is definitely the quietest town we visited in Santorini. Located high on a hill it offers excellent views of the island.
We got lost wandering its back streets. We barely saw another tourist while exploring Pygros and we even came across some blue domes of its own.
21. Explore Megalochori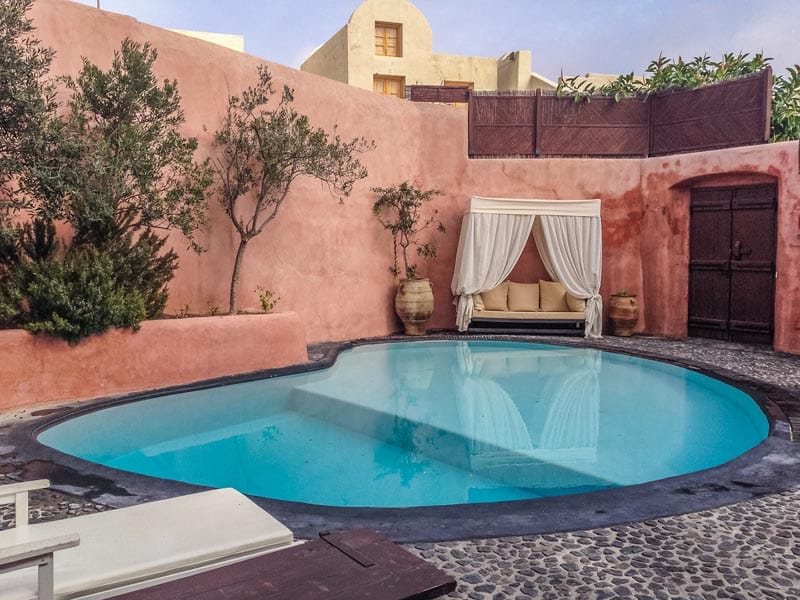 In the town of Megalochori, we had our own villa with a private pool.
This town feels like a spot where the locals live.
Here we had the chance to shop for local cuisine and wine.
22. Ancient Ruins of Akrotiri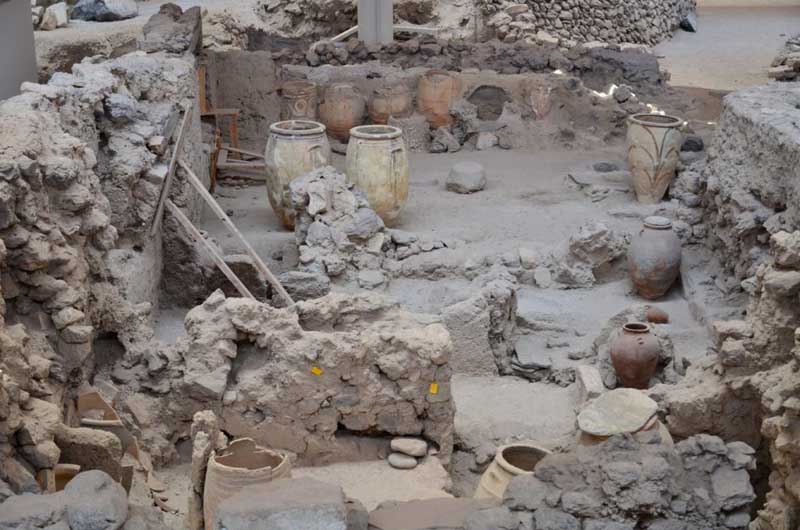 Greece is known for its ancient ruins and Santorini is no exception. The ruins of Akrotiri date back to the Bronz Age (3000 – 1200 BC). Because it was buried by ash of a volcanic eruption, the anqiquities and frescoes are quite well preserved.
While this is a popular tourist attraction, visiting the town of Akrotiri is also a must. Not a lot of people spend time in the village so it has a nice small village feel.
23. Open Air Cinema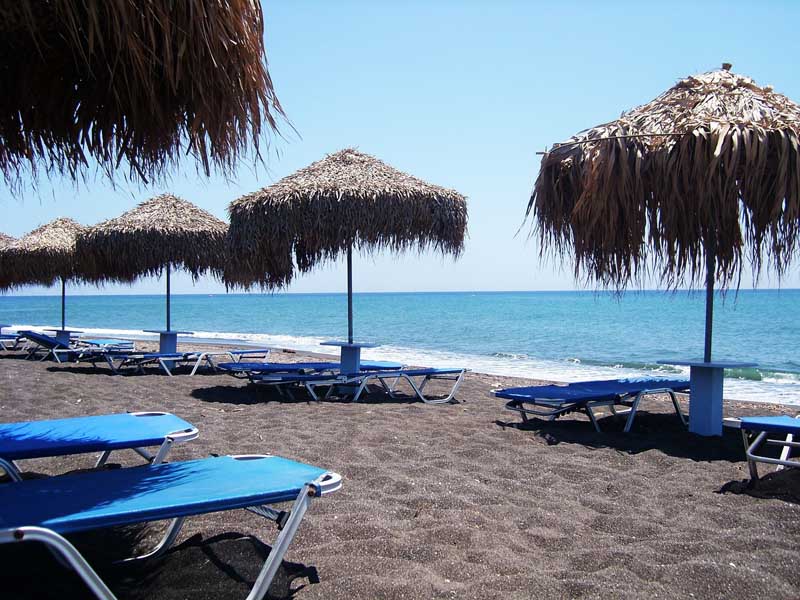 If you are looking for something unique to do in Santorini there is an open-air cinema in Kamari village.
When traveling, we miss going to the movies, so it is nice to have a night out.
Plus, you can enjoy a movie with a glass of wine and popcorn!
Kamari is one of the most visited beaches in Santorini and there are plenty of places to stay nearby.
24. Santorini Cable Car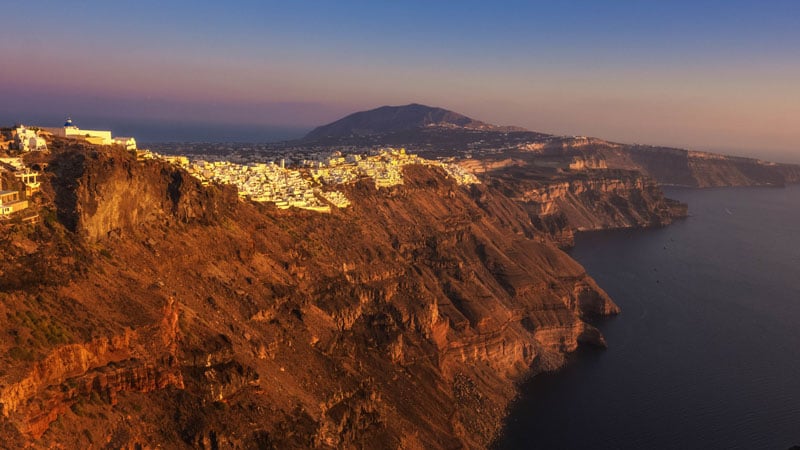 If you are visiting Santorini for just a few hours on a cruise, a fast way to get up to Fira Town quickly so you can appreciate more of the island.
It was designed to bring 1200 people per hour up from the Fira port.
A portion of the tickets go to the mule drivers to help them continue to thrive.
25. Rent a Car to See the Island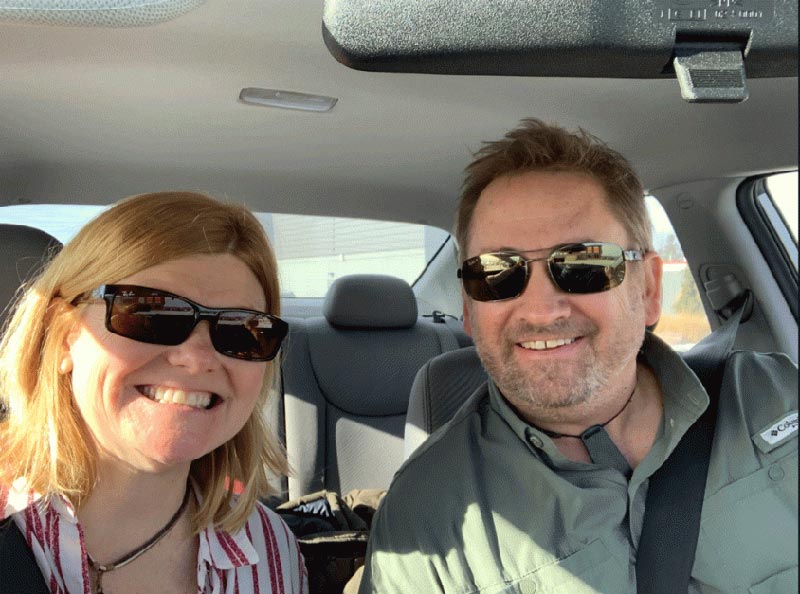 There are many villages to see on Santorini and the best way to really explore the island is to rent a car.
We got a steal in the offseason on a small budget car and set out each day to explore somewhere new.
Renting a car in Santorini is an excellent way to find secluded beaches, quiet restaurants, and hidden markets.
Getting around Santorini
When booking a trip to Santorini, we highly recommend renting a car. You can rent small cars for reasonable prices right on the island, with your flight or book them in advance.
If you don't want to rent a car, Santorini has a surprisingly excellent transportation system. You can take the local bus from the airport to Fira.
Buses also run between Oia, Imerovigli, Perissa, Kamari and Akrotiri.
Get Your Guide offers airport transfers and transfer services on the island.
As of now, there is no Uber or Lyft on Santorini. Taxis are plentiful on the island. Agree on the price before getting in.
How to get to Santorini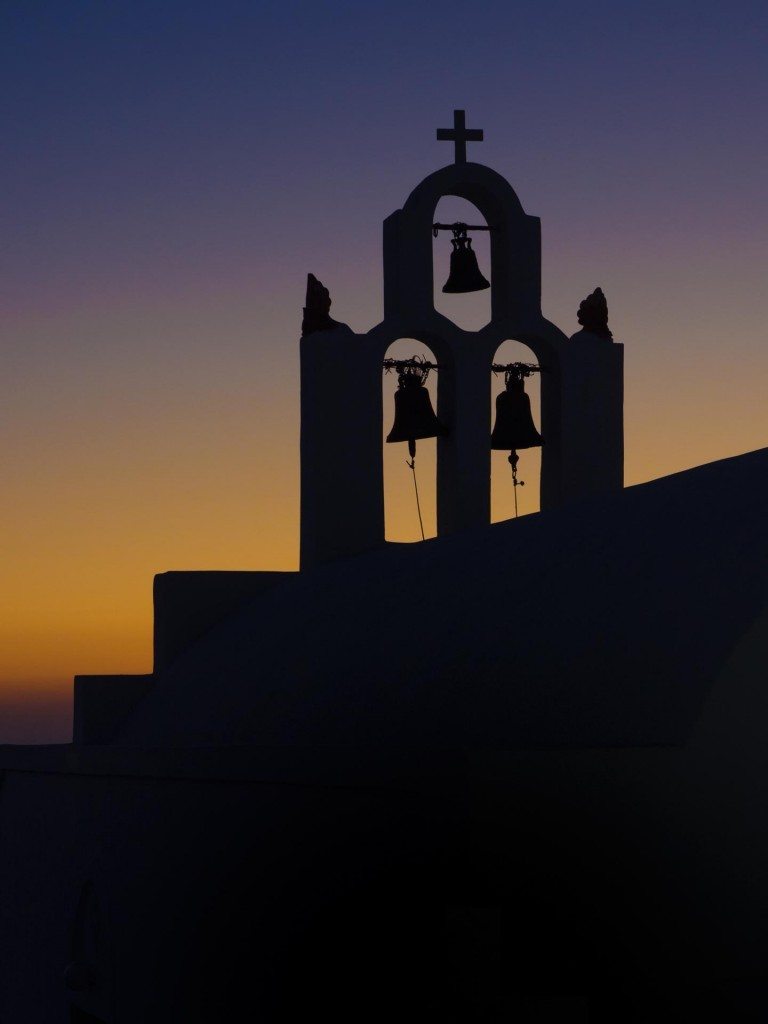 We flew from Santorini from Athens. It was quick and easy and by purchasing our flight and hotel together we saved big.
We left Santorini by ferry direct to Crete.
Ferry's depart and arrive daily from the old port and we grabbed a ferry to Crete to continue exploring the Greek Islands.
The best way to research ferries to Santorini is at The Ferry Hopper
There are flights daily from Athens and Ferries daily from Athens year round.
So what do you think? There really are a lot of things to do in Santorini right?
Pin to Save to Pinterest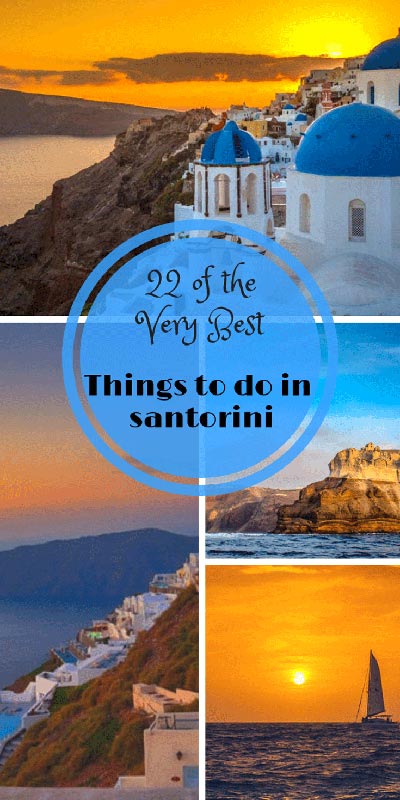 Tell us what your favourite things to do in Santorini are. I am sure we missed something.
Read More:
A Photography Guide to Santorini
Iconic Santorini: A Cave Hotel Experience
Sizzling Santorini: The Sexiest Stop in the Greek Islands
Discover The Natural Beauty of Costa Navarino, Greece
Disclaimer: There are affiliates in the post. If you choose to visit any of the recommended tours we earn an income at no extra cost to you. 
Source link Travel Advisor