Planning a camping trip this summer? Ontario is a playground for outdoor lovers. With an area larger than both France and Spain combined and one-fifth of the world's fresh water, it's no wonder there are so many awesome places to camp in Ontario.
Dave and I have done a lot of camping in Ontario.
Between the entire year we spent exploring the great outdoors while working with Ontario tourism, and other summers rock climbing, cycling and, mountain biking around the province, we know Ontario like the back of our hand.
With Ontario opening up, camping is a great way to keep social distancing while not disturbing the locals.
So let's help you decide where to go camping in Ontario this weekend.
The Best Places to Camp in Ontario
Sure you could just Google "campgrounds in Ontario", but we break down what's great about each destination and why you should go camping there from our first-hand experiences.
So, dust off your tent, air out your thermareast. and load the bikes, because we are about to share the best places to camp in Ontario, Canada.
Quick Tips for Camping in Ontario During Covid
Before you hop in your car for a road trip, check with the campsite to make sure it is open and the facilities are functioning.
Not all campgrounds are open yet and they fill up fast so book before you go.
Some facilities like washrooms, laundry, and pools may not be open. Check with each park before you book.
Stock up before you go. Buy all food and beverages in your home town so you need to don't go into the stores up North.
Many backcountry campgrounds remain closed, but Ontario is heading into phase 3 so check Ontario Travel or Ontario Parks for updates.
Pack your mask and hand sanitizer if you have to go into town.
Like everything in Covid, wash your hands often, and maintain social distancing.
Read our Ultimate Camping Gear List to see if you have everything you need!
The Best Camping in Ontario
These are the best places to go camping with ideas of what to see and do near each one!
1. Algonquin Provincial Park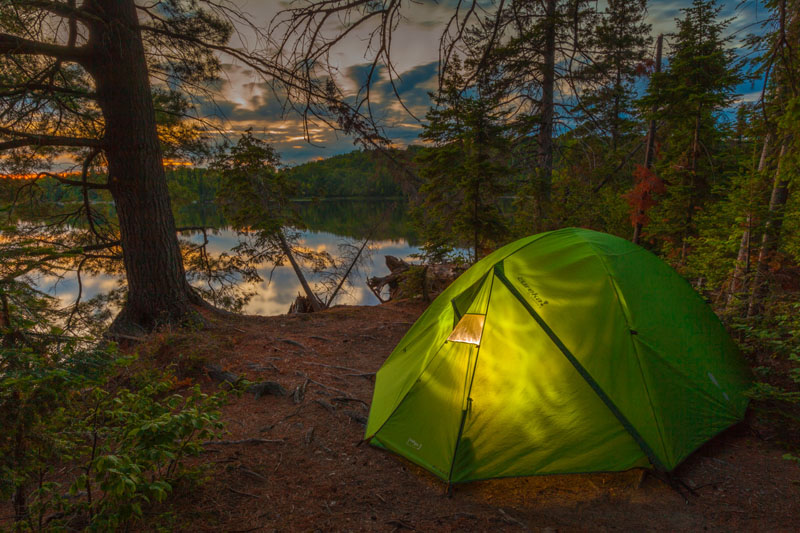 Algonquin Park is probably the most popular spot for backcountry camping in Ontario. It is the ultimate canoe route where you can easily go off the grid paddling through pristine lakes and rivers.
Located just three hours north of Toronto, Algonquin Park is for people who truly want to get off the grid.
Be prepared for a rugged experience.
When we did our first canoe trip through Algonquin we had 2km portages, we hung our bear barrels safely from intruding black bears and used backcountry outhouses for toilets.
But you don't have to do backcountry camping, there is drive in camping in Algonquin as well.
2. Collingwood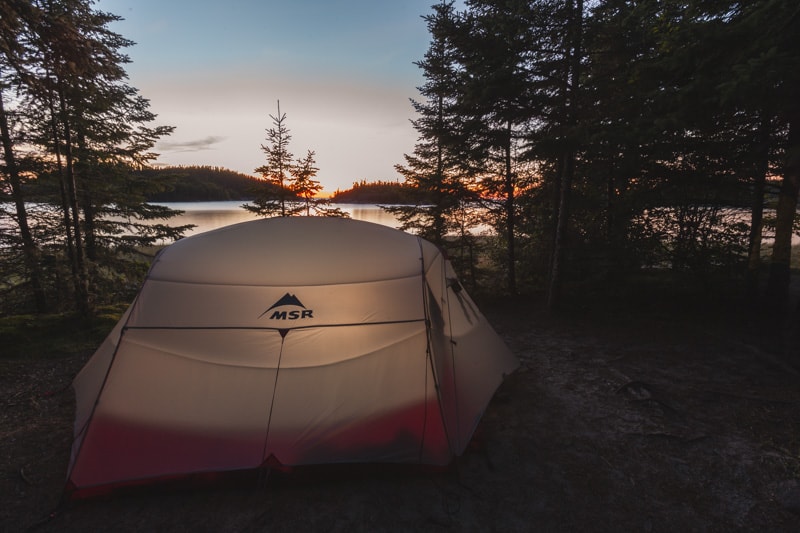 Collingwood is located two hours from Toronto and is one of Ontario's most exciting outdoor destinations.
Located on Georgian Bay, there are many campgrounds that have full facilities.
Our favourite campground is Craigleith located directly on Georgian Bay. It makes for a great base to explore the Blue Mountains for hiking and mountain biking.
Wasaga Beach is nearby, the longest freshwater beach in the world, and you can easily pop into the town of Collingwood.
There are plenty of things to do in Collingwood from the High Ropes course, rock climbing and Scenic Caves, you can easily fill a weekend or even a week camping in Collingwood.
3. Manitoulin Island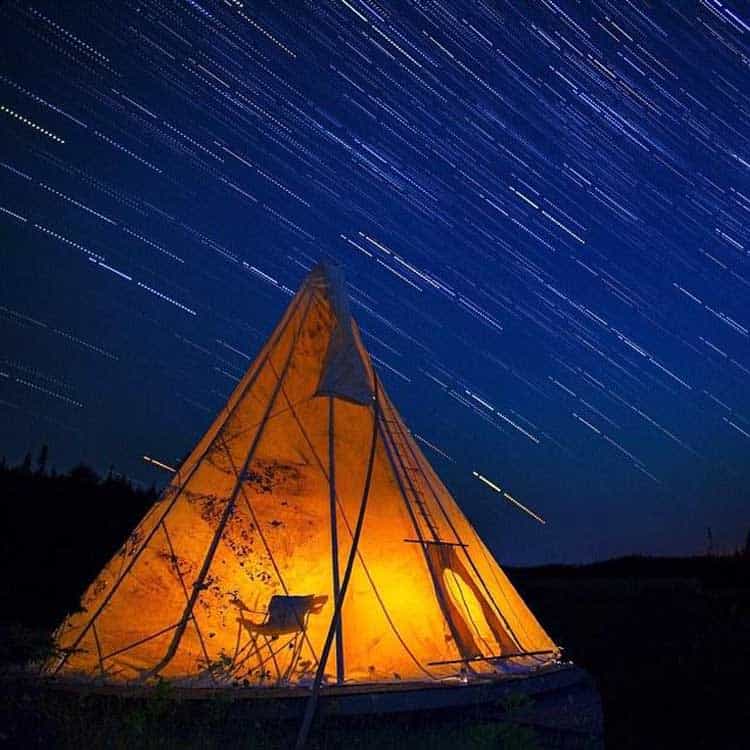 When we went camping on Manitoulin, we stayed in a TeePee with the Great Spirit Circle Trail company and we did some serious backcountry camping on the Benjeman Islands. .
But there is lots of regular camping on Manitoulin with both cottages and campgrounds available.
Why go camping on Manitoulin? This is a destination that has so many things to see and do.
Great hikes, scenic boat tours, canoe trips, Aboriginal experiences, gorgeous waterfalls like Bridal Veil Falls, fine dining, and incredible lookouts!
4. Grand Bend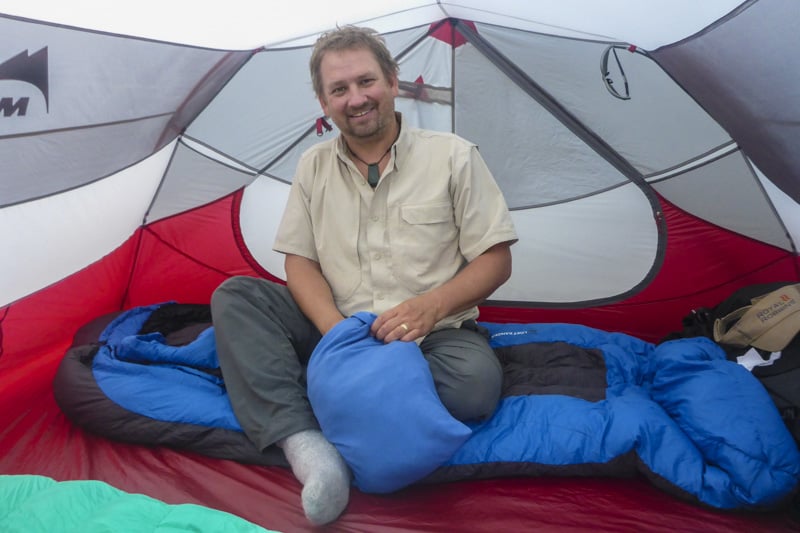 The popular place to camp in Grand Bend is at The Pinery located directly on Lake Huron with 10 km of sandy beach!
Fun Fact, I performed at the Huron Country Playhouse one summer.
This professional theatre gives campers something unique to do at night in Grand Bend.
But it is the beach that attracts campers to Grand Bend. It's one of the best in Ontario.
With bars and restaurants and plenty of things to do in downtown Grand Bend, you'll love camping here for a weekend.
The Pinery has full facilities, hiking trails, canoe and hydrobike rentals and it was voted by National Geographic as one of the top 10 sunset spots in the world!
Places to Camp on Lake Superior
Lake Superior has some of the best camping in all of Ontario.
The scenery of Lake Superior's north shore is the best in the entire province and the adventures to be had are second to none.
There are plenty of campgrounds to choose from, but these are a few of our favourites.
5. Slate Islands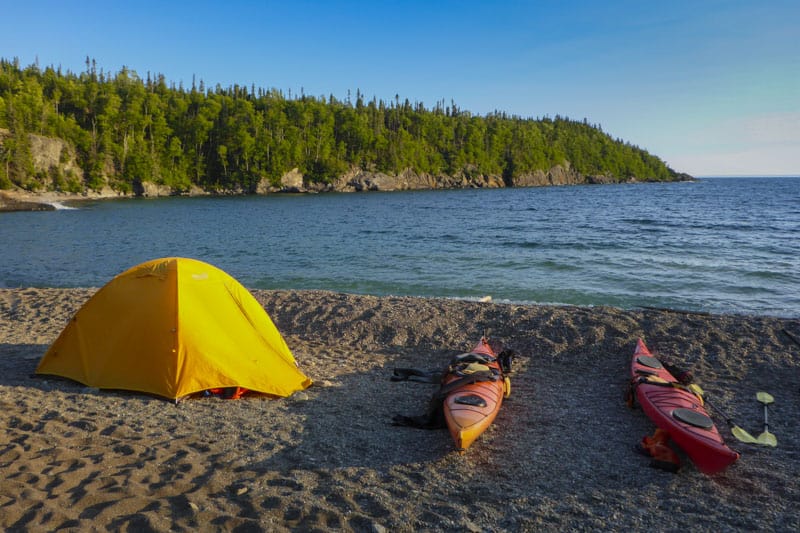 The Slate Islands is by far our favourite place to go camping on Lake Superior's north shore. You can take a shuttle from Terrace Bay 14 km out to the cluster of islands in the middle of the lake.
You can explore on your own and even have your canoes or kayaks shuttled out with you or you can book a trip with companies like Naturally Superior Adventures.
When out there, you'll come into contact with Woodland Caribou. There are 100 of these rare creatures that inhabit the islands.
There hiking to the highest lighthouse on Lake Superior at Patterson Island, an Old Copper Mine on Mortimer Island, high sea cliffs and the World's largest shattercone!
But we really loved the deserted beaches.
6. Pukaskwa National Park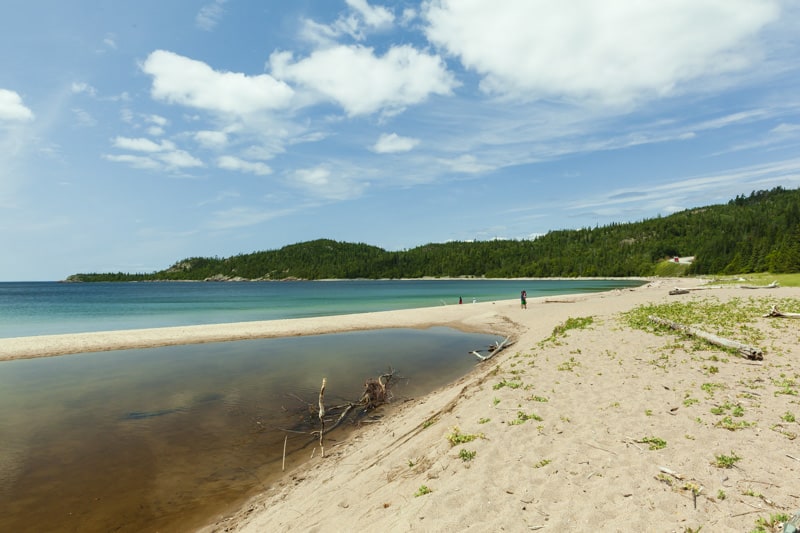 Pukaskwa National Park is a fantastic place to pitch your tent.
You can do backcountry camping here or car camping in Hattie Cove.
There are full facilities with toilets and you can even book an o-Tentic if you want more glamour camping.
There are day hikes, most notably to the suspension bridge. You can rent kayaks and canoes and you can book a boat shuttle to take you out to the backcountry.
7. Lake Superior Provincial Park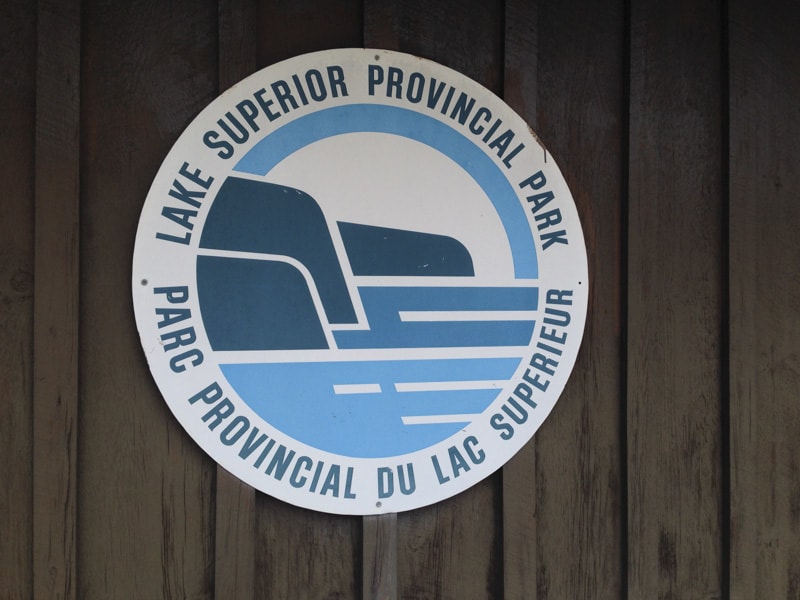 If you are looking for something a little less rugged, Agawa Bay offers good car camping with bathroom and water amenities.
Located directly on Lake Superior 90 minutes north of Sault Ste. Marie, Agawa Bay offers three kilometers of beachfront!
And the beaches on Lake Superior are beautiful. There are six beaches you can visit!
Driving this stretch of highway is a must with viewpoints and pullovers, it's only an hour from Wawa.
There are great hiking trails, most notably the Orphan Lake Trail which is a beautiful scenic loop.
And be sure to go to Agawa Rock to see the pictographs.
8. Missinaibi River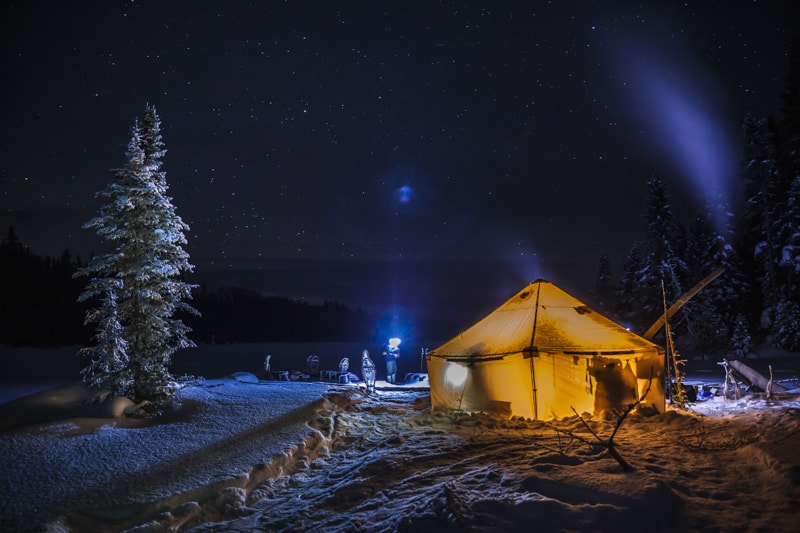 The Missinaibi is a Canadian Heritage River and the world's largest crown wildlife preserve encompassing 2 million acres of land!
It's not on Lake Superior, but it is north of Lake Superior, so you are getting into the Far North of Ontario.
There are  Ojibwe and Cree artifacts dating back 2000 years and visitors can see more than 100 Indigenous Pictographs.
Camping in Missinaibi is backcountry camping, so experience is a must, or you can book a canoe tour.
There is car camping at Barclay Bay with basic amenities like water taps and animal safe food storage.
Get ready to experience the true Ontario backcountry.
Our Favourite Camping Near Toronto
You don't have to go far in Ontario to feel like you are away from it all. There are plenty of campgrounds located just outside of Toronto.
Here are a couple of our favourite places to go camping near Toronto.
9. Albion Hills
Albion Hills Conservation Area is just one hour north of Toronto and is a fun place to go camping in Ontario that isn't too far out of the way.
It has excellent mountain biking trails for beginner and experts. They have 50 km of double and single track trails!
10. Milton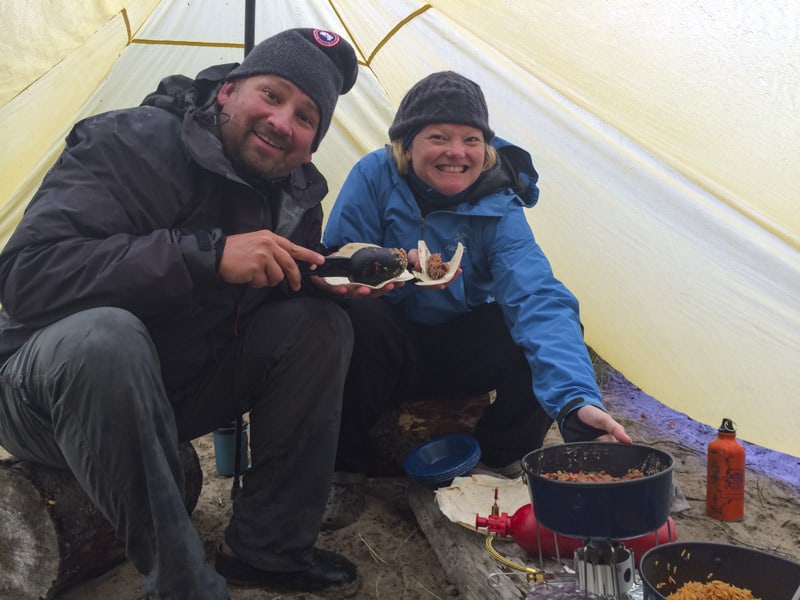 Dave and I lived at Milton campground for a summer, so we know and love this campground.
It's an excellent base for hiking the Bruce Trail, climbing at rattlesnake point or mountain biking at Kelso.
Milton is an adventure lovers Ontario destiantion just a short drive from Toronto. We actually commuted to Toronto daily when living there one summer.
There's the Hilton Falls Conservation Area, Crawford Lake Conservation Area and Mount Nemo Conservation Area nearby with waterfalls, hiking trails and cycling routes where you can easily fill a few days camping outside of Toronto.
11. Niagara Falls
People often think of the hotels and casinos of Niagara Falls, but there is a more rugged and affordable way to enjoy the Niagara Escarpment.
When we went bouldering and hiking in Niagara Glen, camping seemed like the appropriate way to stay overnight.
Yogi Bear Campgrounds attracts the big RVs and families, but there is a wooded area for tent camping only.
It may be filled with families, but it is the closest park to Niagara Falls so you can explore all the awesome things to do in Niagara Falls and still experience the beautiful great outdoors of the Niagara Escarpment.
Lake Erie Places to Camp
Lake Erie is our stomping grounds. My family kept boats on Lake Erie and Dave and I did a lot of camping on its shores.
We've chosen a couple of spots for you to start looking for campgrounds.
12. Turkey Point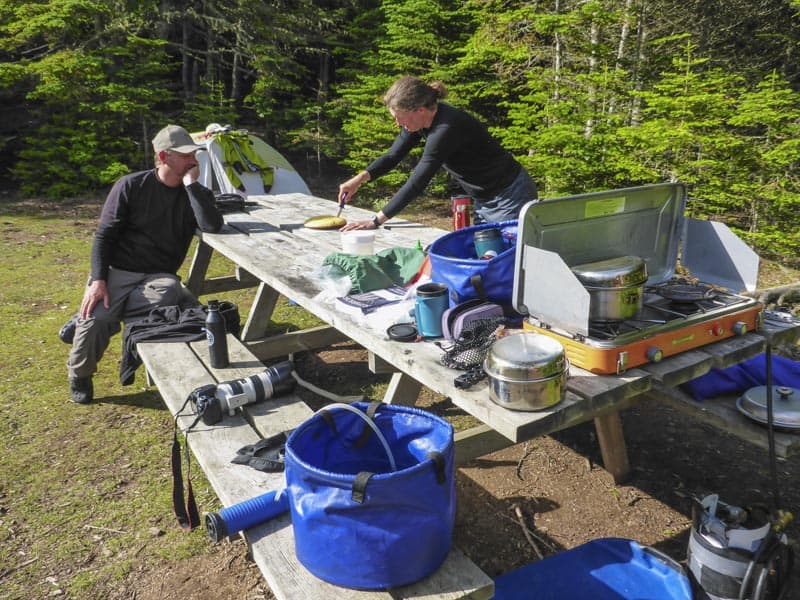 I am partial to camping in Turkey Point because it was my summer beach destination growing up.
Dave and I even slept on the beach once (sans tent) waiting for my brother and sister-in-law to come to their boat at the Turkey Point Marina.
Today, Turkey Point has turned into an fantastic tourist destination with Ziplining and vineyards nearby.
There's even glamping at Long Point Eco-Adventures!
Turkey Point has a fantastic beach for swimming, hiking trails, restaurants and the rocking Turkey Point Hotel for nightlife.
13. Long Point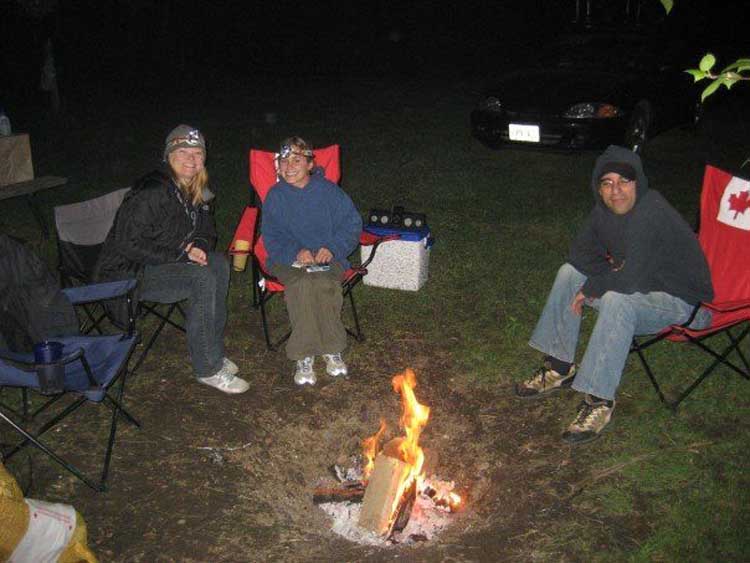 If you are a birder, Long Point is the place to be! It is a designated World Biosphere Reserve because of the massive bird migration through the area.
Long Point is a long sandy stretch of land reaching far out into Lake Erie.
Port Stanley is an hour's drive from Long Point (Dave and I have cycled to and from Port Stanley in a day) and Port Burwell is in between.
Georgian Bay and Bruce Peninsula Camping
Georgian Bay and the Bruce Peninsula have some of the best and most popular campsites in Ontario.
The Northeastern shore of Lake Huron has some of the best places to pitch a tent in spots like Killarney, Manitoulan Island, Collingwood, Wasaga Beach and into the Bruce Peninsula.
These are our picks for the area and we threw in a favourite on Lake Simcoe that is also not too far away.
14. Tobermory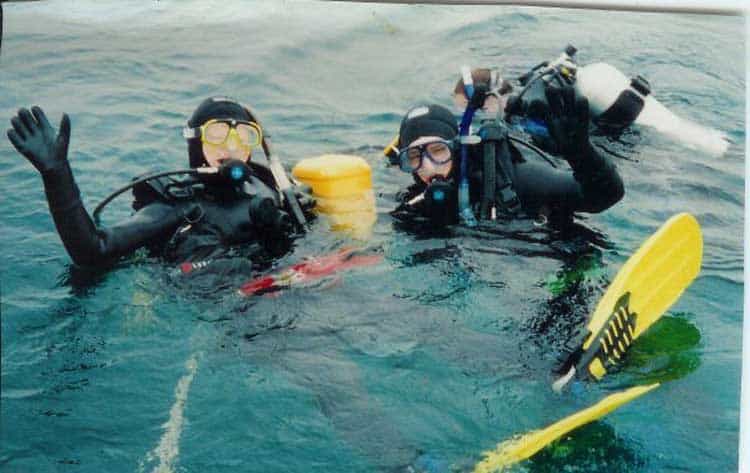 For backcountry camping at its finest, the Fathom Five National Marine Park has six backcountry campgrounds. You can actually camp on Flowerpot Island.
Hire a tour boat to take you out there and if you have canoe or kayaking experience, bring your boats along!
If you don't want to go backcountry camping, Lands End Campground has RV and tent camping with full facilities on the mainland.
Explore the Shipwrecks of Tobermory, hike the Bruce Trail, see the grotto and take a boat tour.
Visit the Bruce Peninsula camping website for backcountry camping details and Cyprus Lake frontcountry camping.
15. Midland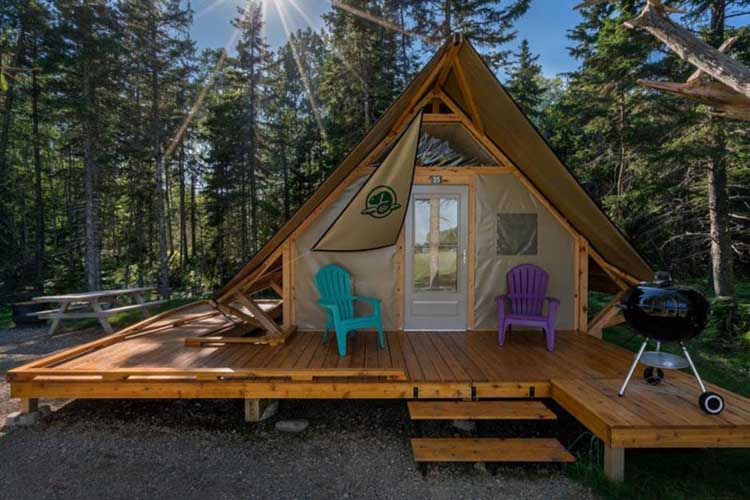 Located directly on Georgian Bay, Midland attracts visitors to explore its history. Saint Marie among the Hurons was the first European settlement in Ontario dating back to 1639.
Midland is also a great place to hop on a boat tour to explore the 30,000 Islands. It is the largest freshwater archipelago in the world!
Camping at Awenda Provincial Park makes for a great base. Located direclty on the water, there are beaches, hiking trails, and an inland lake for canoeing.
It offers car camping and there is a cottage to rent if you want more comfort.
16. Parry Sound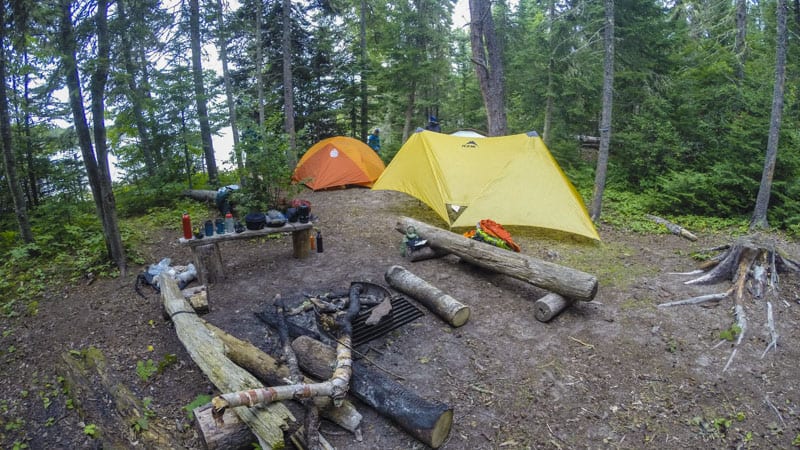 A little farther north from Midland is Parry Sound.
KOA campgrounds always have good camping sites and we find you can't go wrong. With RV, Lodges and tented campsites it is a good choice for most campers.
Parry Sound really feels like you've gone up to Ontario's north country.
Located on the Georgian Bay Biosphere Reserve, you'll have the world's largest freshwater archipelago to explore.
Downtown Parry Sound has a lot to do after you've done your hikes, boat tours or kayaking trips.
And a fun fact: Parry Sound is hockey legend Bobby Orr's home town!
17. Sauble Beach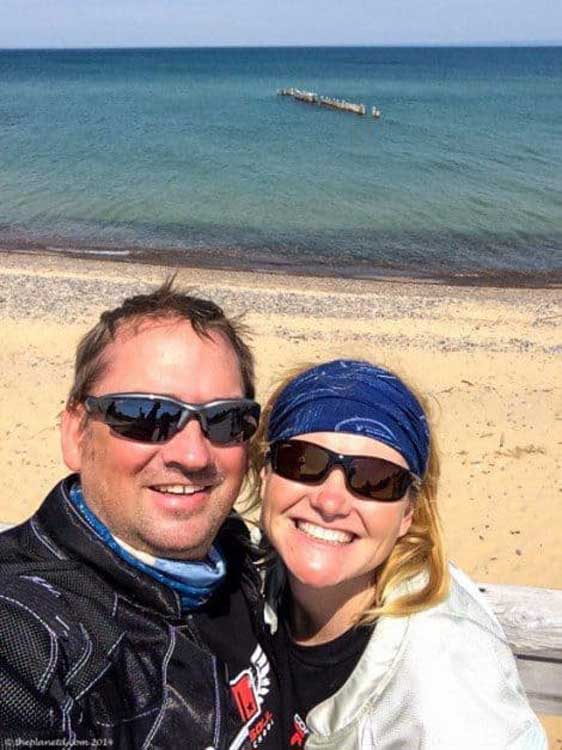 For the ultimate location for a beach getaway, Sauble Beach is a super place to set up your tent.
It's the second-longest freshwater beach in the world after nearby Wasaga Beach, but it was voted the number one beach on Ontario!
Carson's Camp is 1km from the beach with full facilities including indoor and outdoor swimming pools, adult only hot tub, and gym.
It offers cabins and trailers for rent and has tent and RV camping.
18. Bass Lake Provincial Park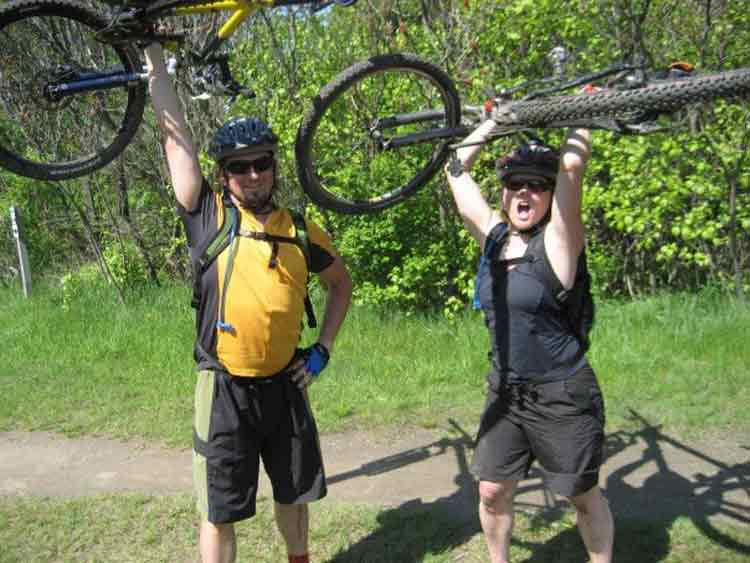 Okay, this is not on Georgian Bay or the Bruce Peninsula, but it's not far by Ontario driving standards, and we didn't quote know where to include this.
But we love camping and exploring around Orillia, Ontario.
Bass Lake Campground has canoe and kayak rentals, a scenic hiking trail right on site and its not far from Orillia to head into town for some more sightseeing.
We like to camp at Bass Lake because it is close to our favourite mountain bike trails in Ontario at Hardwood Hills.
Orillia has a lovely waterfront, restaurants and cafes, there's Couchiching Beach, and Casino Rama is located just out of town.
Explorer's Edge
Explorer's Edge is a fantastic tourist destination north of Toronto.
It's a place the encompasses the Muskoka Lake, Algonquin and Arrowhead Provincial Parks, and urban destinations like Huntsville.
It's a great weekend getaway from the city!
19. Arrowhead Provincial Park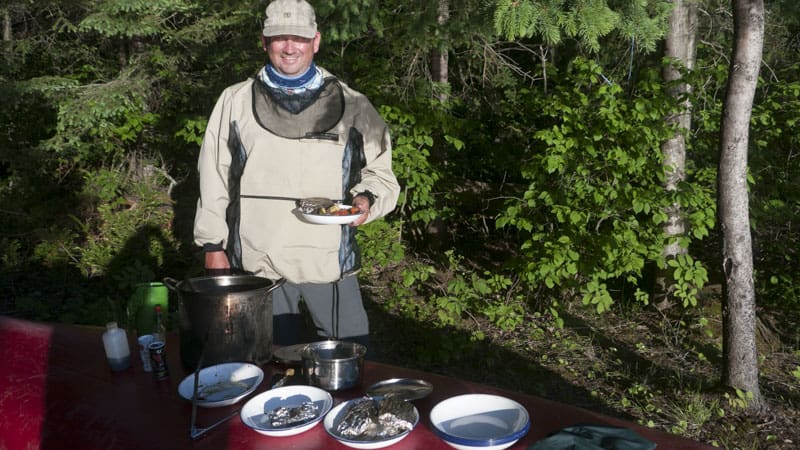 We love Arrowhead. There is so much to do here.
Located just outside of Huntsville Ontario, Arrowhead has three different campgrounds, 10 cabins and a deluxe glamping tent!
There is so much to do in the park with several hiking trails, canoeing, and mountain bike trails.
Huntsville has always been a favorite for Ontarion's escaping the city. Located in the heart of the Muskokas there are plenty of Lakes, parks and trails to explore.
Plus there's dining, nightlife, shopping and everything you need when popping into town!
20. Haliburton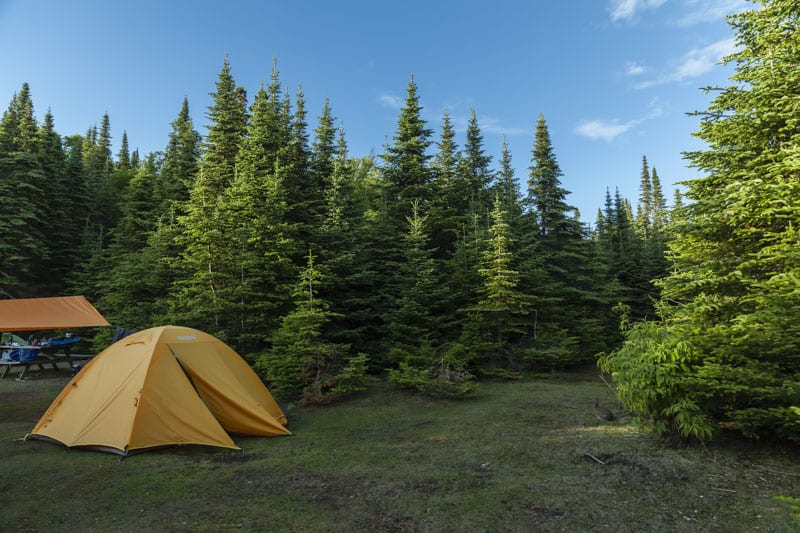 Haliburton Forest is our all time favourite forest in Ontario. It has several wilderness campsites that are accessible by car.
The facilities are basic with outhouses and picnic tables giving you a true backcountry feel without having to canoe or trek deep into the wilderness.
There are plenty of things to do in Haliburton, from the longest canopy walk in the world, to visiting the Wolf Sanctuary and the other usual things to do in Ontario campsites like mountain biking, hiking and canoeing.
21. Muskoka Lakes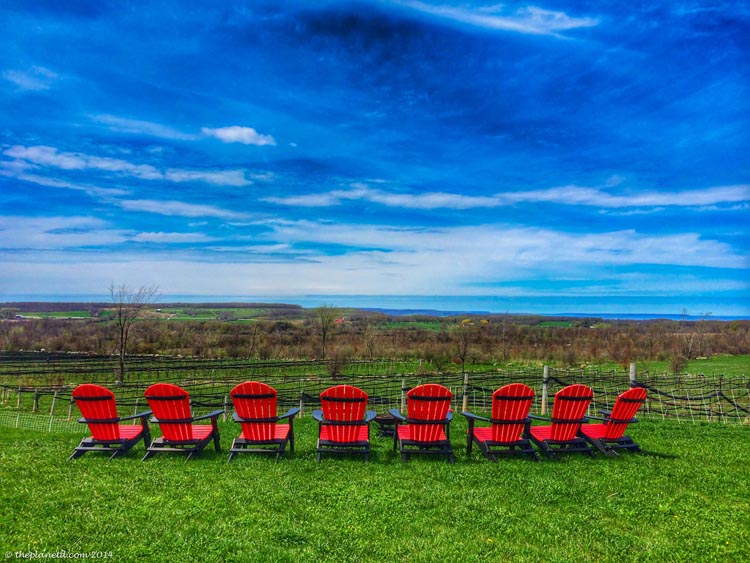 The District of Muskoka is massive and there are countless campsites in the heart of Ontario's cottage country.
Eastern Ontario
Eastern Ontario deserves its own camping list article. There are so many great places to visit!
Eastern Ontario stretches along the Saint Lawrence and up to Ottawa. There are so many things to do that can keep you occupied for days!
These are the campgrounds that we've explored.
22. Brockville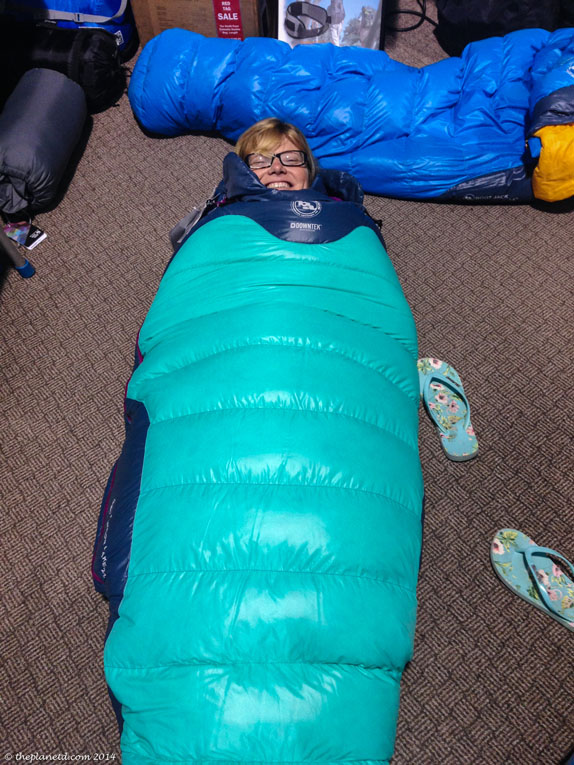 St. Lawrence Park is a good campground near Brockville and it was where we set up camp when diving the Saint Lawrence River.
There are several campsites dotting the Saint Lawrence giving access to the Thousand Islands tours.
You can swim in the Saint Lawrence and there are beaches.
The water is warmer in the Saint Lawrence than the Great Lakes of Ontario in the summer, making for a great camping destination to explore the towns of Brockville, Kingston, Gananoque and you can scoot over to the United States! (that is, when the border opens)
23. Bon Echo Provincial Park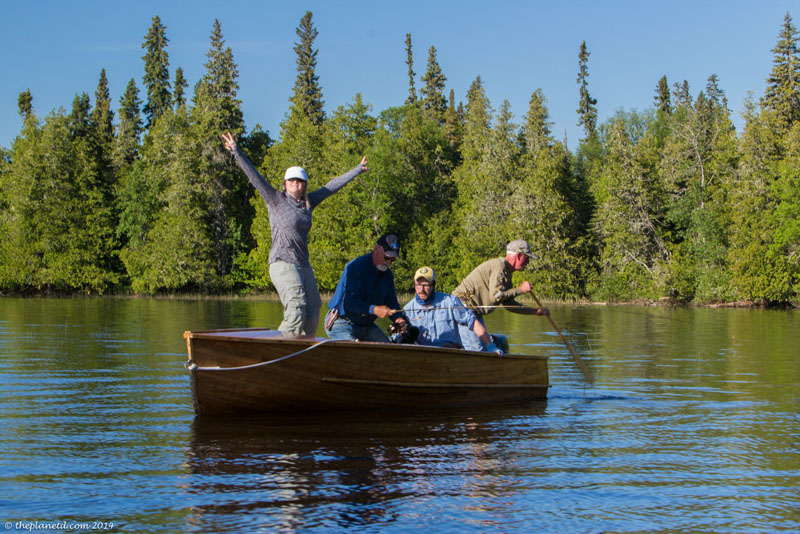 Located just two hours from Ottawa, Bon Echo offers great backcountry and car camping.
It has the largest visible collection of Aboriginal Pictographs on Mazinaw Rock. A 100 metre tall rockface reaching up from Mazinaw Lake.
There are canoe and kayak rentals and if you want to take on a canoe route, Bon Echo has a proper canoe route with a portage and everything!
24. Peterborough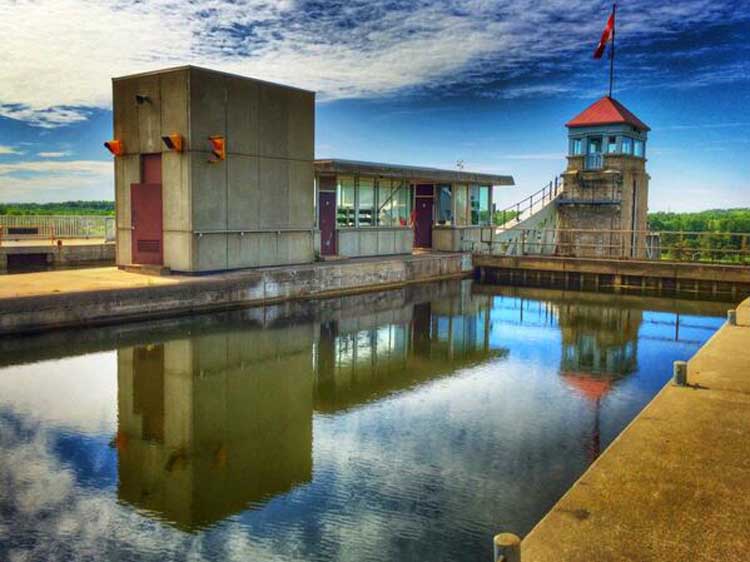 Heading east of Toronto is the town of Peterborough. This is another cottage country destination.
A unique campsite in Ontario is the Beavermead Campground located in the heart of town!
It's fully serviced with tent and RV campsites offered.
It's located directly on Little Lake and you can even paddle right into downtown Peterborough from the campground!
Peterborough is located directly on the Trent Severn Waterway and is home to the highest lift lock in the world.
25. Kawarthas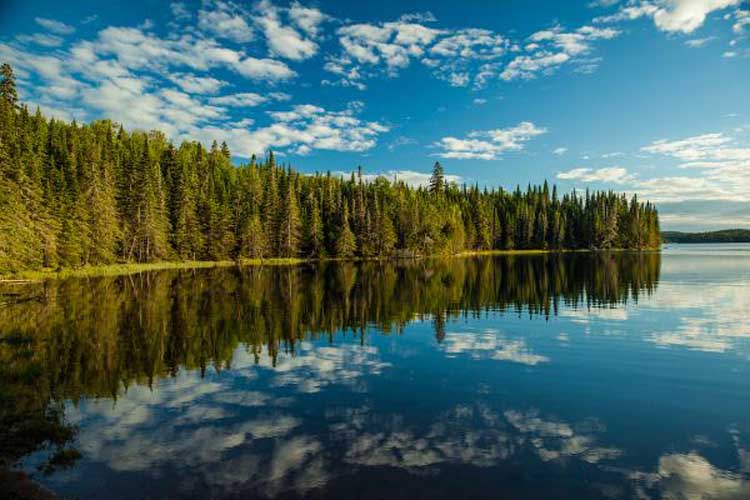 The Kawartha Lakes are located just north of Peterborough and another fantastic place to go camping in Ontario.
With 250 lakes to choose from, the possibilities are endless. There's the usual hiking, cycling and paddling, but there is also the Arts and Cultural Heritage Trail.
The city of Kawartha Lakes has plenty of nightlife and dining if youw ant to escape the tent for a bit.
You can do backcountry camping, car camping and there are O-tentniks available for rent too!
These are the best places to camp in Ontario that we've experienced.
There are so many campgrounds around the province, I guarantee you'll find one to suit your needs.
From backcountry camping to luxury campsites and glamping experiences make sure to get outside this summer and explore Ontario!
Save to Pinterest for future travel planning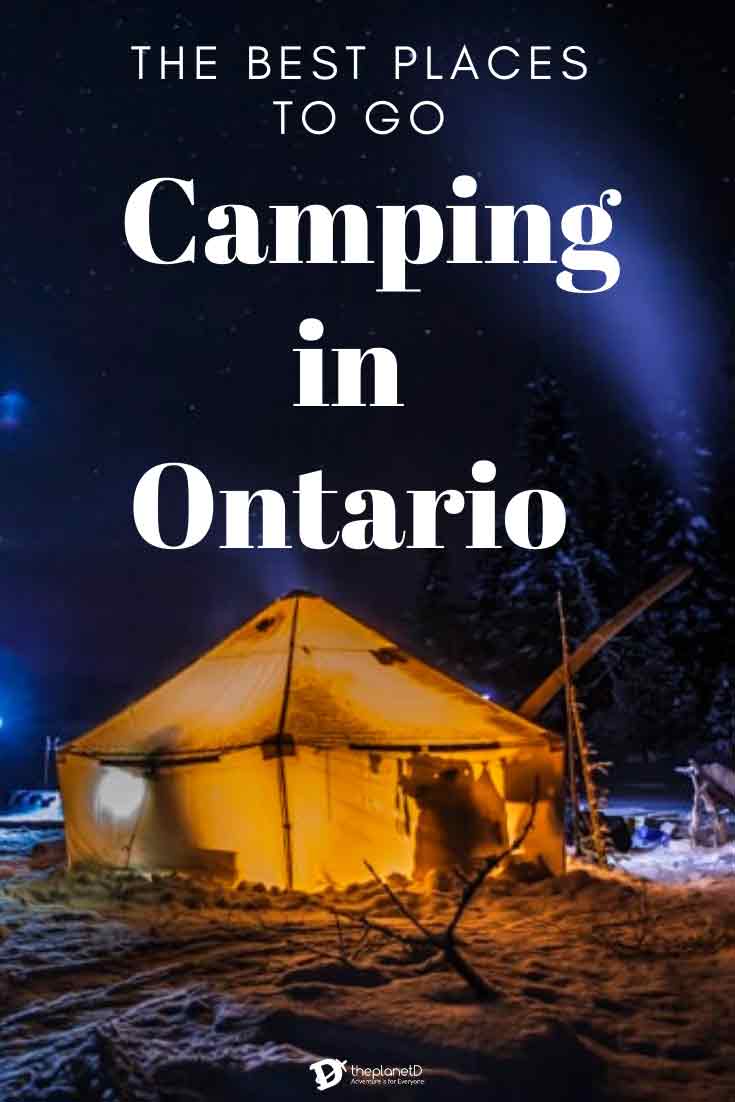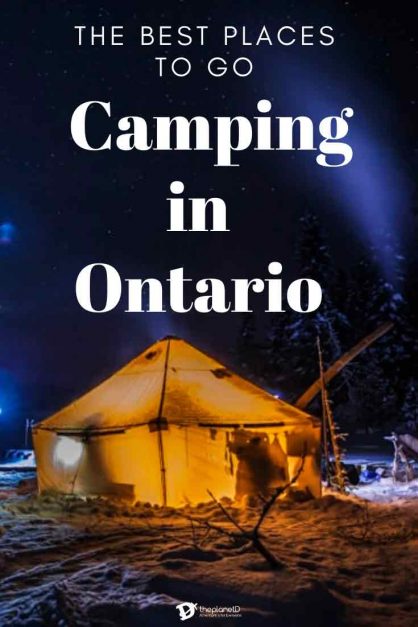 Read Next:
Source link Travel Advisor