With a population of just under 700,000, you may be surprised to find out just how many things amazing attractions there are Seville. And better yet, there are many free things to do in Seville too.
I would dare to say that Seville offers far more than many cities in Spain, including Barcelona and Madrid and I always look forward to returning. 
Part of that reason could be because of Seville's history.
Located in the southern region of Spain in Andalusia, Seville was an important city during the rule of the Muslim Moors and then later, once the New World was discovered, it played a direct role in commerce.
This allowed the city to become even richer and has left us with some amazing monuments.
Free Things in Seville
In any case, over the past few years, more and more people have been finding out what all of the fuss is about.
The city is seeing a large increase in visitors and prices have been soaring. But like I said before, there is so much to see and thankfully, a lot things to do in Seville are free!
Here is my list of 15 free things to do in Seville to help you save money.
Plaza de España
No trip to Seville would be complete without a visit to the Plaza de España. This square has become a symbol of the city, and the best part is, it's completely free.
The massive u-shaped building looks characteristically Andalusian. It combines a long history of local styles – Baroque, Renaissance and Mudejar – into one unique creation.
If you haven't been to Seville but recognize the plaza, it might be because you have seen it on the big screen.
Star Wars: Episode II – Attack of the Clones and Lawrence of Arabia were both filmed here.
There's a lot to explore and check out in the square. Simply exploring the square is one of the top free things to do in Seville.
You'll need about 5 minutes just to cross from one side to the other!
If you have a few bucks to spend, you can try your hand at rowing a boat around the square's moat or sit back and relax in a carriage driven by an Andalusian thoroughbred horse.
Triana Neighborhood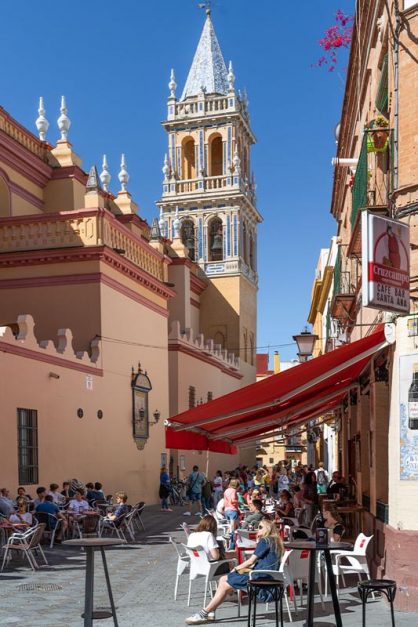 Triana is one of only a handful of neighborhoods found on the east side of the river. But it's Seville's most colorful and charismatic barrio.
The residents are proud of Triana's heritage and usually will identify first as Trianeros and then as Sevillanos.
Triana has a long history of pottery, tile making and music. This is where flamenco has its strongest roots within the city.
As you explore this area, especially in the summer, it's not uncommon to hear the stomping of feet or flamenco guitar pouring out of the windows.
Spanish Inquisition Museum
While in Triana, visit the Free Museo Del Castillo San Jose. It was the first seat of the Spanish Inquisition and traces the cruelty and torture of Spain's dark past.
Maria Luisa Park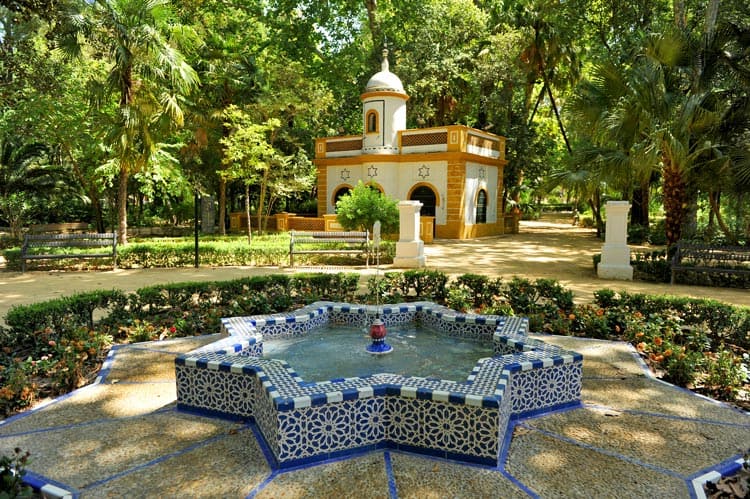 To say Maria Luisa is just a park would be an understatement. It is more like a botanical garden that has ponds with fountains surrounded by lush palm forests, orange trees, and all kinds of colorful flowers.
There are even parakeets living in the park as well as ducks and swans.
The park, along with several other buildings found within its borders, were all constructed for the Ibero-American World Fair in 1929.
Today, many of them have been turned into museums.
Even if you don't want to see the museums themselves, you should at least go to admire the architecture from the outside.
For example, the Museum of Arts and Traditions of Seville, is one of the most impressive Mudejar style buildings in the city.
If you are visiting Seville in the summer then you will know that the middle of the day can be brutal. The temperature can easily climb to over 100 ºF (40 ºC). When it's that hot, the park is a great place to go.
The temps under the tree canopy are much cooler than in the concrete jungle of the city. Just don't forget a bottle of water!
Metropol Parasol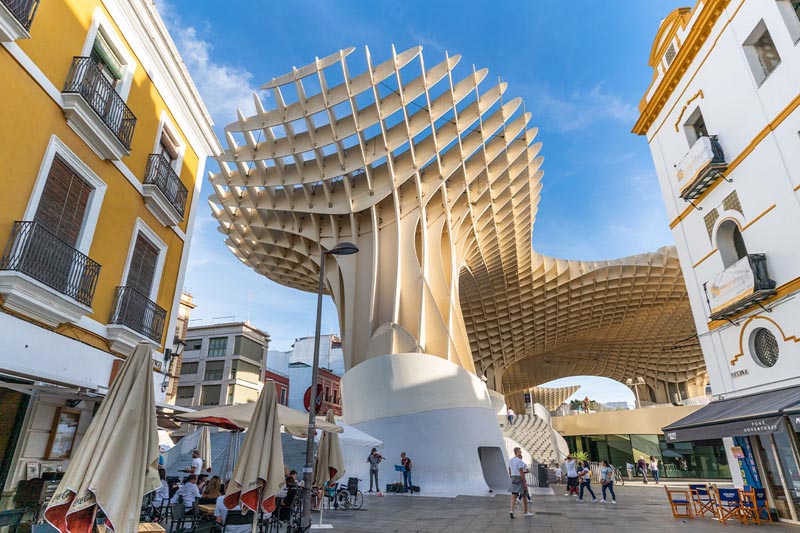 The crazy geometric Metropol Parasol (popularly known as The Mushroom) is a bizarre construction that hovers over La Encarnación square.
Designed by a German architect and completed in 2011, it has since become one of Seville's most interesting sights.
Surprisingly, most of the Metropol Parasol is made from wood and it's actually considered to be the world's largest wooden structure.
Viewing the Metropol Parasol from the square is of course one of the most popular free things to do in Seville.
But if you feel inclined, for 3€ you can take an elevator to the top and walk around a ramp that has some of the best views of Seville.
General Archive of the Indies (Archivo de Indias)
The General Archive of the Indies was built in 1572 and functioned as a merchant exchange for all the goods and riches from the New World.
It houses documents from the first conquistadors and continues all the way through the end of the 1800's.
Needless to say, this building contains lots of important history and as such, it was declared a Unesco World Heritage Site. 
Its grand rooms look like something from a Harry Potter film. The endless corridors are lined with archives that are stacked to the ceiling. 
The General Archive is conveniently located next to the Alcazar and the cathedral and doesn't take too much time to go through.
Plus it's completely free, so there is no reason not to check it out.
Antiquarium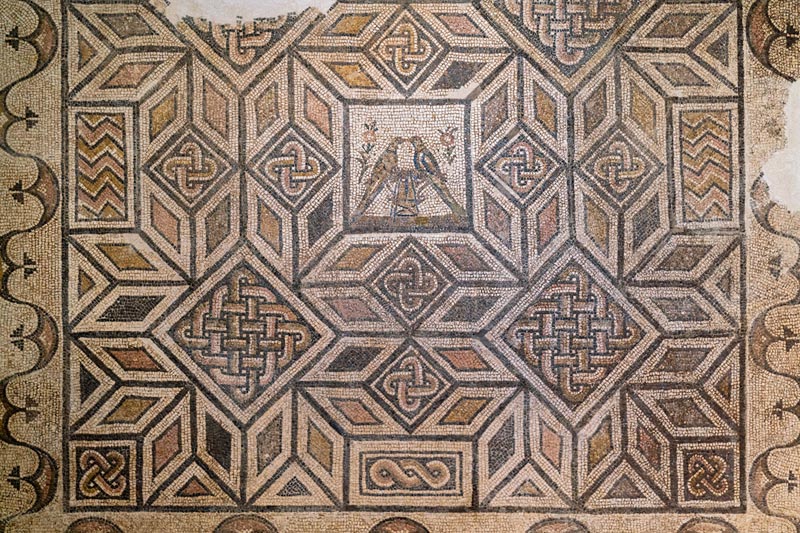 Below ground at the Metrosol Parasol, is a Roman archeology site that has building foundations and several mosaics.
The ruins were discovered when workers were digging to build a car-park under the square. Needless to say, the car-park had to be moved!
While entrance to the Antiquarium normally costs 2.1€, you can get in for free if you have your ticket from the Alcazar.
Everyone should visit the Palacio de Alcazar in Seville because it is so incredible.
So just make sure to make it to the Antiquarium on the same day.
Basílica de la Macarena 
This basilica is located on the outskirts of Seville and from the outside it seems rather simple.
But step inside and you will be shocked by its flamboyant styling.
This church holds two of the most important religious floats that are used in the city's legendary Easter processions.
Entrance to the church is free.
If you want to learn more about Seville's Holy Week (Semana Santa), then check out the church's museum. It costs 5€.
Walk Along the River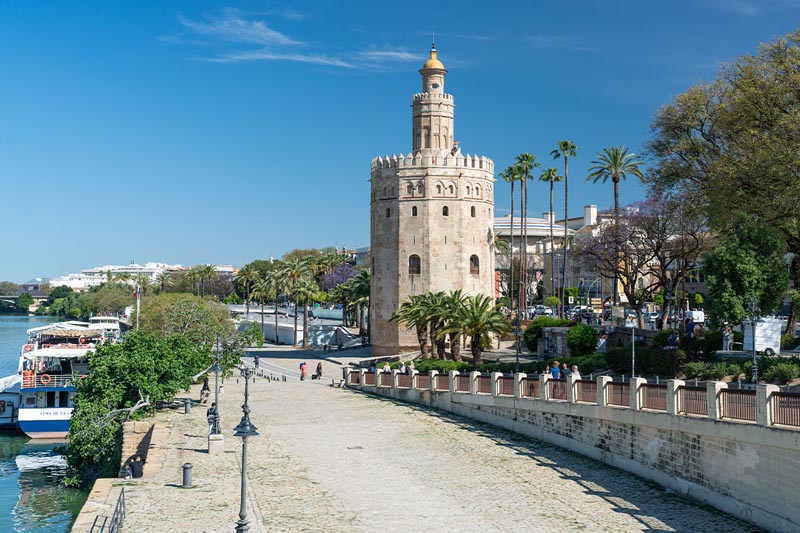 It's really enjoyable to walk along the riverfront between the Triana Bridge and the Tower of Gold.
This stretch is like a small park and is free of cars.
It is one of the best places to take in the views of the Triana neighborhood, with all its colorful buildings lined up in front of the calm water.
Make sure to check out the Torre del Oro (Tower of Gold), famous for having housed many of the treasures coming from the New World.
Climb to the top of it and enjoy some great views of the Guadalquivir river and the rest of the city.
Mondays are free, otherwise it's 3€.
La Carbonería
Your average ticket for a flamenco show in Seville will normally cost between 20 and 40€.
Instead, why not check out a local flamenco bar that has a free show every night?
Ok, it's technically not free since you have to pay a 5€ entrance free. However, with that entrance fee, you get a voucher for a free 5€ drink.
In my book, that qualifies as free!
The performers go on stage at 10:30PM and put on an amazing show. In my opinion, La Carbonería feels a little more authentic than many of the expensive flamenco shows.
Although there are a lot of tourists, there are also plenty of locals.
Santa Cruz Neighborhood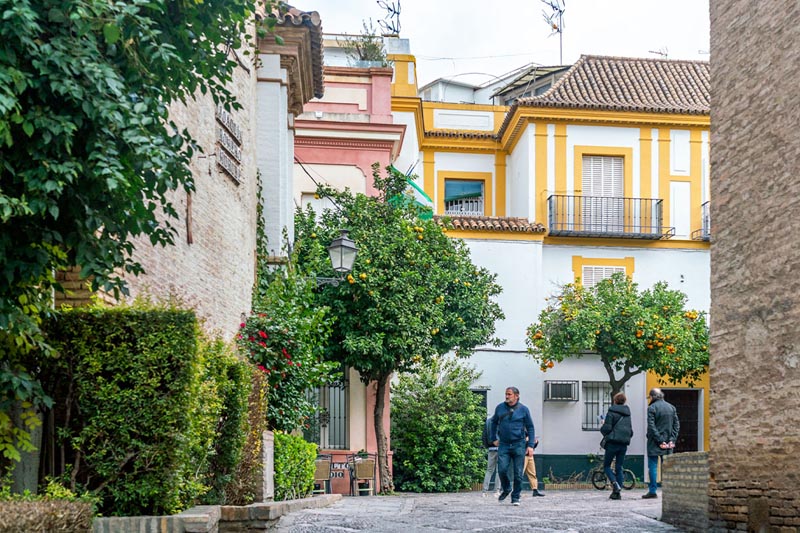 The former Jewish quarter of Santa Cruz is one of Seville's oldest neighborhoods.
Located right next to the cathedral and Alcazar, it's one of the most picturesque and quaint areas of the city.
It's full of bars, restaurants, and shops. Although it is a touristy area, it still retains its charm.
If it's your first time visiting Seville, I usually recommend to stay here.
There are a ton of small boutique hotels and even some really nice apartments.
Many of the hotels have their own rooftop bars which offer some incredible views of the cathedral and the Giralda Tower.
Visit the Food Markets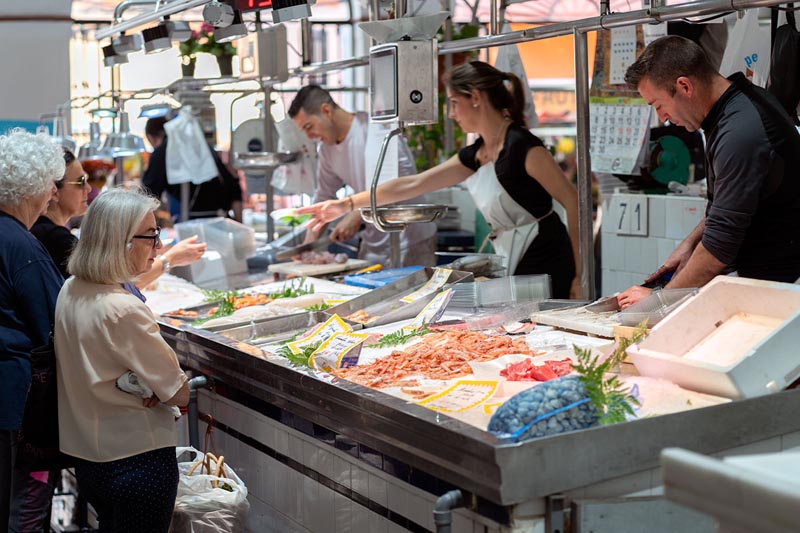 There are two great food markets in Seville to check out: the Triana market and Lonja de Feria.
Triana's market is much larger but doesn't have much in terms of tapas bars.
Lonja de Feria is a smaller market but it has a few bars that specialize in fish and seafood that come from the adjacent fish mongers. 
In any case, both markets showcase the huge variety of fresh local produce, fish, meats and cheeses.
Museum of Fine Art (Museo de Bellas Artes) 
After Madrid's Prado, the Museum of Fine Arts in Seville is considered to have the 2nd most important collection of fine art in the country.
For me, the highlights of the museum are the local Andalusian paintings from the 19th century.
However, there are paintings from several famous artists such as Bartolomé Esteban Murillo, Velázquez, Goya and El Greco.
In addition, the museum is housed in a 17th century convent that has some beautiful architecture. It is the perfect setting for such a collection of art.
Entrance is free for EU citizens and only 1.5€ for everyone else.
Divino Salvador Church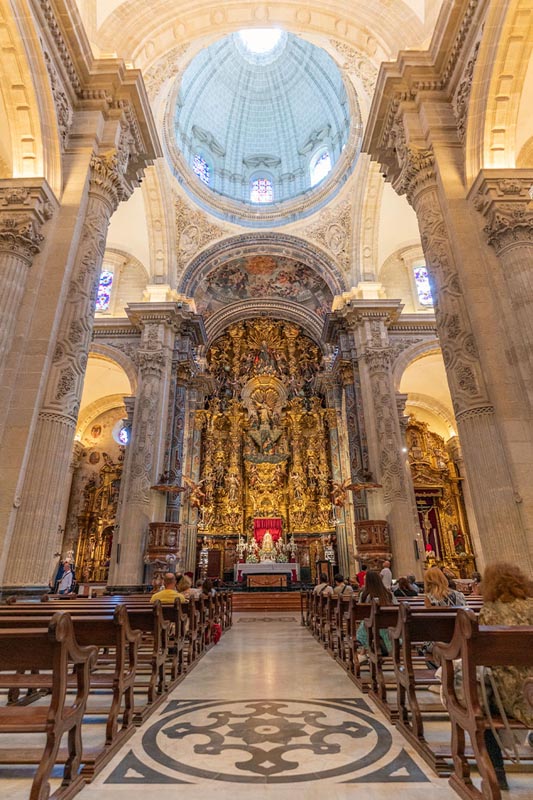 This is Seville's biggest church after the cathedral.
Its history goes back to the 9th century when it was originally the city's main mosque.
It was later rebuilt in an Andalusian Baroque style.
If you visit the cathedral and have your ticket from the same day, then the entrance is free. Otherwise, expect to shell out 4€.
Archeological Museum
The Archeological Museum is another one of the buildings left over from the world fair in 1929 and it's located in the Maria Luisa Park.
The museum houses the Carambolo Treasure which was discovered in 1958.
It is comprised of gold jewellery and religious relics from the Phoenicians who inhabited parts of Andalusia starting more than 3,000 years ago.
The museum is free for EU citizens and only 1.5€ for everyone else.
More ideas in Seville for Free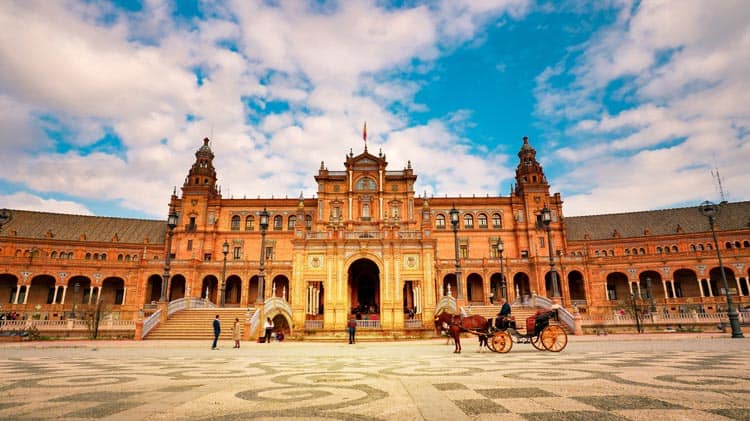 Royal Tobacco Factory
The Real Fabrica de Tabacos in the University of Seville dates back to the 18th century. Even though it is a working university, you can still visit and roam its famous halls.
It was made famous to the world through the opera Carmen.
Seville Cathedral
One Monday Afternoons you can enter the biggest Gothic Church in the world for free.
Seville's number one tourist attractions usually have an entrance fee of €9, but on Mondays between 4:00 and 5:30 you can visit for free if you book in advance online here.
Tickets give you access to the Cathedral and Giralda.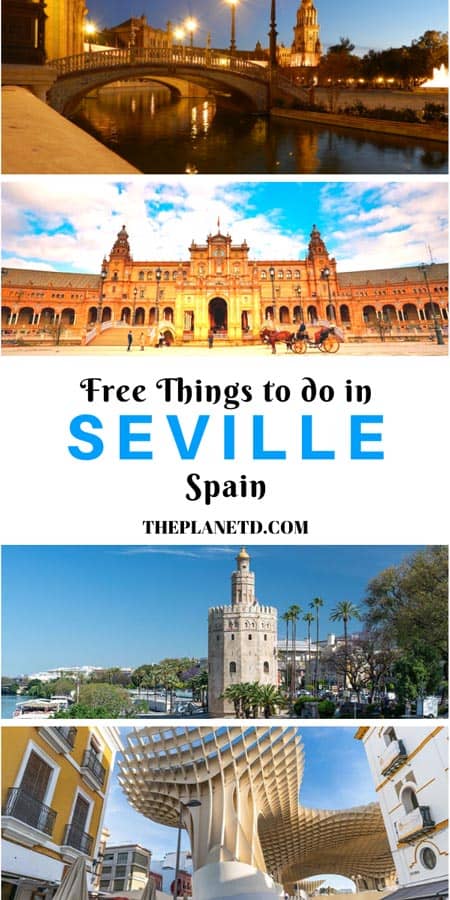 What should you not miss doing in Seville?
You should not miss seeing Flamenco Dancing when in Seville.
What Free Museums can I see in Seville?
Some free museums that you can visit in Seville are Museum of Fine Arts, The Naval Museum and the Bullfighting Museums of Seville are free on Mondays,
Where is Seville Located?
Seville is located in Southern Spain in the autonomous community of Andalusia
Read Next:
Source link Travel Advisor