Looking for things to do in Maldives? You've come to the right place. Visiting the Maldives will transport you to paradise.
With luxury bungalows extending over turquoise waters reaching out from the white sandy beach, Maldives is a dream destination.
I must admit, we expected to do nothing more than bask in the sun, sip cocktails, and watch the sunset over the Indian Ocean, but once we arrived at our little island oasis, we found out that there are more things to do in the Maldives than we originally thought.
The Top Things to do in Maldives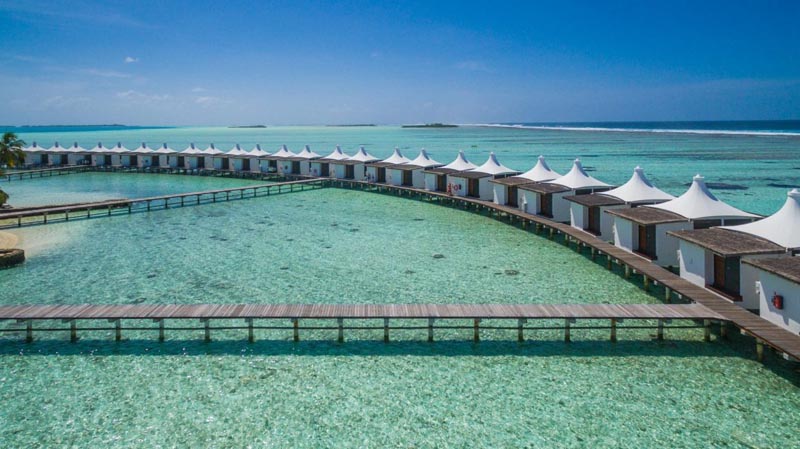 It's true, the over the water bungalows are a spectacular sight and those images are what drew us to the Maldives in the first place.
But are there things to do in Maldives besides relaxing?
Oh yeah! We actually ended up having an amazing adventure holiday!
The Maldives were made for water sports, romance, and adventure. We spent a week basking in the sun and relaxing in luxury.
These are the best things to do in the Maldives for everyone!
1. Scuba Diving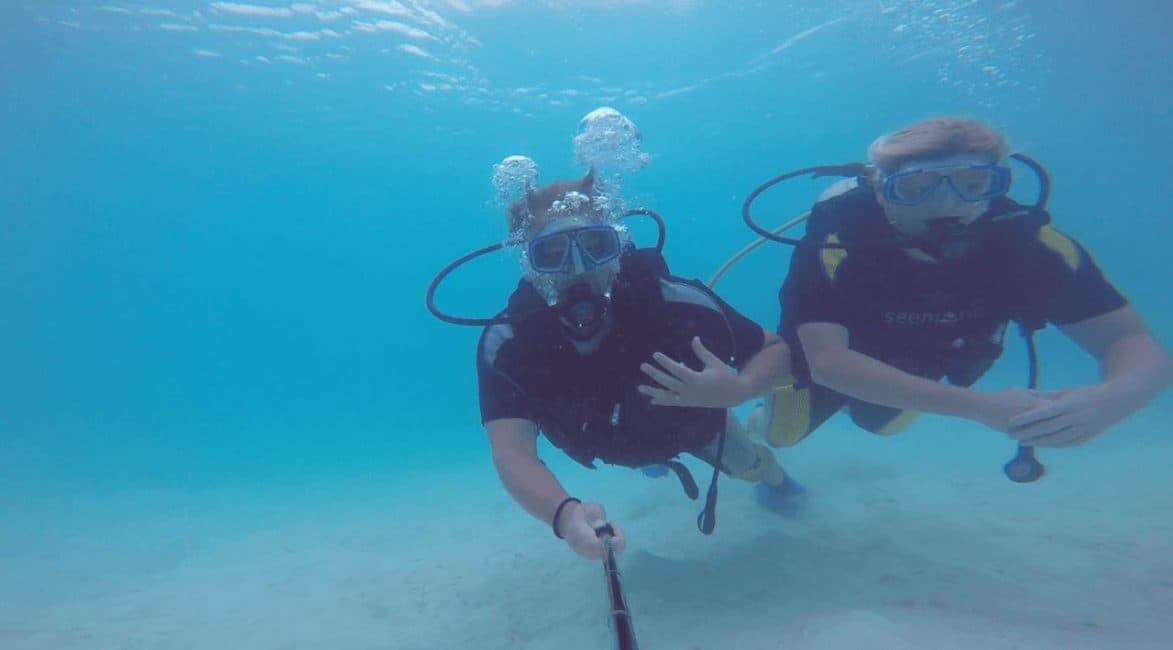 The Maldives is one of the premier scuba diving destinations on earth and if there is one place you need to give it a try, it's here.
There are many affordable PADI dive centers where you can take a discovery dive if you are not certified, or sign up for several dive options to one of the many reefs.
The Maldives is known has an abundance of marine life for its stingrays, whale shark migration and sea turtles.
The crystal clear blue waters offer incredible visibility and there's no need for a wetsuit here, the water's warm and inviting.
We were excited to get back in the water at Cinnamon Dhonveli after several years of hiatus from scuba diving.
Seeing eels, seahorses, crabs and lobsters, we enjoyed spying on the little guys after seeing so many big fish over the years.
I had forgotten just how close and personal you can get to the fish when diving.
This was definitely one of our favourite things to do in the Maldives.
2. Snorkeling Trips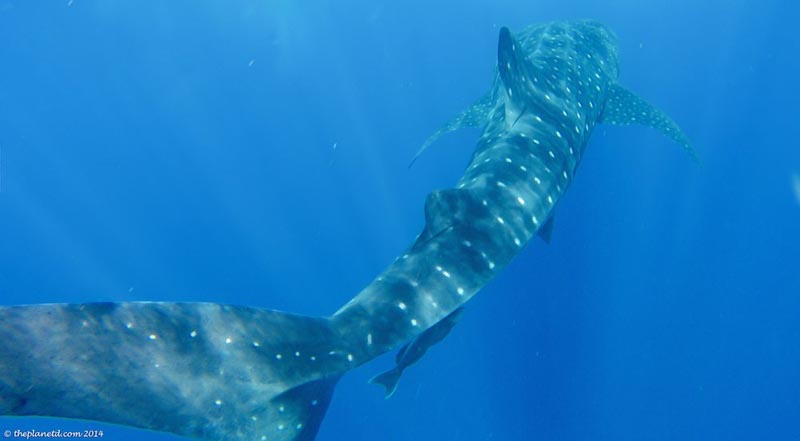 If scuba diving isn't your thing, snorkeling is a great option. The reefs are so pristine in the Maldives that you don't have to go deep to see a lot!
We went snorkeling with sea turtles and saw more than half a dozen munching their lunches at the reef.
Spending a solid two hours in the water, we also managed to see so much more than just sea turtles.
My favourite was the immense schools of colourful fish flocking together as they floated with the tides.
When three masses came together, we felt as if we were in our own giant aquarium.
3. Dolphin Watching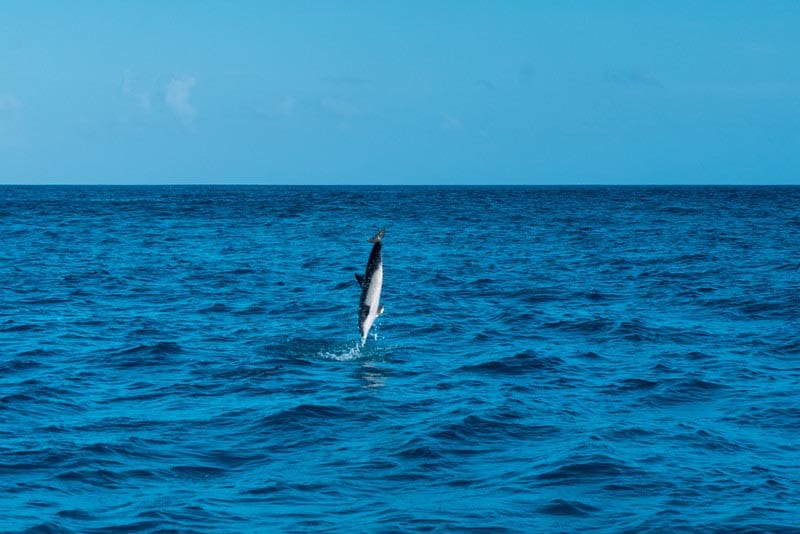 When we arrived at Cinnamon Hakurra, we asked our greeter what she thinks is one of the best things to do in the Maldives is. "Hands down, The Dolphin excursion" She said.
So we decided to do it. Just before sunset, we set out in search of pods of dolphins.
It didn't take long for a captain to spot one and before long; the dolphins were playing in our wake a leaping at our bow.
We've seen a few dolphins in the wild, and we must say, the dolphins in the Maldives are some of the most active and playful we have ever seen!
They flipped and twirled out of the water putting on a great show for us.
We were also very pleased to see that the captain of our boat didn't get too close to the dolphins or chase them too much.
He kept a safe distance letting the dolphins swim off should they choose to do so.
4. Island Hopping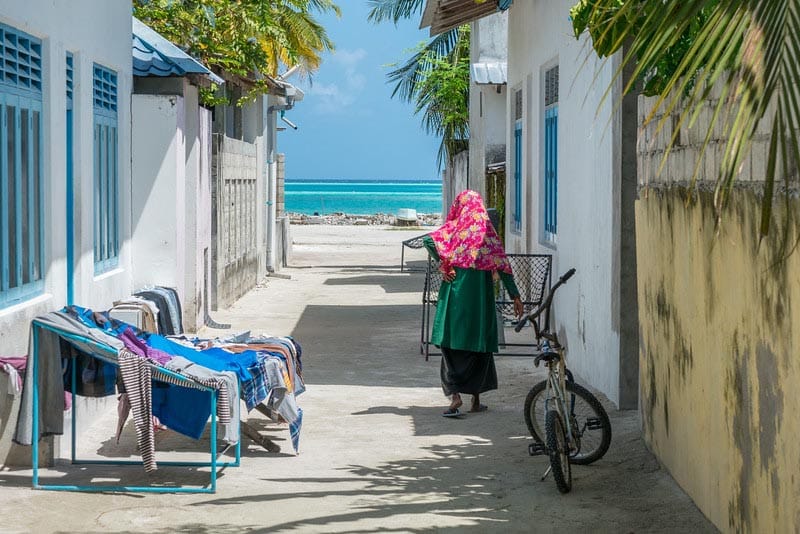 Believe it or not, there is a large settlement in the Maldives and many locals live and work on the islands.
If you stay at a private island in the Maldives, make sure to book an excursion to visit the nearby local islands and communities.
The Maldives people follow a strict Muslim culture so be sure to dress respectably in long skirts/shorts and no spaghetti strap sleeves.
I wore shorts but just brought a sarong with me to put on when we landed at the islands.
5. Meet the Locals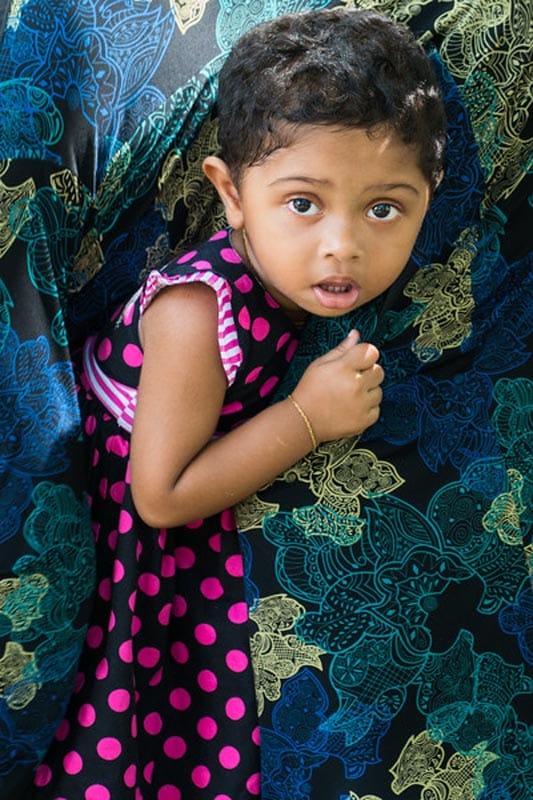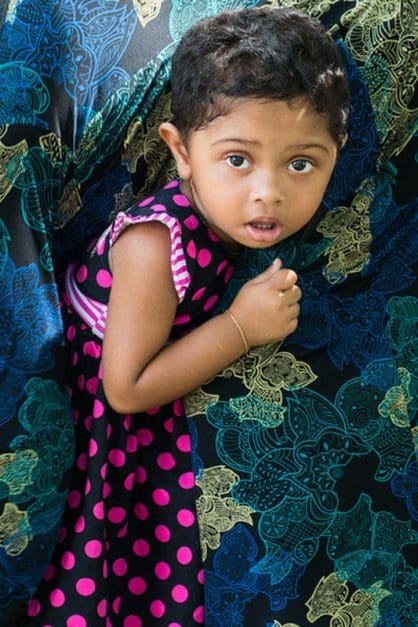 We visited two islands, Mule,  the capital of the Atoll and Naalaafushee, a fishing village where we visited the fish market.
Walking through the concrete buildings, we were surprised that there was a proper downtown and square on both tiny islands with schools, community centers, and banks.
These islands are probably the smallest inhabited islands we've ever seen, but there's a lot going on there.
Dave and I concluded that they use boats as we use cars.
Most likely they visit surrounding communities and islands on a regular basis.
Speedboats can cover a lot of ground quickly so we envisioned locals hopping over the neighboring islands to visit friends and family regularly.
6. Surfing in the Maldives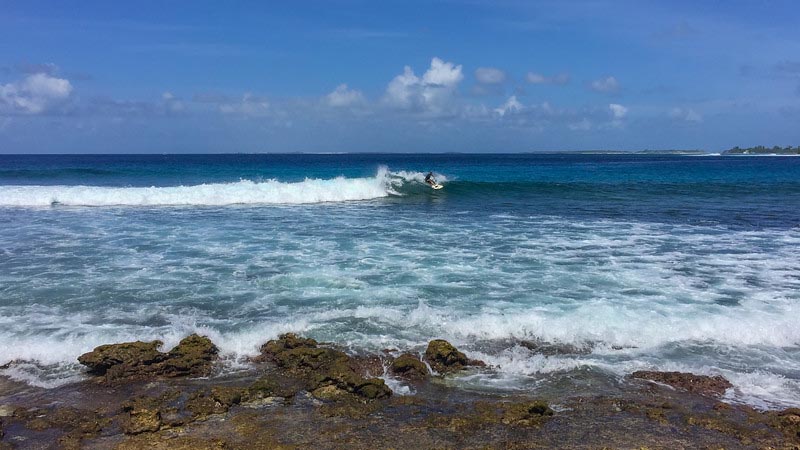 The Maldives is a world-class surfing destination.
The Cinnamon Dhonveli attracts top surfers from around the world to face its awesome break free from crowds.
The surfing was beyond our very amateur skill level, but each morning we loved watching the pros head out to face the pipe as we sipped our morning coffee.
This break is considered one of the best on earth and Dhonveli is even a stop on the pro circuit.
If you aren't a pro, don't worry, there are other islands in the Maldives were you can take some surfing lessons.
7. Stand Up Paddle Boarding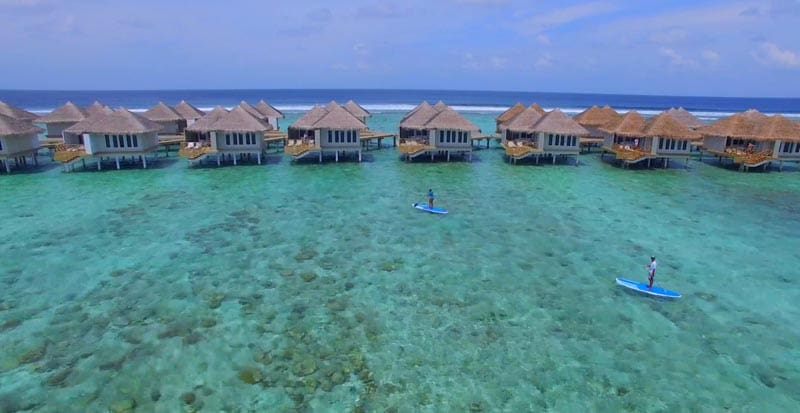 If you aren't into surfing, paddle boarding is another great option.
The Maldives is great for stand up paddle boarding (SUP), because most islands are surrounded by calm shallow waters that only ebb and flow with the rising tides.
You can paddle along in safe bays with water so clear you can see fish swimming right below your boards.
Both resorts rent paddleboards. We love paddleboarding. Enjoy our video and article about SUP in Maui. 
8. Visit the Spa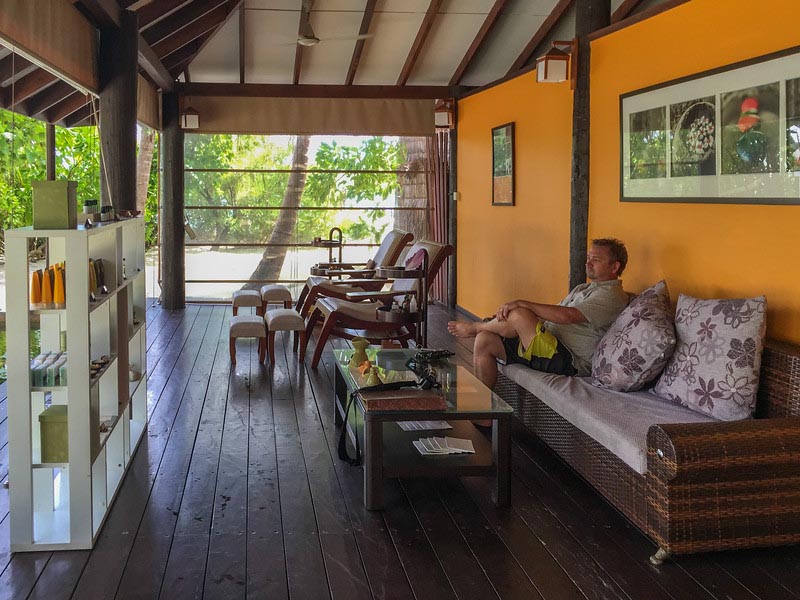 The Maldives was made for romance and when visiting the island paradise, you must take some time to pamper yourself.
Most people visiting the Maldives were couples and families and we highly recommend a couple's massage for upping the romance factor.
Read: Massage and Spa Etiquette – Tips from Stripping to Tipping. 
As soothing music plays, skilled masseurs rub away the aches and pains from your long flight or day out in the sun.
After an hour and a half of luxury, make sure you have nothing else on your to-do list for the day, as you'll want to relish in relaxation.
Enjoy – The World's Wackiest and Weirdest Spa Treatments 
9. Sunset Romantic Dinner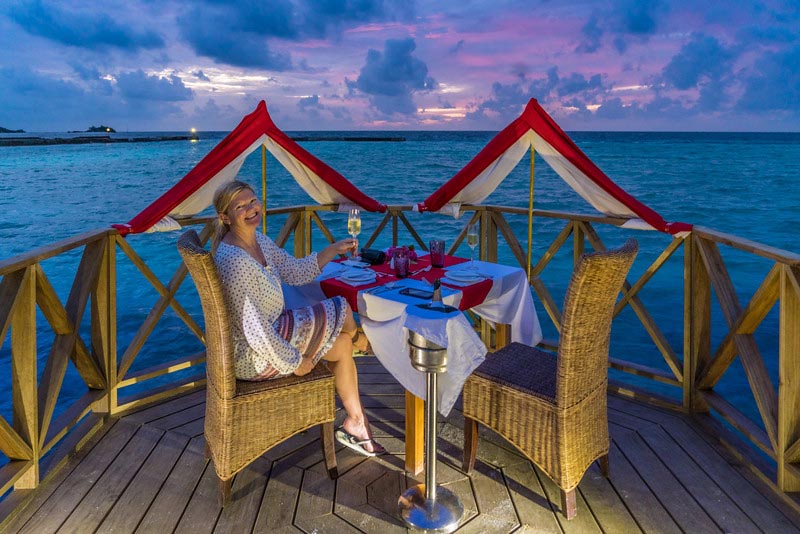 I don't think there is a more romantic destination on earth than the Maldives.
If you are travelling as a couple and want to splurge on a romantic night out, this is the place to do it.
While most food is buffet style in the Maldives, take a break from the smorgasbord and enjoy either a sunset beach or sunset pier dinner.
We found the meal to be a bit pricey at $220 per couple, but it did include a bottle of champagne, private waiter and a meal prepared right at your table.
However, I think Cinnamon could do a lot better if they just made this option an upgrade from dinner.
I honestly thought it was a $25 upgrade while eating. At a whopping $220, I almost felt a little ill and I wasn't even paying for it!
The resorts were all inclusive so why spend that much more when you can already get food and wine included in your package?
However, as they say "When in Rome…err The Maldives"
10. Scenic Flight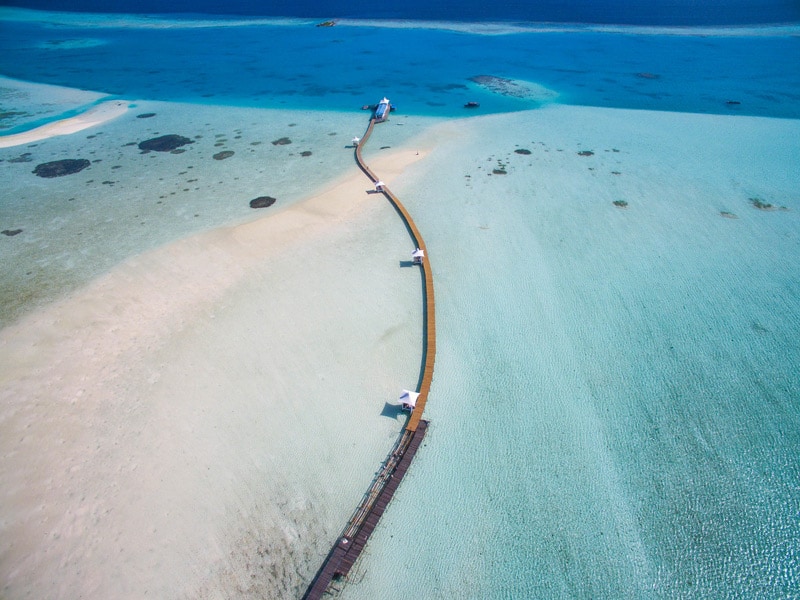 There is something magical about seeing the different shades of water below as you fly over the Maldives.
Many resorts require a flight on a twin engine float plane to get out to them.
If you don't have the good fortune of staying in one of these, we highly recommend booking a scenic flight over the many atolls.
The islands create a pattern in the sea as the deep ocean crashes into sandbars and coral reefs.
Many islands are surrounded by miles of shallow waters low enough to wade through at low tide.
From the air, you get a real sense of just how isolated and beautiful the islands of the Maldives are.
11. Over the Water Bungalows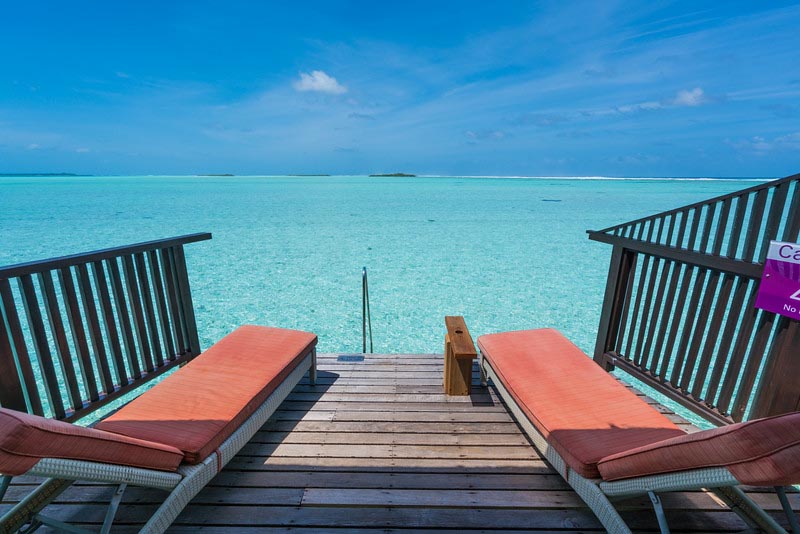 When we started writing this article about the best things to do in the Maldives, we said there is a lot more to it than over the water bungalows, but you must take advantage of these beauties and make the most of them while you've got them.
With an over the water bungalow, you can jump right into the waters and snorkel or swim.
With a private deck, it's perfect for sunbathing, swimming and pure relaxation.
We loved our bungalow so much at Cinnamon Hakuraa we never wanted to leave our room.
You can order room service, there is a minibar and fridge and lots of water on hand. You don't ever have to leave if you don't want to.
12. White Sand Beaches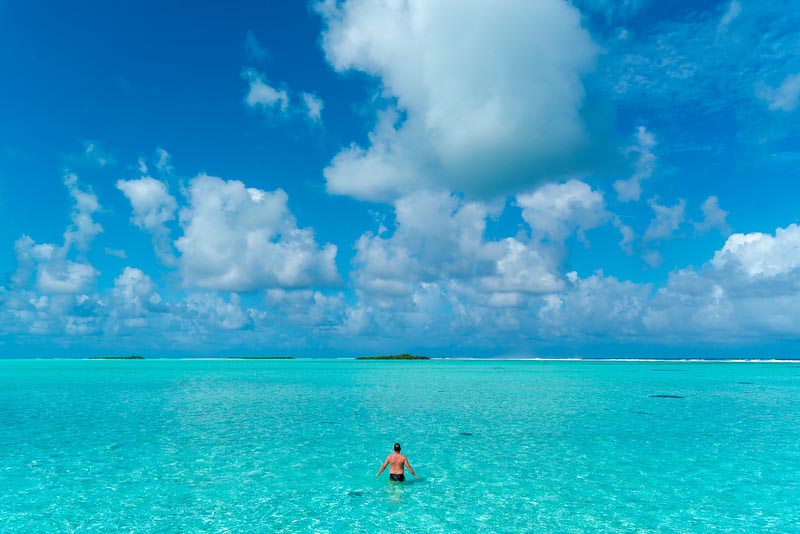 The Maldives are known for their white sand beaches that stretch along the atolls. and the sand is smooth and easy to walk on.
Beachgoers will love visiting the Maldives as you can walk far out along the sand bars enjoying the crystal blue waters.
What's even better, is if you stay at an over the water bungalow, you can walk directly from your deck basking in paradise.
And that is exactly what the Maldives are. Paradise.
13. Fishing
If you are really into fishing then you will want to try it out here in the Maldives.
Tuna is the most popular catch and you can either fish the Maldives way, where you go out spear fishing with a local, or you can go out ion a regular fishing expedition.
Either way, most resorts offer this kind of trip. You usually go out just before sunset, to catch the amazing views then get down to fishing.
14. Parasailing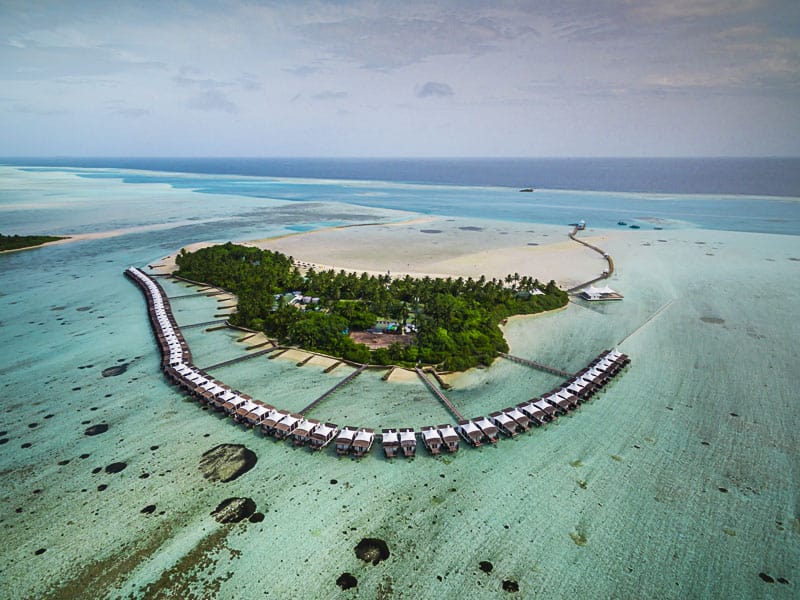 If a scenic flight is not in your budget then another great way to see the beautiful atolls of the Maldives is to go parasailing.
There is no better way to appreciate the beauty of the Maldives than from above.
It is an exhilarating feeling to feel the wind in your hair as you soar high above your boat taking in the beautiful scenery all around you.
This is definitely one of the coolest things to do in the Maldives.
The Best Resorts in Maldives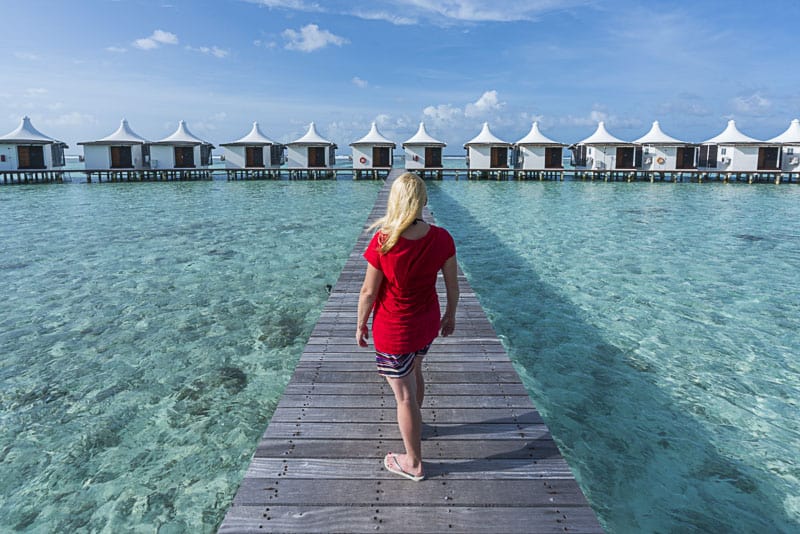 There are no shortage of beautiful places to stay in the Maldives. These are a few of our favourites.
If you want to go all out then I would recommend the Hurawalhi Island Resort. With beautiful rooms and the world's largest all-glass undersea restaurant, it is a trip you will remember forever.
Another option that we loved is the Cinnamon Hakuraa Hura for romance and an isolated escape for high-end luxury. Their platinum island has opened for adults 18 and over.
If you are looking for something a little more mid-range then check out Cinnamon Dhonveli – This resort caters more to families than others. It is just a short boat ride from the capital of Mali.
Maldives on a budget? It can be done. There are many different guesthouses in the Maldives and also make sure to look into Air BnB. It can be a great way to experience the local flair.
Practical Information for Planning Your Trip to Maldives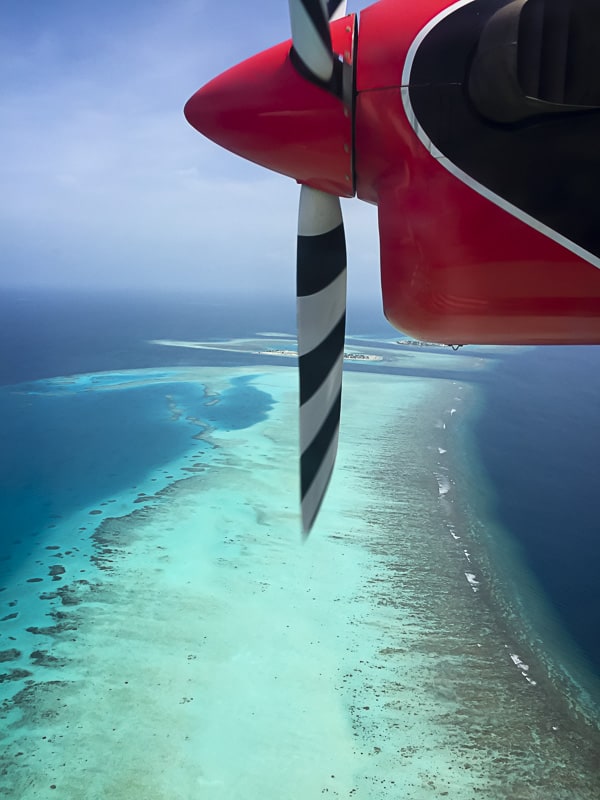 When it comes to planning a vacation to Maldives there are a few things you should take into consideration. For a more detailed breakdown visit our Maldives Travel Guide.
The Best time to Visit the Maldives
The weather in the Maldives is warm all year round. The most popular time to visit is November through April as this is the dry season.
If you are looking for some deals then I would suggest looking at visiting in June at the beginning of the rainy season.
How to get to the Maldives
The Maldives can be reached through direct flights from Sri Lanka, Dubai and Qatar. We flew from Sri Lanka and landed at the Velana International Airport.
This is the main place to fly into and is roughly 3 miles from the capital city of Malé.
From there, you will most likely take a boat or floatplane to your resort located on one of the many islands.
I don't think anywhere quite compares with the sheer beauty of Maldives.
While flying in from Male, we saw one paradise after another.
The islands are so small, they have to build bungalows over the water. And the water is so shallow, they can.
These islands are sitting on underwater plateaus just waiting for you to come and visit.
Video of the 10 Best Things to do in Maldives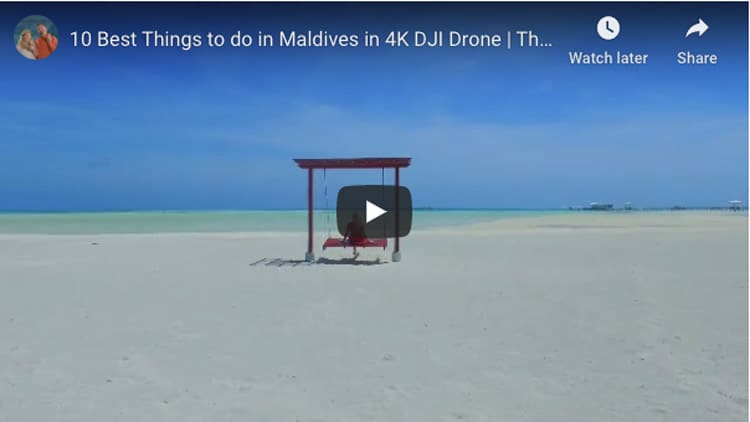 The Maldives can be traveled independently, pick up your Lonely Planet Travel Guide of the Maldives
Did you enjoy what to do in the Maldives? Save this post to Pinterest for future travel planning.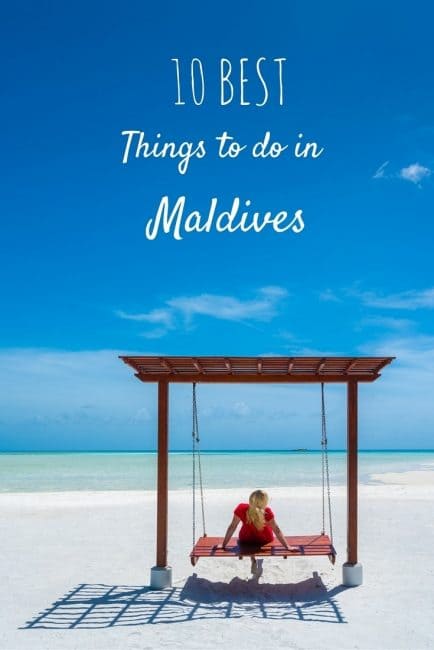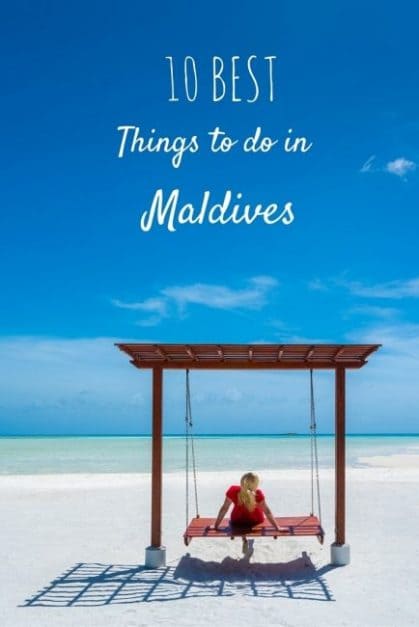 Our trip to the Maldives was courtesy of Cinnamon Resorts.
They have several locations in both Sri Lanka and the Maldives, making for the perfect duo destination holiday.
It was also in conjunction with Sri Lankan Airlines. Flights daily from hubs all around the world and between the Maldives and Sri Lanka.
Read Next:
Source link Travel Advisor